EURUSD 4 HOUR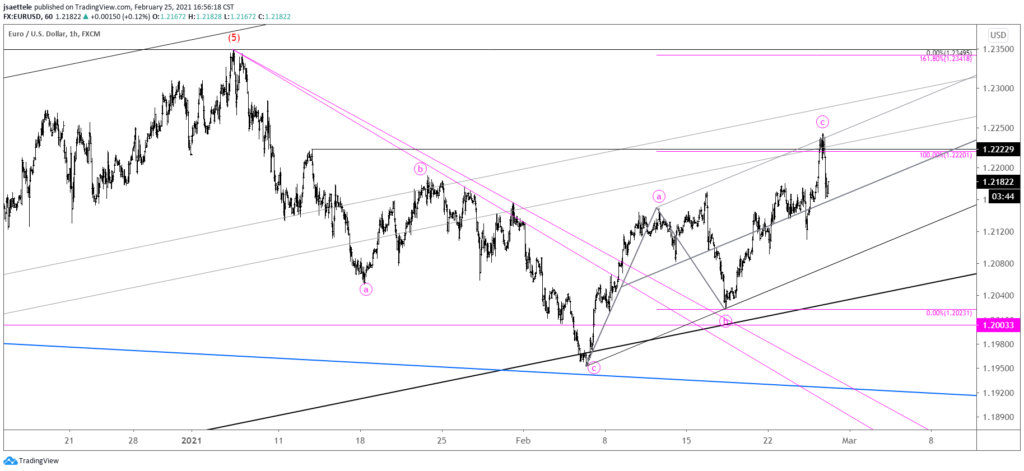 EURUSD spiked into and reversed from the noted 1.2220. My view is that a 3 wave rally is complete from the February low and that either a 3 or 5 wave decline will draw price beneath the February low in order to complete the larger correction from the January high. Short term channel support for a bounce is about 1.2080.
2/21 – Not much change to EURUSD. Near term focus remains on 1.2220, which would be 2 equal legs up from the February low. If price pulls back from nearby then watch for support from the line off of the 2/5 and 2/17 lows. That line is currently about 1.2050.
USDCNH (TOP) AND DXY DAILY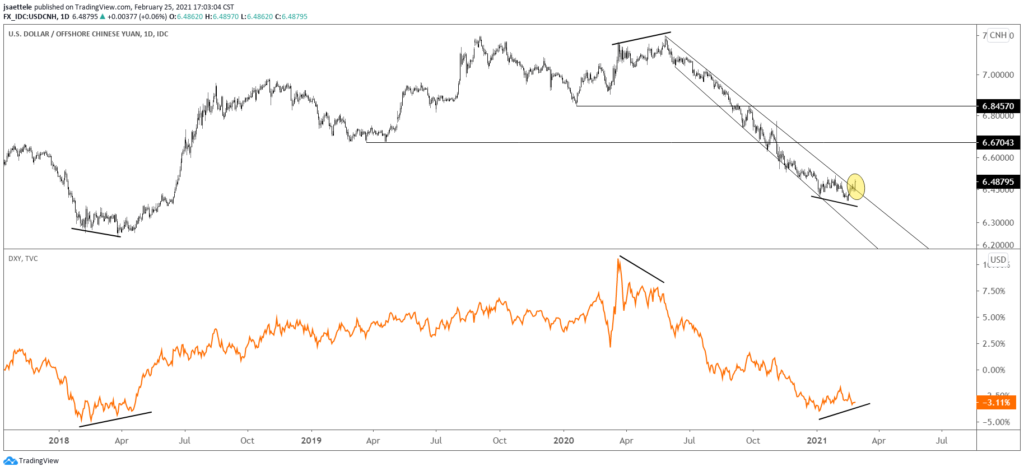 This is an extremely important chart. The behavior change in USDCNH is significant. As noted last week, important turns have occurred with non-confirmations between USDCNH and DXY. My view then is that DXY is headed higher (until noted otherwise) due to the USDCNH break above trendline resistance.
2/18 – USDCNH is testing the trendline from the May 2020 high. A break above would be significant…and not just for USDCNH. The chart below shows USDCNH and DXY. Note the non-confirmations at major turning points. Specifically, DXY fails to confirm a new low or high with USDCNH at significant turns. My view is that an important low is already in place for DXY and that a break above trendline resistance in USDCNH would lead to USD strength generally.
GBPUSD 4 HOUR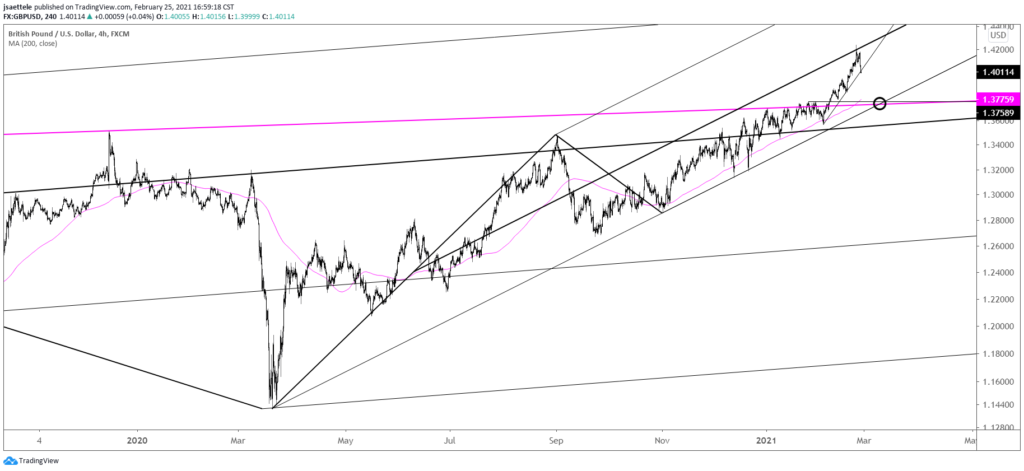 GBPUSD has reversed sharply lower from the center line of the channel from the March low. Wednesday's low is now proposed resistance at 1.4082. Downside focus is the lower parallel of the noted channel, which intersects the line that crosses highs since March 2019. That intersection is about 1.3730.
FXA (AUSTRALIAN DOLLAR ETF) DAILY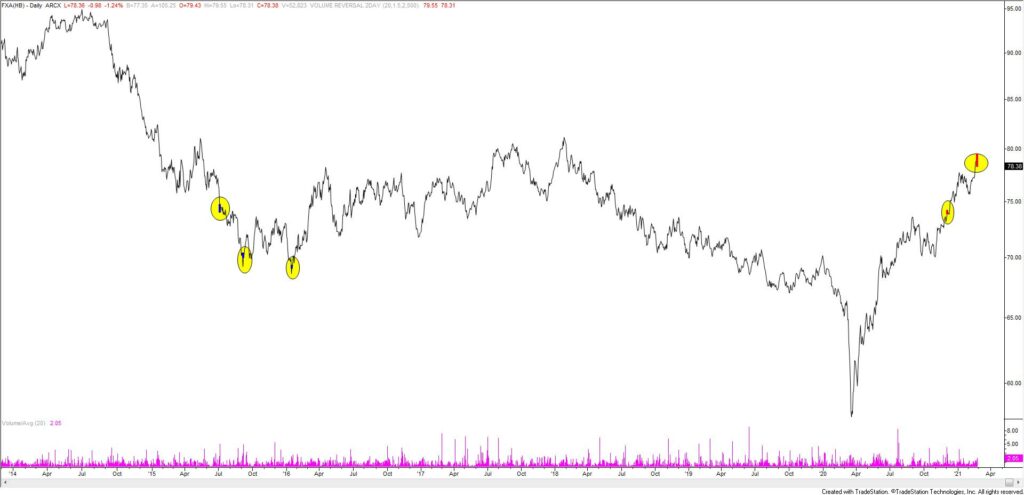 Commodity FX reversed sharply lower today. I'm showing all the daily volume reversals for FXA and Australian Dollar futures, and 8 hour reversals on futures for the last 5 years. Given the spike and reversal from .8000 in spot (see weekly chart below), it's worth a shot on the short side here. Immediate downside focus is the year open at .7695.
FXA DAILY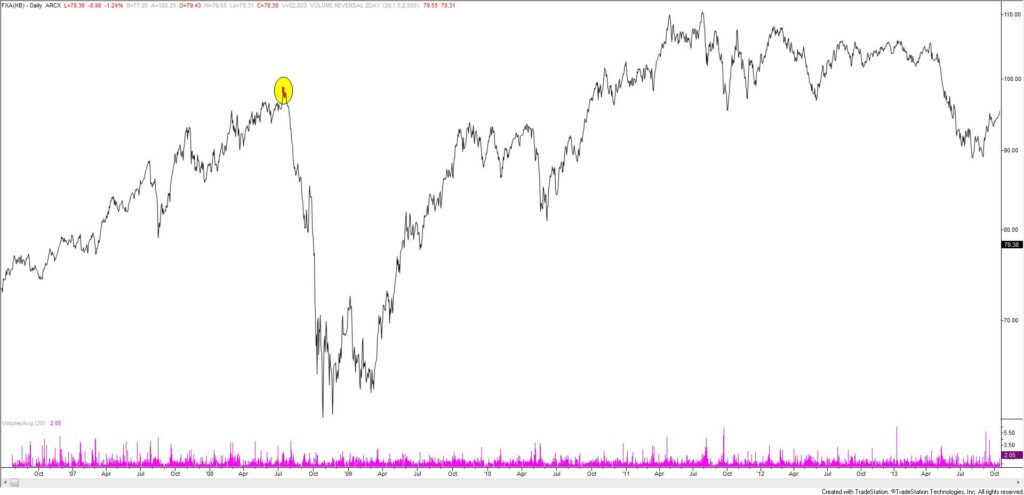 AUSTRALIAN DOLLAR FUTURES DAILY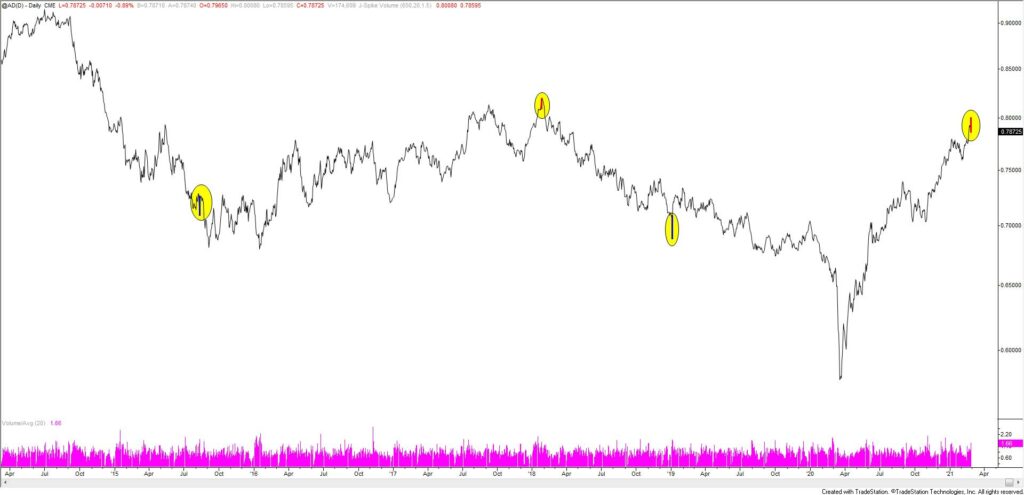 AUSTRALIAN DOLLAR FUTURES 8 HOUR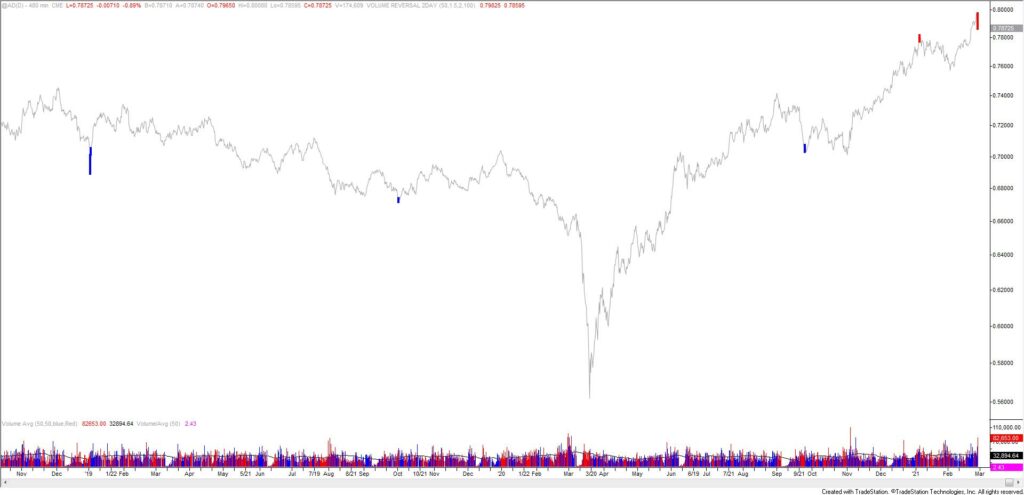 AUSTRALIAN DOLLAR FUTURES 8 HOUR
AUDUSD WEEKLY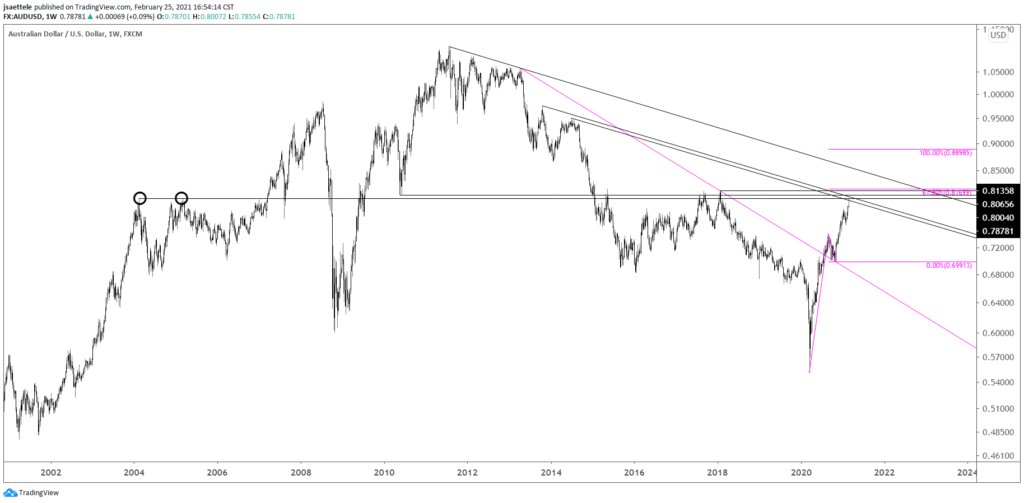 NEW ZEALAND DOLLAR FUTURES DAILY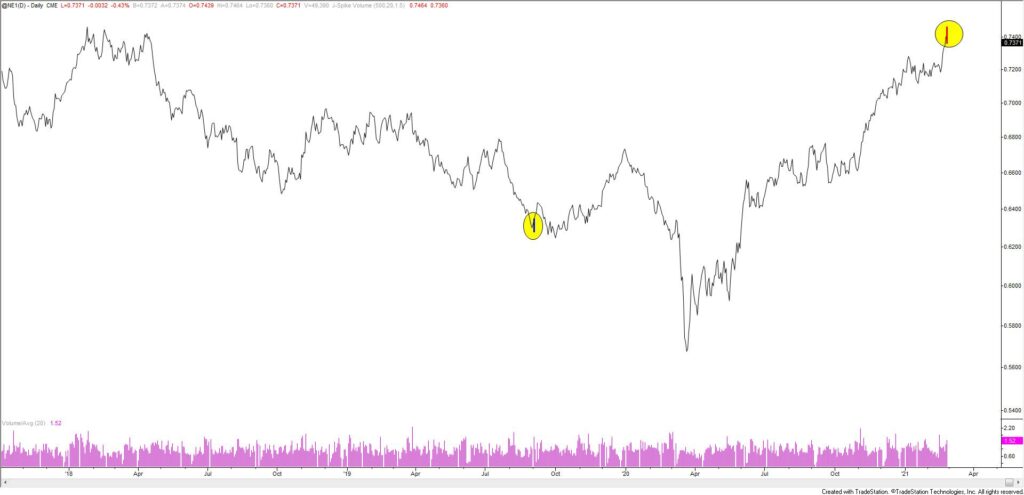 Data on New Zealand Dollar futures is limited but the only other volume reversal occurred near the 2019 low (beginning of a bottoming process). I favor AUDUSD downside however given the topping prospects in AUDNZD.
CANADIAN DOLLAR FUTURES DAILY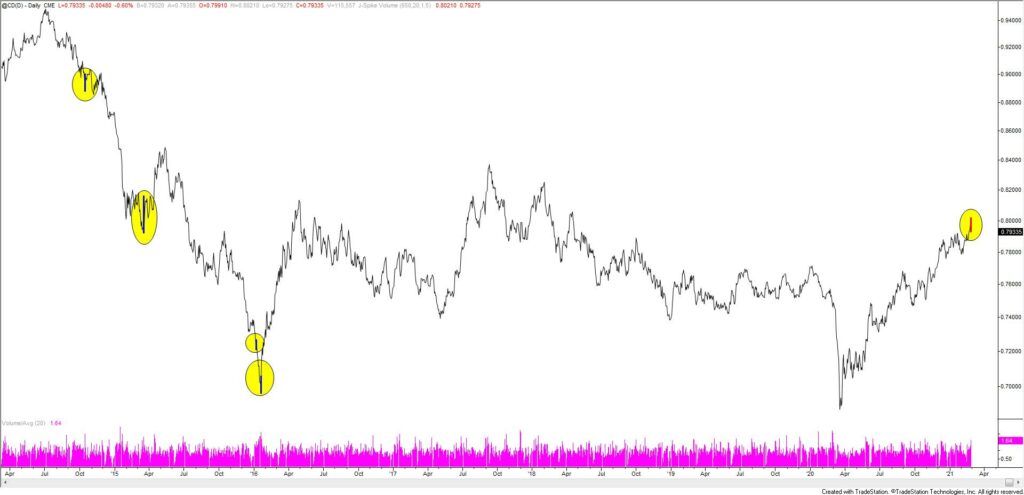 CAD futures also made a volume reversal today (remember that CAD futures is quoted as the inverse to USDCAD). All daily reversals are shown in this chart and the one below. USDCAD (see 2 charts down) has responded to the 38.2% retrace of the rally from the 2007 low. Today's low is also just under the April 2018 low and ticks above the May 2016 low. Given the well-defined level and volume reversal on futures, I favor upside in USDCAD now.
CANADIAN DOLLAR FUTURES DAILY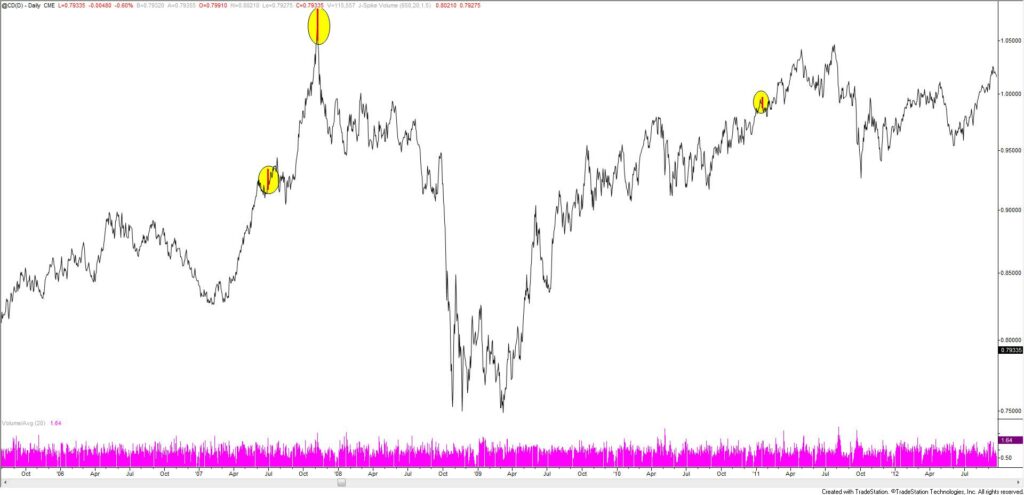 USDCAD DAILY