EURUSD 4 HOUR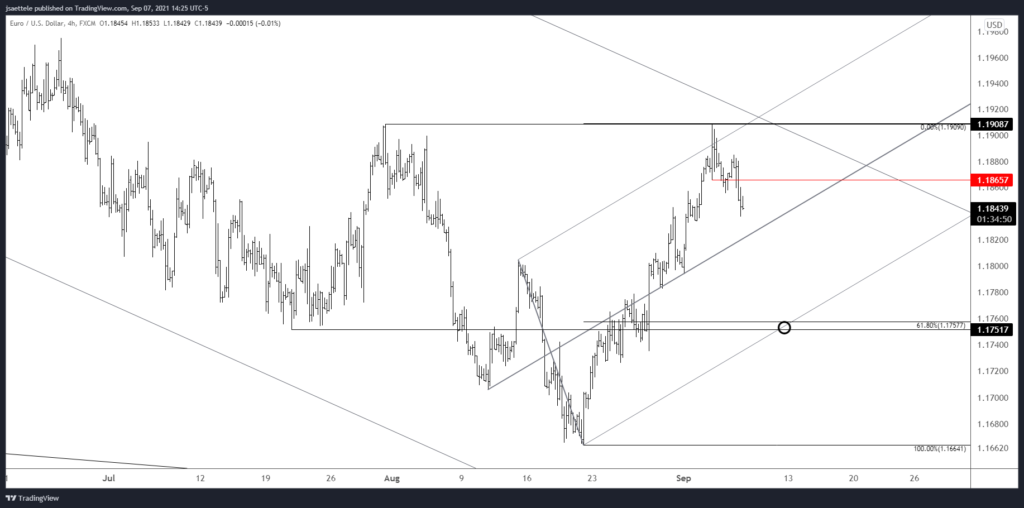 EURUSD poked above the 7/30 high on Friday before putting in a doji. Downside follow through today warrants a near term bearish stance. 1.1820 is a bounce level but downside focus is the lower parallel of the fork from the 8/11 low. This intersects the 61.8% retrace and July low at 1.1752/58 early next week. Proposed resistance is 1.1865.
USDJPY WEEKLY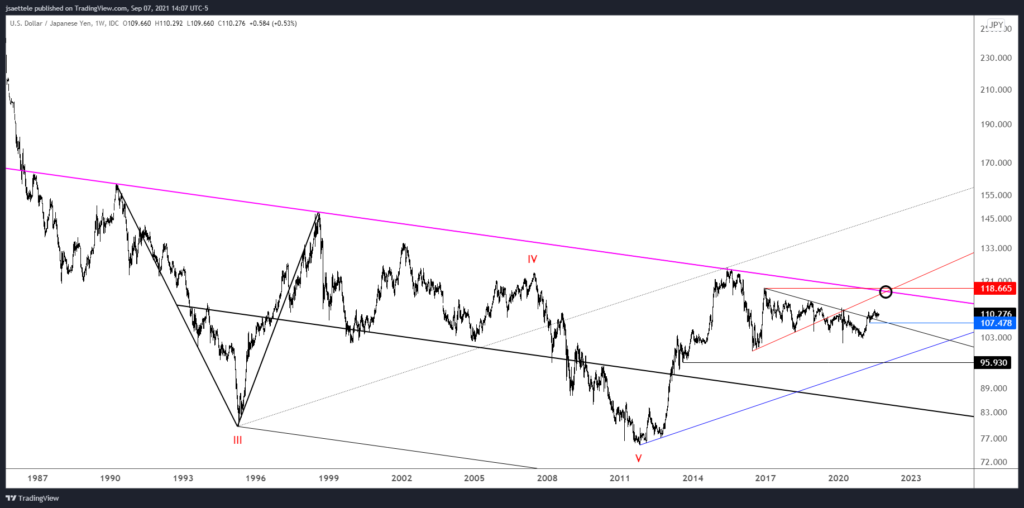 USDJPY has been consolidating since late March. This consolidation is taking place following a break above multiyear trendline resistance. The implication is that another leg up will take place. General long term upside focus is the LONG TERM trendline (magenta line) near 117.50. Near term, price is testing short term trendline resistance (see below). A break above would warrant a long position.
USDJPY DAILY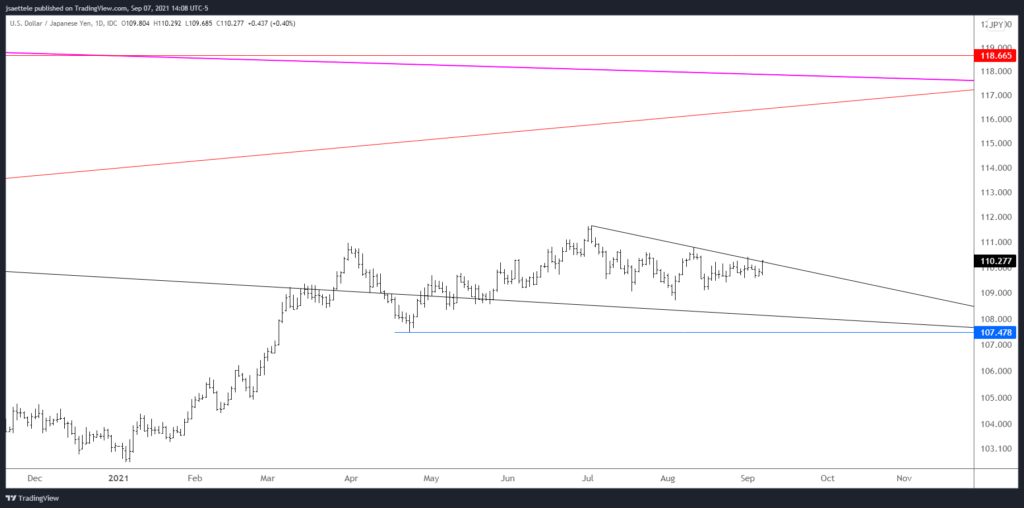 USDCAD DAILY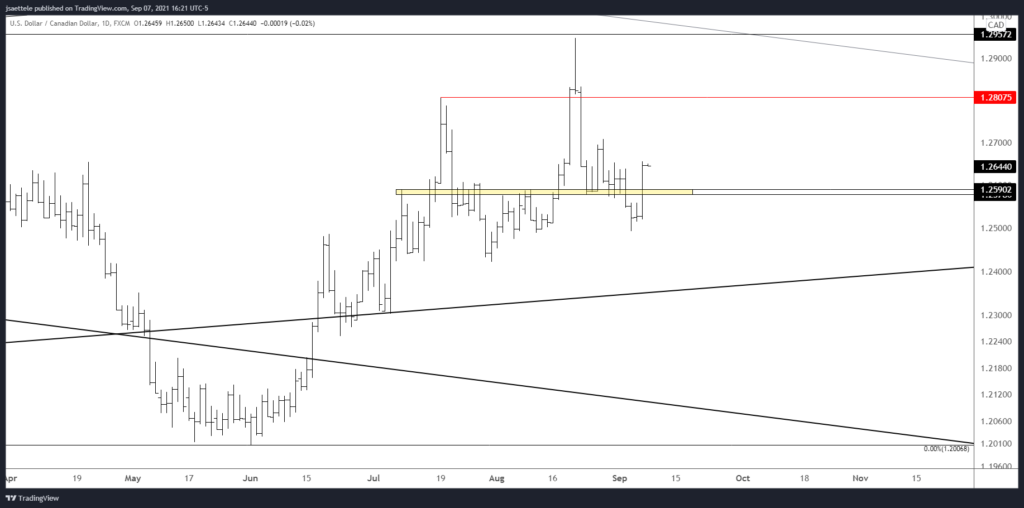 USDCAD has turned up from the confluence of the 50 and 200 day averages. CAD futures also turned down from 2021 VWAP (see below). In other words, there is a good deal of USDCAD support (CAD resistance) at the recent pivot. As such, I'm looking higher towards 1.2800 in the near term for USDCAD. Proposed support is 1.2580/90.
CANADIAN DOLLAR FUTURES DAILY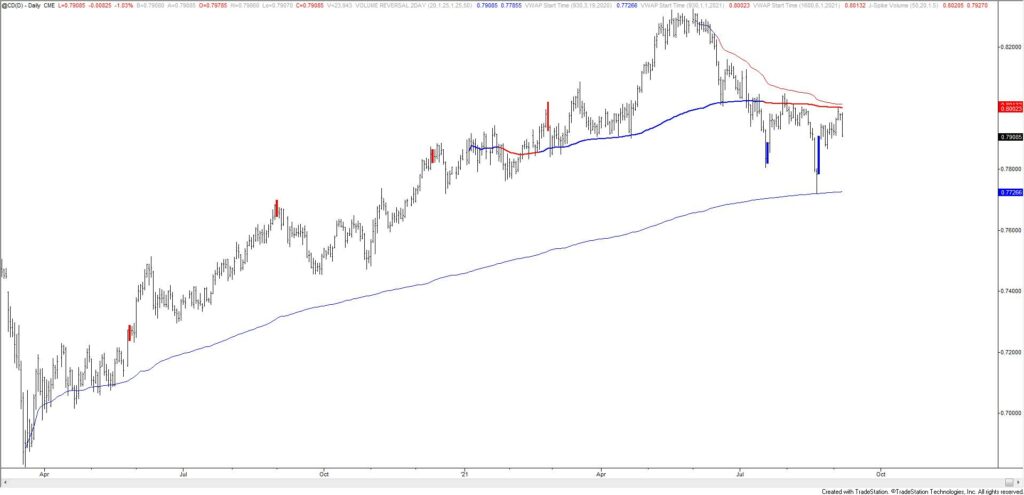 NZDUSD DAILY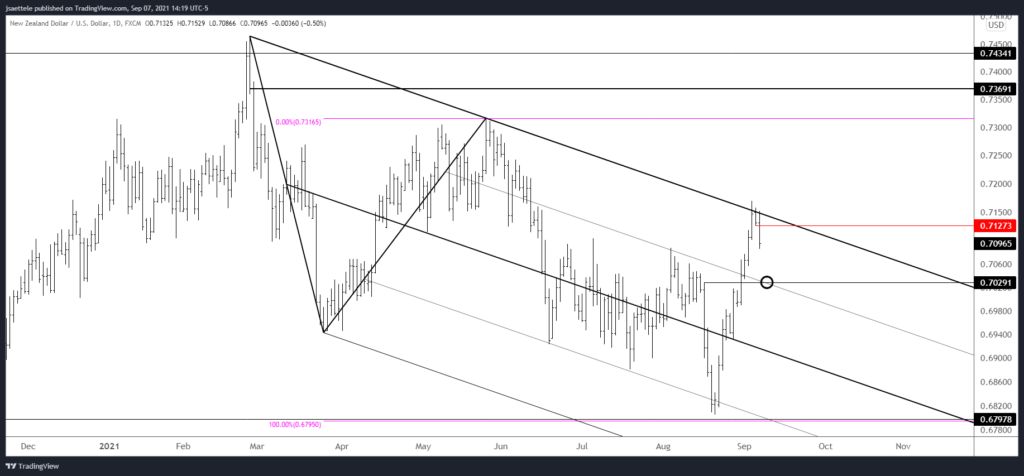 NZDUSD continues to follow the script. Generally speaking, .7100/25 has been a pivot for most of the year and the failure to hold above this zone on the latest rally is bearish. The current pattern is unclear but initial downside focus remains the top side of the 25 line near .7030 (also the 38.2% retrace)
9/6 – NZDUSD has reached the upper parallel of the channel from the February high. This is a good spot for at least a pullback. If a pullback materializes, then I'd be aware of possible support from the 25 line (former resistance). That line is about .7030. Also, there is an RSI 'reverse divergence' sell setup. This occurs when RSI takes out a pivot high but price remains below the equivalent price high. The logic is basically that momentum (RSI) has gotten too far ahead of price.
AUDUSD 4 HOUR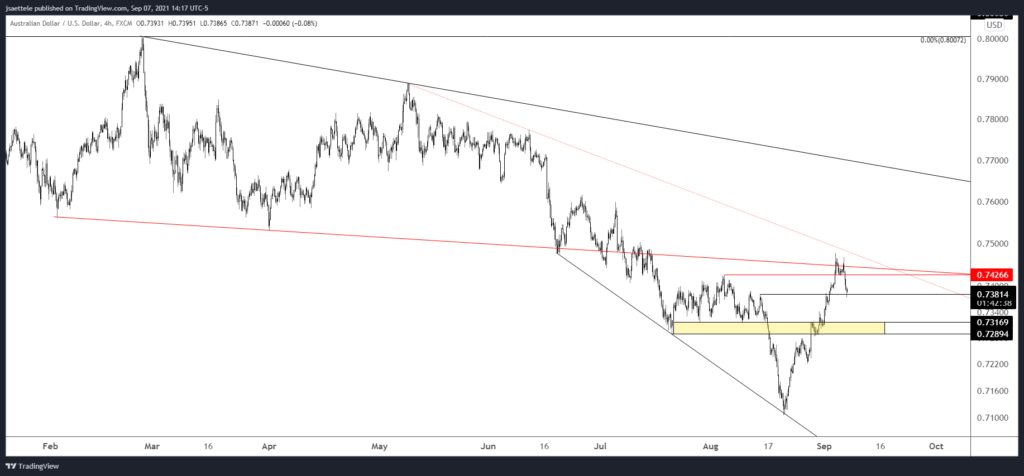 AUDUSD dropped into .7380 today. Like NZDUSD, pattern is unclear. A push to another high could complete 5 waves up but resistance is well-defined from the neckline. Bottom line…evidence is conflicting. Watch for resistance near .7425. The next level of possible support is the well-defined .7290-.7320 zone.
9/6 – AUDUSD has traded into the noted neckline and short term channel resistance (not shown) so I'm on the lookout for a pullback. RBA is tonight so be aware of a possible spike to test the line off of the May and June highs near .7480. Proposed supports now are .7380 and .7290.