SPOT SILVER DAILY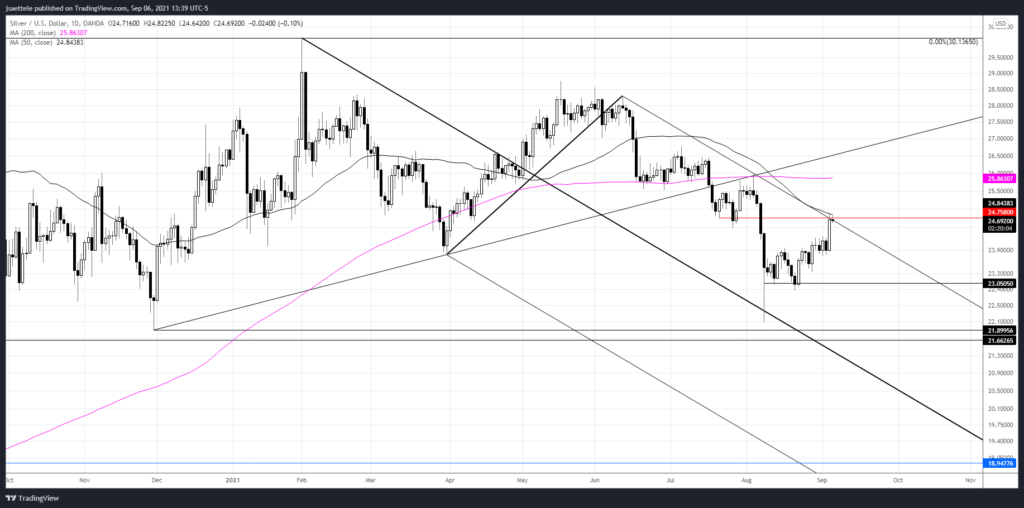 Silver surged Friday and is testing a key level defined by the upper parallel of the fork that originates at the February high, 7/21 low, and 50 day average. I'm looking for a pullback at minimum with possible support near 24.27.
NZDUSD DAILY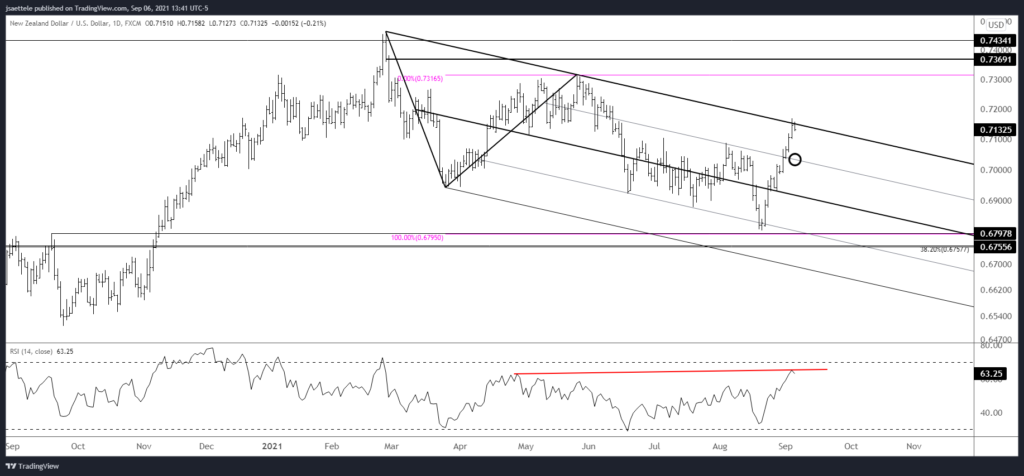 NZDUSD has reached the upper parallel of the channel from the February high. This is a good spot for at least a pullback. If a pullback materializes, then I'd be aware of possible support from the 25 line (former resistance). That line is about .7030. Also, there is an RSI 'reverse divergence' sell setup. This occurs when RSI takes out a pivot high but price remains below the equivalent price high. The logic is basically that momentum (RSI) has gotten too far ahead of price.
9/2 – Not much to add regarding Kiwi, which continues to surge. Futures have reached 2021 VWAP. This is also the 200 day average (not shown…see yesterday's post for a chart of spot). As is the case with Aussie, NZDUSD is into a big level but there is no evidence yet of a turn. A setup requires both a level and evidence that the market in question is responding to the level. Stay tuned.
AUDUSD 4 HOUR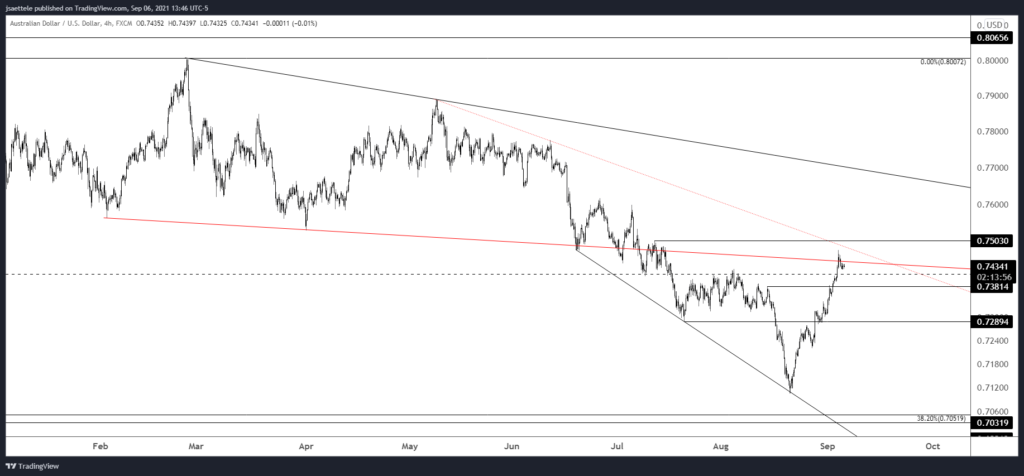 AUDUSD has traded into the noted neckline and short term channel resistance (not shown) so I'm on the lookout for a pullback. RBA is tonight so be aware of a possible spike to test the line off of the May and June highs near .7480. Proposed supports now are .7380 and .7290.
9/2 – AUDUSD is closing in on the well-defined .7415. Interestingly, this is the September 2020 high. It's also support from July and resistance from August. I'll be on the look for a turn down between .7415 and .7050 (short term channel and bigger picture neckline…see below for a zoomed in chart).
USDCNH 4 HOUR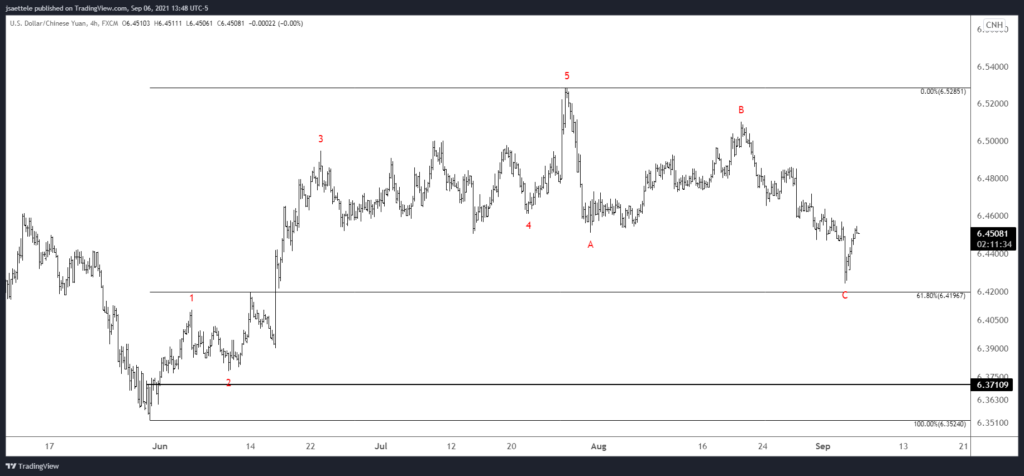 USDCNH is extremely interesting because there are 5 waves up and 3 waves down since the 5/31 low. The recent low is just above the 61.8% retrace of the impulsive advance as well. The implication from the Elliott pattern is that a strong advance (either a 3rd or C wave) is underway. Also, price has responded to long term support (see below). Recall the false breakdown in May. A strong USDCNH advance could have significant implications for AUDUSD (bearish) too.
USDCNH WEEKLY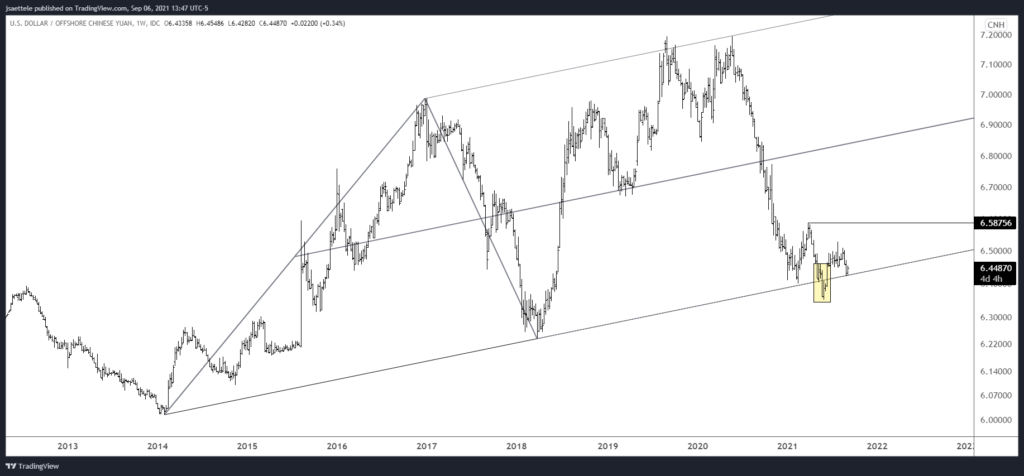 AUDJPY DAILY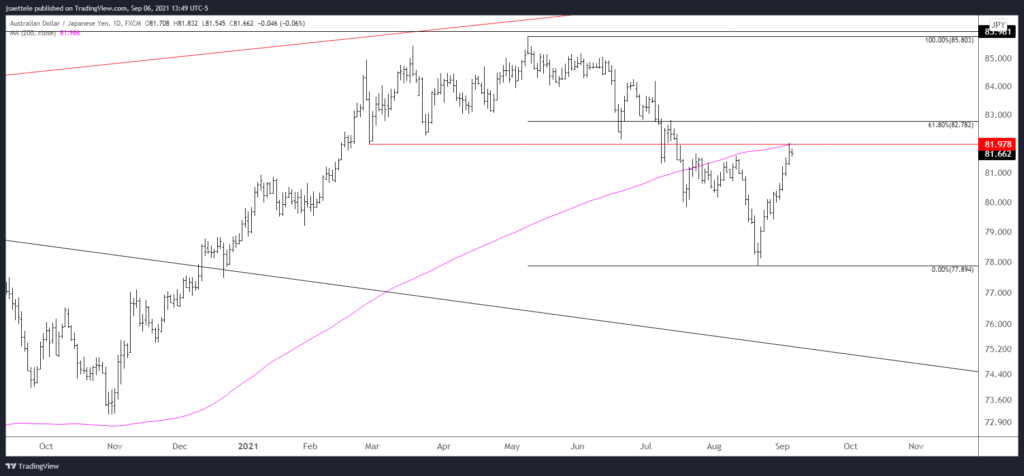 AUDJPY has traded into a big level (ahead of RBA mind you) too. The level in question is defined by the 2/26 low and 200 day average. I'm looking for at least a pullback and will keep an eye on the 200 period average on the 4 hour chart for support. This average tends to serve as a useful pivot (see below).
AUDJPY 4 HOUR