EURO FUTURES HOURLY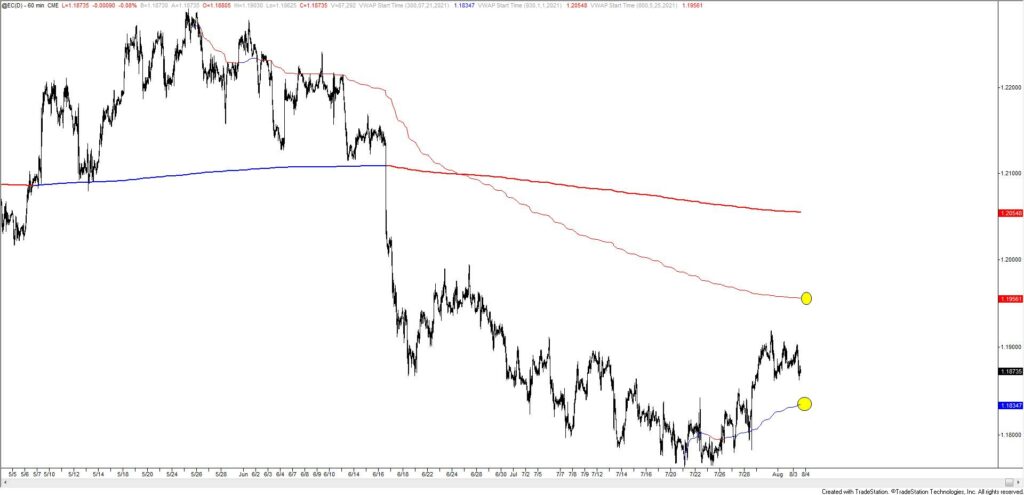 Markets are stuck in a post-FOMC lull. EURUSD levels to pay attention to remain the same. 1.1830s is still proposed support. The well-defined horizontal zone is reinforced by VWAP from the low. VWAP from the May high still equated to about 1.1950 in spot.
7/29 – EURUSD is basically the exact opposite as DXY. Proposed resistance remains 1.1950/90. VWAP from the May high is currently 1.1960 in futures (see below), which equates to about 1.1950 in spot (spot currently trades at a 10 pip discount to futures). If price pulls back before reaching this zone then watch for 1.1830/47 support.
GBPUSD 4 HOUR
I'm conflicted regarding Cable.  On one hand, proposed USD support is lower (both USDOLLAR and DXY) and GBP futures are holding 2021 VWAP (see chart below).  On the other hand, the GBPUSD fork from the February high is a thing of beauty.  The high last week was right at the upper parallel and a bearish outside day was formed on 7/30.  Seasonality is bearish as well.  As such, I'm bearish against the 7/30 high.  Proposed resistance for entry is 1.3950.
7/29 – GBPUSD hasn't quite reached 1.4000 (high today was 1.3982) but the upper parallel was reached. I am on reversal watch in Cable right now…especially given bearish seasonal tendencies over the next few weeks (see below).
BRITISH POUND FUTURES 4 HOUR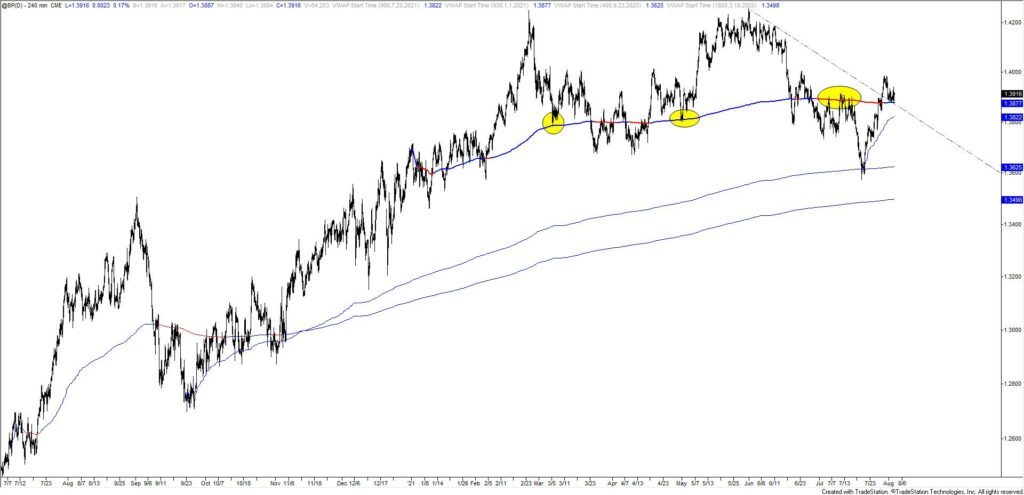 USDJPY 4 HOUR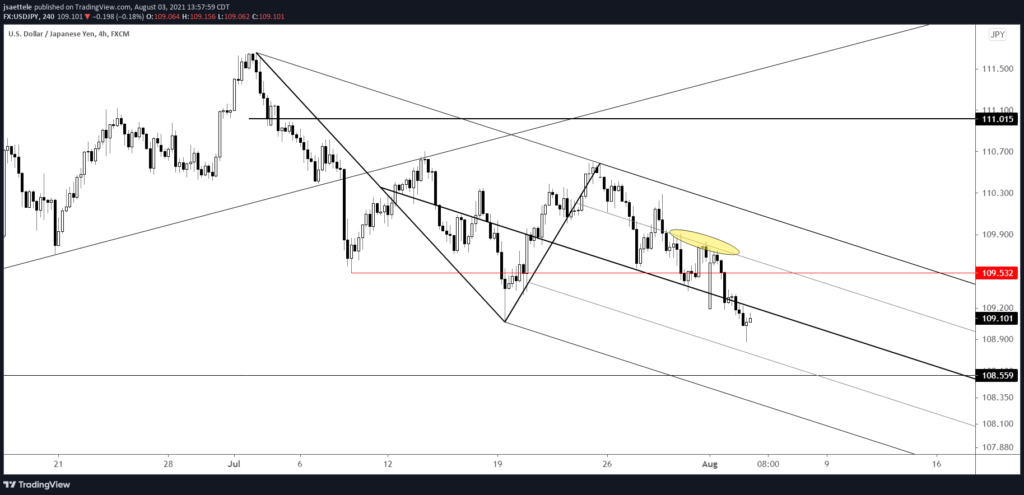 We may have a bearish channel from the July high to work with in USDJPY. Notice how the 25 line was precise resistance on Friday and Monday. This line intersects former support at 109.53. That's proposed resistance now. The 75 line is a possible bounce level near 108.75.
NZDUSD DAILY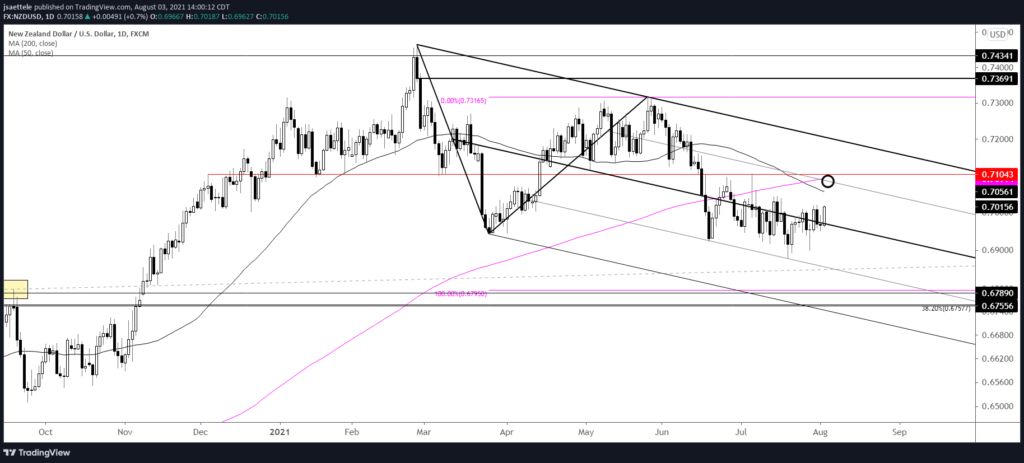 .7100 might be in play again for NZDUSD. The level has been a pivot since December. It's also near the 25 line within the channel from the February high. Since the 75 line was support (twice), we should expect resistance near the 25 line (median line symmetry!). .7100 is also the 200 day average.
USDCAD 4 HOUR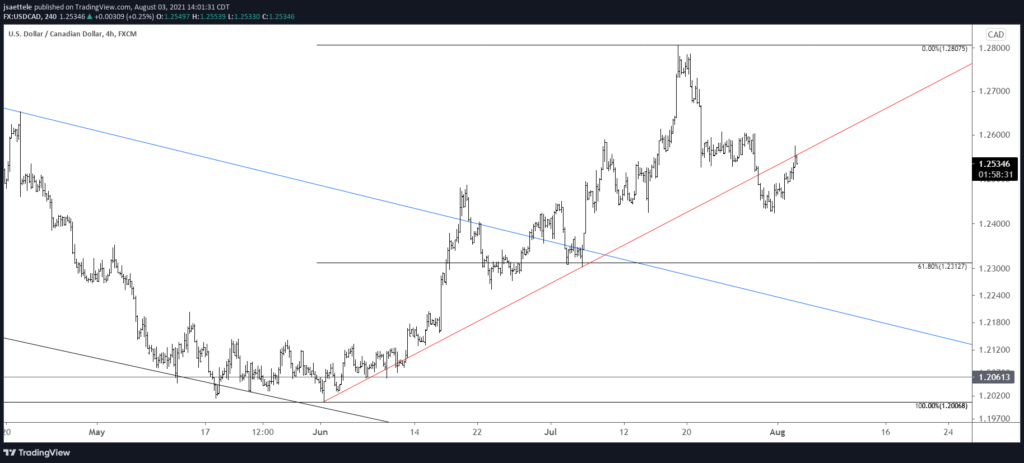 The underside of the short term trendline provided resistance today in USDCAD. As such, I'm bearish against today's high and looking towards the noted 1.2300/13. Keep it simple!
8/2 – USDCAD has broken near term trendline support. The underside of the trendline is proposed resistance near 1.2550. The most recent high volume level is 1.2530. Bottom line, 1.2530/50 is proposed resistance. Downside focus is 1.2300/13 (former support and the 61.8% retrace).