SPX500 DAILY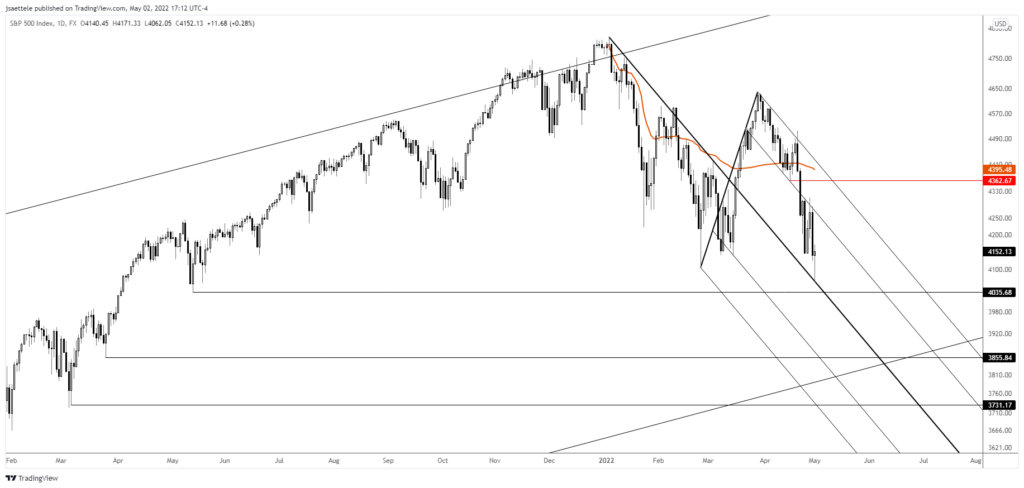 SPX took out the 2/24 low (invasion low) before reversing higher to finish with a high volume reversal (see below).  The low was right at the median line of the bearish fork too.  Sentiment across virtually all major asset classes is insanely extreme (USD, bonds, and equities).  The median line tag and reversal from under the February low is a perfect setup for a squeeze higher.  If however price breaks below the median line then the market would be in crash territory.
SPY DAILY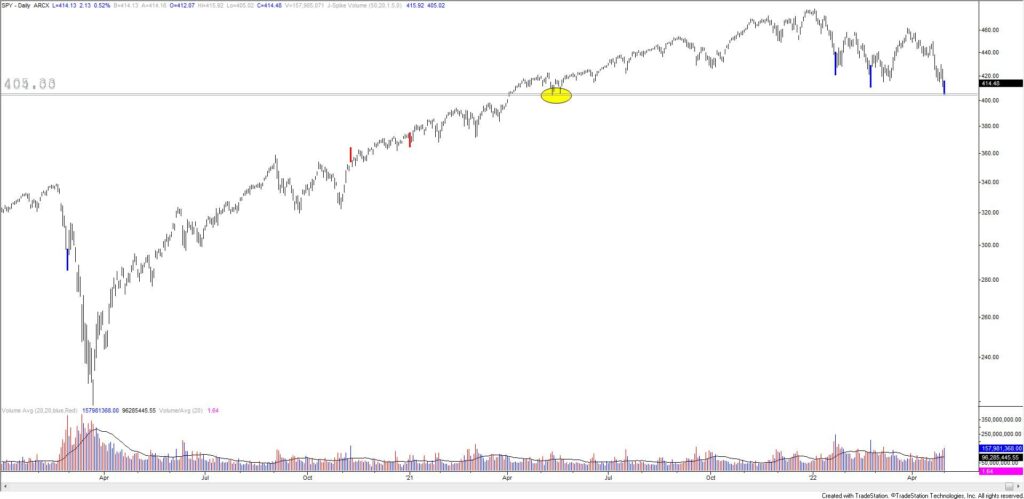 SPOT GOLD DAILY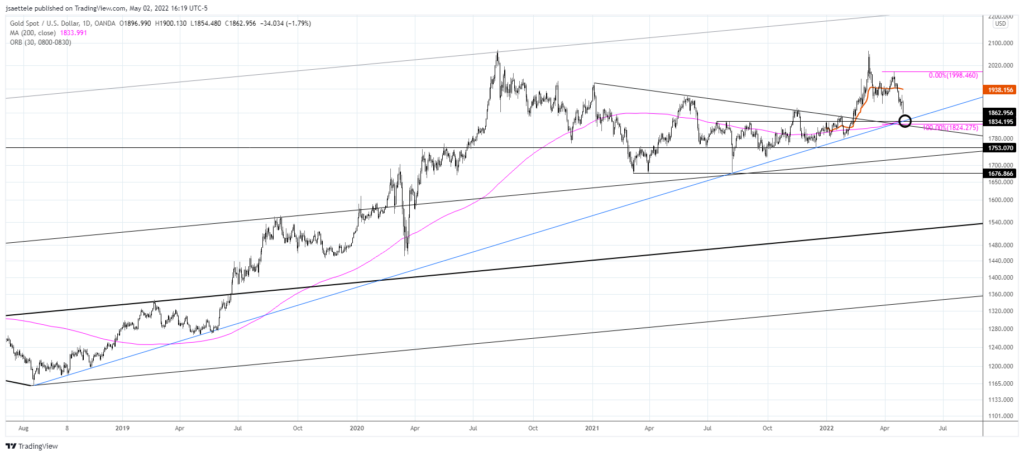 Today's gold dump opens up 1824/34.  This level is massive.  It's the 200 day average, trendline from 2018, top side of former trendline resistance, and 2 equal legs down from the high.  That level has to hold otherwise gold can't be considered bigger picture bullish.  Maybe gold is the 'tell' for the USD in that the metal finds support in the noted zone just as the USD tops.
BRITISH POUND FUTURES DAILY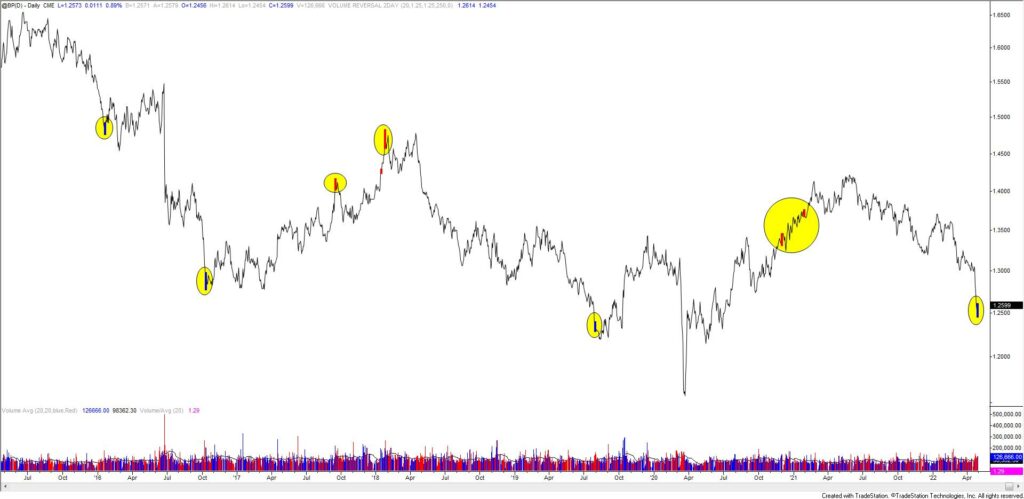 GBPUSD made a 2 day volume reversal on Friday (futures). Euro and DXY also made 2 day volume reversals but I don't have well-defined levels in those markets. Recall that GBPUSD made a low on Thursday at the top side of a 7 year trendline. Also, near term price action is constructive (see below) from an Elliott standpoint. There is a high volume level at 1.2566. Strength above would warrant a long position towards 1.2770/70.
4/28 – GBPUSD tagged the topside of the trendline from the 2015 high.  Again, this line crosses 3 yearly highs.  Daily RSI is below 19.  Prior readings this low over the last 20 years are shown with magenta dots on this chart and the following 2 charts.  The combination of the level and the RSI reading have me on reversal watch.  Stay tuned.
GBPUSD HOURLY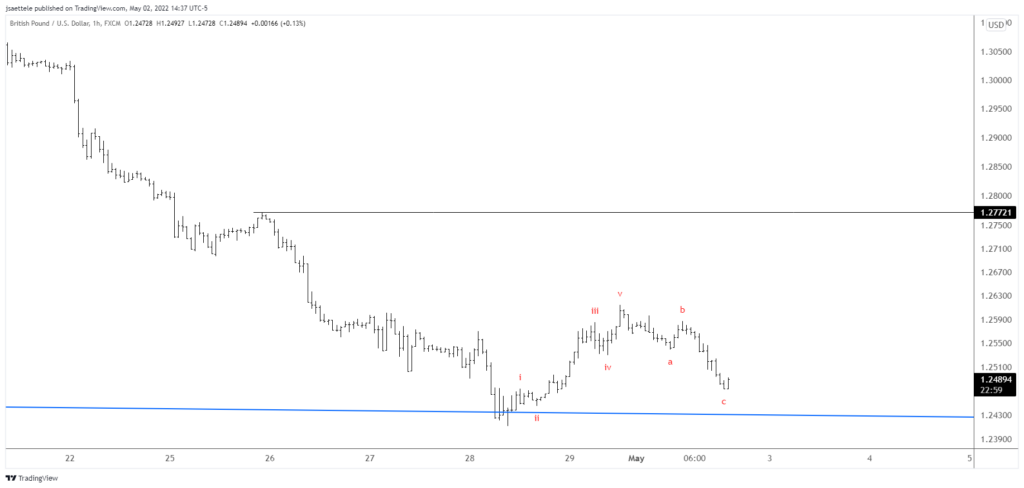 USDJPY DAILY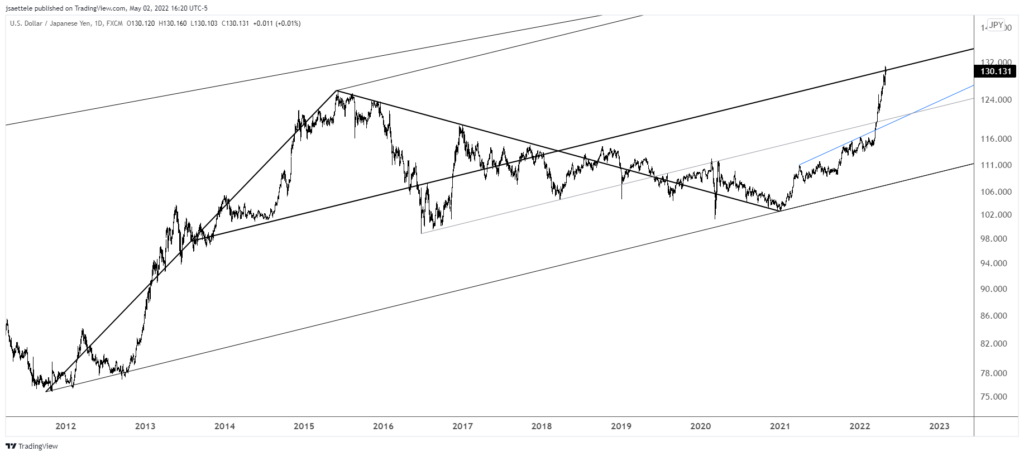 USDJPY has reached the center line of an 11 year channel.  This is a 'logical' spot for at least some consolidation to begin.  Weekly RSI is above 88 (see below).  This has happened once…in 2013.  Following that reading, price dropped 400 pips in 3 weeks before resuming higher.  There is a high volume level at 129.70.  I'll use that as a pivot (below warrants a short).
USDJPY WEEKLY