EURUSD HOURLY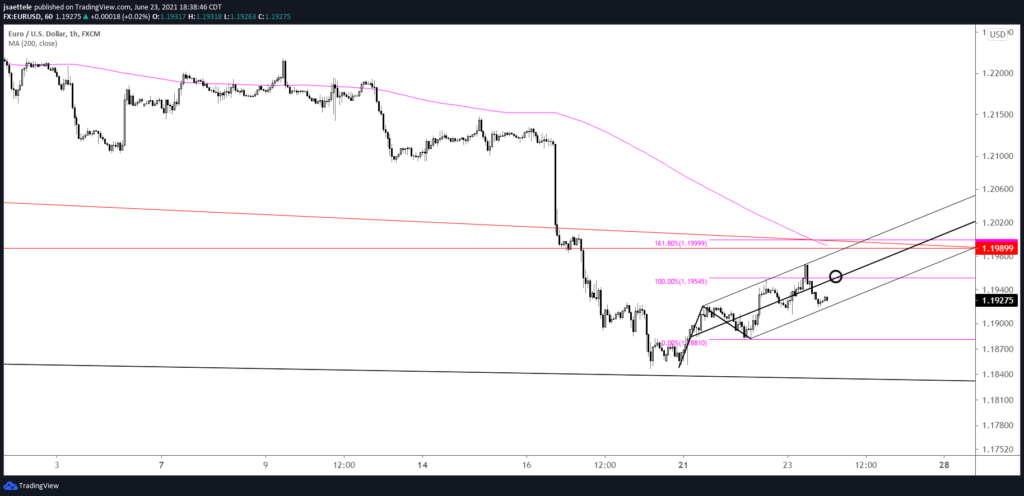 EURUSD didn't quite make 1.2000 but the rally channels in a corrective manner so I'm willing to take a short on the short side again. Proposed resistance for entry is 1.1950s. Risk is extremely tight and downside focus is open for now…basically a drop under the 1.1919 low at minimum.
6/22 – Elliott analysis is a method of pattern classification. Price patterns are the manifestation of human psychology (sentiment), which is clarified with increased volatility. Such clarity is on display now in EURUSD. 1.1880 was support today for proposed wave B and the rally from that low is wave C. The rally could be complete now since strength consists of 2 equal waves but I'd still allow for a test of 1.1990. Bottom line, I'm bearish but respecting potential for 1.1990.
GBPUSD 4 HOUR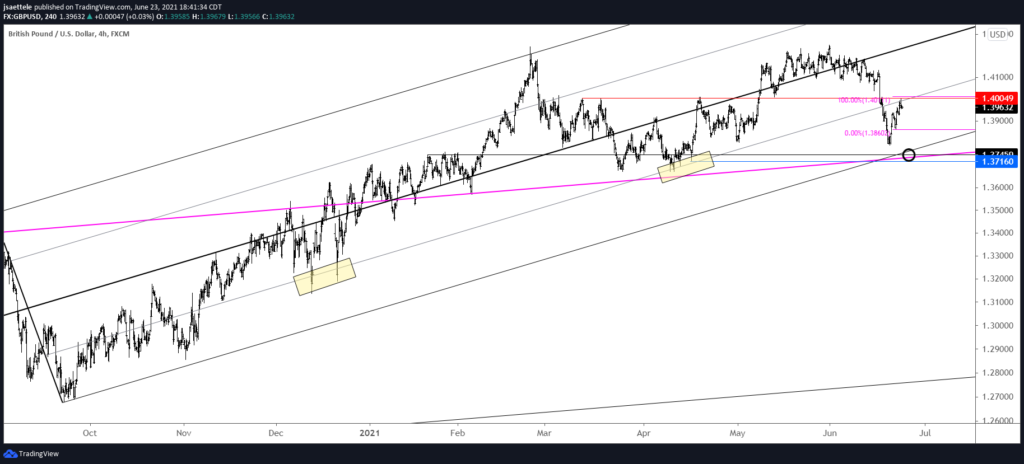 Cable nailed 1.4000 and reversed lower. I'm a bear again and looking for 1.3750 or so. The level is defined by a slope confluence that includes the median line from the fork that originates at the 2016 low (see below).
6/22 – 1.4000/10 remains ideal resistance for GBPUSD. Aside from 'clean' horizontal resistance and the 25 line of the Schiff fork from the March 2020 low, it's also 2 equal legs from the low.
GBPUSD DAILY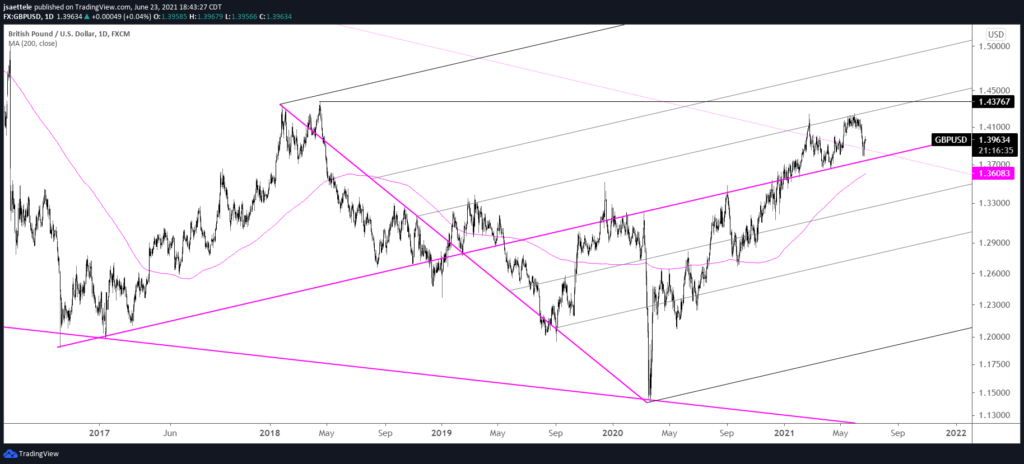 AUDUSD 4 HOUR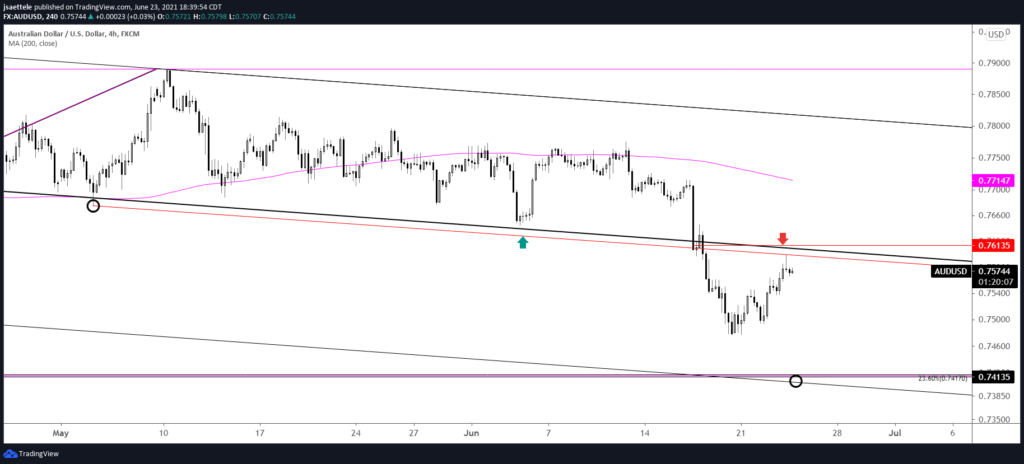 Similar to EURUSD, AUDUSD didn't quite reach the 'ideal' resistance but…close enough. Focus is again lower towards the long noted .7415 target.
6/22 – No change to AUDUSD but I wanted to reproduce the chart in order to convey the importance of .7610 resistance. II will note that a 12 hour (half day) volume reversal triggered on the low (see futures chart below). Previous signals have identified swing lows of varying degrees so if the rally from the low unfolds in 5 waves then I'll flip to a bullish stance.
USDCAD 4 HOUR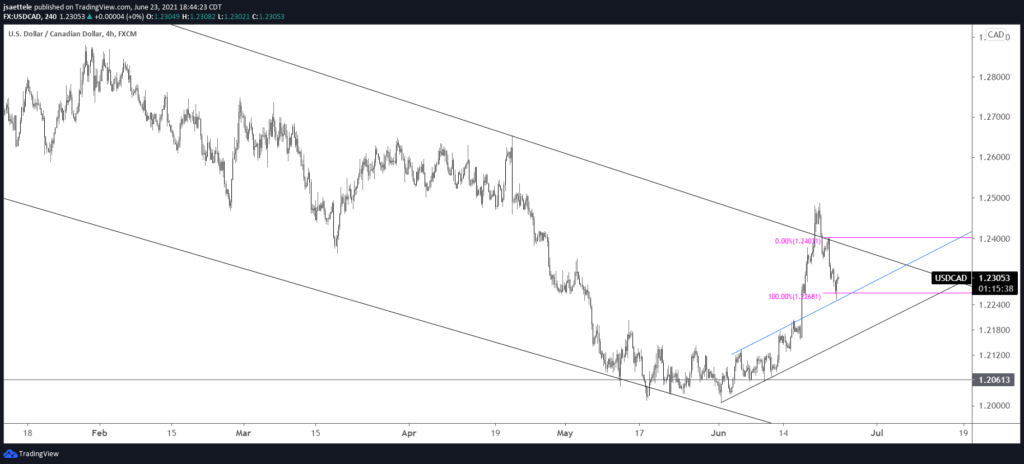 USDCAD nailed support and reversed higher today. Time to be bullish again! Ironically, less words are required when the market adheres to one's analytical method. 'Feel the flow'…it's working. Upside focus is open for now.
6/22 – Focus for USDCAD support is 1.2260s. This is 2 equal legs down from the high, the top side of the former short term channel (a test and hold of that line triggers a slingshot setup), and the high volume level from FOMC last week.
EURJPY 4 HOUR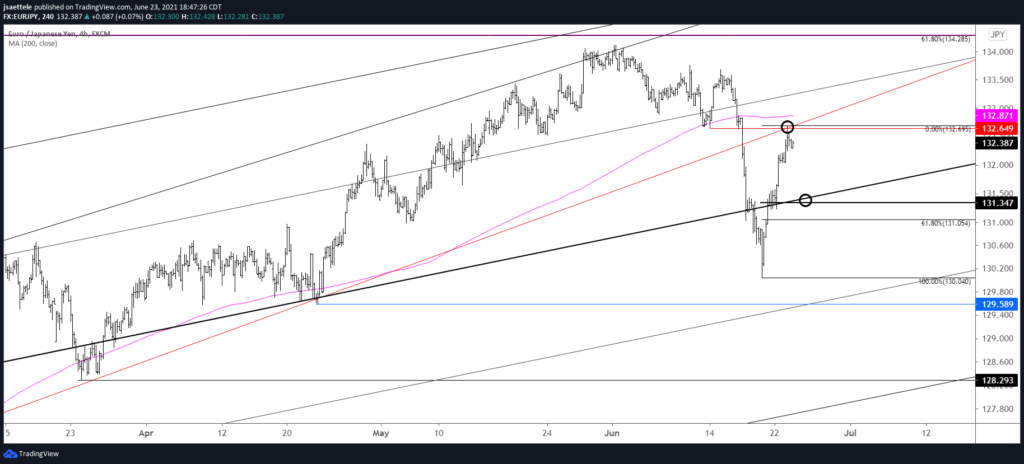 EURJPY also nailed resistance today and put in a 4 hour reversal candle. The rally can be counted as an impulse so downside focus is daily reversal support at 131.35.
6/22 – The underside of former trendline support (red line that originates at the November low) is in line for resistance near 132.60, which is also the 6/14 low. The 200 period average on the 4 hour chart is just above that level. Bottom line, I'm looking to short into 132.60/80s.