NASDAQ FUTURES (NQ) 4 HOUR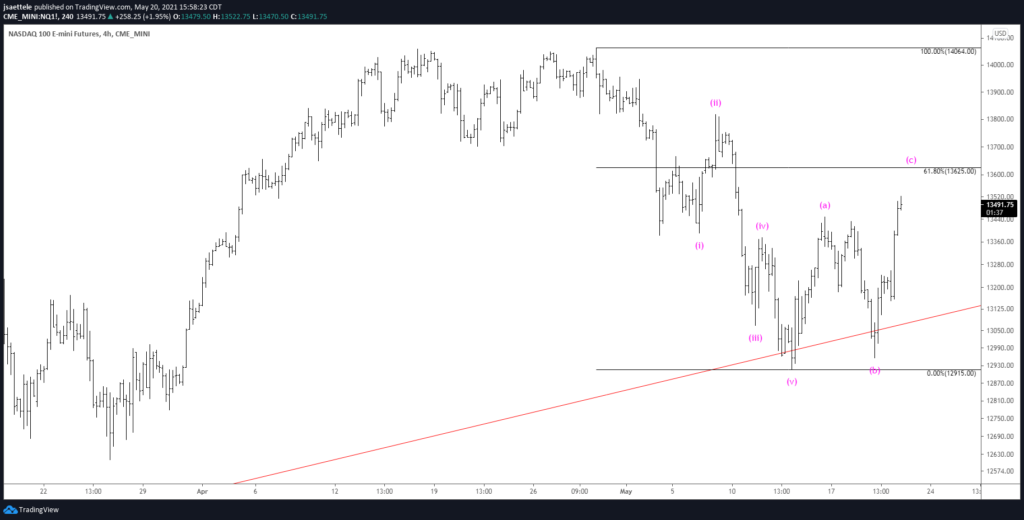 Confidence in direction in just about anything is nil right now but IF a broader risk off theme is emerging then I'd expect resistance in NQ near 13625. This is the 61.8% retrace of the decline from the top. What's more, the decline from the top does count in 5 waves so expectations are for a lower high and another leg down.
USDJPY DAILY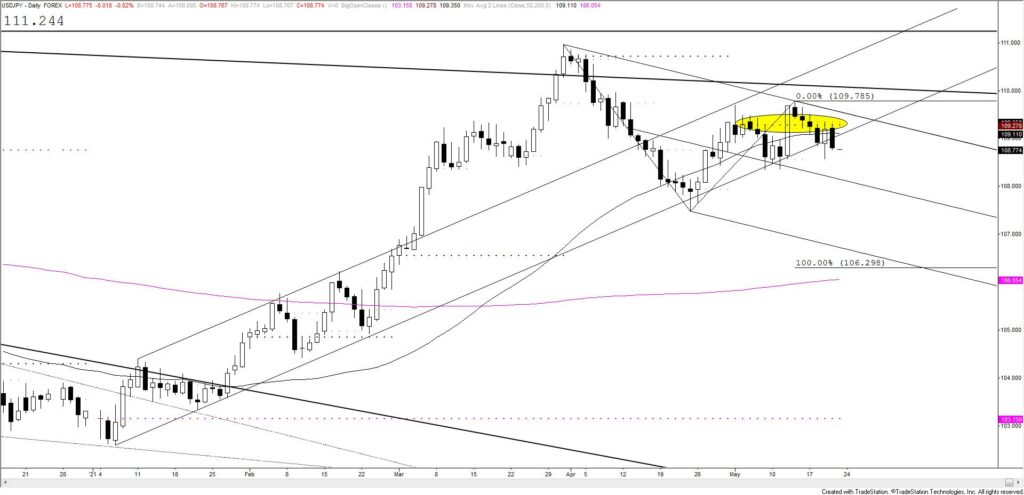 USDJPY continues to press channel support. Today is the 9th day since 4/23 that price has touched the channel line. I'm 'thinking' breakdown eventually but market conditions at the moment are not conducive to range expansion. Watch for resistance near 109.10 (50 day average). If downside does materialize then the center line of the channel from the March high is a bounce level near 108.10.
5/11 – USDJPY is testing channel support again! It's tempting to buy into this support line but the failed break above the 2018-2020 line in early April lends a bearish backdrop to the cross (see weekly chart below). If price breaks below the current level, then I'll turn bearish. Also, it's interesting that the Nikkei and USDJPY are both testing key levels simultaneously.
EURJPY DAILY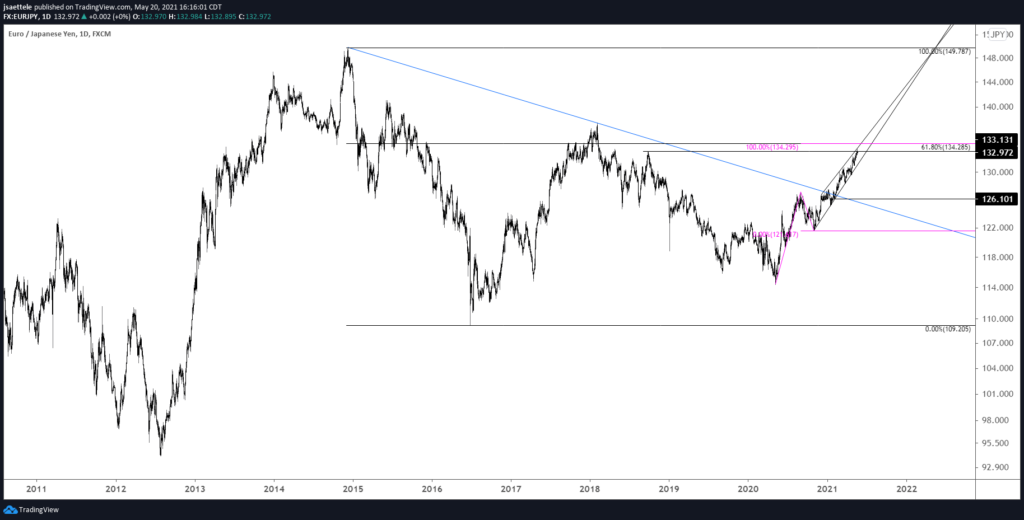 EURJPY action since the October low has taken the form of a wedge. The rally stalled this week after taking out the September 2018 high but I'm wondering if we get a final spike into 134.30, which is both the 61.8% retrace of the decline from the 2014 high and 2 equal legs up from the 2020 low. A close-up view is below.
EURJPY 4 HOUR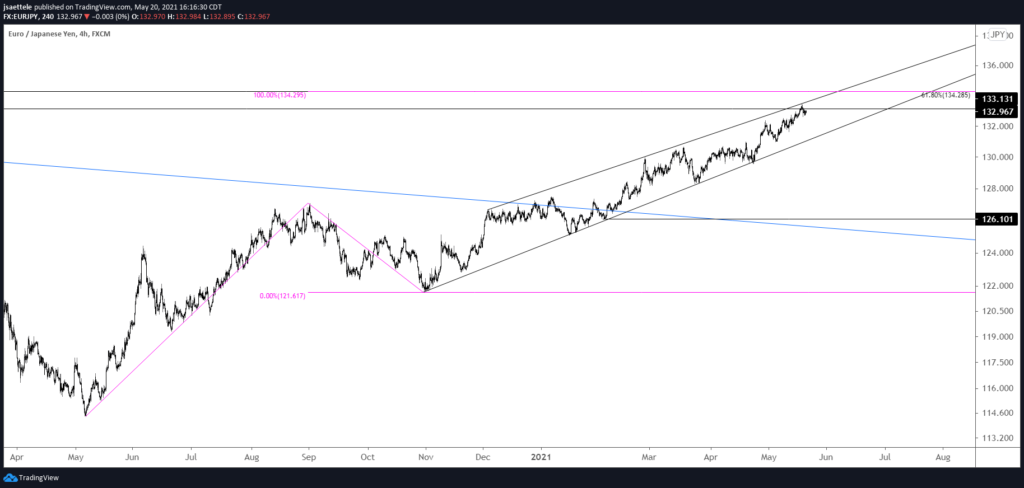 CADJPY WEEKLY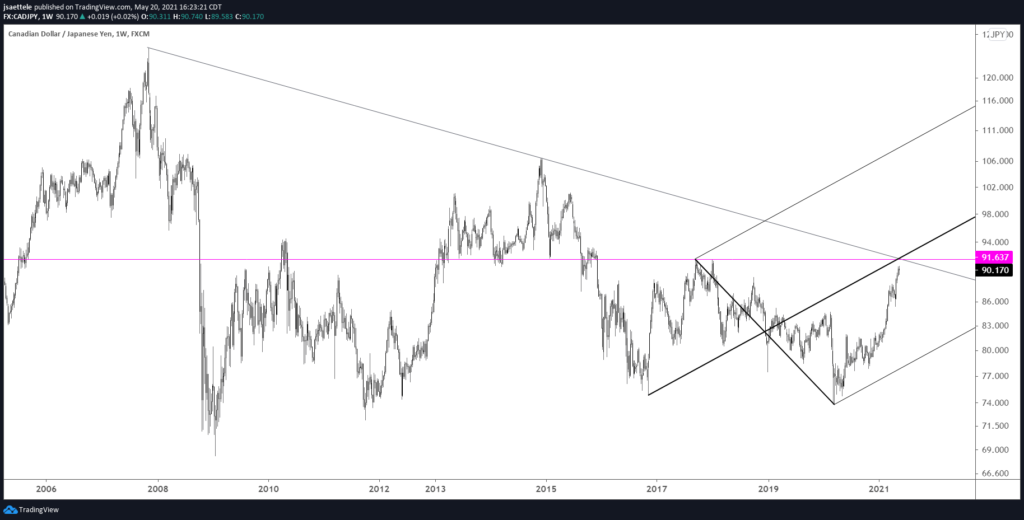 No change here but don't forget about CADJPY. Similar to EURJPY (and AUDJPY…not shown today but don't forget about the underside of the long term trendline there near 86.60), a final spike may be required to signal the 'all-clear' before the rug gets pulled. The level to know is 91.60.
5/12 – CADJPY 91.60s is huge. This is the line off of the 2007 and 2014 highs (7 year cycle highs?), median line from the structure that originates at the 2016 low, and 2017 high. I'm on alert for a reversal from that level.