AAII BULLISH SENTIMENT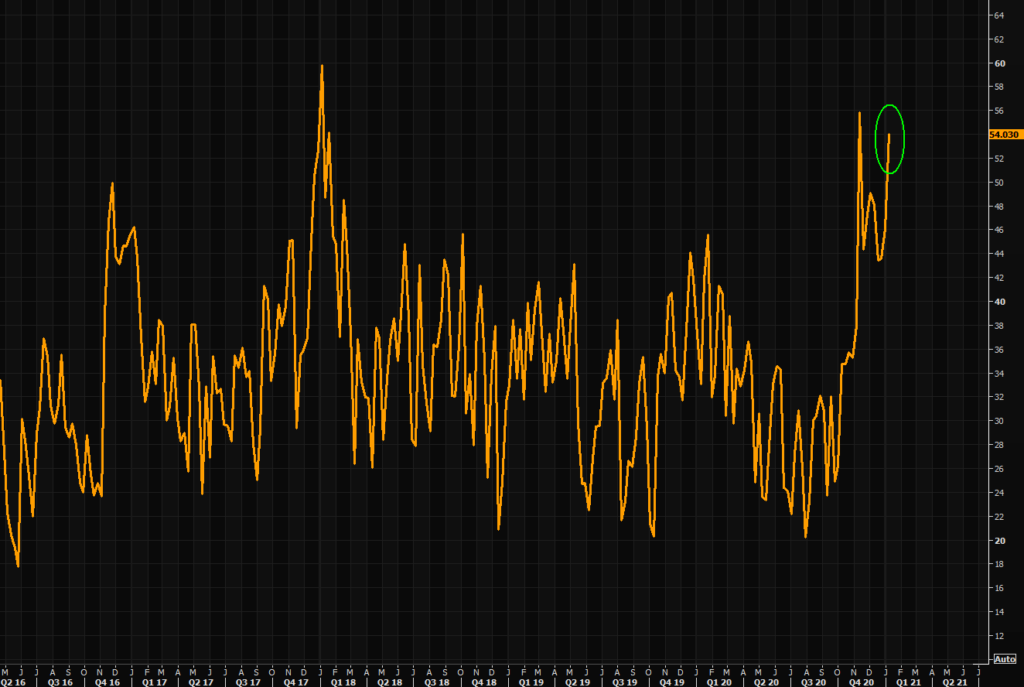 The latest AAII bullish sentiment reading is elevated. High levels of bullish sentiment tend to occur near price tops. On the chart, I'm paying attention to a short term wedge pattern (see below) in SPX. The lower wedge barrier is about 3715. A break below is needed in order to suggest a larger reversal is underway.
S&P 500 FUTURES DAILY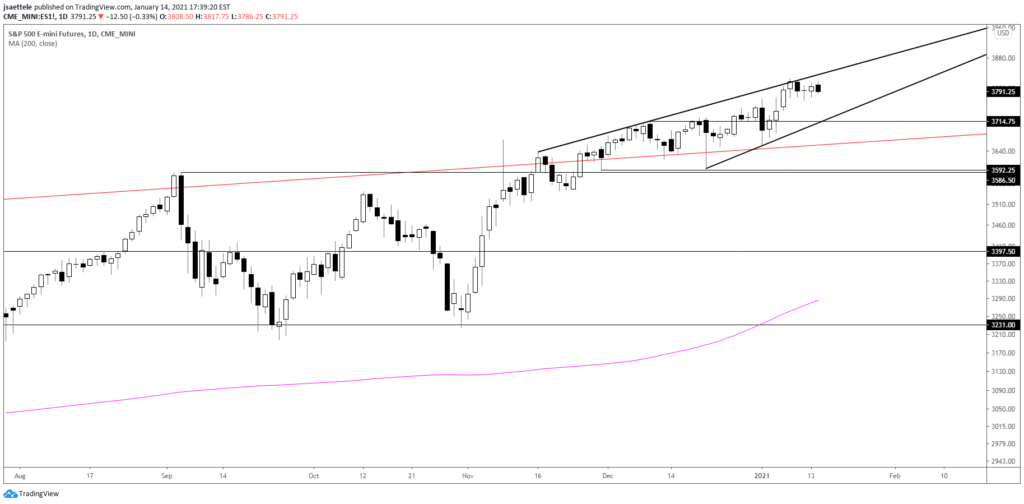 SPOT SILVER 4 HOUR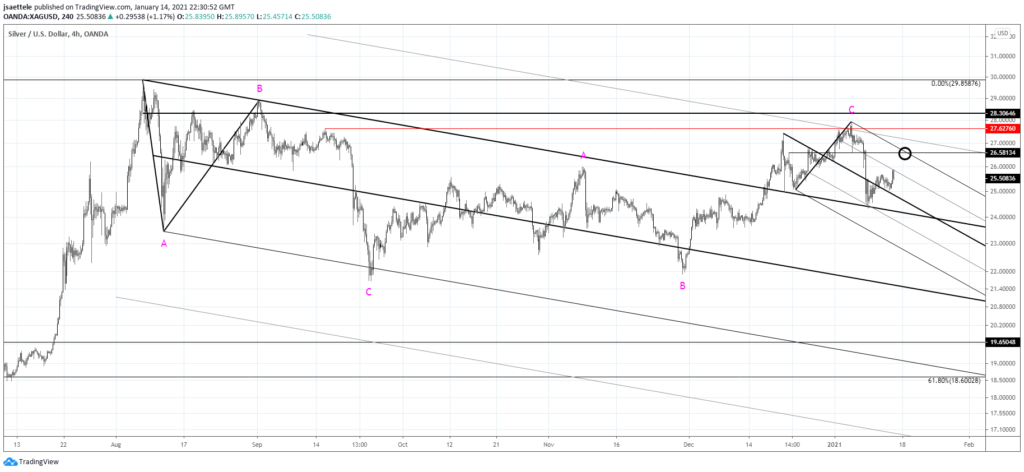 The down up sequence since the August high in silver 'counts' as 3 waves down and 3 waves up. The implication is that a complex correction is unfolding. The next most likely move is lower in either 3 or 5 waves from the 1/6 high. A lower high against the 1/6 high may have registered today or could register near 26.58. I'm looking to short.
1/6 – Silver has been pressing against the 9/15 high for the past 3 days. Price turned sharply lower today before rebounding (remember the U.S. session magic). Again, the rally 'counts' as an impulse so respect potential for a corrective drop back towards a 24 handle.
USDJPY HOURLY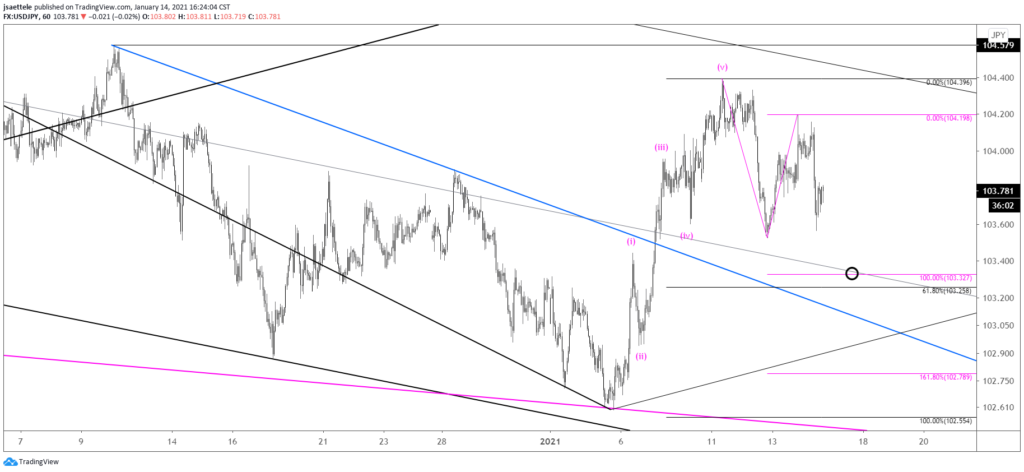 I'm either looking to trade a USDJPY breakout above 104.40 or buy a dip into 103.30ish. As the daily chart below illustrates, there is 'a lot of air' above 104.40. 2 legs down from the 1/11 high is 103.33, which is just above the 61.8% retrace at 103.26. The year open is also 103.28. Big level!
1/13 – There are 2 reasons to suspect that the USDJPY pullback is complete. First, price did pull back to the former 4th wave of one less degree. Second, VWAP from the Yen high (USDJPY low) and 2021 VWAP were Yen resistance (USDJPY support) today. The most recent high volume level (hour of NFP) was also Yen resistance today. The futures chart with volume studies is below. Strength above the upper parallel of the channel from the March high near 104.50 would warrant a breakout trade.
USDJPY DAILY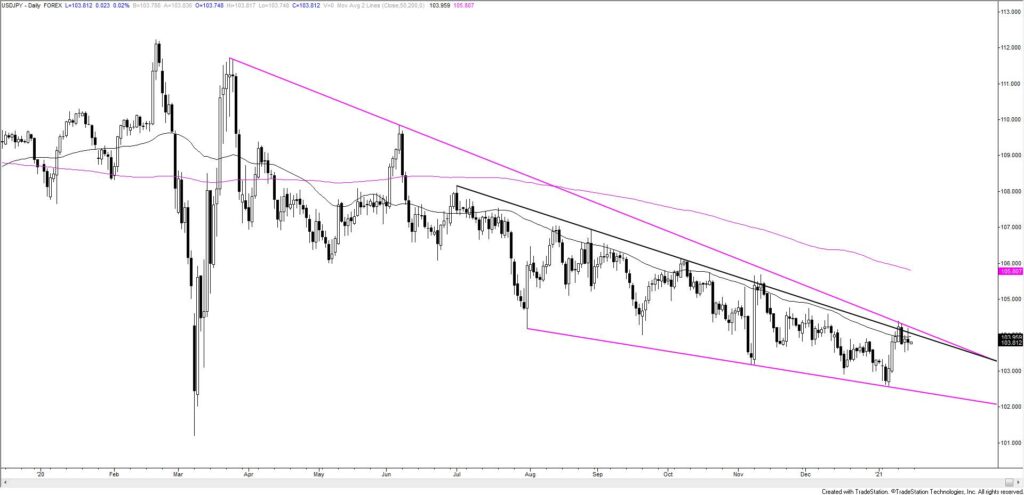 NZDUSD 4 HOUR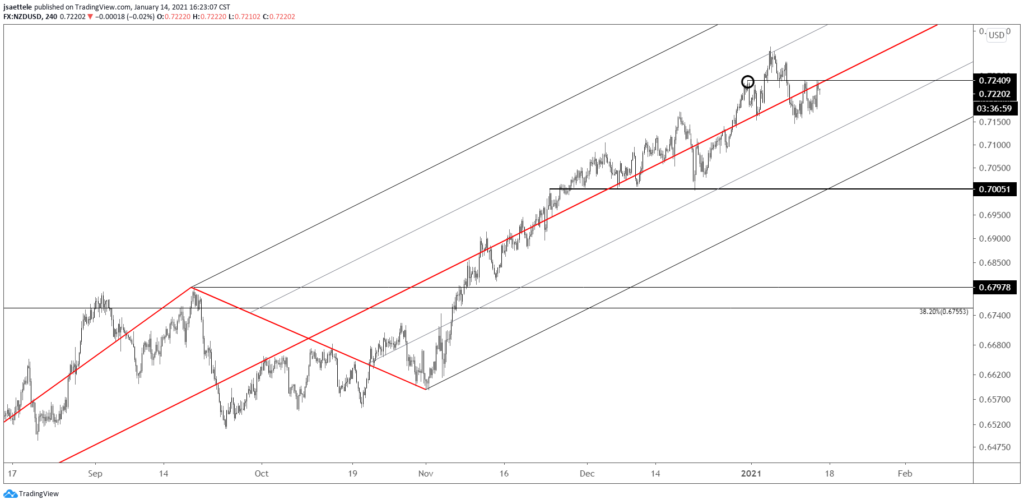 NZDUSD has been pressing into the noted center line (red line) from the channel off of the March low the last few days. Ideally, the next lower gets underway immediately. If that happens, then the 25 line is a level of interest near .7115 but the 'real' level of interest is the lower parallel near .7000. Another reason to 'like' the short side right now is that VWAP from the high and 2021 VWAP continue to act as resistance (see below).
1/11 – The center line of the channel from the March low (red line) in NZDUSD has been support and is now proposed resistance near .7225. The 25 line is a possible bounce level at .7100. The 'real' test for bulls is the lower parallel near .7000. Proposed resistance is reinforced by VWAP from the high and 2021 VWAP (see 2 charts down).
NEW ZEALAND DOLLAR FUTURES HOURLY