U.S. TOTAL CALL OPTION VOLUME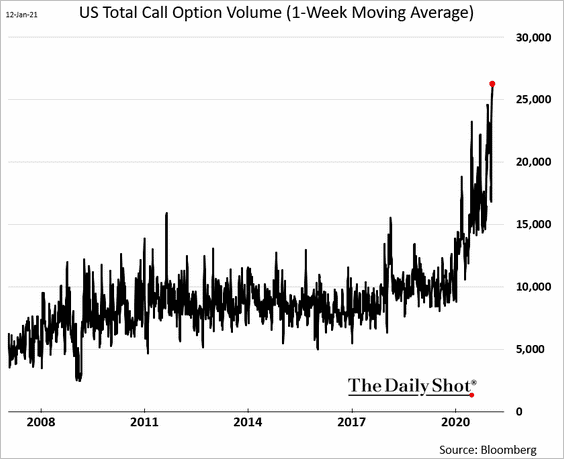 Leveraged bets on stocks going higher (call options) have spiked to another record. Just another sign of extreme optimism and speculation. When/if it matters is another question.
DEALER GAMMA EXPOSURE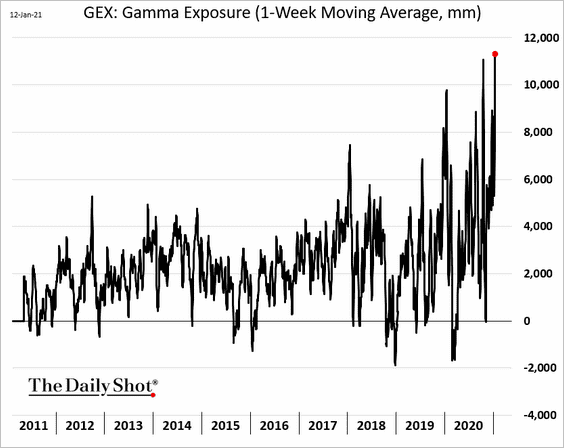 Dealers are extremely short gamma because they've been selling options to clients (see above chart). When dealers are short gamma, they must buy futures/stock on each uptick and sell on each downtick. Warning…this environment exacerbates volatility. Given these 2 charts, 1 month OTM puts aren't a bad idea now.
AUDUSD HOURLY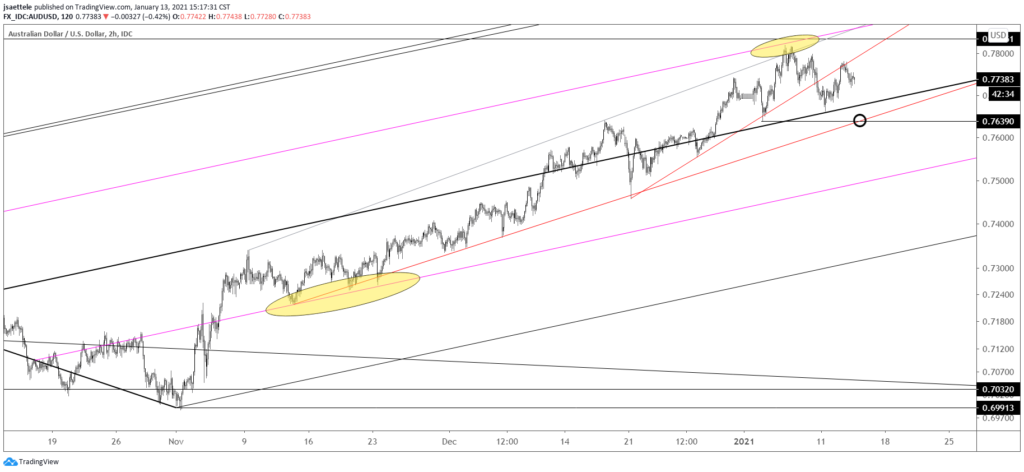 AUDUSD resistance registered at the underside of a short term trendline. The breakdown level is .7640. A drop below would open up the 25 line within the Schiff fork off of the March low. A zoomed out chart is below. Notice how the 25 line was support (in November) and the 75 line was just resistance. The concept of symmetry at work!
1/11 – AUDUSD has broken a short term trendline and the underside of that line is now proposed resistance near .7750. .7620 is a possible bounce level (as well as the next breakdown level). .7750 is reinforced by VWAP from the high and 2021 VWAP (see futures chart 2 charts down). It's important to note that AUDUSD is reacting an important long term level (see weekly chart below).
AUDUSD 4 HOUR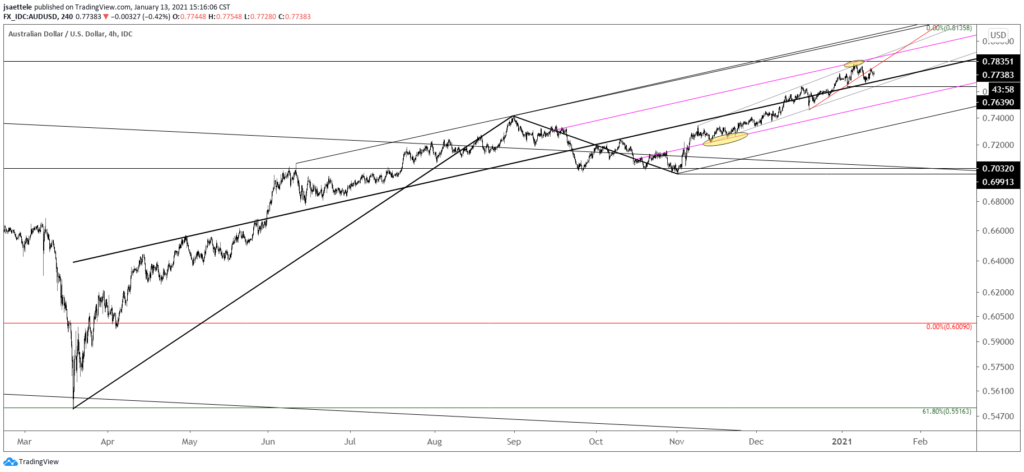 USDJPY HOURLY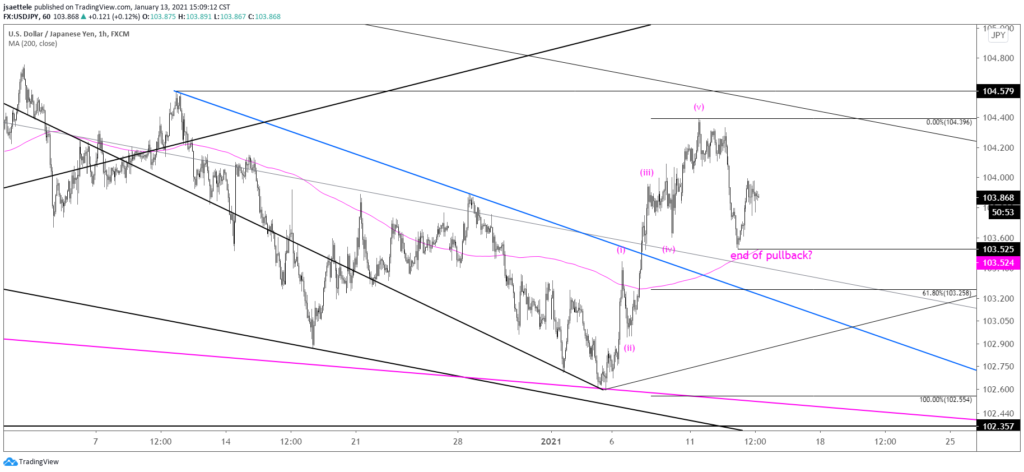 There are 2 reasons to suspect that the USDJPY pullback is complete. First, price did pull back to the former 4th wave of one less degree. Second, VWAP from the Yen high (USDJPY low) and 2021 VWAP were Yen resistance (USDJPY support) today. The most recent high volume level (hour of NFP) was also Yen resistance today. The futures chart with volume studies is below. Strength above the upper parallel of the channel from the March high near 104.50 would warrant a breakout trade.
1/12 – USDJPY is pulling back…the high thus far is about 15 pips shy of the upper parallel of the channel from the March high. A break above that channel would indicate an important behavior change. As it is now, focus is on identifying a higher low. The 'ideal' level for support is the 61.8% retrace of the rally from the low at 103.25.
JAPANESE YEN FUTURES HOURLY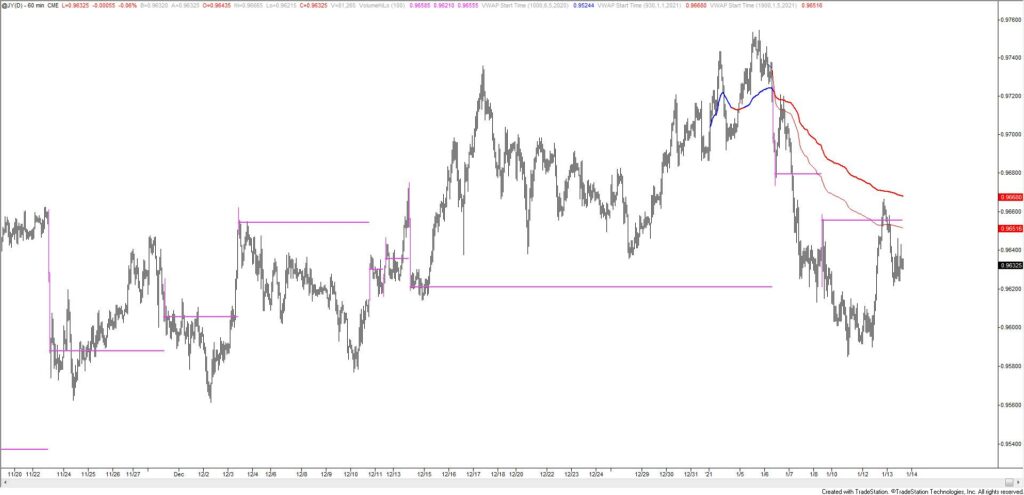 USDSEK HOURLY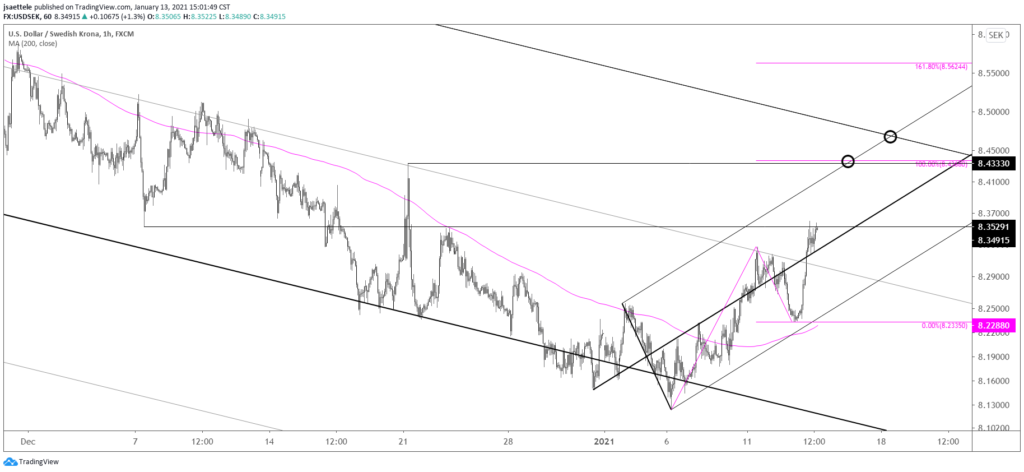 USDSEK, often viewed as a USD bellwether, surged today. Near term action is constructive, with an uptrend neatly confined to a short term bullish fork. Levels to pay attention to on the upside are 8.4330 and about 8.4650. The latter level is the upper parallel of the channel from the March high and is viewed a a critical decision point for USDSEK. A zoomed out version is below.
USDSEK 4 HOUR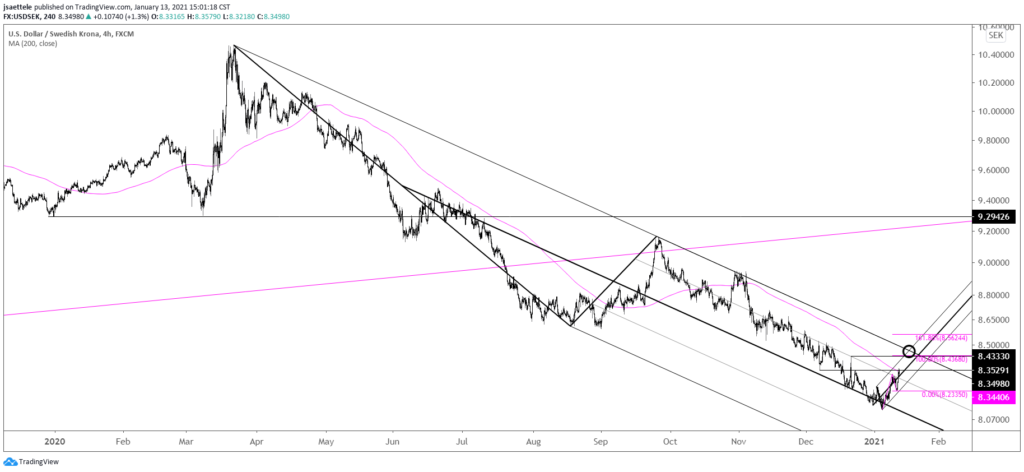 EURAUD DAILY
EURAUD is sitting just above a 9 year trendline. The line off of the 2012 and 2017 lows is about 1.5650. I'm focusing on this level for support. Any reversal evidence down there would warrant a long position.