BTCUSD DAILY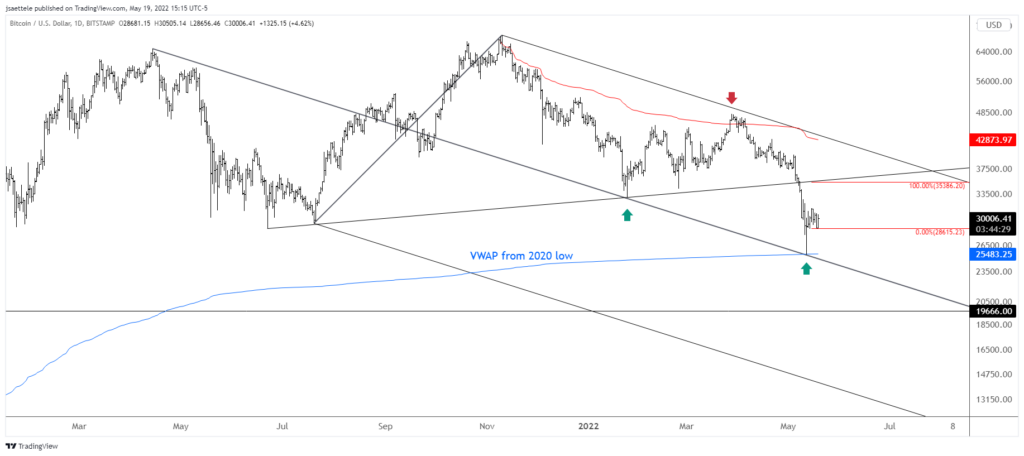 BTCUSD is holding up following last week's reversal. In fact, last Thursday's close (reversal day) has provided support the last few days. The broader trend is lower but there remains room for a bounce into 35386 or so, which is 2 equal legs up and the underside of the trendline that originates at the June 2021 low.
5/12 – BTCUSD reversed off of the VWAP and the median line today!  This is huge and sets a line in the sand for BTCUSD and probably crypto and 'risk' in general (see the Nasdaq composite and BTCUSD overlay below).  IF a screaming rally is going to unfold then it's from this level.  The former low at 32950 is now resistance.  Here's the thing though…IF BTCUSD breaks below today's low then we're in crash territory until the lower parallel near 14000.
SPOT GOLD DAILY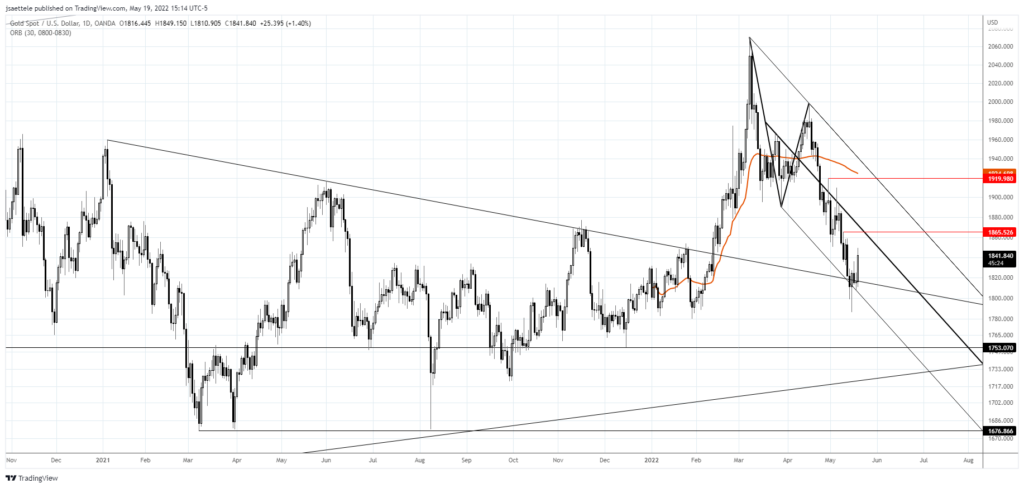 Gold has followed through on Monday's reversal and is nearing the first possible stopping point at 1865. Support should be 1827/29 now.
5/16 – Gold overshot proposed support but carved a large range key reversal today.  Price is back above the top side of the former resistance line and near term channel support.  As such, I like gold higher.  The initial level of interest on the upside is 1865 followed by 1920.
AUDUSD 4 HOUR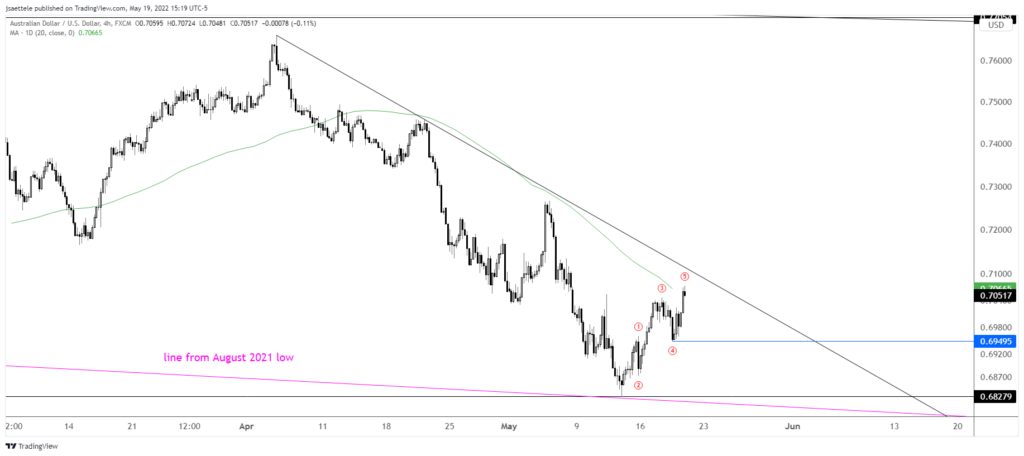 AUDUSD has turned up sharply from the line that crosses lows since August 2021.  Also, .6828 is the January 2019 low (flash crash low).  Price has reached the 20 day average and the line off of the April highs is just above the market.  The rally appears in 5 waves too which raises risk of a pullback.  Proposed support is the former 4th wave of one less degree at .6950.
NZDUSD 4 HOUR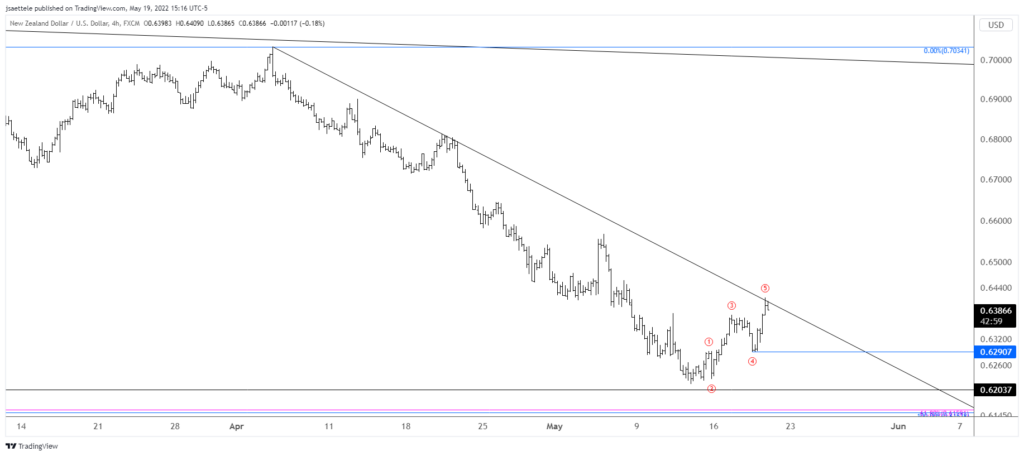 Kiwi didn't quite reach the noted .6150.-6204 zone but the rally appears impulsive so I'm thinking that a tradable low is in place. Like AUDUSD, NZDUSD has reached the 20 day average and line that extends off of the April highs. A pullback here should encounter proposed support near .6290 and set the stage for a strong 3rd (or C) wave higher.
5/12 – The USD is soaring, especially against commodity currencies.  The cleanest level nearby for major commodity FX is found in NZDUSD.  .6150-.6204 is big.  The lower bound is 2 equal legs down from the 2021 high and the 61.8% retrace of the rally from March 2020.  The upper bound is the October 2019 low.  This is a zone that could produce an important low.
USDCAD 4 HOUR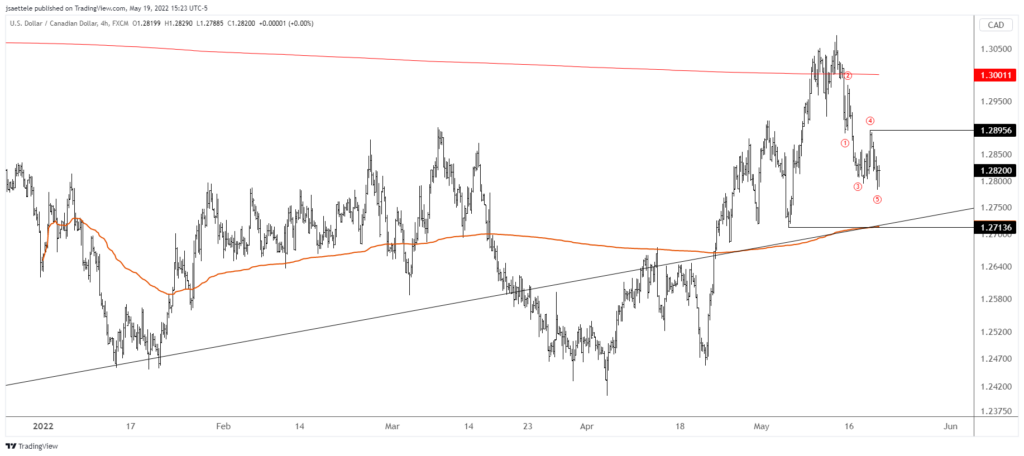 USDCAD weakness also appears impulsive.  Confidence is high that this week's high is important because VWAP from the 2020 high held as resistance (see zoomed out chart below).  Initial proposed resistance is 1.2895.  I'll also note 1.2715 or so (2022 VWAP) as possible support.
USDCAD 4 HOUR