CRUDE OIL 4 HOUR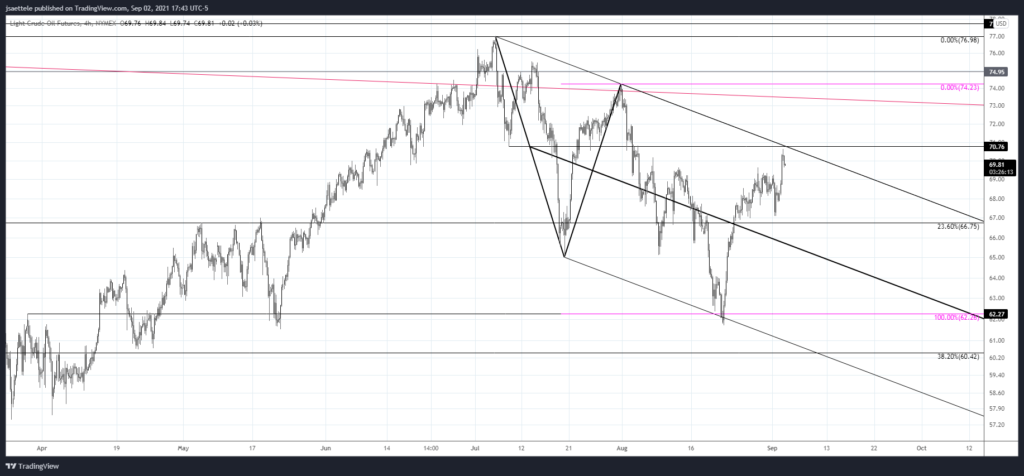 Remember that 62.27!? Crude bottomed there 2 weeks ago and is already back to the upper parallel of the bearish channel. One more push could be in order to test 70.76 (former support). Bottom line, crude is into an important barrier and I'm looking for a turn lower.
8/18 – Crude failed just before 70.18 last week and it's dropped every day since. Median line acceleration was on display today (in copper too by the way…see yesterday's post…). The big test is 62.27, which is 2 equal legs down and the lower channel line.
DXY DAILY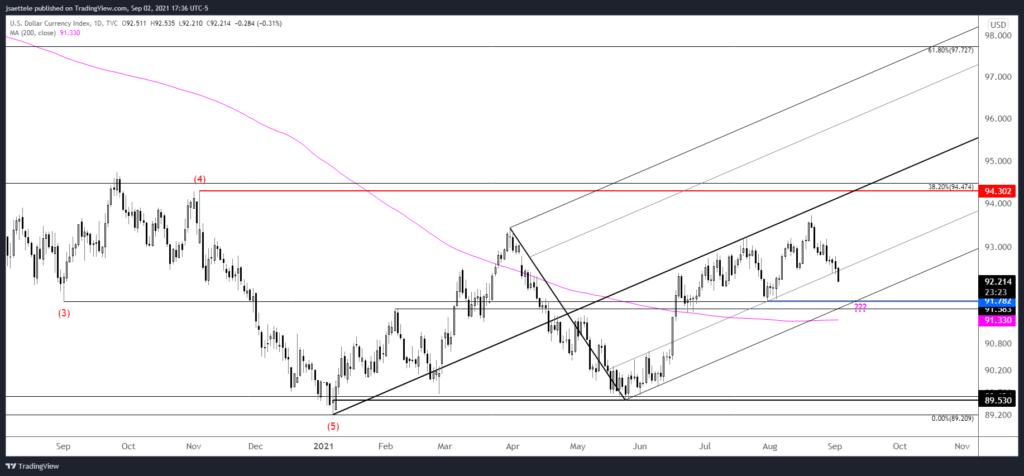 The buck has been getting destroyed the last 2 weeks. I was looking for a hold following the test of the parallel the last 2 days…wrong. The final level to key on at this point is the lower parallel, which is in line with the well-defined 91.60/70. I'm not as 'in tune' with the market following this recent USD slide. Barring high volume reversals, I don't envision playing a USD bounce until the noted 91.60/70. Also, keep an eye on USDSEK into 8.50s (see yesterday's post).
8/31 – DXY slipped under the 8/13 low today before turning back up. This may have been a stop run in order to rid the market of weak longs so that the next leg up can take place. Today's low is also right at the 6/18 high and on an extremely well-defined parallel that was support in late July/early August. Similar to USDOLLAR, the reaction at a well-defined level indicates that the USD dip may be complete.
AUDUSD DAILY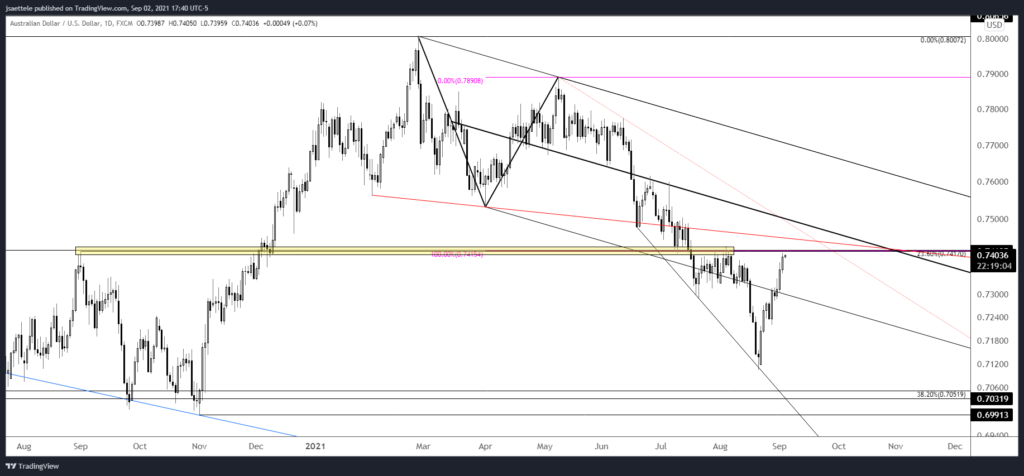 AUDUSD is closing in on the well-defined .7415. Interestingly, this is the September 2020 high. It's also support from July and resistance from August. I'll be on the look for a turn down between .7415 and .7050 (short term channel and bigger picture neckline…see below for a zoomed in chart).
AUDUSD 4 HOUR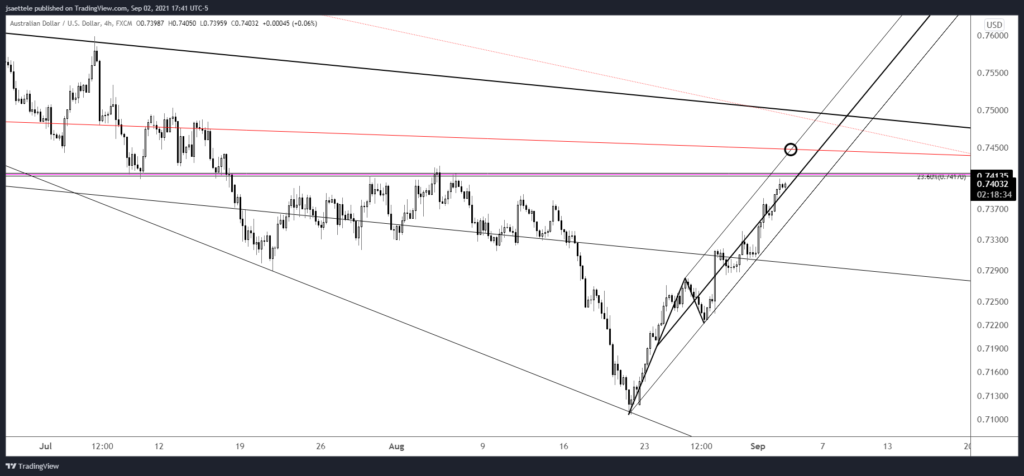 NEW ZEALAND DOLLAR FUTURES DAILY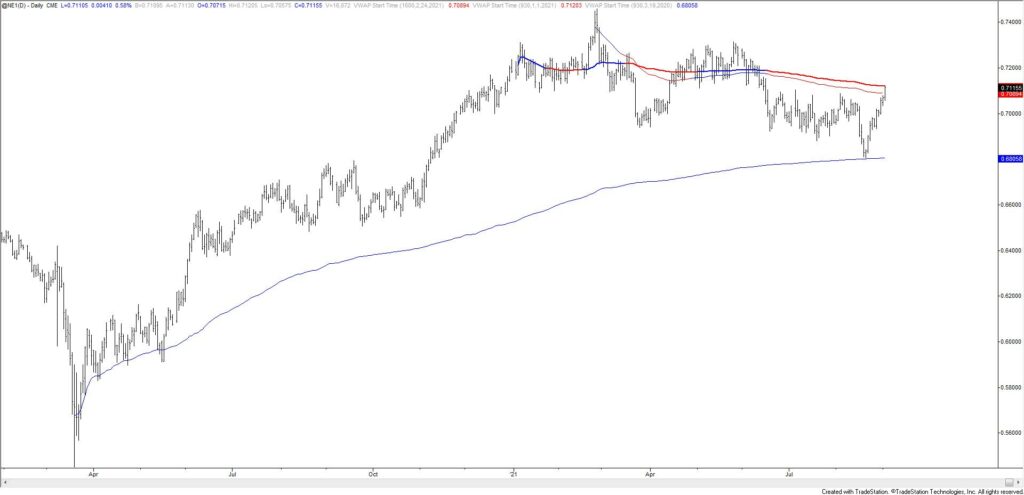 Not much to add regarding Kiwi, which continues to surge. Futures have reached 2021 VWAP. This is also the 200 day average (not shown…see yesterday's post for a chart of spot). As is the case with Aussie, NZDUSD is into a big level but there is no evidence yet of a turn. A setup requires both a level and evidence that the market in question is responding to the level. Stay tuned.
9/1 – .7090-.7115 in NZDUSD is huge. The zone includes highs and lows since January, the 200 day average, 2021 VWAP, and VWAP from the February high. The low at .6800 could be significant but I'm on alert for a strong reaction .7090-.7115.
NZDJPY DAILY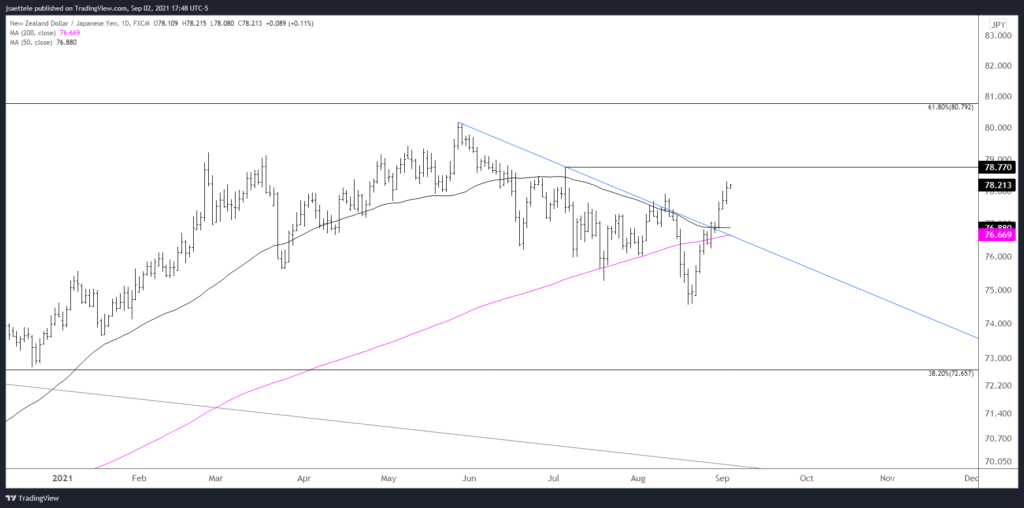 Keep an eye on NZDJPY. Price broke through trendline resistance last Friday and hasn't let up. The July high at 78.77 is a good spot for price to realize a pullback. If that happens, then the top side of the noted trendline, 200 day, and 50 day averages would be in line for support and upside resumption…possibly into 83.90 or so (see below).
NZDJPY WEEKLY