SPOT GOLD HOURLY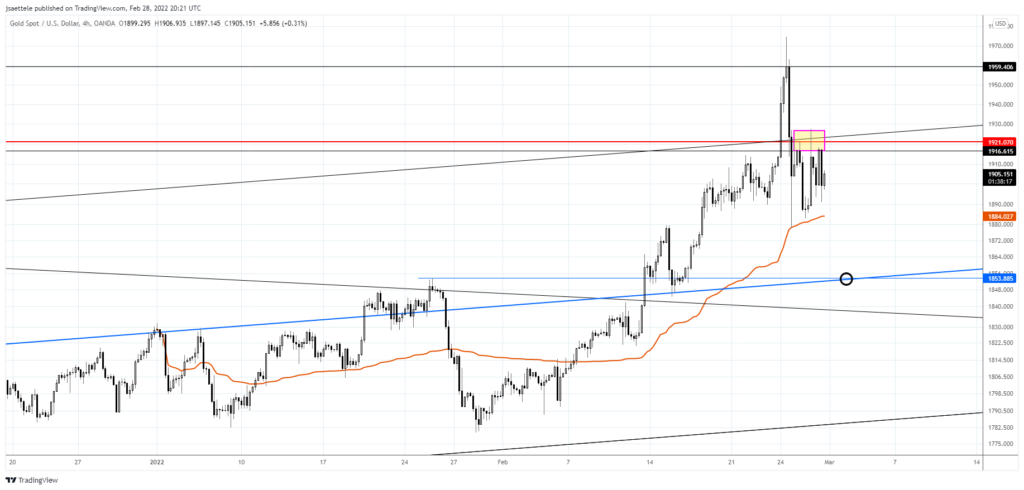 There is no change to the near term gold outlook. The recovery high thus far is 1927, in line with suggested resistance. I remain of the mind that ideal support is 1854. If price established over 1920, I'd be inclined to go with strength since 2022 VWAP held as support.
2/24 – Today's emotional trade probably puts the cap on gold for a bit.  I'm thinking 1854 or so for support.  Once/if that is reached, I'll reassess.  Watch for 1920/30 resistance.
EURUSD 4 HOUR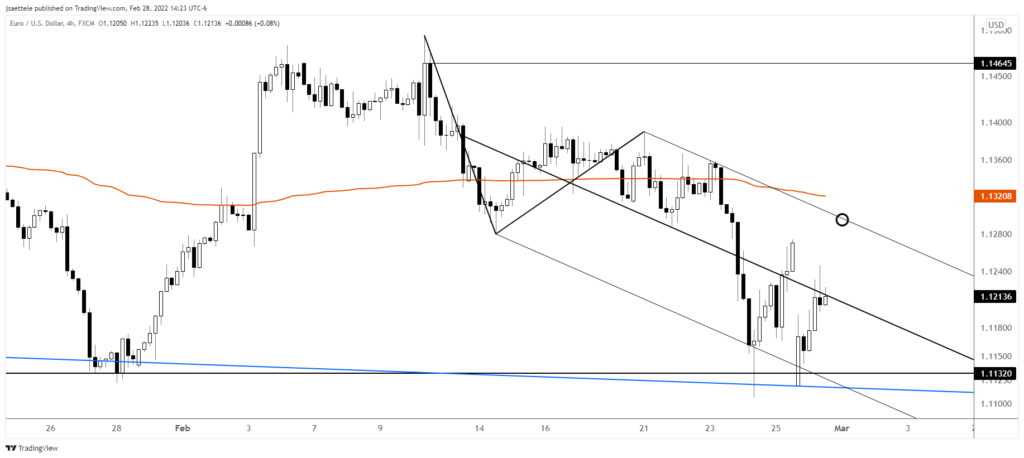 EURUSD continues to rebound on 'bad news'. This action alone suggests a bottoming process. Also, the drop from 2/10 channels. As such, strength above the channel would indicate a breakout and bullish bias. The channel is about 1.1290.
2/24 – EURUSD tested the top side of the trendline from 2014 and weekly reversal support again today.  Keeping in line with the 'sell the news' logic, a low of sorts today makes sense.  1.1155 is proposed support.
USDJPY DAILY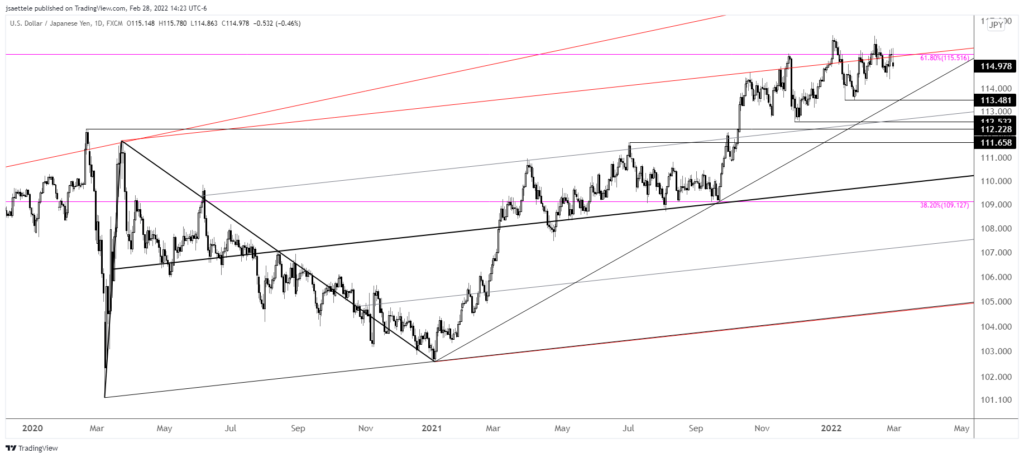 The upper parallel from the channel off of the March 2020 low continues to provide resistance (red line).  As long as this remains the case, my view is that USDJPY action since the high is distributive and therefore bearish.  Near term, a possible head and shoulders is visible (see below).  A drop under the neckline near 114.50 would warrant a bearish bias.
USDJPY 4 HOUR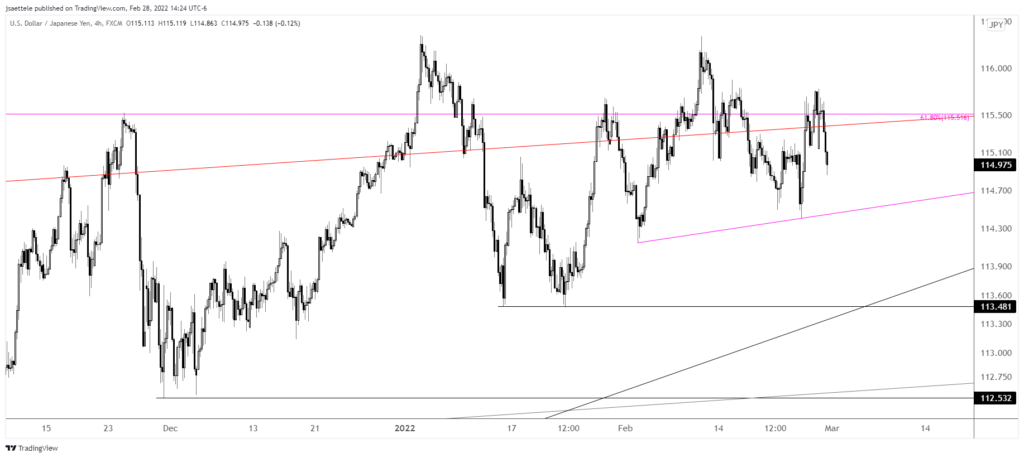 AUDUSD 4 HOUR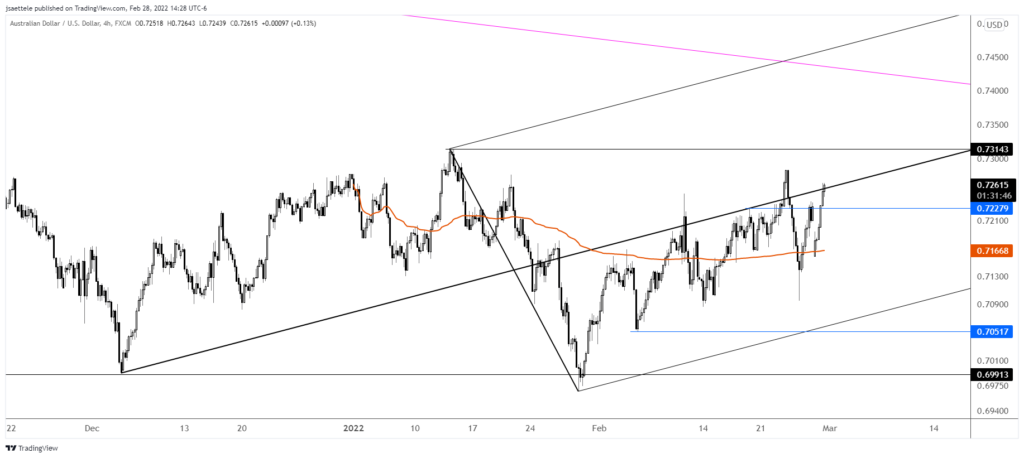 AUDUSD is pressing against the median line again so a drop into the lower parallel probably will not occur. At this point, I'm on alert for 'median line acceleration'. Strength above .7314 would complete a double bottom with a .7636 target. Proposed near term support now is .7230. RBA is tonight.
2/24 – The pitchfork in AUDUSD from the December low is a thing of beauty.  The median line was resistance on the way up so watch for support from the lower parallel, which intersects the 2/4 low at .7052.
NZDUSD 4 HOUR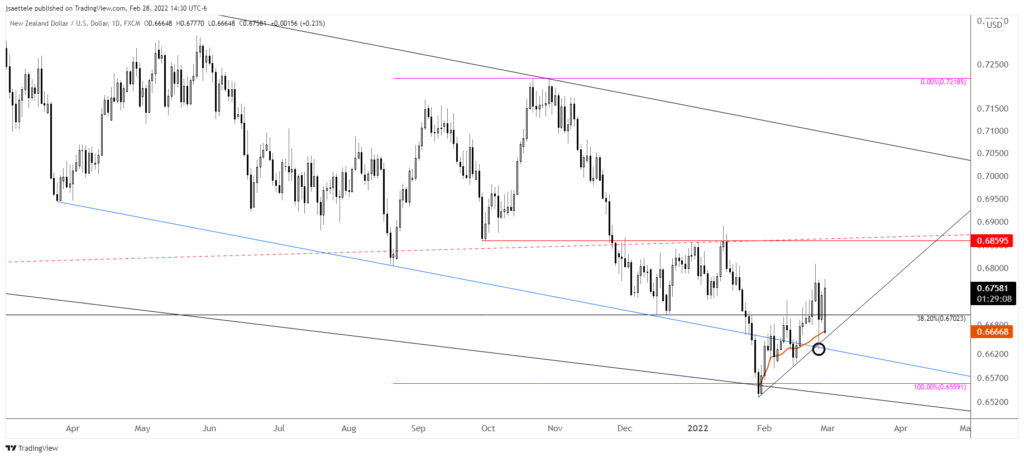 Notice how the NZDUSD low last Thursday was right at the line that originates at the March 2021 low. This is a positive along with the fact that price carved a bullish outside day today. Upside focus remains .6860 initially. Watch for .6730s support.
2/22 – I remain constructive Kiwi…proposed support is .6650-.6700. This is a wide range but RBNZ is today so be prepared for a spike. A spike into this zone would present an opportunity to align with the long side and target .6860 initially. A zoomed out version is below.