ETHUSD 4 HOUR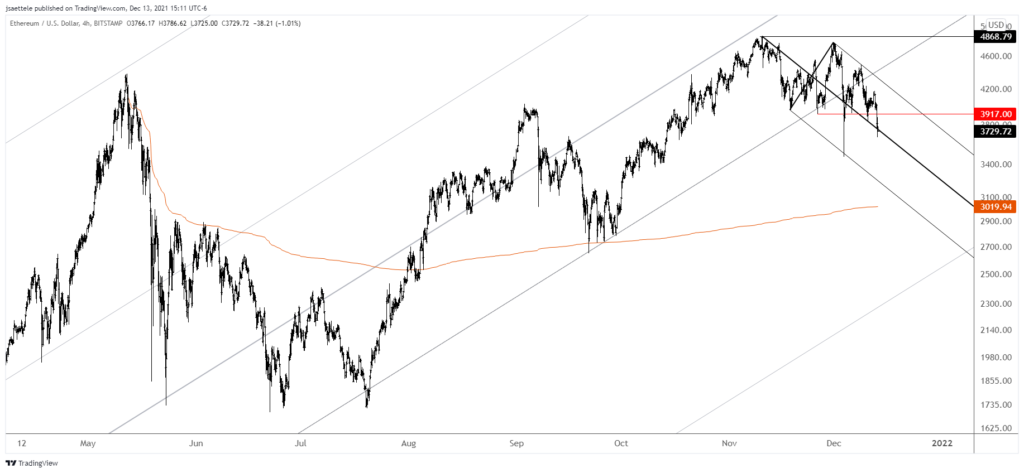 ETHUSD has solidly broken the trendline from the March 2020 low so focus is lower. Immediate downside is about 3000. This is VWAP from the May high, which was support in September. It's also the lower parallel of a short term fork. Proposed resistance is 3917.
12/5 – ETHUSD is in a dangerous spot.  Price broke trendline support over the weekend before snapping back.  Price is right at the underside of that trendline now so beware of downside resumption.  In the event of a spike higher (trap) watch the 50 and 200 period averages on the 4 hour chart for resistance in the 4350-4420 zone.  An aggressive downside target is near 2200.  A longer term view is below.
SOLUSD DAILY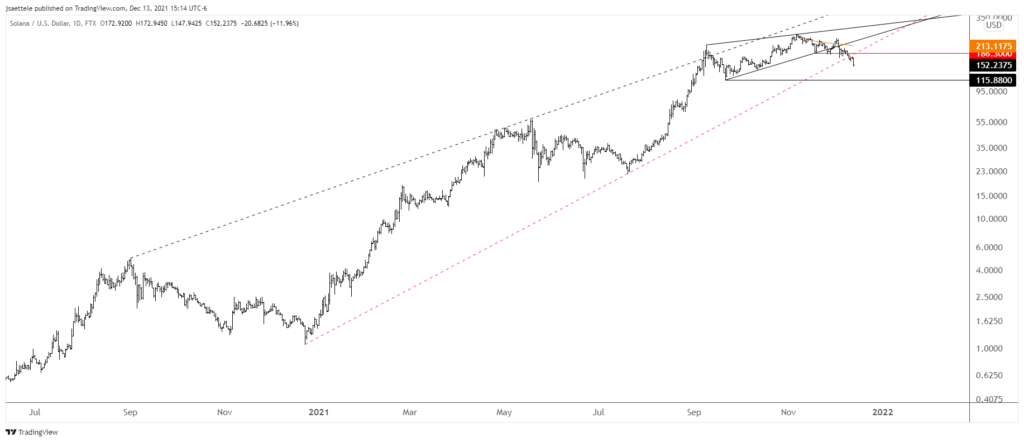 SOLUSD has broken the line off of the 2020 and 2021 lows. Again, massive wedge has been completed which leaves SOLUSD in an extremely dangerous position. The underside of the former wedge line and former support is now resistance near 186.
12/5 – SOLUSD has broken a 2+ month trendline.  As such, I'm looking to short into proposed resistance at 216-219.  Action over the last year forms a wedge, which is extremely bearish if price breaks the lower wedge line.  That line is just below the weekend low.
USDNOK DAILY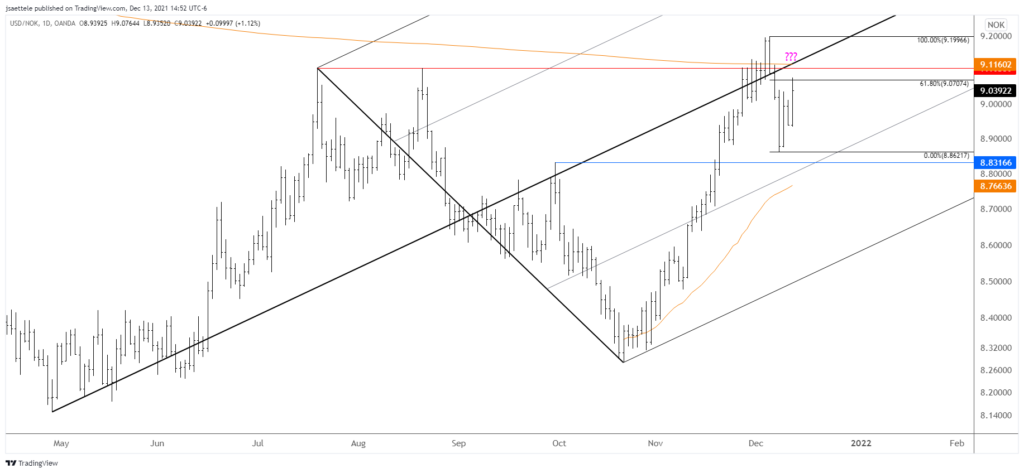 USDNOK has retraced 61.8% of the decline from last week's high. Still, respect a run at the mentioned 9.10. This is resistance from July/August and where the rally from last week's low would consist of 2 equal legs.
12/7 – A decent top appears in place for USDNOK.  Price reversed sharply lower on Monday.  The daily chart below shows daily J-Spikes at 1 year high/lows.  Near term, the drop from the high is impulsive, so strength should prove corrective.  Proposed resistance is 9.10.
AUDUSD 4 HOUR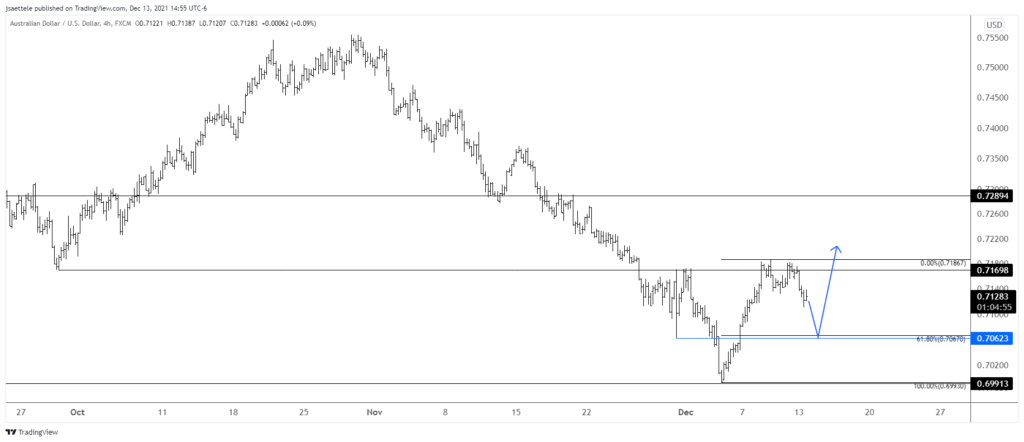 AUDUSD has pulled back following a slight push above .7170. My view is that the decline is corrective. The 61.8% retrace is in line with the 11/30 low at .7060s. That sticks out to me as the ideal spot for support.
12/9 – AUDUSD has reacted from just above the mentioned .7170.  I'm thinking pullback here with support probably near .7100.  This is VWAP from the low and support/resistance over the last few weeks.  Pay attention to the level for a higher low since the rally appears impulsive.
NZDUSD DAILY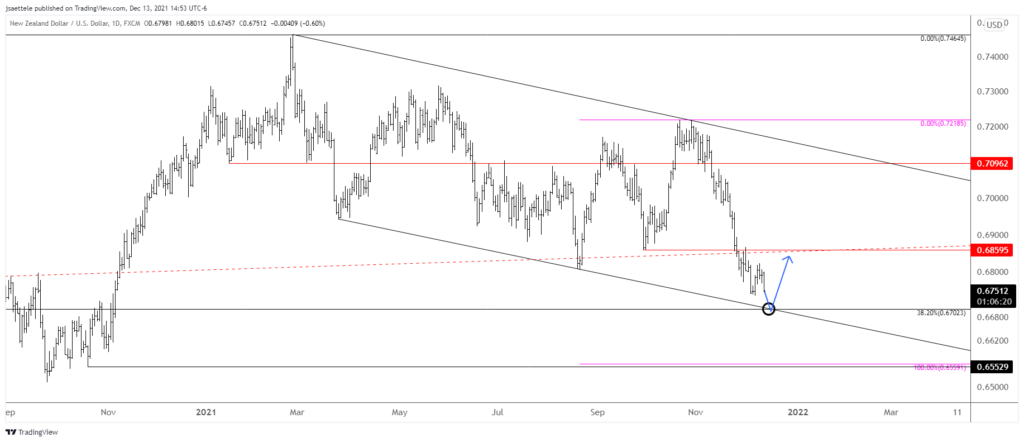 Pay close attention to NZDUSD along with AUDUSD down here. Last week, I noted that we could get a non-confirmation where NZDUSD makes a new low but AUDUSD makes a higher low. That scenario remains on track as Kiwi is pressing lows and AUDUSD is well above its low. Again, .6700 is the big spot for NZDUSD.
12/9 – NZDUSD has lagged AUDUSD on this bounce, which is interesting because AUDUSD reached it's key level (.6990) but the key level for NZDUSD is slightly lower at .6700.  Recall that this is the 38.2% retrace of the rally from March 2020 and the line off of lows since March.  The November 2020 low has been reached at .6756 but I love the confluence at .6700.  Watch for a possible non-confirmation with AUDUSD and NZDUSD.  This would occur if NZDUSD drops to a new low but AUDUSD makes a higher low.  This non-confirmation tends to occur at turns.  .6860 remains an important overhead barrier.