CRUDE OIL FUTURES (CL) 4 HOUR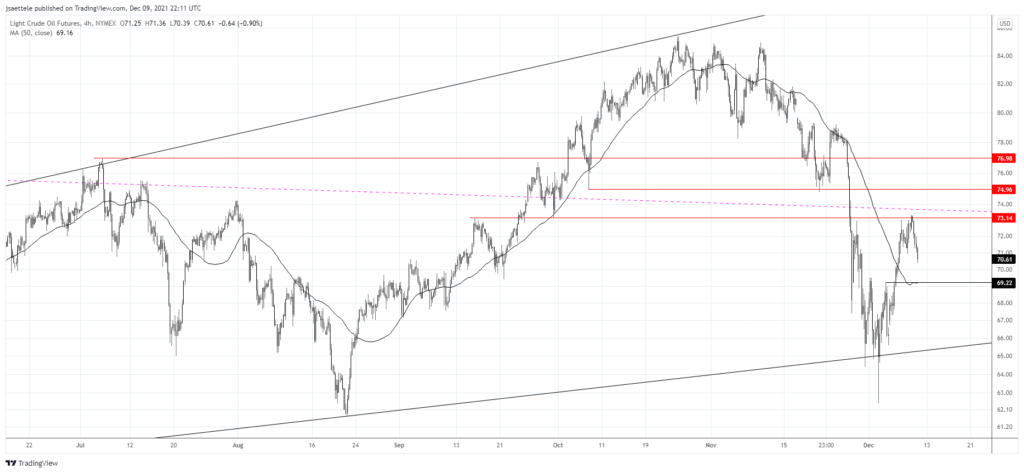 Crude did indeed stretch into 73 (high so far is 73.34) before rolling over. 69.20s is well-defined for support now. This is the 50 period average on the 4 hour chart, which has been support/resistance for months. It's also the 12/3 high. 75-77 is in line for more important resistance.
12/2 – Crude reversed sharply higher post puke today.  The argument for a bounce is stronger after today's action, in part due to a high volume reversal from 2021 VWAP (see below).  Immediate focus is on 73.00ish.
USDCAD 4 HOUR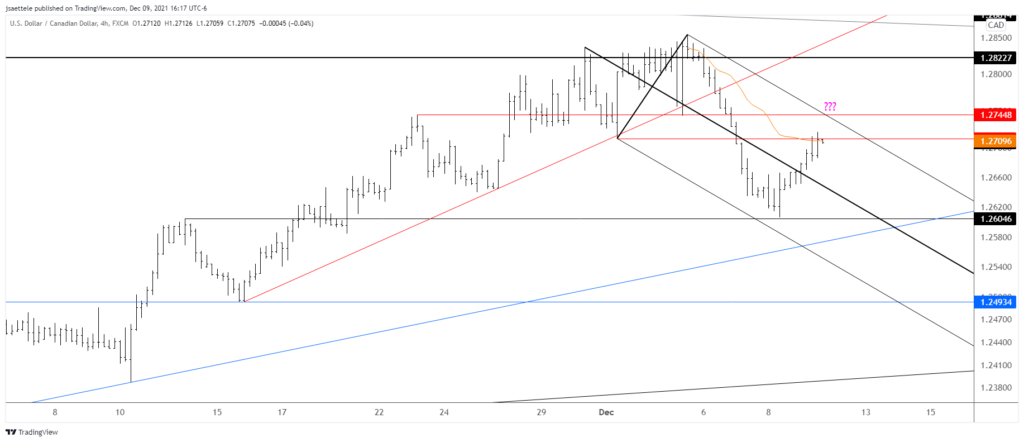 USDCAD has bounce into the proposed resistance zone. The top of the zone at 1.2745 intersects near term pitchfork resistance. Also, AUDUSD support appears lower so I'm standing aside for now.
12/7 – USDCAD tanked today.  Near term downside focus is 1.2560/70, which is the trendlne and 200 period average on the 4 hour chart.  If that breaks then the well-defined 1.2500 is the next swing level.  1.2712/45 is proposed resistance now.  This zone was former support (top of the zone was also resistance previously).  BoC is tomorrow.
AUDUSD 4 HOUR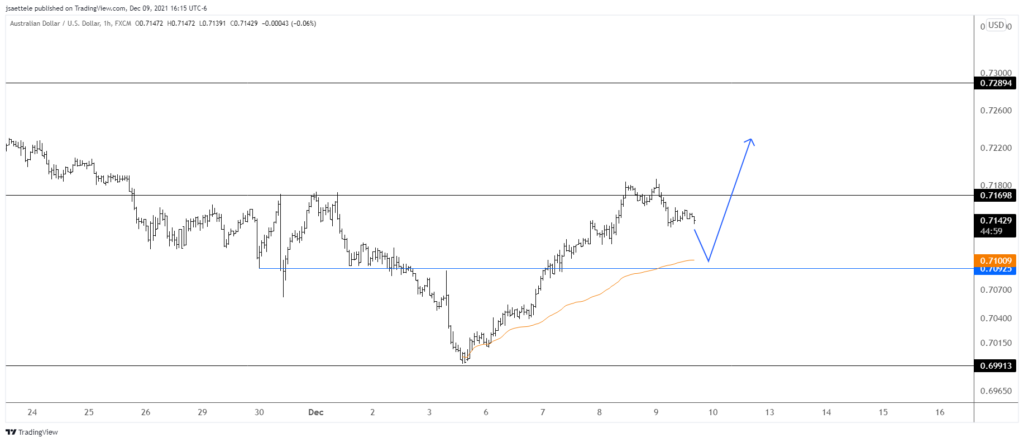 AUDUSD has reacted from just above the mentioned .7170. I'm thinking pullback here with support probably near .7100. This is VWAP from the low and support/resistance over the last few weeks. Pay attention to the level for a higher low since the rally appears impulsive.
12/7 – AUDUSD composes a quarter of USDOLLAR.  The low last week (Friday) was .6993…2 pips above the November 2020 low.  The rally appears impulsive so I'm keen on buying a pullback.  Watch for .7060 support.  The pullback may come from near .7170, which is the September low and was resistance last week (see below).
NZDUSD DAILY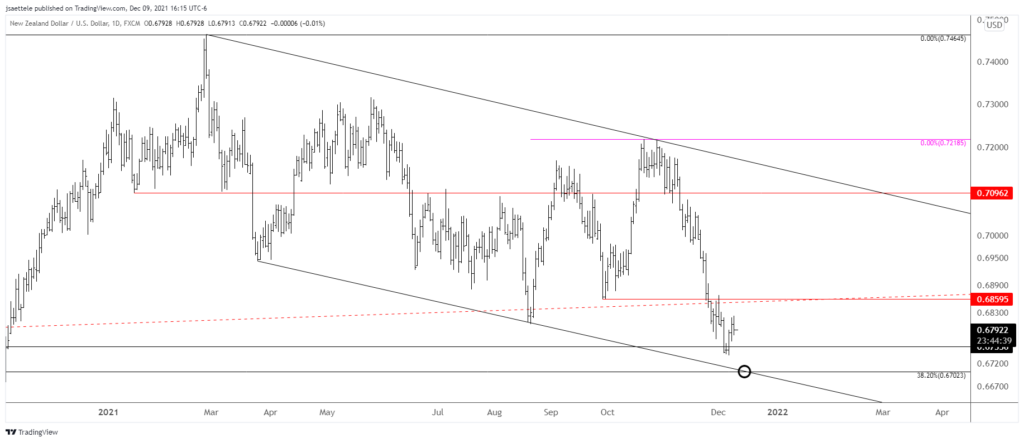 NZDUSD has lagged AUDUSD on this bounce, which is interesting because AUDUSD reached it's key level (.6990) but the key level for NZDUSD is slightly lower at .6700. Recall that this is the 38.2% retrace of the rally from March 2020 and the line off of lows since March. The November 2020 low has been reached at .6756 but I love the confluence at .6700. Watch for a possible non-confirmation with AUDUSD and NZDUSD. This would occur if NZDUSD drops to a new low but AUDUSD makes a higher low. This non-confirmation tends to occur at turns. .6860 remains an important overhead barrier.
12/1 – NZDUSD is in the same position as AUDUSD.  The 38.2% retrace of the rally from March 2020 and December 2019 high are proposed support at .6702/56.  That said, .6860 may be the ceiling.  Note the dashed line that crosses highs and lows since December 2019…it's dangerous to be a bull while price is under this line.
USDJPY 4 HOUR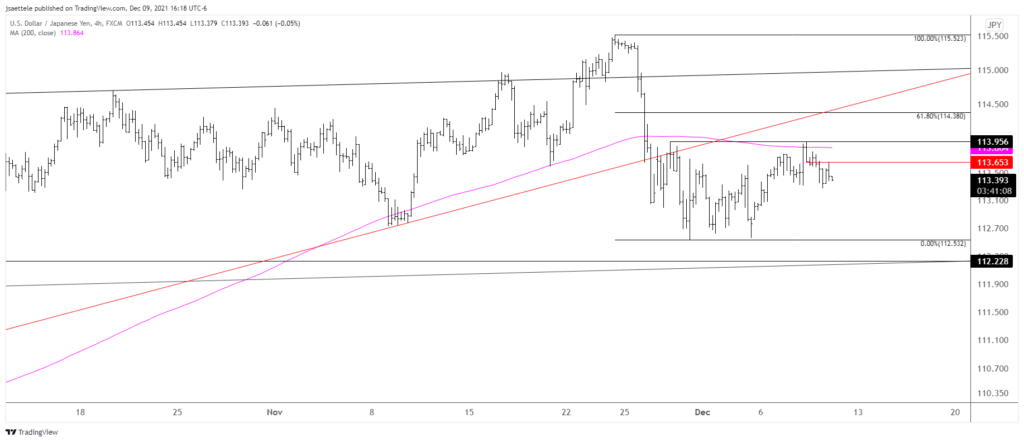 USDJPY ended up rolling over a few pips shy of 114. The decline from the 12/8 high appears impulsive so I'm willing to short against that high. Proposed resistance is 113.65.
12/7 – USDJPY is nearing 114. If USDJPY is a short, then resistance is probably closer to the 61.8% retrace at 114.38. This price is line with a trendline that crosses pivots since early September.