BTCUSD DAILY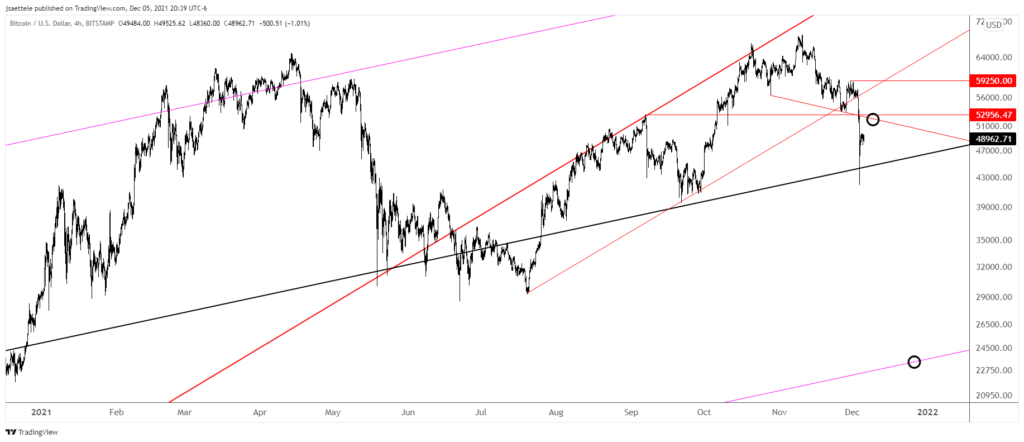 That 11/10 reversal nailed the high. From high to low, BTCUSD dropped 39%. The low over the weekend was at the center line from the channel that originates at the 2015 low. 53000 has been a key level since September and I'm watching for resistance at that level. With the low at the center line however, watch for support at 45000-46000. An aggressive bearish target on a break of the center line is 23000. The longer term picture is below.
11/16 – BTCUSD has followed through on its 11/10 reversal.  I love this setup.  Price has broken the median line, which is now proposed resistance along with the 11/12 low at 62295.  Initial downside focus is channel support (blue line) in the 52000s.  A longer term view is below.
BTCUSD DAILY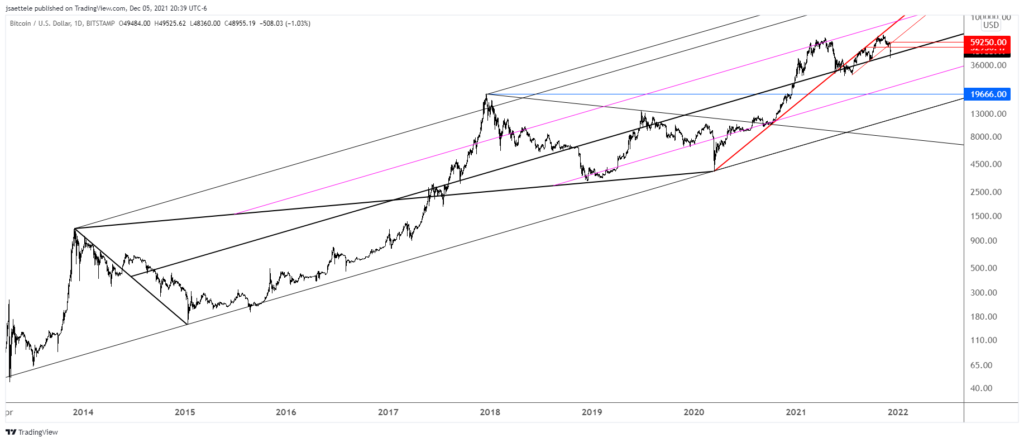 ETHUSD DAILY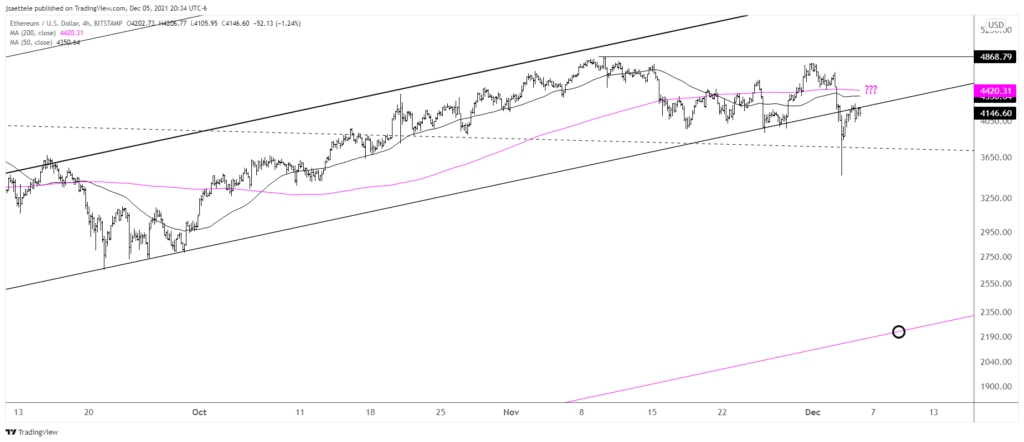 ETHUSD is in a dangerous spot. Price broke trendline support over the weekend before snapping back. Price is right at the underside of that trendline now so beware of downside resumption. In the event of a spike higher (trap) watch the 50 and 200 period averages on the 4 hour chart for resistance in the 4350-4420 zone. An aggressive downside target is near 2200. A longer term view is below.
11/16 – The ETHUSD setup is similar to the BTCUSD setup.  Here too, price has followed through on its 11/10 downside reversal.  In other words, the reversal has been confirmed.  A parallel that was previously support is now proposed resistance near 4453.  The MASSIVE test on the downside is 3800, which is the confluence of trendline support and the line off of the May and September highs (a neckline of sorts).  If that gives way, then expect all hell to break loose on the downside.  A longer term view is below.
ETHUSD DAILY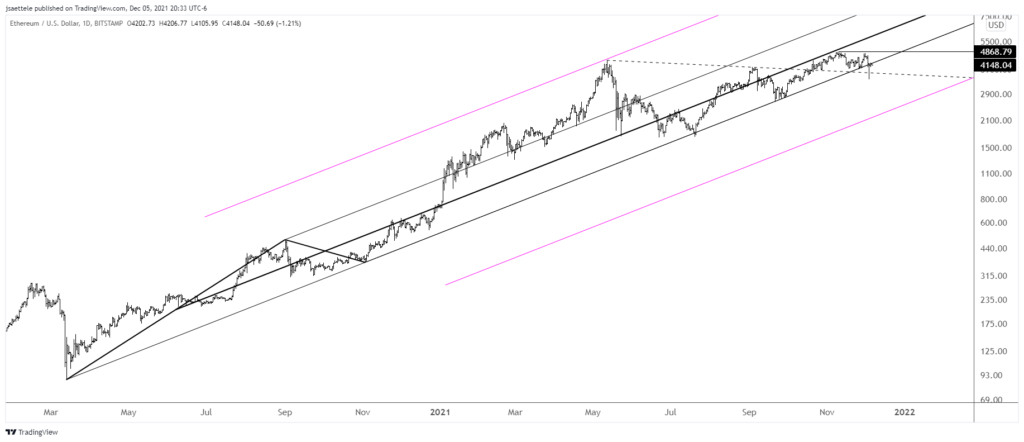 ADAUSD (CARDANO) DAILY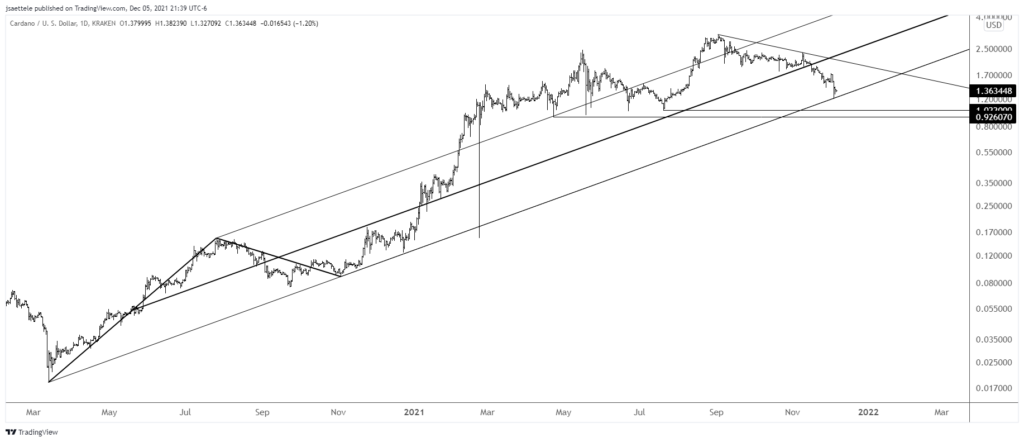 ADAUSD low over the weekend is right at channel support (to the tick).  I've never traded this but I think it's worth highlighting.  'Support is support until broken' so I'm thinking bounce with possible resistance at 1.80-2.02.
SOLUSD (SOLANO) DAILY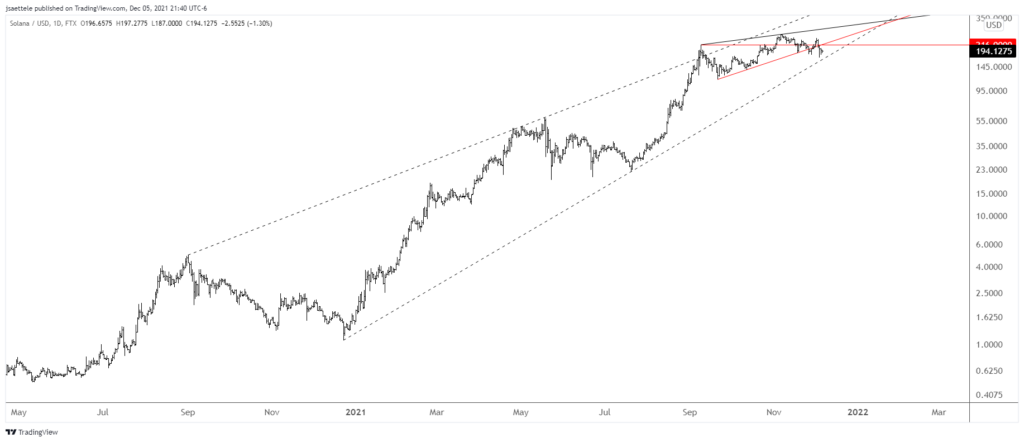 SOLUSD has broken a 2+ month trendline.  As such, I'm looking to short into proposed resistance at 216-219.  Action over the last year forms a wedge, which is extremely bearish if price breaks the lower wedge line.  That line is just below the weekend low.