TLT DAILY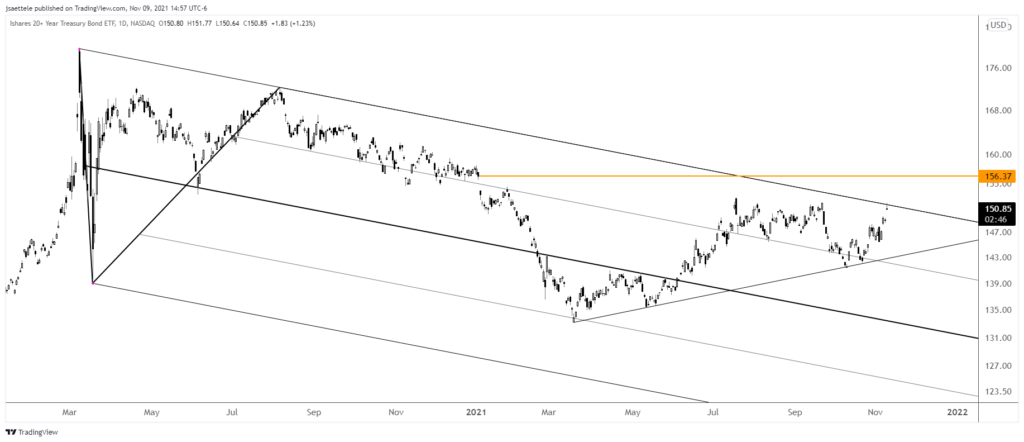 TLT is testing massive resistance from the line off of the March and August highs. 2021 VWAP is also up here (see chart below). I'm thinking pullback here (not sure on support yet), which jives with the gold chart in yesterday's post (also at resistance).
TLT DAILY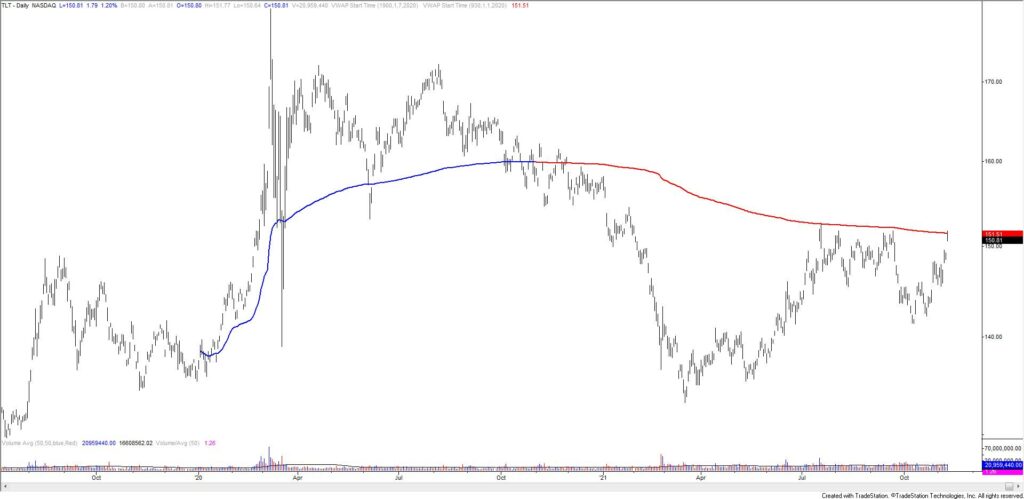 USDOLLAR HOURLY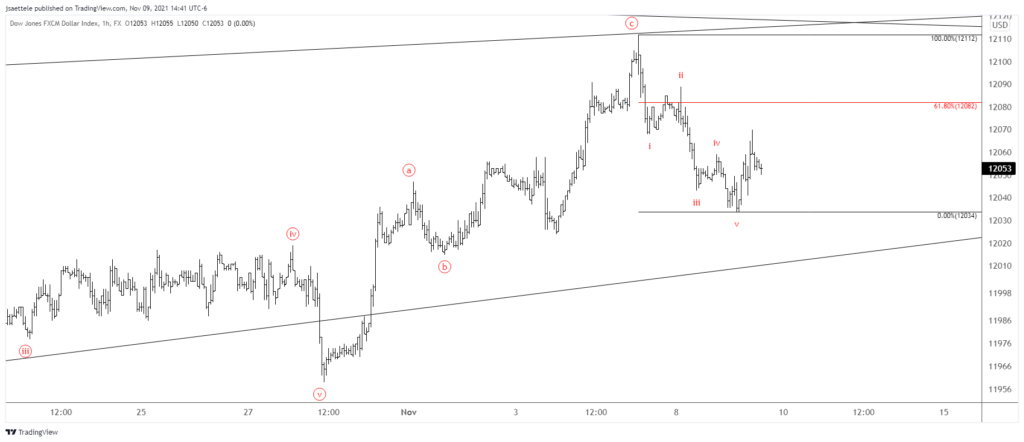 Near term developments increase confidence in a bearish USD bias. From an Elliott standpoint, my view is that USDOLLAR completed a corrective rally on NFP. Exhaustion on NFP is not uncommon. The decline post NFP is a clean '5' so watch for resistance near the 61.8% retrace of that drop at 12082. Don't forget that the USD has run into bigger picture levels that make sense as resistance (see weekly chart below).
11/3 – I was 'hoping' for clarity regarding the USD after FOMC. I'm still not confident in direction but the wave count shown does make sense…5 down and 3 up into the 61.8% retrace with a reversal. Good enough for me. Bottom line, I'm looking lower in USDOLLAR (and therefore the USD) for now.
USDOLLAR WEEKLY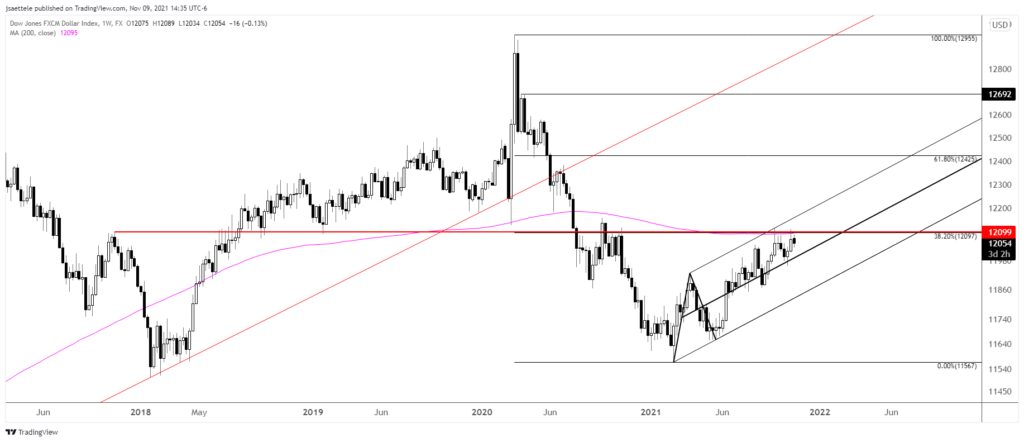 GBPUSD HOURLY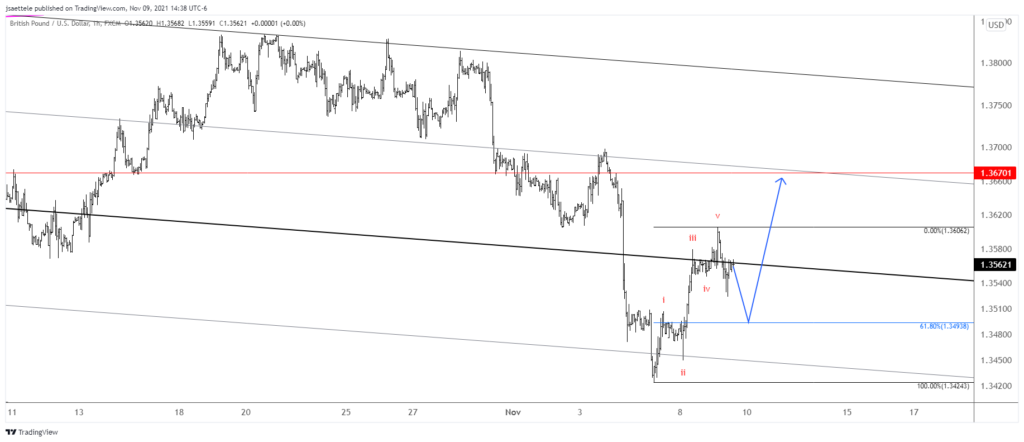 There is a simple short term setup in GBPUSD. The rally from Friday's low is in 5 waves (remember that this is 1/4 of USDOLLAR). The pullback today is probably the beginning of a small 3 wave decline. Ideal support is 1.3494 and I'm looking towards 1.3670/80 (month open is 1.3680) before reassessing.
USDCAD 4 HOUR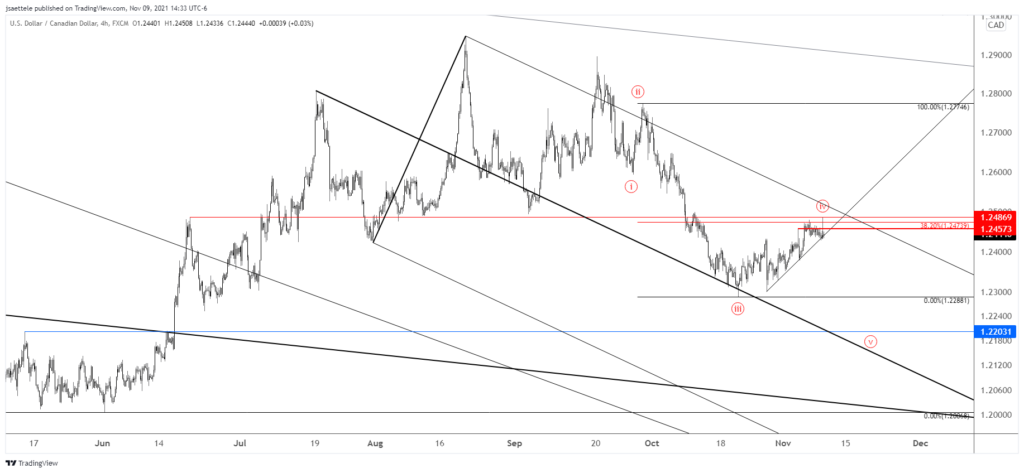 Since USDCAD is USDCAD, it had to test Friday's high before reversing lower. In any case, there is no change to the view that a 5th wave lower is underway. I don't have all of the measurements on the chart because I like to keep it clean but realize that wave 3 is exactly 161.8% of wave 1. If today was the 4th wave high, then wave 5 would equal wave 1 at 1.2184. This is in line with the 5/13 high at 1.2203. Bottom line, I'm looking towards 1.2200ish. There is a high volume level at 1.2459 that is proposed resistance now. Finally, an 8 hour volume reversal triggered today (see futures chart below, which extends back one year).
11/8 – Friday may have been the 4th wave in USDCAD. The high is 1.2480, which is pips above the 38.2% retrace of wave 3 and right on the 200 day average. The September low is just above as well. Weakness below the short term trendline would act as a trigger for the short side (see below).
CANADIAN DOLLAR FUTURES 8 HOUR