SPOT SILVER DAILY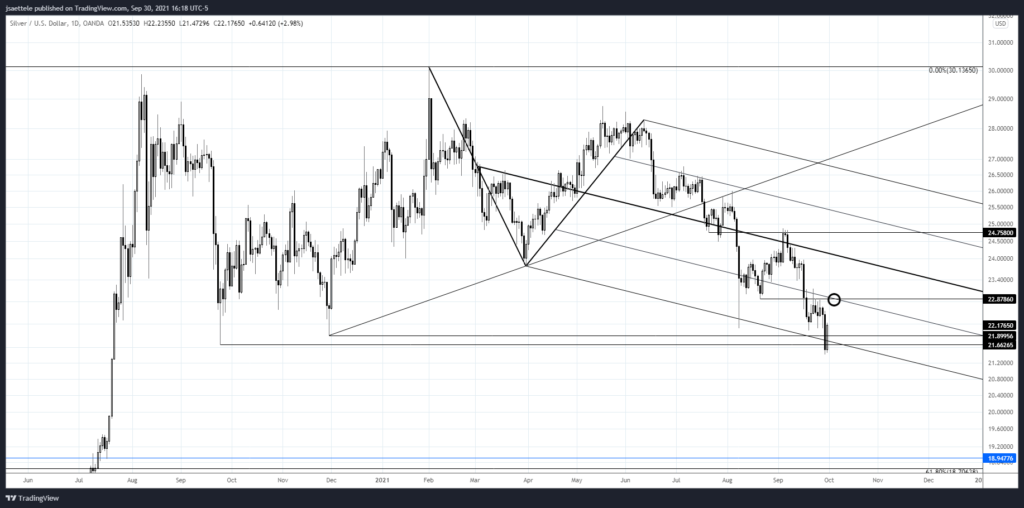 Silver turned up sharply today after dipping below the September 2020 low.  Support is reinforced by channel support down here as well.  Simply, the combination of well-defined support and extreme pessimism (numerous headlines include 'plunge') suggest that it's time to turn bullish.  I'm like the long side now.  The first test is about 22.88.
GBPUSD DAILY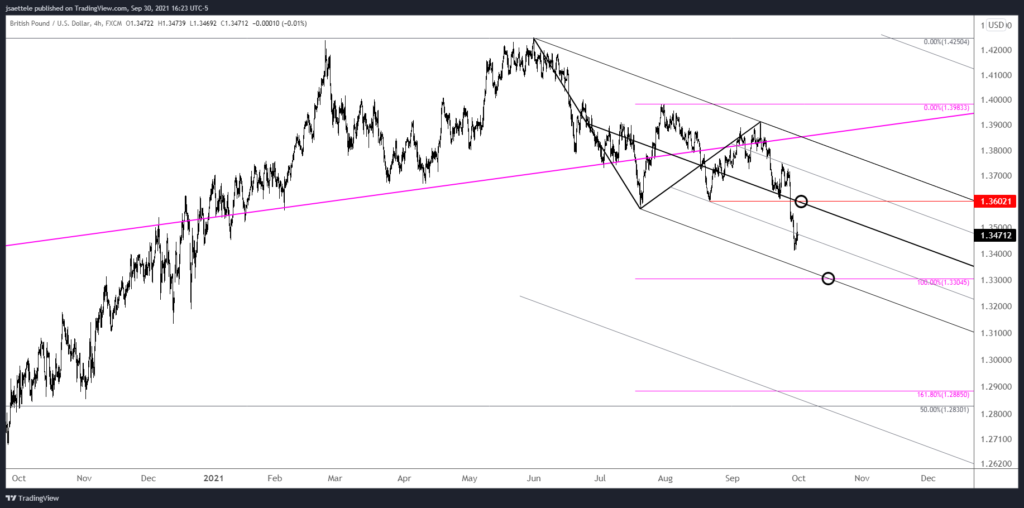 Cable is volatile but there isn't any change to the outlook or trading strategy. I still favor shorting into 1.3600 with 1.3305 as an initial downside objective.
9/28 – Playing for a countertrend move was the incorrect move.  Oh well, move on.  GBPUSD could bounce near 1.3483 (Sep 2020 high) but the setup is to short into the underside of the center line from the channel.  That line is reinforced by former support at 1.3602.  A soft target is where the decline from June would consist of 2 equal legs at 1.3305.
USDJPY DAILY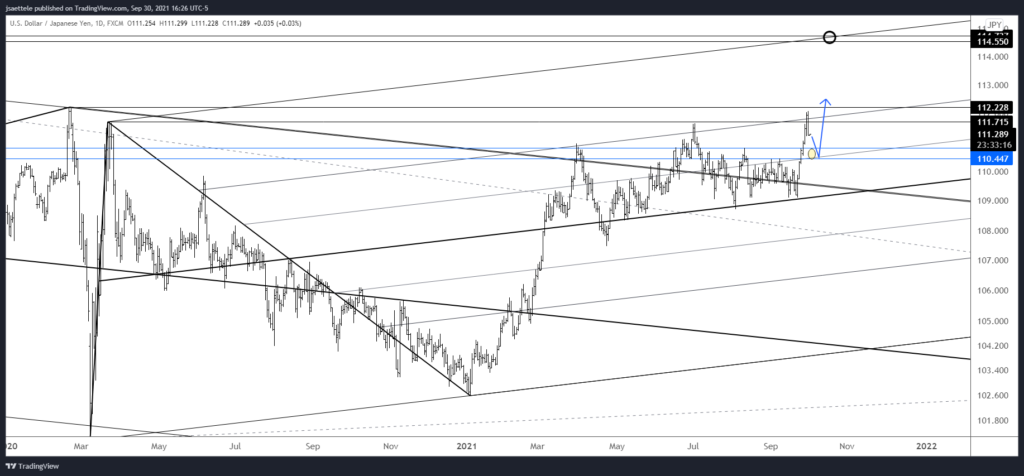 USDJPY pulled back (glad we didn't chase!) and focus for support is the noted 110.45/80. Basically, I'm looking to buy weakness into that zone on a show of support.
9/28 – So much for the pullback.  That said, I hate chasing USDJPY up here (despite being a bull)!  The 75 line of the channel from the 2020 low is just above the market.  This was resistance in March and July and I'm watching for resistance again.  If price does start to pull back, then watch for support between 110.45 and 110.80 (see below).  Also, there was a 4 hour volume reversal today.  The futures chart below show all the reversals with equivalent volume for the last 3 years (remember that these are charts of JPY/USD so the chart is inverted).
USDCHF DAILY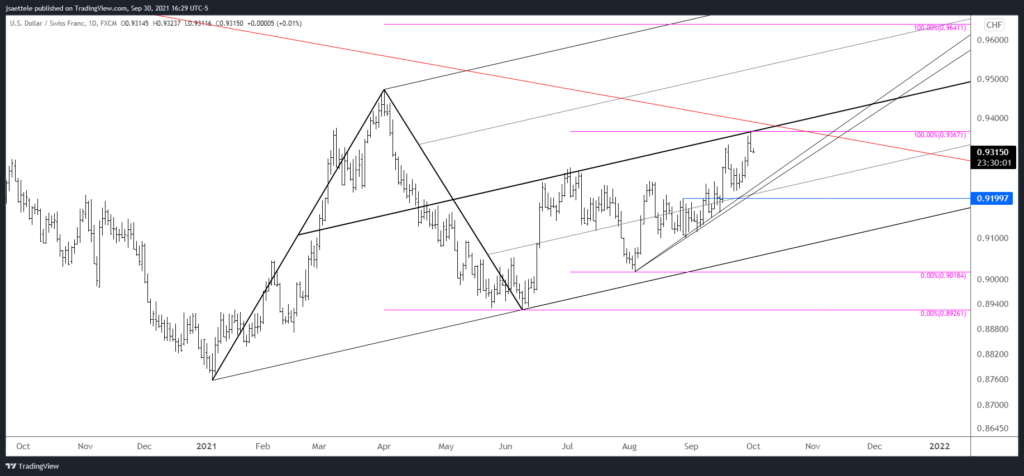 Right now, USDCHF is 'working'…so follow it for European FX clues. High today was right at noted resistance (2 equal legs at .9367…high was .9368!). If the trend remains higher towards the USD then support should register near .9240, which is a trendline and the August high. A break below there would suggest that the USD has put in a more important top.
9/23 – .9200 is key support for USDCHF.  The level is defined by the 8/27 high and trendline support from the August low.  Upside focus remains where the rally from June would consist of 2 equal legs at .9367.  This is also 2+ year trendline resistance (see below).
EURJPY 4 HOUR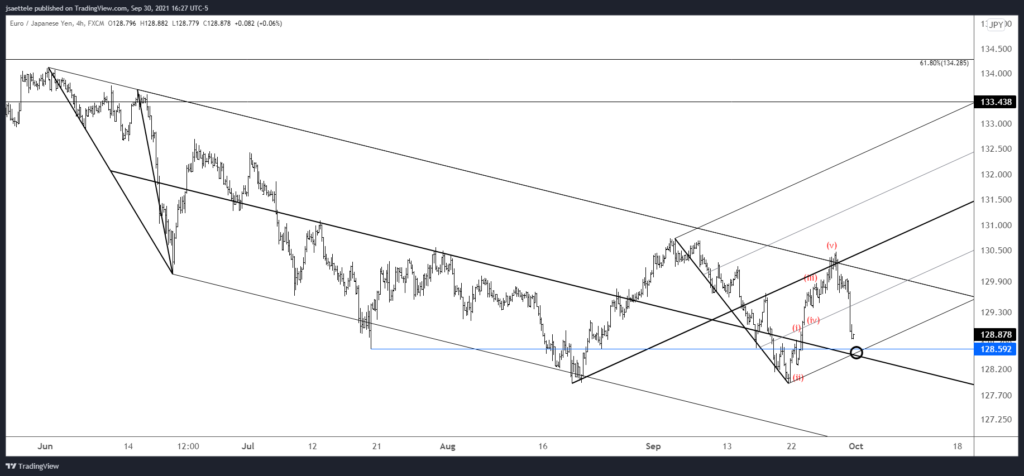 EURJPY has pulled back, albeit deeper than expected. Still, the August and September lows constitute a possible double bottom and the rally from 9/22 is impulsive. As such, watch for support near 128.60.
9/27 – The EURJPY rally from last week's low is in 5 waves. Strength may extend into 130.00/30 but expect a pullback with initial support near 129.40.