SPOT SILVER DAILY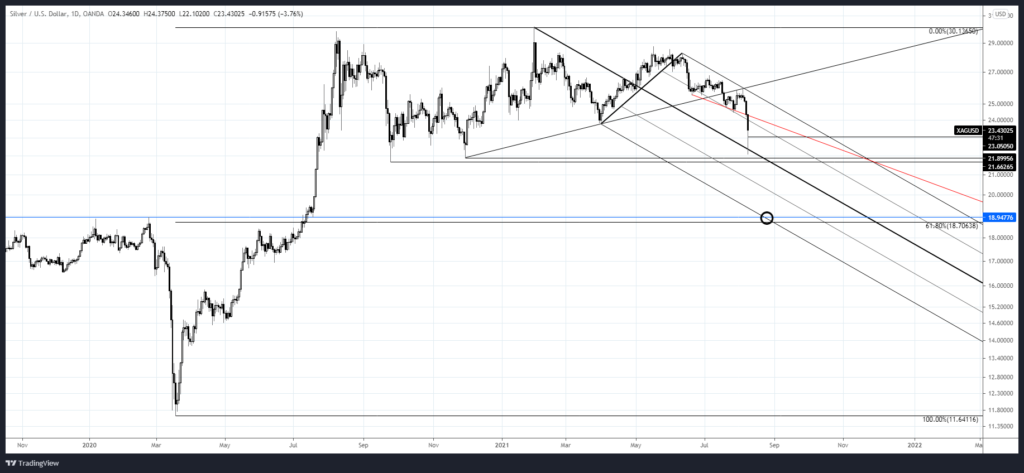 The silver crash bounced from a median line today. While the action may feel like capitulation, I'm watching for resistance from the line that crosses lows in June and July (red line). That line is about 24.20. Very near term, price could bounce near 23.05 (see below). The 61.8% retrace of the rally from March 2020 is 18.71. Keep that level in mind for major support if reached.
8/4 – Silver tagged the underside of the trendline from the November low today and reversed sharply lower. The action screams short. Proposed resistance for entry is 25.75 or so. Downside focus is the March low of 23.78 followed by daily reversal support (9/24/21 close) at 23.15.
SPOT SILVER HOURLY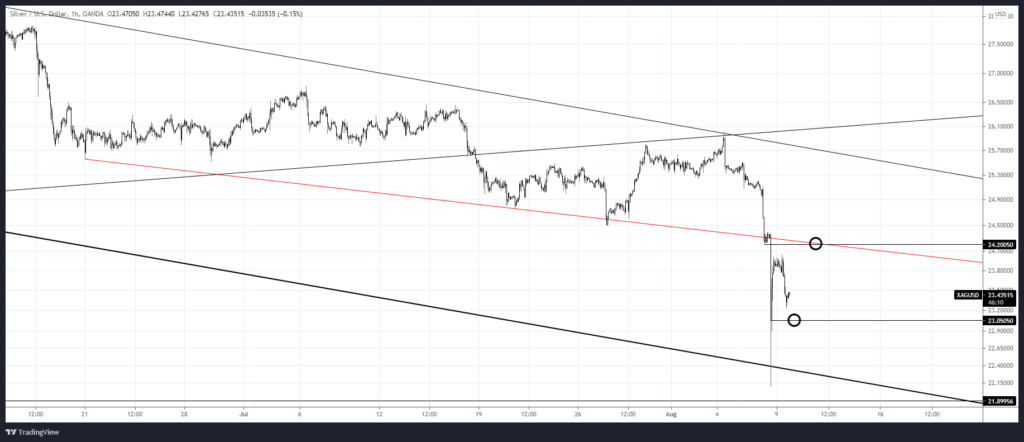 USDOLLAR 4 HOUR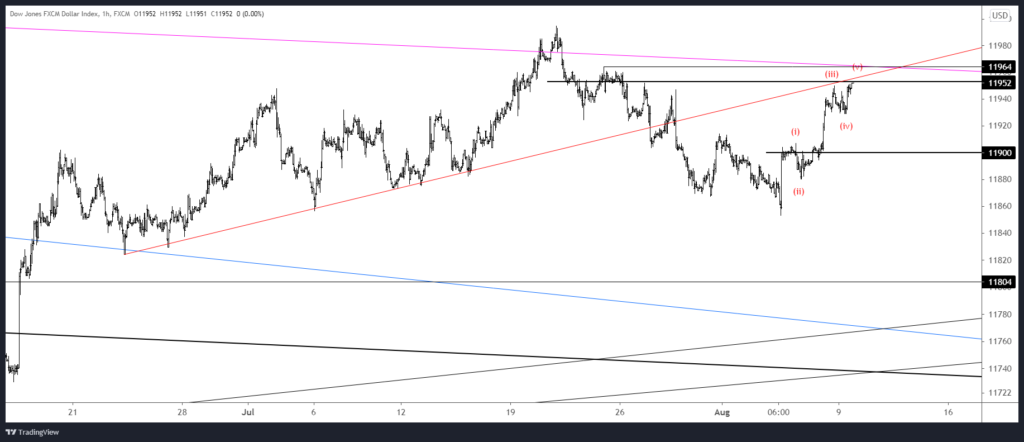 The USDOLLAR rally from 8/4 is in 5 waves and into proposed resistance from daily reversal resistance at 11952. The 'ideal' zone for resistance extends to 11964. I'd welcome a pullback in order to load up on additional USD longs.
8/4 – I'm not sure if today is THE low for the next USDOLLAR move higher but it's probably a low for at least a bounce back to the 61.8% retrace at 11941. It's a positive that the 4 hour RSI profile remained bullish throughout the drop (RSI never went below 30). Broadly speaking, the outside bullish day occurred at a well-defined level (see below).
BRITISH POUND FUTURES HOURLY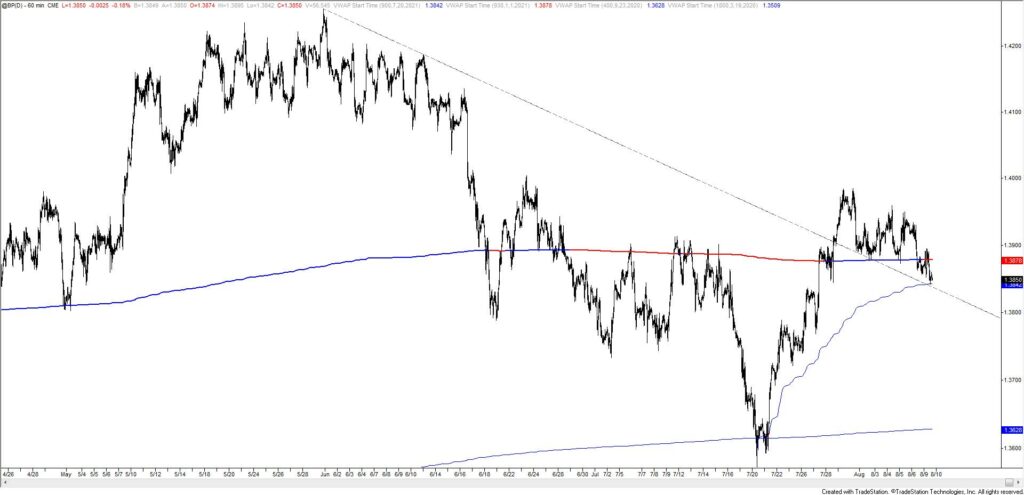 The GBPUSD stop has been lowered because price is testing VWAP from the low. If price turns up here then GBPUSD might be in for a bigger bounce into 1.3930. Downside focus on this swing is the 7/2 low at 1.3732 (also the 61.8% retrace).
8/3 – I'm conflicted regarding Cable. On one hand, proposed USD support is lower (both USDOLLAR and DXY) and GBP futures are holding 2021 VWAP (see chart below). On the other hand, the GBPUSD fork from the February high is a thing of beauty. The high last week was right at the upper parallel and a bearish outside day was formed on 7/30. Seasonality is bearish as well. As such, I'm bearish against the 7/30 high. Proposed resistance for entry is 1.3950.
USDCAD 4 HOUR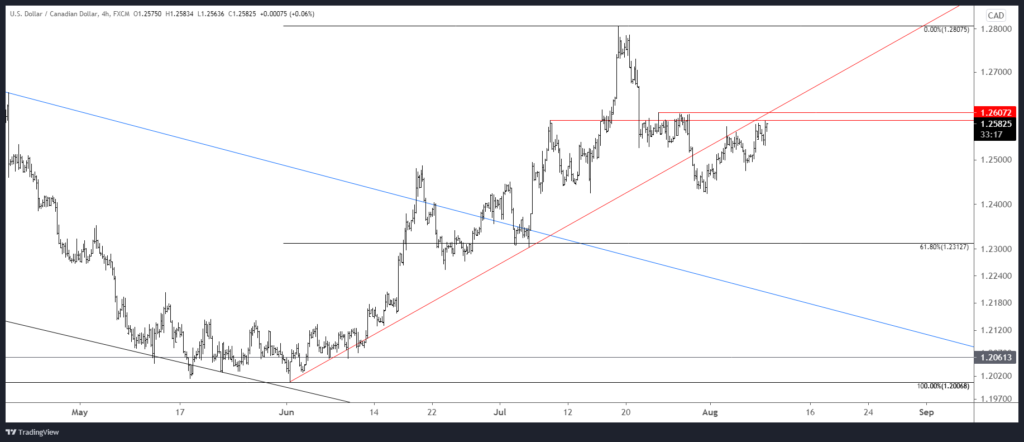 If the USD is going to pull back (see USDOLLAR above) then USDCAD is a good way to play the move. USDCAD is testing the underside of the former trendline (again). I'm on reversal alert. Also, seasonal tendencies are now negative (see below) and futures are testing VWAP support (USDCAD resistance…see 2 charts down).
8/5 – It was a quiet day in the majors today as participants wait for NFP tomorrow. The Canadian jobs report will also be released so keep an eye on USDCAD. Price has come off following the test of the underside of the former trendline. With both reports due tomorrow, respect potential for another run on the underside of the trendline. The line now aligns with horizontal resistance in the 1.2590-1.2607 zone.
USDCAD WEEKLY SEASONALITY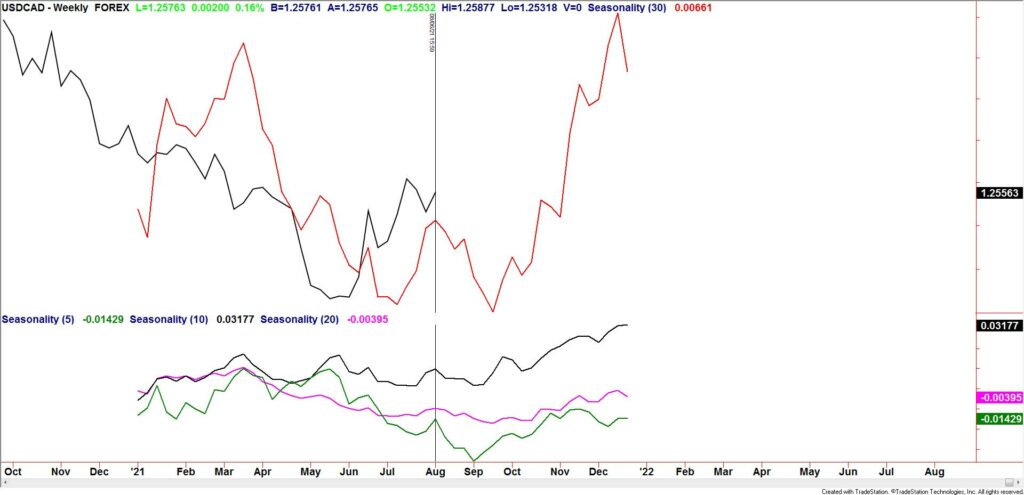 CANADIAN DOLLAR FUTURES HOURLY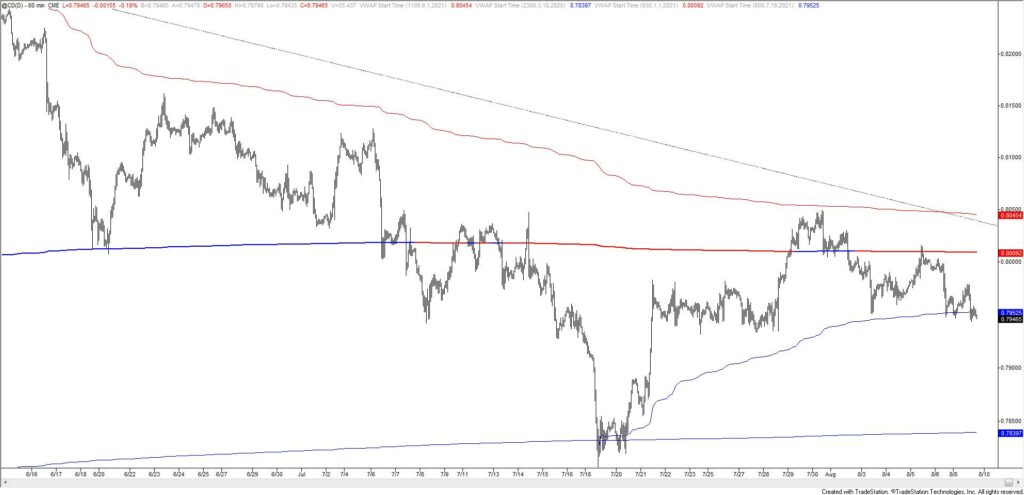 AUDUSD DAILY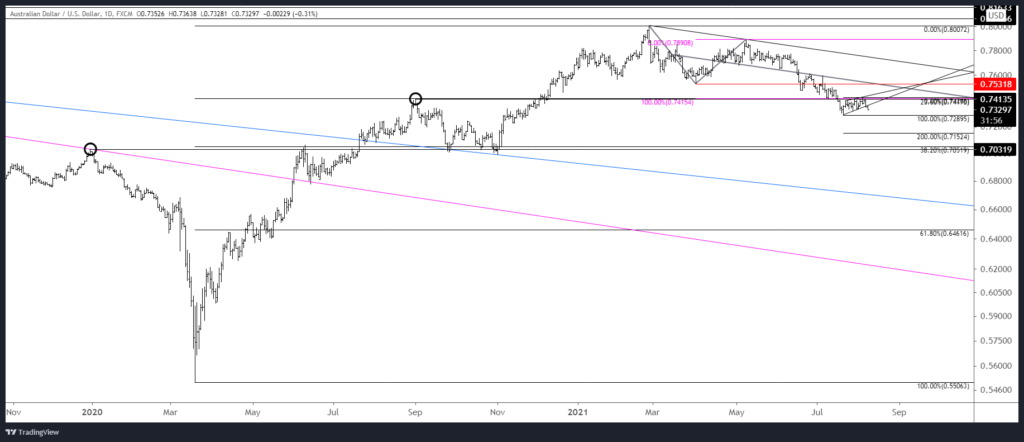 AUDUSD has broken the wedge barrier so focus is lower until noted otherwise. As noted the downside objective is .7150 but .7030/50 is a bigger 'chart level'. Maybe we get a 'flash crash' type of move into this level (similar to metals) before a more important low is in place. The underside of the wedge is proposed resistance at .7360.
8/4 – .7415 continues to provide resistance. Unfortunately, price spiked through the recent range high today before reversing lower. Action since the low has taken the form of a small wedge. A break below the lower wedge barrier would signal that another leg lower is underway and set a measured objective at .7152. That wedge barrier is about .7345.
NZDJPY DAILY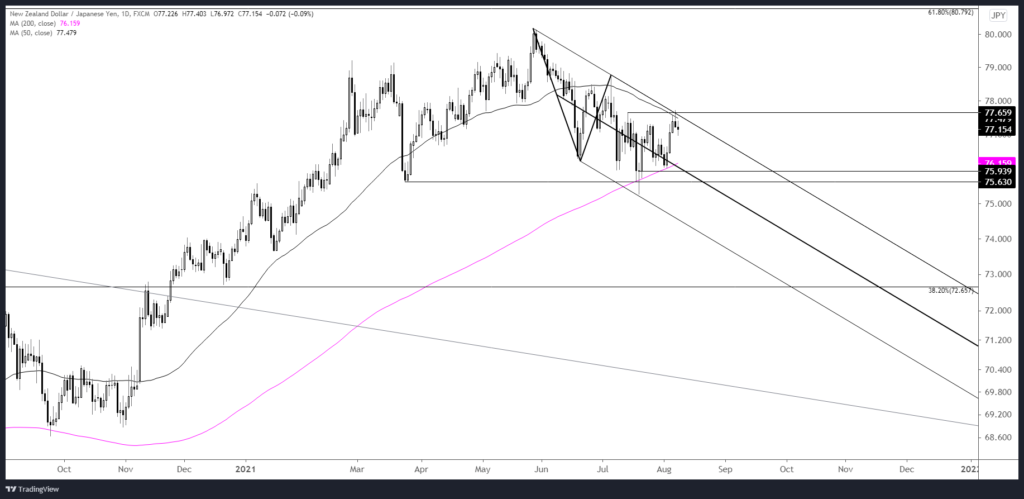 NZDJPY nailed resistance on Friday and turned down. I'm bearish as long as price is under Friday's high. Near term downside focus is 75.60/90.
8/5 – NZDJPY is another Yen cross to pay attention to…especially with the show of NZDUSD resistance near .7100 (see yesterday's post). Channel resistance intersects the 7/14 high at 77.66 on Friday, which is just above the 50 day average.