BTCUSD DAILY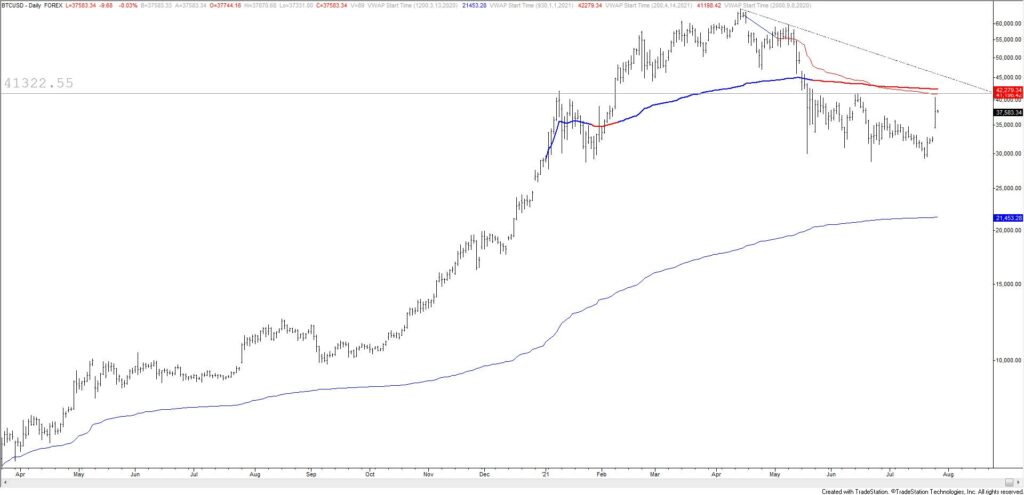 BTCUSD traded up to 40593 today. Recall that 42000-44000 was noted as resistance the day of the low (6/22). I'd prefer to see a bit more upside into this zone before turning bearish again but the easy part of the rally is likely complete.
6/22 – BTCUSD reversed higher today from the year open price of 29007. The reversal was accompanied by high volume (J Spike Volume). This is the second such signal since 2018 (note the December 2018 signal which is circled). Given the reversal from the month open, I'm bullish against today's low. 42000-44000 is proposed resistance again.
USDOLLAR DAILY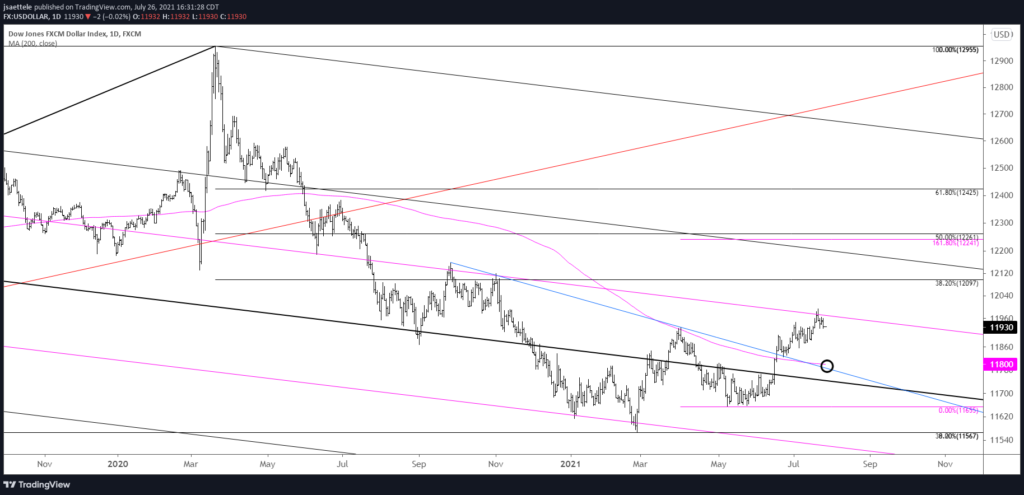 Evidence favors the idea that 7/21 is an important high and that USDOLLAR is headed lower. The top side of the line from the September high is proposed support along with the 200 day average near 11800. Watch for resistance at 11953.
7/21 – USDOLLAR put in a key reversal today after hitting parallel resistance from the pitchfork that originates at the 2017 high. I'm not sure that there is a better example of median line symmetry. Over the last 10 months, highs and lows have registered on parallels equidistant from the median line. With the specter of 5 waves up from the May low, I lean towards USD weakness from the current level.
EURUSD 4 HOUR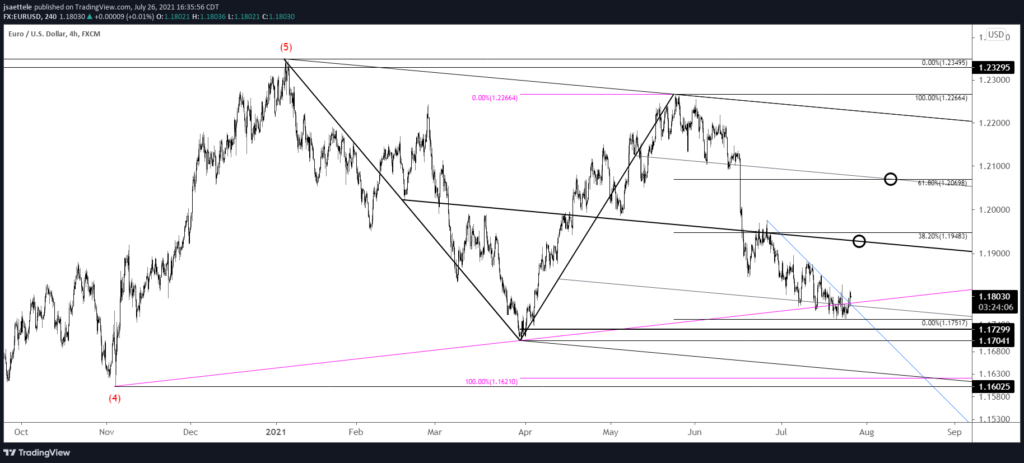 EURUSD has been churning near lows for weeks, putting in divergence with RSI on both the daily and 4 hour time frames. The break above the line from the 6/25 high warrants a long position. Watch for 1.1780 support. General focus is the center line and 25 line within the channel from the February high near 1.1930 and 1.2070 (also the 61.8% retrace).
GBPUSD 4 HOUR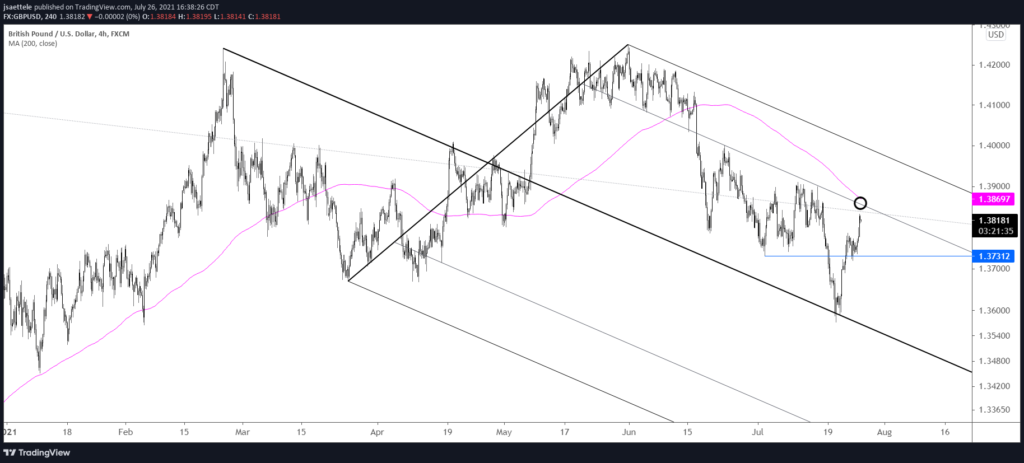 Cable has rallied as suggested and is nearing proposed resistance from 2021 VWAP and VWAP from the June high at 1.3900 (see futures chart with VWAP levels below). Ultimately, the rally appears impulsive so I am 'thinking' that weakness proves corrective. 1.3730 is the initial level to watch for support.
7/21 – One way to play USD weakness is GBPUSD. Futures hit VWAP from the September low today. The year open is 1.3655, which is a point of reference to operate from the long side. VWAP from the high and 2021 VWAP intersect near 1.3900 for resistance.
BRITISH POUND FUTURES DAILY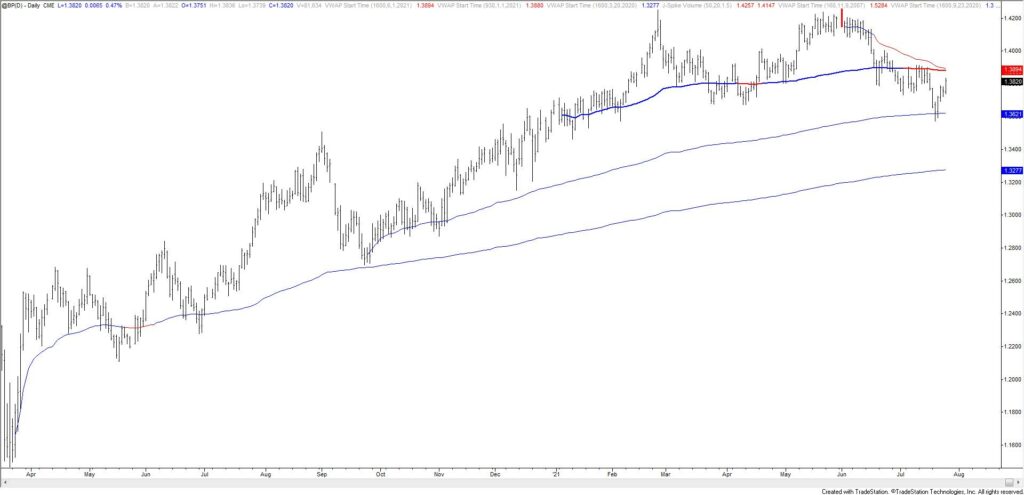 USDCAD 4 HOUR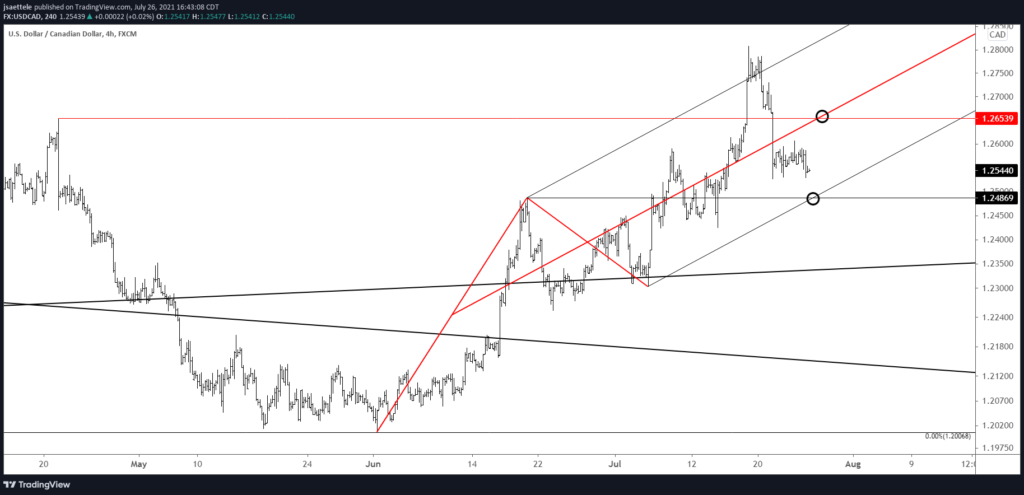 USDCAD has fallen apart after after last Monday's surge.  The drop from that high is impulsive (5 waves) so expectations are for a corrective advance to get underway soon.  1.2487 is well defined for support and 1.2654 is well defined for resistance.