BTCUSD 4 HOUR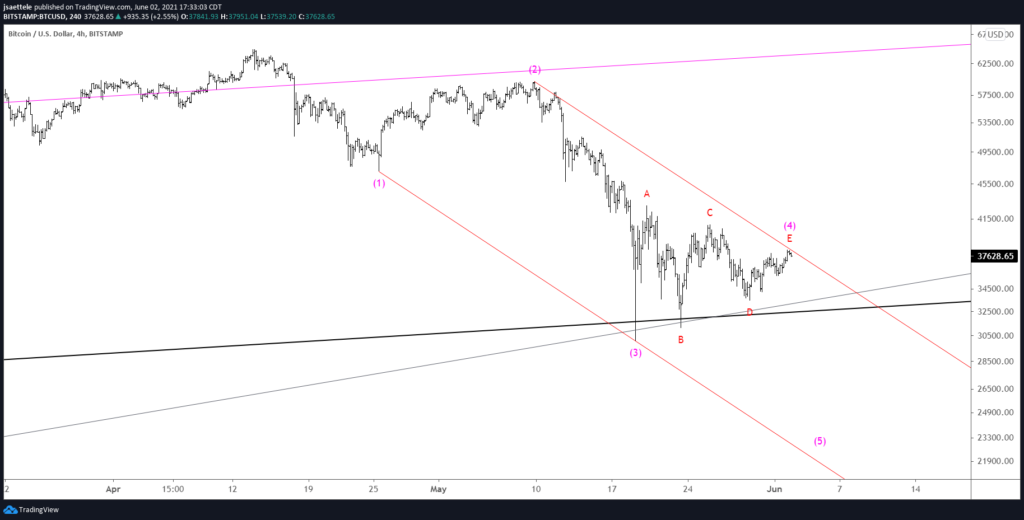 BTCUSD may have completed a 4th wave triangle within a 5 wave decline from the April high. The decline channels in perfect Elliott form and proposed wave 4 has traced out a well-defined triangle. If the proposed interpretation is correct, then BTCUSD is lower from the current level (this pattern negates above 40904).
5/19 – BTCUSD tagged the 32000 level (low was 30000) and snapped back but I don't think this is the low. Notice where the snap back rally stalled…right at the underside of the former channel line (magenta channel). This is the 'slingshot' setup that I'm so fond of. If strength resumes then VWAP levels to know for resistance are 44400 (2021 VWAP) and VWAP from the top, which is currently 50000. The ultimate support is 19666, which is the 2017 high and the 25 line of the channel that we've been following. Recall that we turned bearish in February at the 75 line because the rally materialized at the 25 line. This is knows as median line symmetry (see daily chart below)!
USDOLLAR 4 HOUR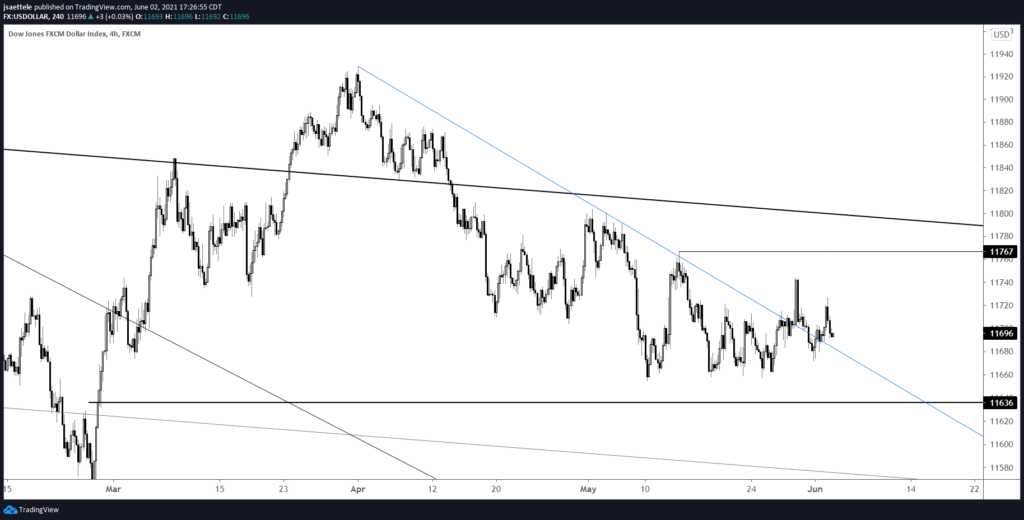 Like Friday, USDOLLAR tried breaking out today. Also like Friday, price was slammed lower as U.S. trading got under way. Still, price has broken above the trendline from the April high so maybe the buck finally 'surprises' to the upside. If it does, then the next level of upside interest is 11770.
5/26 – The USDOLLAR index is testing the trendline from the April high. A break above would be serve as a bullish trigger. Given current sentiment, a rally could be accompanied by heightened volatility. Immediate upside focus on a bullish break is 11770 (or so).
AUDUSD 4 HOUR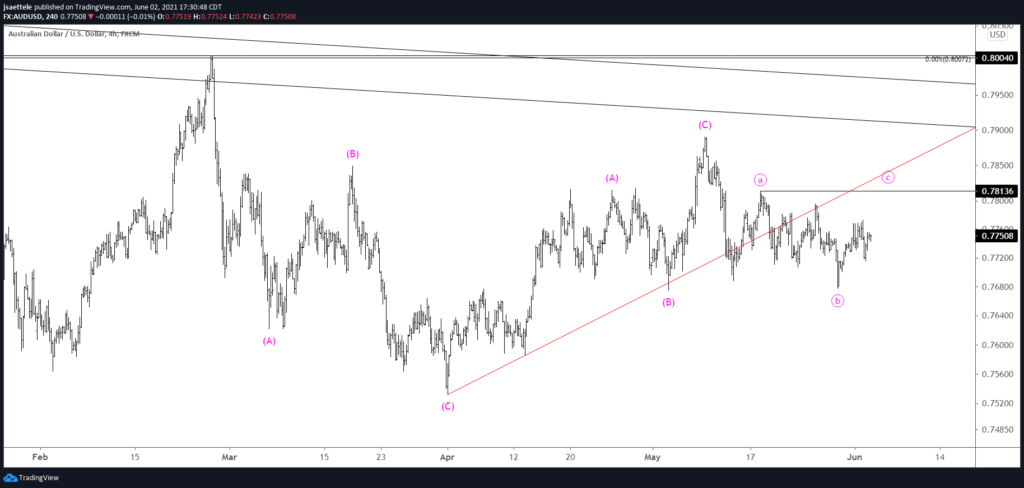 The possible head and shoulders top in AUDUSD since late April is clear for all to see but one more push above .7814 isn't out of the question in order to complete a flat pattern from the 5/13 low. If that happens, then pay attention to the underside of the red trendline for resistance.
5/19 – Since the 5/10 high, AUDUSD has dropped in 5 waves, rallied in 3 waves, and dropped in 5 waves at a lesser degree. An Elliott wave textbook! Resistance should be .7760/70 now. Broader downside focus is .7415 (2 legs down from the February high and the September high…see below).