CRUDE OIL FUTURES 4 HOUR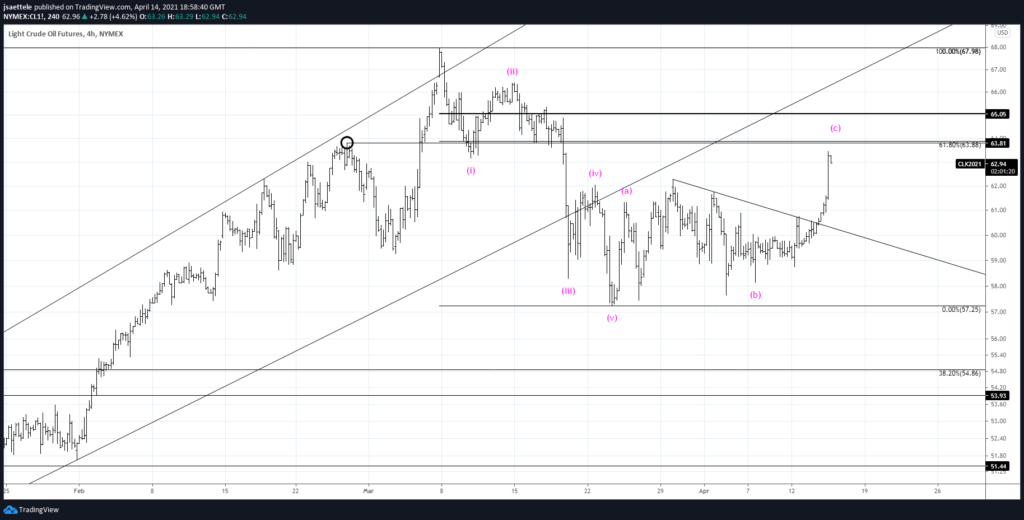 Crude oil soared today but my view is that the rally composes the bulk of wave C within a 3 wave correction. The preceding move lower unfolded in 5 waves so at least one more impulsive drop is 'favored'. The proposed resistance zone is 63.88-65.05 (61.8% retrace, 2/25 high, and daily reversal resistance).
USDOLLAR DAILY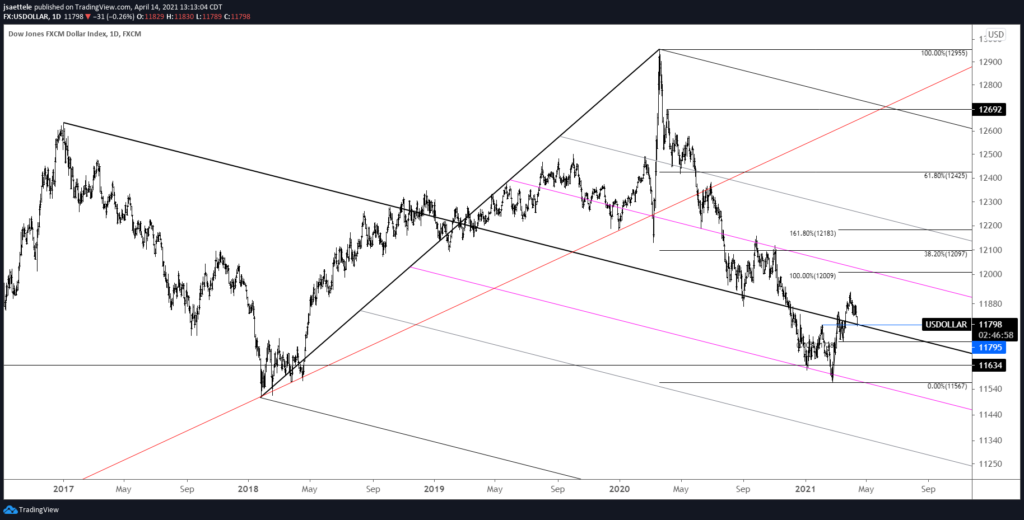 I was wrong to think that the USDOLLAR pullback was complete last week but the long cited 11795 level has been reached. This is a decision point…plain and simple. The level is defined by the early February high and median line of the structure that originates at the 2017 high. The drop also channels in a corrective manner (see below). Bottom line, price needs to turn up now in order to remain constructive on a swing basis.
4/7 – The USDOLLAR pullback may be complete. The decline consists of 2 equal legs and price held the 12/21 spike high and early March high. 11795 isn't ruled out but I lean towards the upside after today's action. Broad focus is 2 equal legs up from the February low at 12009.
USDOLLAR 4 HOUR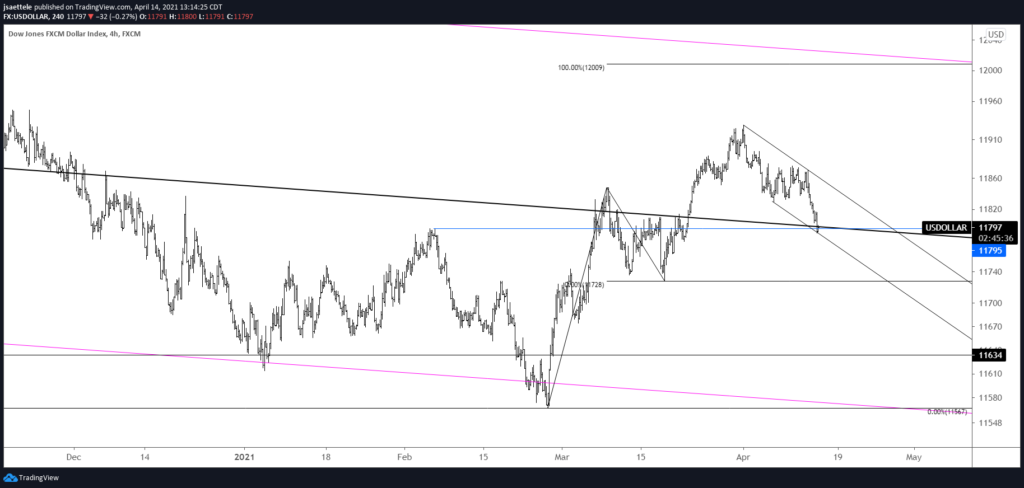 DXY DAILY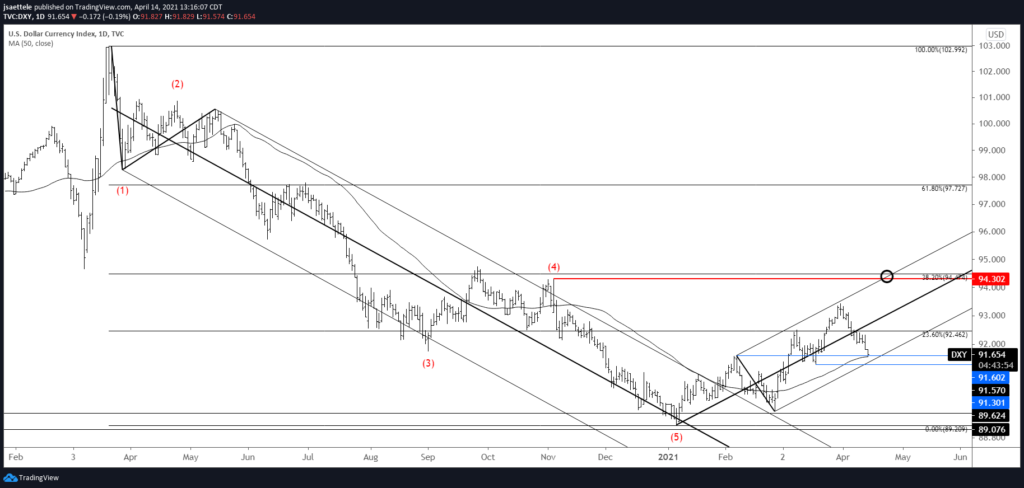 I'm on alert for a turn higher in DXY between 91.60 (now) and 91.30. The top of the zone is defined by the early February high and 50 day average. The bottom of the zone is defined by the 3/18 low.
EURUSD DAILY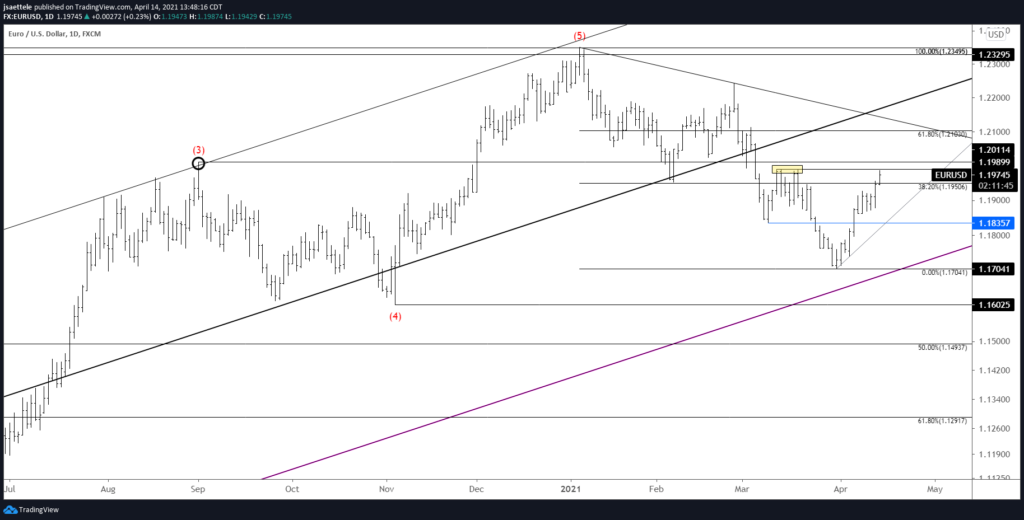 I maintain that the EURUSD rally from 3/31 is 'due' for a pause. The rally is in 5 waves (see below) and into the well-defined 1.1950-1.2010 zone. I favor the downside up here.
EURUSD 4 HOUR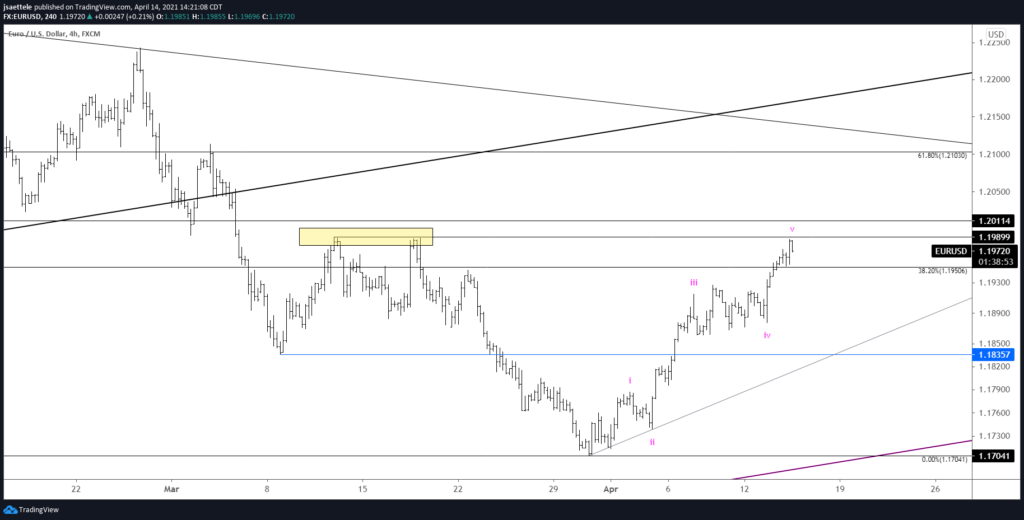 USDSEK DAILY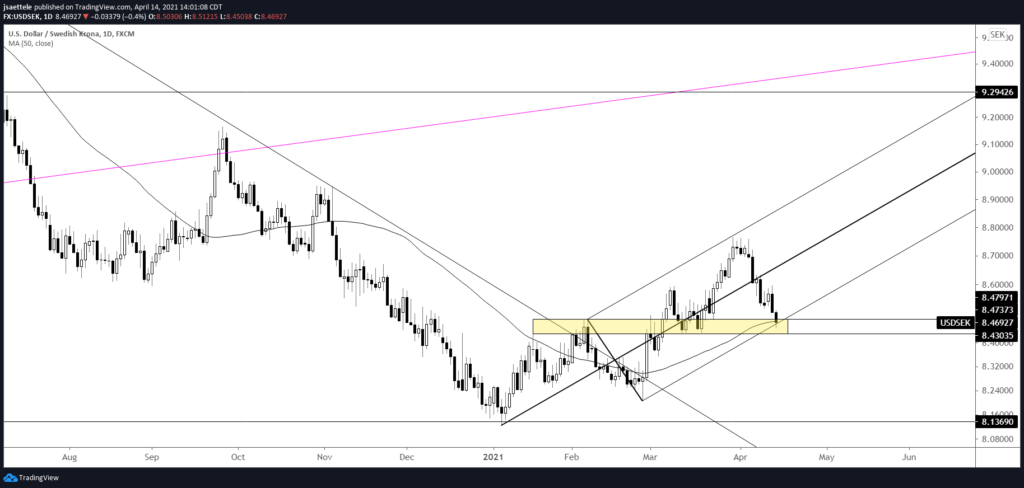 Not surprisingly, USDSEK is also into a key spot. The 50 day average, lower parallel from a bullish fork, and former resistance turned support define the current level. If USDSEK (and the USD in general) is higher, then this level should hold.
AUSTRALIAN DOLLAR FUTURES 4 HOUR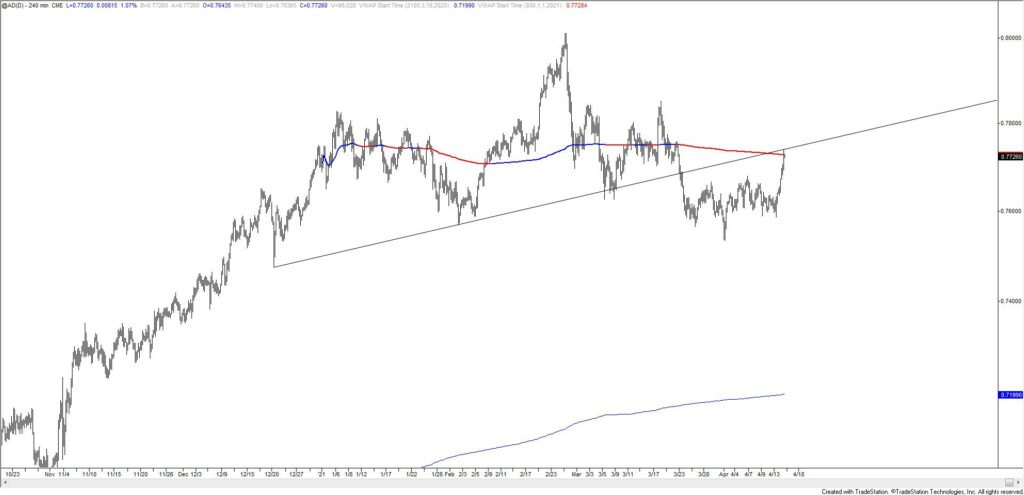 The rip higher in commodity currencies surprised me. That said, AUDUSD is testing 2021 VWAP (I'm showing futures in order to display VWAP) and a neckline of sorts (originates at the 12/21 low). There's nothing to do here other than hurry and wait. A reaction lower would present an opportunity to short with a tight stop. Keep in mind that the jury is still out on whether or not action since early January is a topping pattern or consolidation before additional upside.
NEW ZEALAND DOLLAR FUTURES 4 HOUR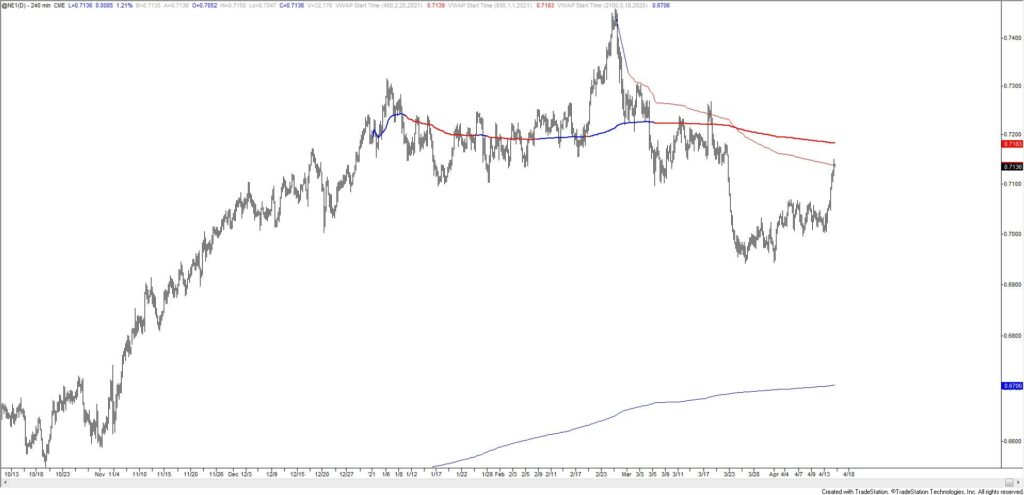 Kiwi isn't quite into 2021 VWAP (bold line) but the rally has reached VWAP from the February high. This average was resistance on 3/18. If the 'swing' is still lower, then this is a great place for price to roll over.