EURUSD 4 HOUR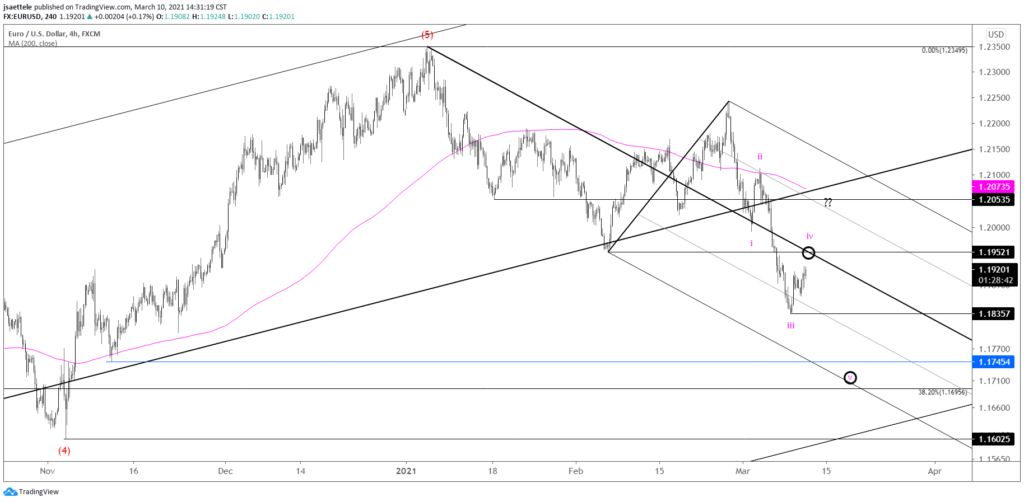 EURUSD has bounced from the noted 1.1845 ahead of ECB but strength may be short lived. The pop has the 'look' of wave 4 within a 5 wave drop from the March high. If this interpretation is correct, then price should roll over near 1.1950. Again, this is the median line and February low. It's also where the rally from the low would consist of 2 equal legs. If this plays out, then the downside zone to target is 1.1695-1.1740. The top of the zone is VWAP from the March 2020 low (see futures chart below). The bottom of the zone is the 38.2% retrace of the rally from the March low. If 1.1950 doesn't hold as resistance then I'll reassess but the next level of interest would be 1.2050.
3/8 – EURUSD has reached 1.1845 (2 legs down). The 200 day average is about 1.1815. A bounce from either one of these levels wouldn't be a surprise so watch for resistance now near 1.1950 (median line of short term bearish fork and February low). Another downside level to be aware of is VWAP from the March 2020 low at 1.1742. This is in line with the 11/11 low and lower parallel of the bearish fork. Bottom line, 1.1740s is the next most important downside level and 1.1950 is proposed resistance.
EURO FUTURES DAILY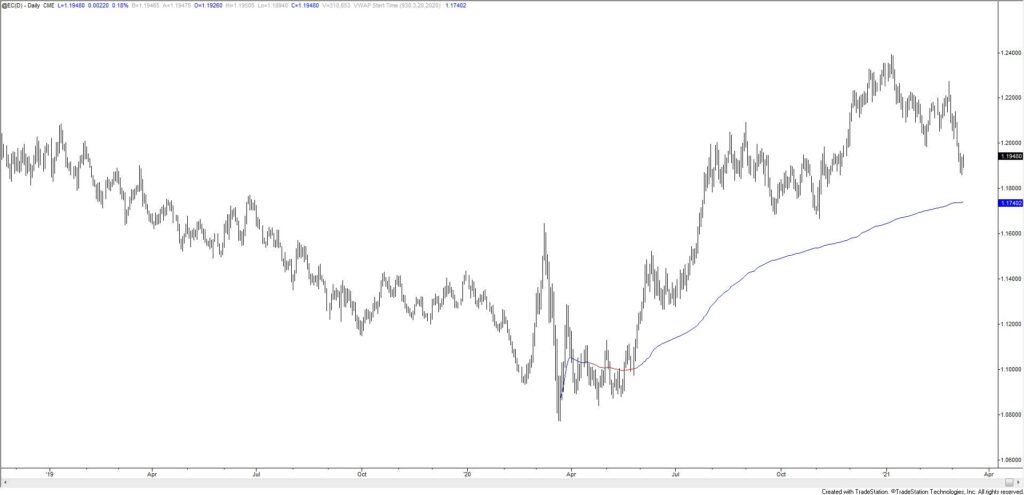 BRITISH POUND HOURLY (CLOSES)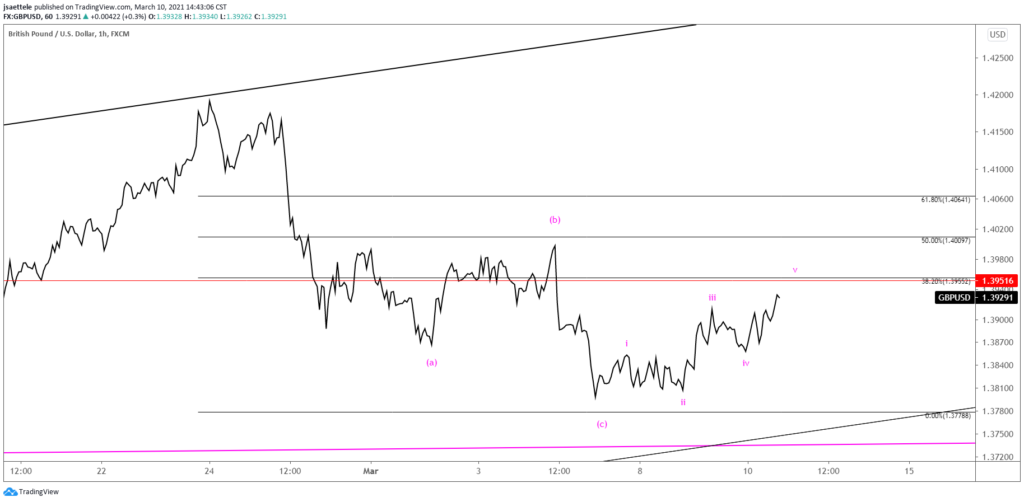 R.N. Elliott counted waves with hourly close data (line chart). Viewed in this manner, the GBPUSD rally from last week's low is nearing the end of 5 waves up. It's perfect. Notice how subwaves 1 and 3 each subdivide into 5 waves. Subwave 5 appears to have a bit more upside. Watch for resistance near 1.3950. The swing setup is buy the bigger pullback, probably near 1.3850 (former 4th wave low). It's important to note than GBPUSD held 2021 VWAP last week (see futures chart below).
BRITISH POUND FUTURES DAILY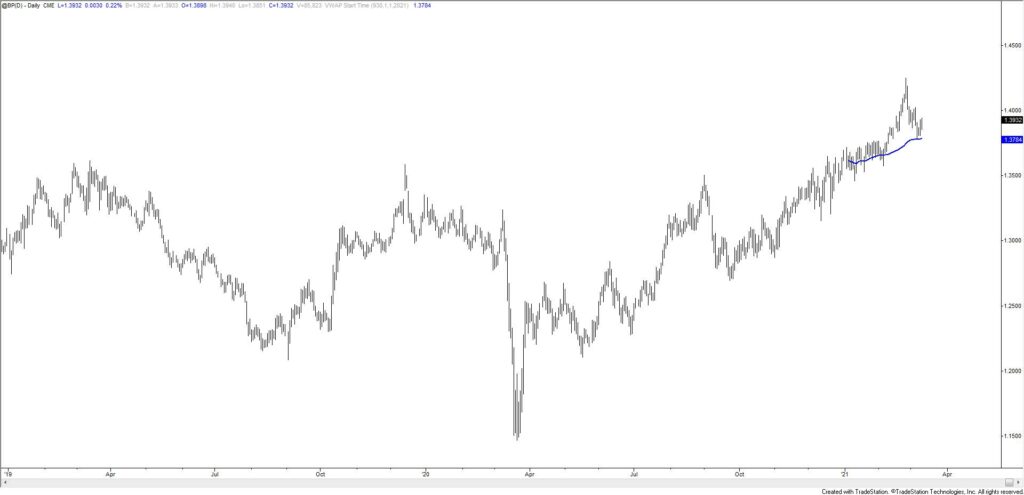 NZDUSD DAILY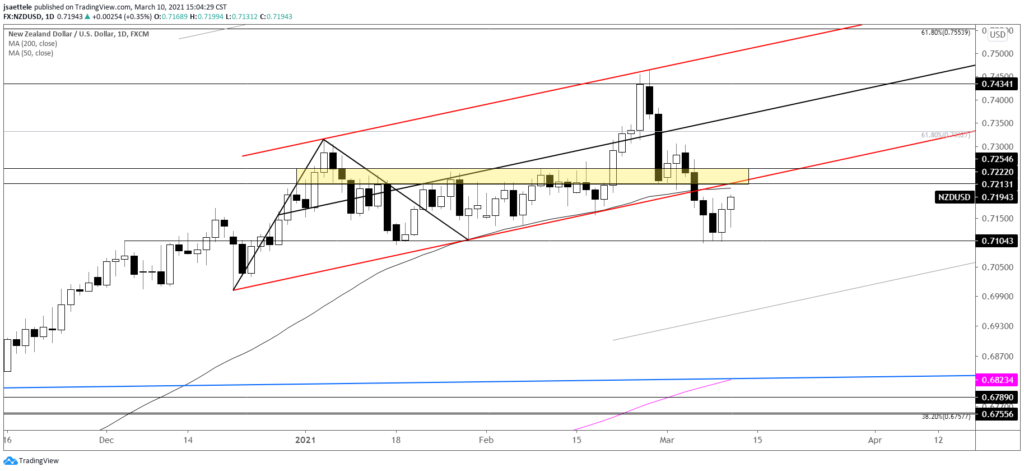 Despite a lack of clarity on general USD direction, the short NZDUSD setup is clear with .7220 well-defined as resistance. .7220 is the underside of the former channel. In general, .7220/50s has been a pivot all year. .7220 is also 2021 VWAP (see below). Bottom line, I like the short side into that level.
3/7 – No change to Kiwi. I like downside following the break under the 2+ month channel. Again, proposed resistance is about .7215.
NEW ZEALAND DOLLAR FUTURES HOURLY