EURUSD HOURLY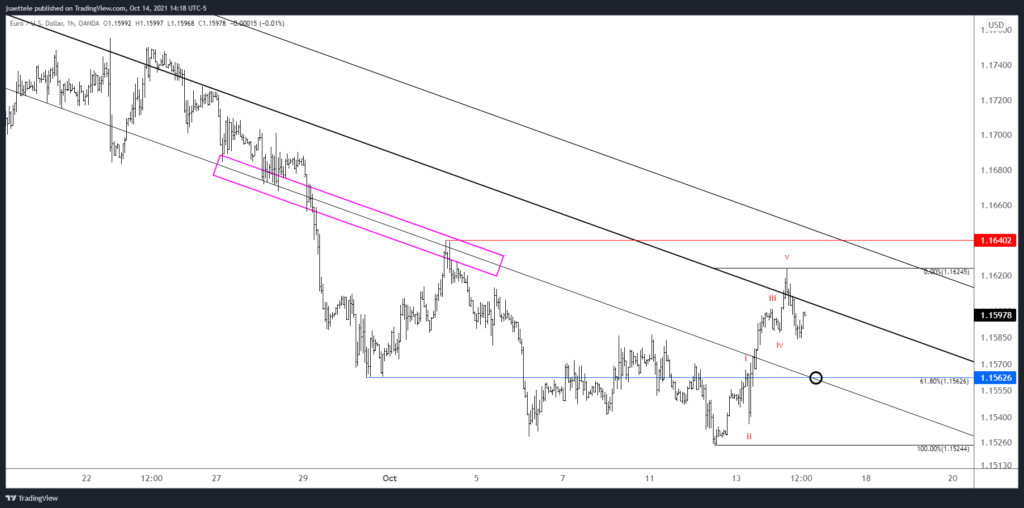 The EURUSD rally unfolded in 5 waves, which increases confidence in a bullish stance against the low. The 61.8% retrace should be support at 1.1563. There is nothing else to add other than be aware that we could end up with a bullish key reversal at the 200 week average / 200 week midpoint (see below).
10/13 – EURUSD low so far is 1.1525…good enough?  As noted yesterday, USD sentiment is the exact opposite as it as early in 2021.  All of a sudden, it's popular to be a USD bull (EUR bear) which is reason enough to go the other way.  Watch for support near 1.1570.  1.1640/65 is of near term interest.
EURUSD WEEKLY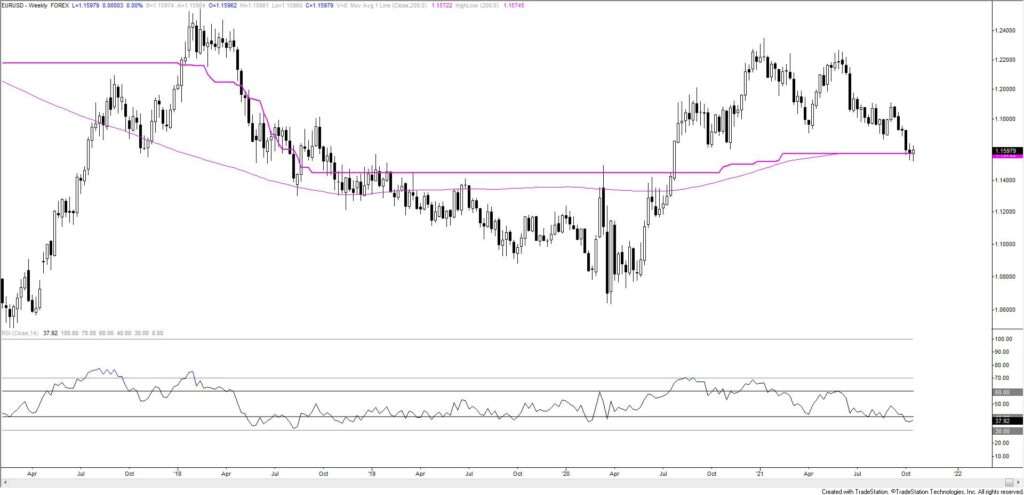 USDCAD 4 HOUR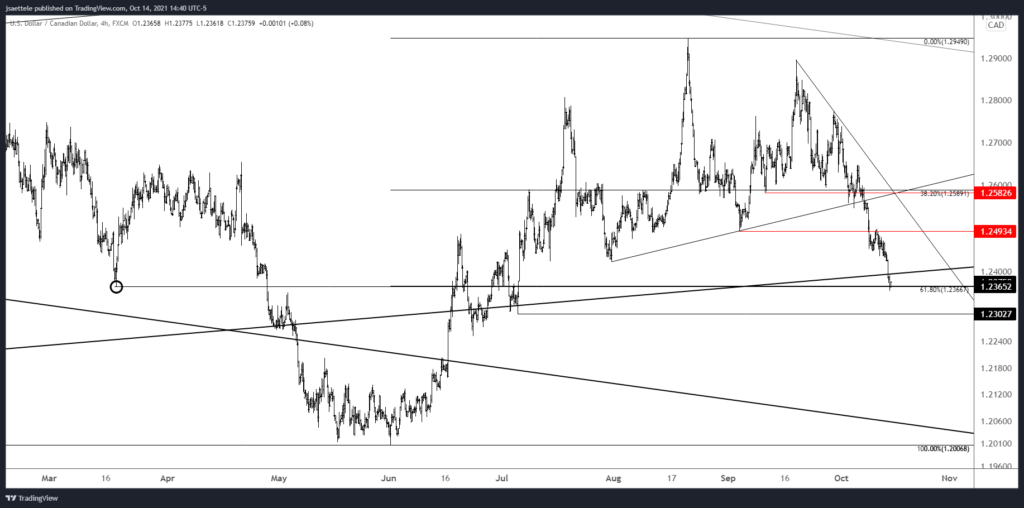 USDCAD is getting destroyed but price closed today at a possible bounce level defined by the 61.8% retrace of the rally from June.  The level is reinforced by the March low.  There is obviously no evidence that price is going to bounce from this level but if it does then former support at 1.2493 is in line for resistance now.  This would be near the equivalent of 2021 VWAP on CAD futures (see below), which has been a pivot all year for CAD.
CANADIAN DOLLAR FUTURES DAILY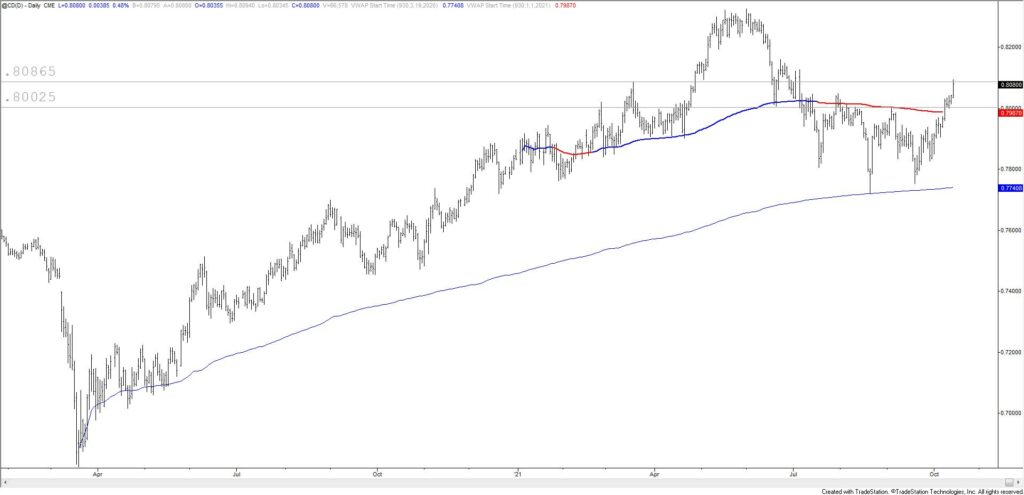 NZDUSD DAILY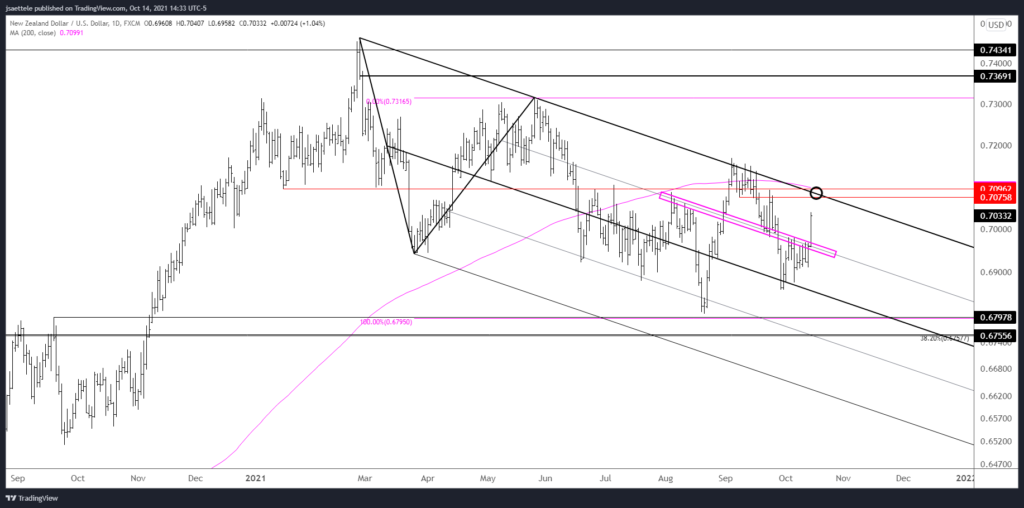 Kiwi exploded through the 25 line today.  Again, this line has been support/resistance for months so the top side of the line is now proposed support again if reached.  Immediate focus is .7075-.7100.  This zone is loaded with the 200 day average, channel resistance, and is simply a well-defined horizontal zone.  The zone is reinforced by VWAP resistance (see below).  In a perfect world, price trades up to .7075-.7100 and then pulls back to .6950 or so before resuming higher.
NEW ZEALAND DOLLAR FUTURES DAILY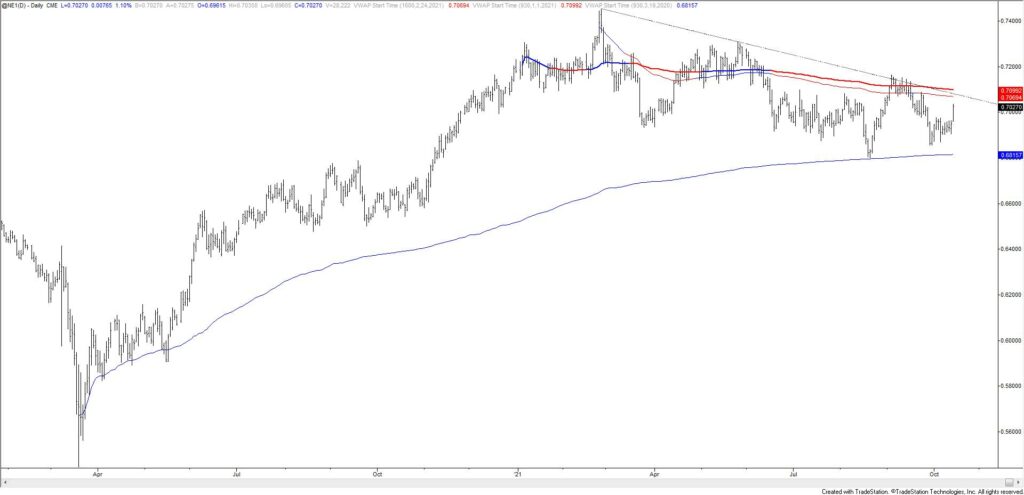 CADJPY DAILY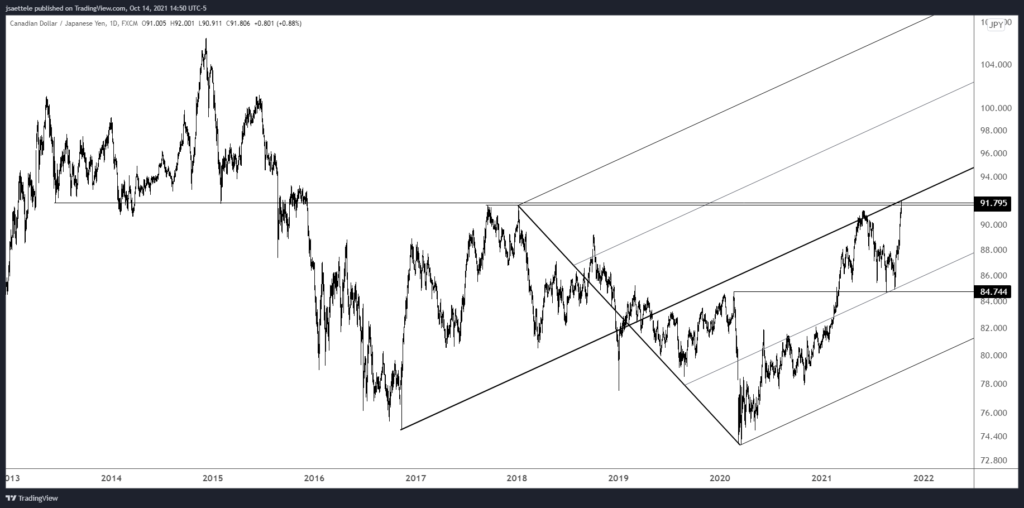 CADJPY traded to a 6 year high today (highest since December 2015).  High 91.00s has been a precise pivot since June 2013 and RSI is in rare territory.  The chart below shows instances since late 2014 when RSI has been as high as it is today (above 80).  Each instances has been within days of an important price peak.  I'm not willing to fade this until I see reversal evidence…but be ready!
CADJPY DAILY