TLT WEEKLY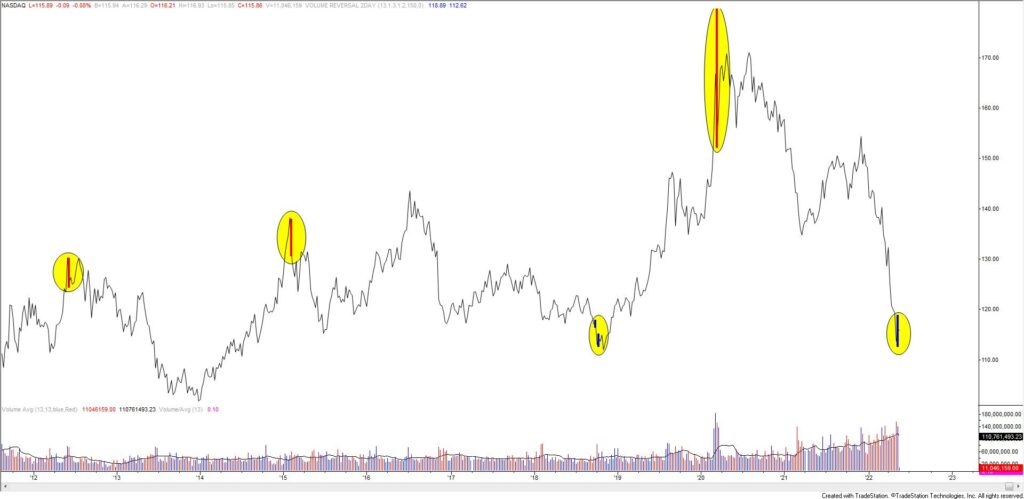 TLT completed a 2 week high volume reversal last week. Over the last 10 years, this signal has occurred right at or very close to a major turn. Also, a 1 week volume reversal triggered last week (see below). This is just the second 1 week bullish reversal since the inception of the ETF. The other one marked the 2007 low.
5/11 – We looked at the 30 year yield 2 days ago so why not take a look at bond futures after the long bond yield has dropped.  Amazingly, bond futures reversed right at the parallel symmetrical to the median line that nailed the March 2020 COVID high.  What this means is that the parallel on this week's low is equidistant to the parallel that tagged the March 2020 high.  This is a perfect example of median line symmetry and reinforced the bullish bonds 'call'.  Bonds are working on a weekly reversal (close up chart is below) as well.
TLT WEEKLY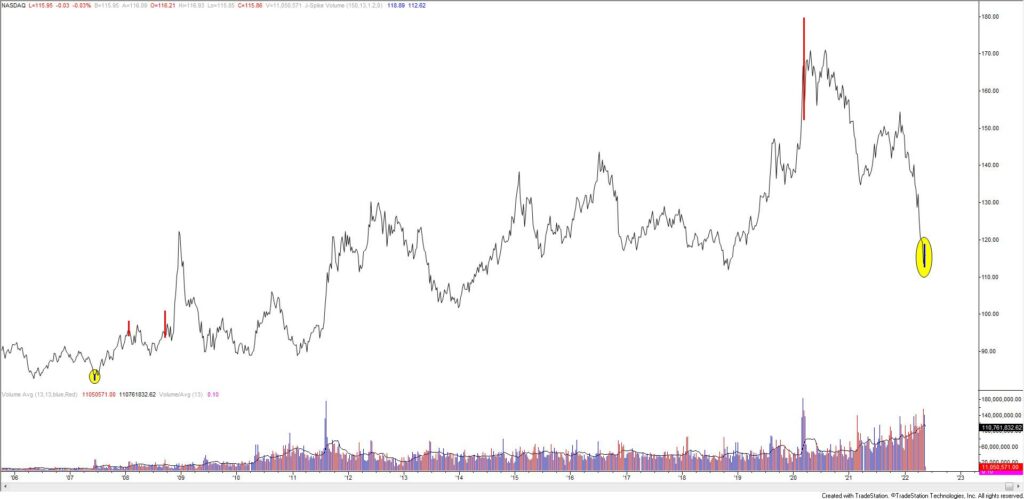 SPOT GOLD DAILY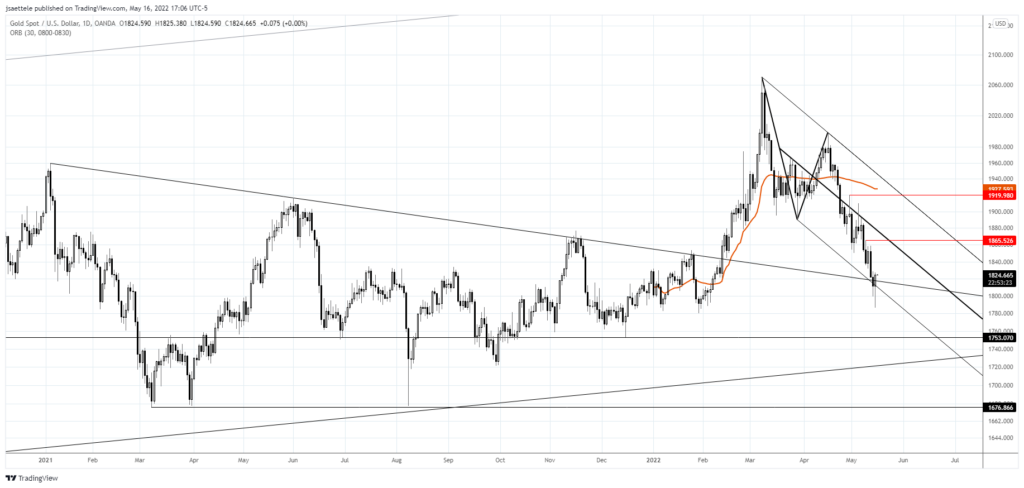 Gold overshot proposed support but carved a large range key reversal today. Price is back above the top side of the former resistance line and near term channel support. As such, I like gold higher. The initial level of interest on the upside is 1865 followed by 1920.
5/10 – Notably, gold has NOT joined silver at range lows.  In fact, gold is nowhere near its 2021 lows.  As such, there is a massive divergence in place between gold and silver that tends to occur at important turning points.  Gold specifically is near the top of the cited support zone (1824/35).  The bottom of the zone is also corrective channel support.  I'm on the lookout for a reversal higher.
JAPANESE YEN FUTURES WEEKLY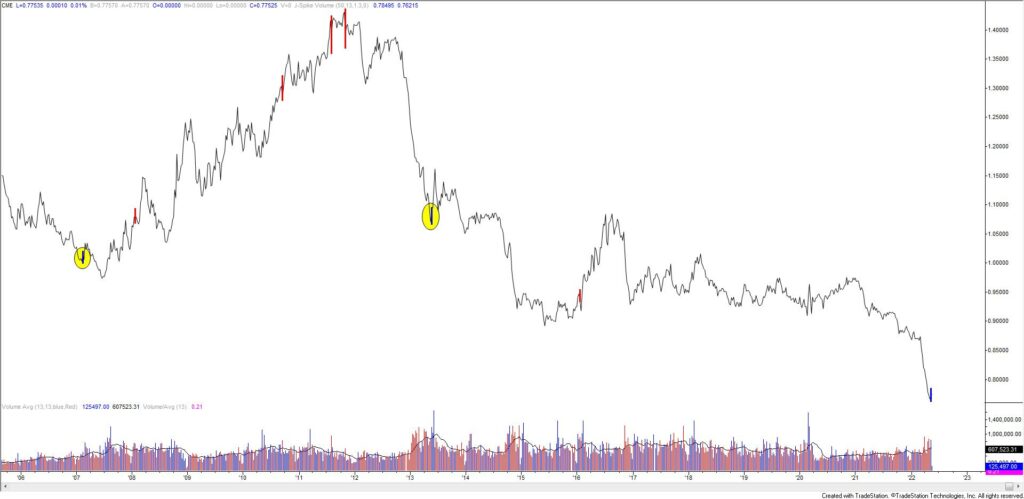 Yen futures made a one week volume reversal last week. There have only been 2 bullish high volume one week reversals since 2007 and both were near term lows. In the current context, this makes sense as USDJPY is 'due' for a correction (Yen futures higher). The weekly signal reinforces our USDJPY short trade.
5/12 – USDJPY followed through on its wedge break and completed the short term double top.  The big spot below looks like 125.10ish, which is the 3/28 high and currently just above the 50 day average (which will be there in the next few days).  I still like the short side and proposed resistance is 129.40 (former resistance and support).
GBPUSD DAILY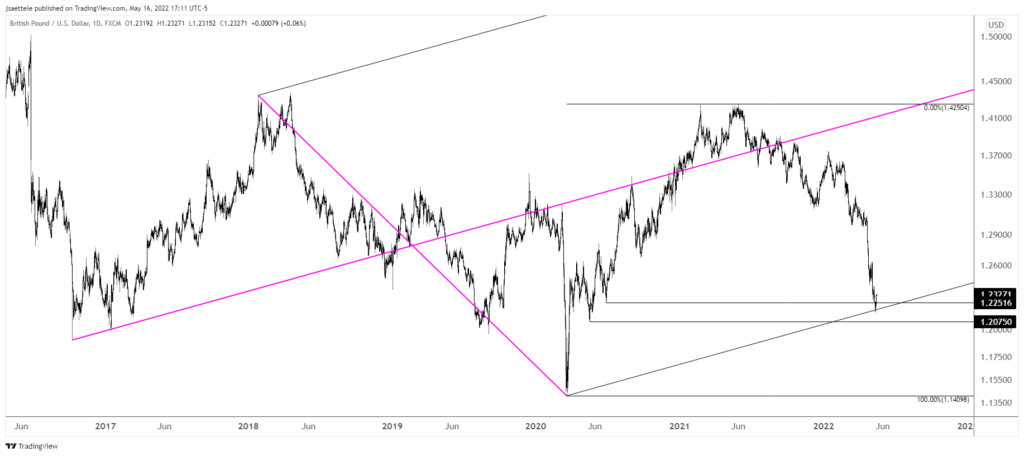 Cable dipped below 1.2258 on Friday before reversing higher and following through on that reversal today. Price is also supported by the lower parallel from a long term pitchfork. 1.2411 looms as possible short term resistance with the 5/4 high at 1.2638 as much more important. 1.2260 is proposed support now.
5/5 – British Pound futures tanked today with extreme volume. Previous instances of volume this high with price at 1 year low are highlighted on this chart and the next (the massive down day was Brexit). Price wise, pay attention to the June 2020 low at 1.2258 (see 2 charts down).