CRUDE OIL WEEKLY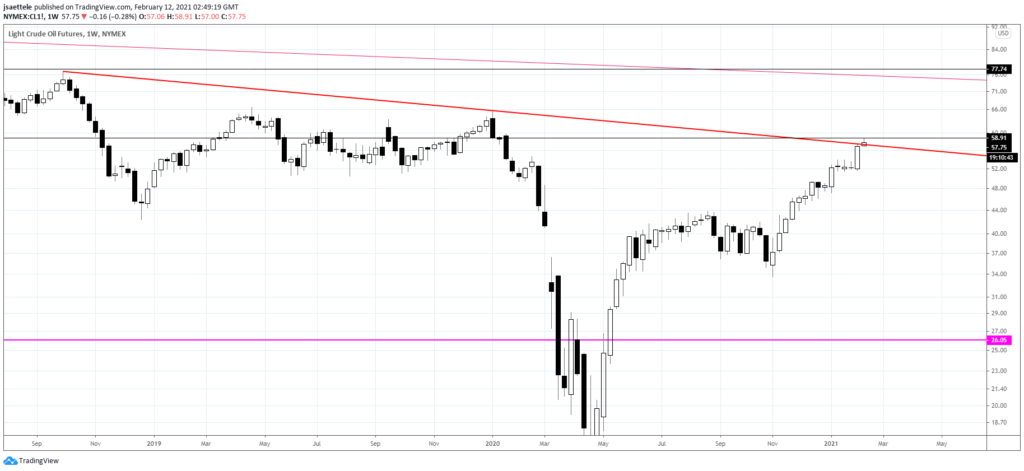 Crude is back to where it was in January 2020. Price overshot the trendline but turned down on Thursday. I'm interested to see how crude closes this week. A decent down day on Friday would leave a long upper weekly wick that crosses the trendline, which would be bearish.
2/3 – Pay attention to crude oil (WTI). Price is nearing the line that connects the 2018 and 2020 highs. The line is about 57.30. I'm on alert for reversal evidence.
COPPER FUTURES DAILY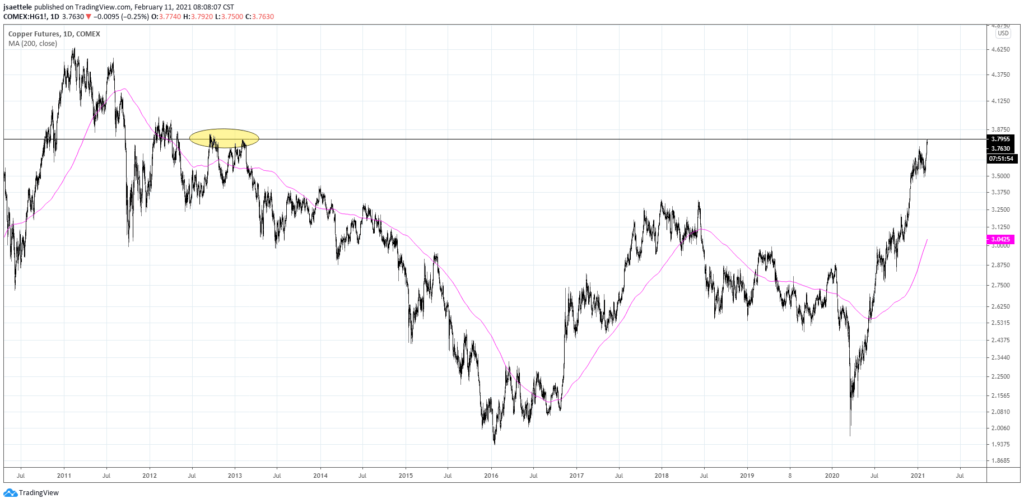 Copper is back to February 2013 levels. This level was resistance from September 2012 to February 2013. That period was essentially the end of a multiyear topping process that led to the long term breakdown. It's often said that 'price has a memory'. Keep an eye on short term price action up here for signs of distribution.
EURUSD HOURLY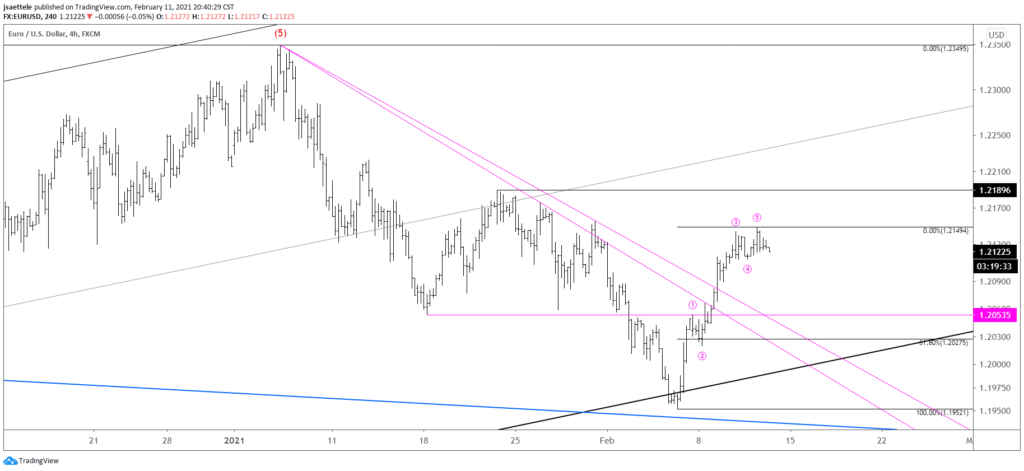 EURUSD traded up to 1.2149 today so a near term top may be in place. The rally consist of 5 waves so expectations are for a drop and then another leg higher. My 'guess' is that a prolonged range is underway from the January high. Markets oscillate between trending and ranging periods and EURUSD has been trending higher since March 2020. A reset of sorts is needed in the form of a range. For now, pay attention to 1.2030/50 for support.
2/10 – EURUSD traded in a very narrow range today and also made a doji (perfect doji…open and close are the same). Price tagged the month open too (1.2133). The 1/29 high and 50 day average are both 1.2155. Maybe we get a spike into that level before lower? I like leaving a short order at that level. 1.2050s may be support now.
AUDUSD HOURLY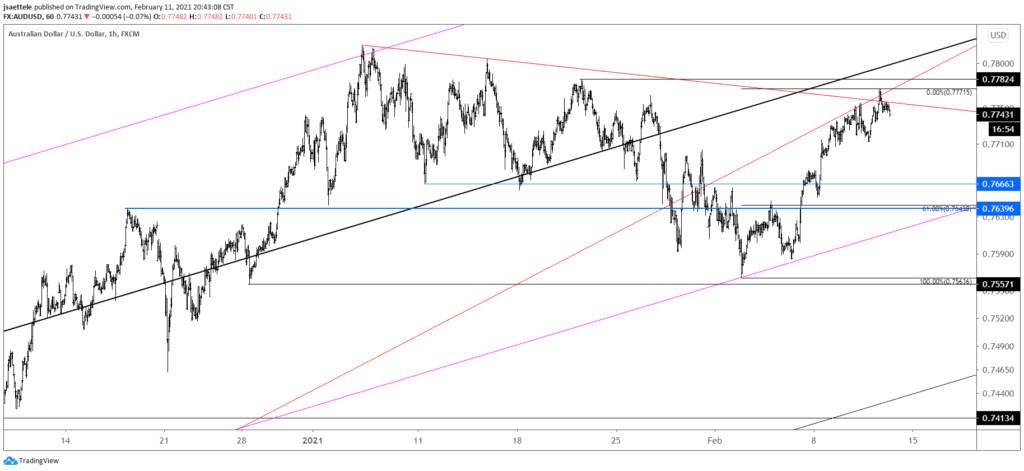 AUDUSD has turned down following the spike through .7760. The structure of the rally from the 2/2 low isn't clearly impulsive or corrective so I'm just paying attention to levels for now. .7640 and .7660s should be watched for possible support now.
2/10 – AUDUSD oscillated around the noted resistance zone all day before finishing with a small range key reversal. Another stab at .7760 isn't out of the question in order to test the line that connects the highs since early January. I'm liking a short into that level.
USDCAD DAILY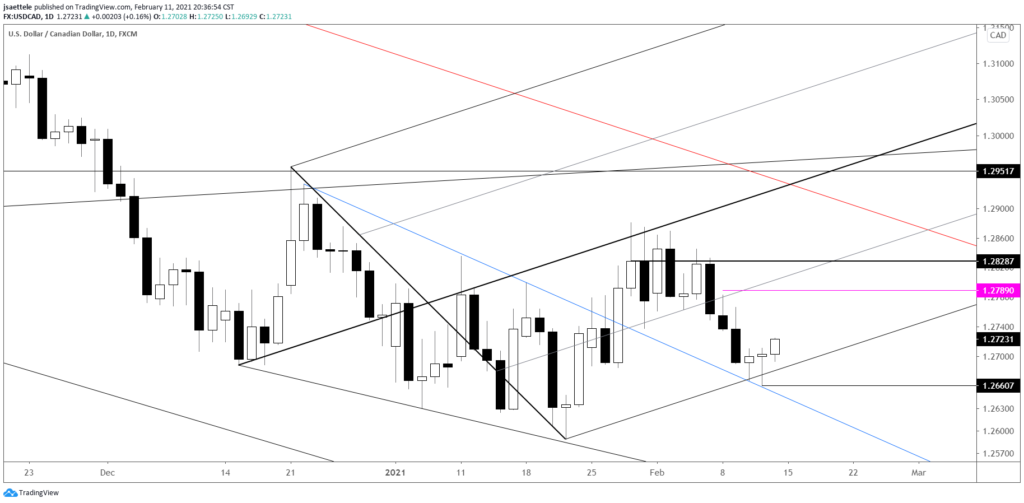 USDCAD carved a key reversal/doji today after cutting through the lower parallel of the bullish fork from the December low. Recall that the median line was precise resistance so expectations are that the lower parallel provides support. So far, so good. Near term upside levels of interest are the month open at 1.2789 and daily reversal resistance (1/28 close) at 1.2829 but upside potential is significant as per the bullish fork.
2/10 – USDCAD eased into noted support like an old man slipping into a hot bath.  A 4 hour volume reversal also triggered today.  As such, it's worth a short on the long side now with a tight stop.  Initial upside focus is the month open at 1.2789.