BTCUSD DAILY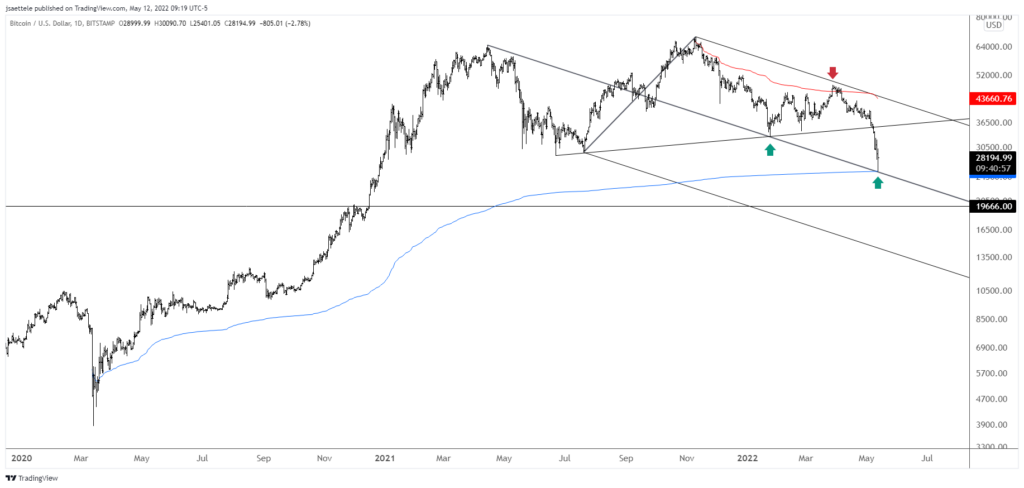 BTCUSD reversed off of the VWAP and the median line today! This is huge and sets a line in the sand for BTCUSD and probably crypto and 'risk' in general (see the Nasdaq composite and BTCUSD overlay below). IF a screaming rally is going to unfold then it's from this level. The former low at 32950 is now resistance. Here's the thing though…IF BTCUSD breaks below today's low then we're in crash territory until the lower parallel near 14000.
5/9 – BTCUSD has fallen off of a cliff and there doesn't appear to be bigger support until 25680.  This is both VWAP from the March 2020 low and the median line from the fork that originates at the April 2021 high (what a difference a year makes!).
NASDAQ COMPOSITE (BLACK) AND BTCUSD (ORANGE) DAILY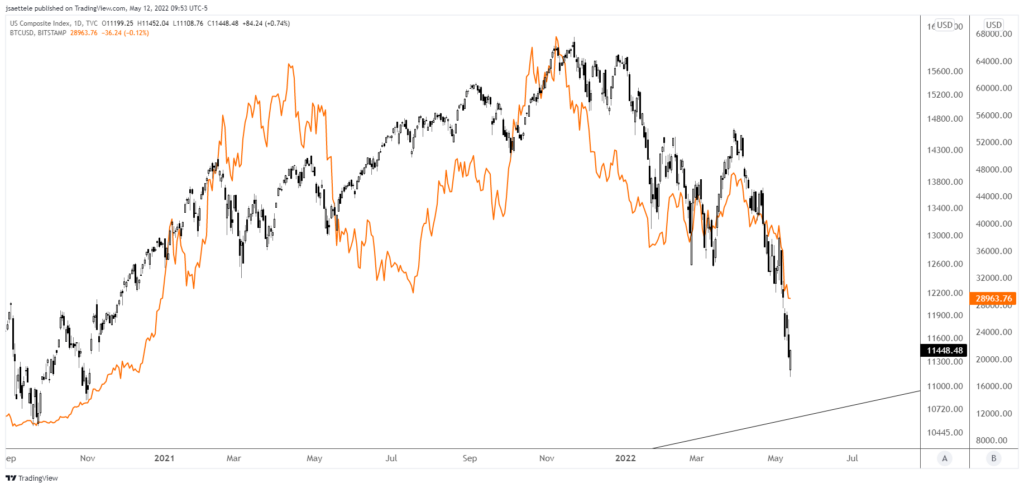 DIA DAILY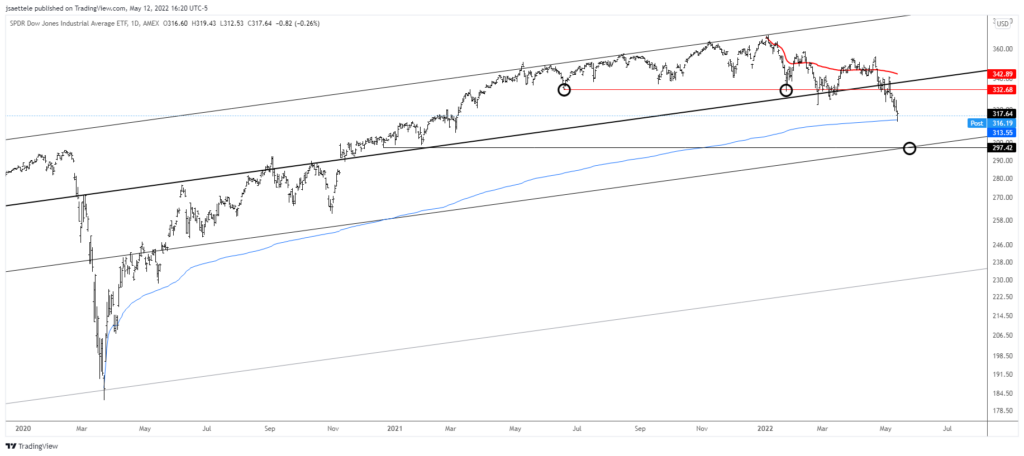 DIA (Dow ETF) low today was 312.53, $1 below VWAP from the March 2020 low. Like BTCUSD (and 'risk' in general), today's low is the line in the sand for a pivot. In other words, this is THE spot for a short covering rally. Keep in mind that all rallies begin as short covering rallies but in the current environment that term is appropriate (you'll hear it a lot in the coming weeks/months). 322/24 and 333 are levels to know for resistance. I am of the mind that we test 297.50 but a rally now and then a drop to that level 'makes sense' from my vantage point.
5/11 – No change to DIA other than reminding that 313.50 is perhaps 1 day away.  The 'trend' is lower and the channel low near 297.50 is more important but bear market rallies are sharp and one could occur from near 313.50.  332.70 or so remains key resistance if reached.
USDJPY DAILY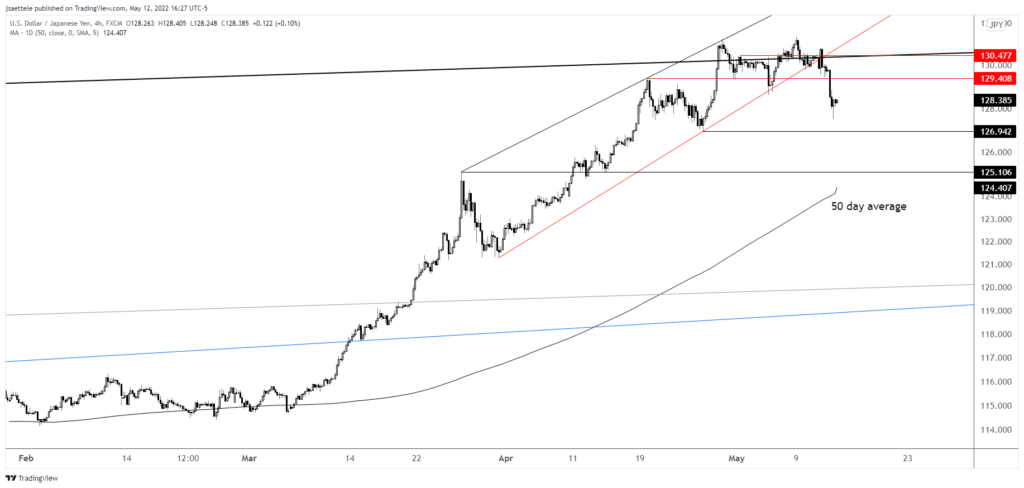 USDJPY followed through on its wedge break and completed the short term double top. The big spot below looks like 125.10ish, which is the 3/28 high and currently just above the 50 day average (which will be there in the next few days). I still like the short side and proposed resistance is 129.40 (former resistance and support).
5/11 – USDJPY has broken the trendline from the late March low.  I'm bearish.  130.40/50 is now proposed resistance.
NZDUSD DAILY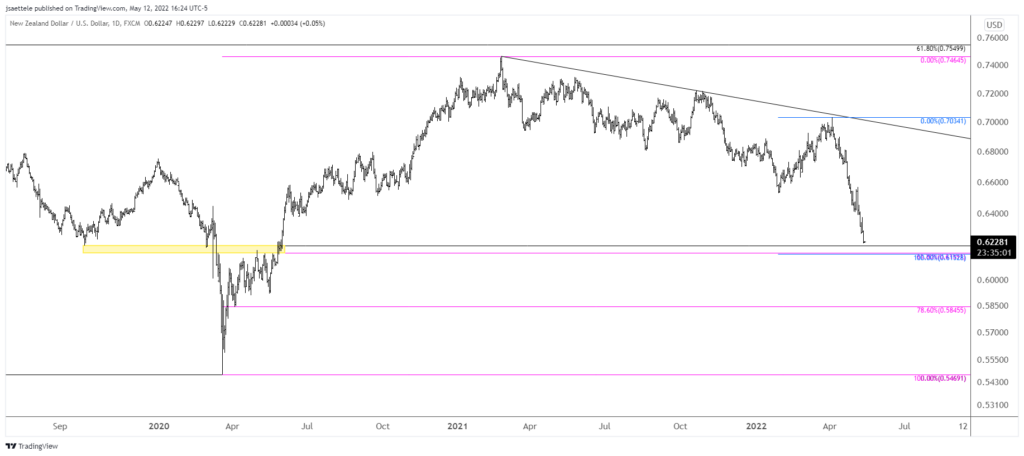 The USD is soaring, especially against commodity currencies.  The cleanest level nearby for major commodity FX is found in NZDUSD.  .6150-.6204 is big.  The lower bound is 2 equal legs down from the 2021 high and the 61.8% retrace of the rally from March 2020.  The upper bound is the October 2019 low.  This is a zone that could produce an important low.