SPX500 DAILY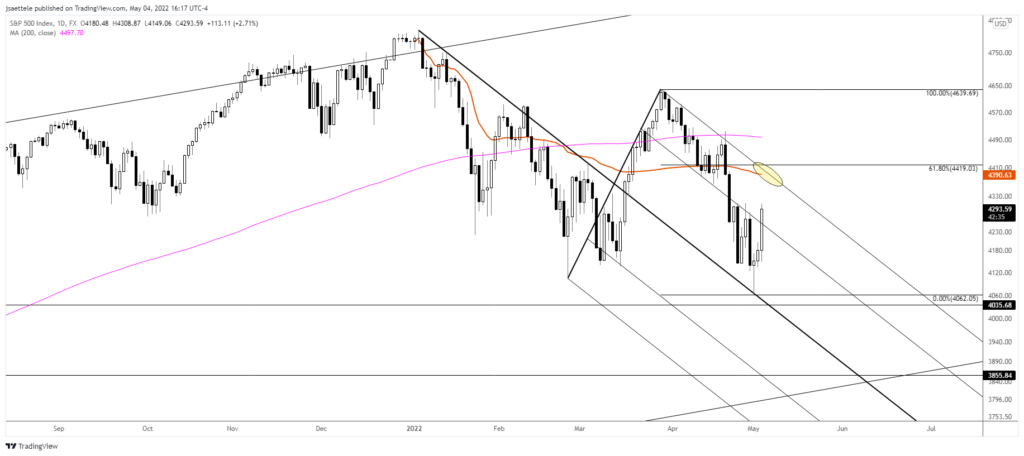 No need to complicate things…4390 or so is 2022 VWAP and the upper parallel of the bearish fork. I think that's where price is headed. What happens at that level will determine whether or not the market is still bearish (break above or hold resistance).
5/3 – SPX held up after yesterday's reversal.  There are 2 big levels to note for possible resistance…4250 and 4360/90.  The latter level seems like a stretch in the near term but FOMC is tomorrow and sentiment is wildly bearish, which provides plenty of fuel for a violent squeeze.  Bottom line, I'm thinking higher following yesterday's reversal, especially after futures held the large volume level during Tuesday's trade (see below).
BTCUSD DAILY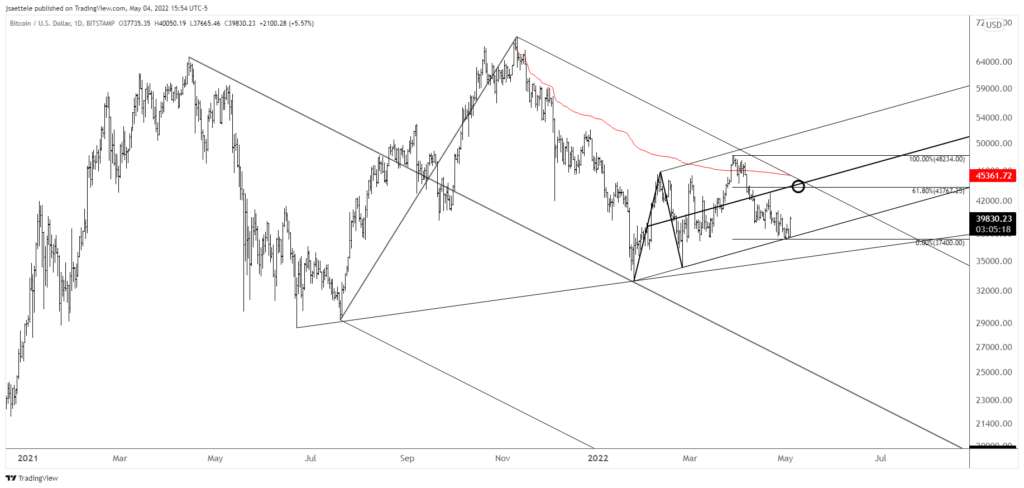 Solid hold for BTCUSD today as price traded to a 5 day high. Focus is higher after the show of support…probably towards 43760 (61.8% retrace and channel center line).
4/26 – BTCUSD is nearing its own critical level defined by channel support and former lows at 37169.  If price breaks below then that level becomes proposed resistance and everything since the January low would be viewed as a bearish flag of sorts and possibly the midpoint of the decline from the November high.
EURUSD DAILY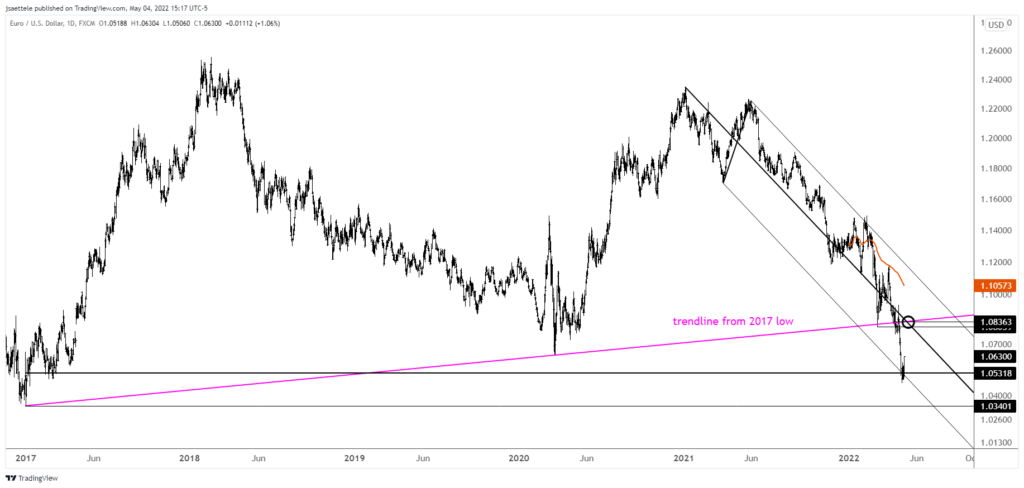 Violent reversal indeed. I'm of the mind that this rally has legs given the massive 1.0500 figure and extraordinarily bearish sentiment. Upside focus is 1.0840 or so, which is the underside of the trendline from the 2017 low and median line of the bearish fork. Support is 1.0570/90 (see below).
4/27 – I have USD strength fatigue.  I can point out how 'extreme' the move is or the myriad headlines that indicate 'extreme' sentiment but it hasn't mattered…yet.  Today's low is right at the lower parallel of the bearish fork that originates at the 2021 high.  This is clearly an important horizontal level too (note the highlighted zone on the left side of the chart).  EURUSD is set up for a violent reversal in my opinion…an up day would be a good start.
EURUSD HOURLY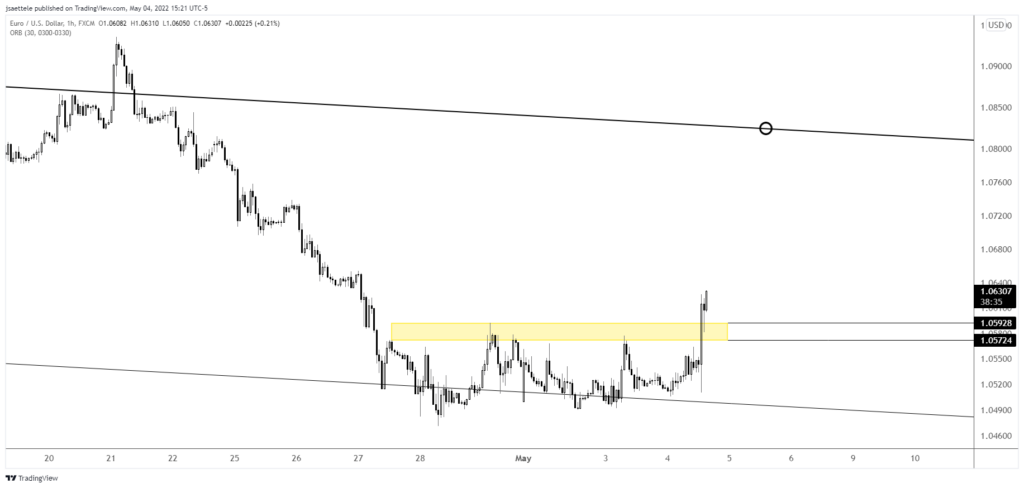 AUDUSD DAILY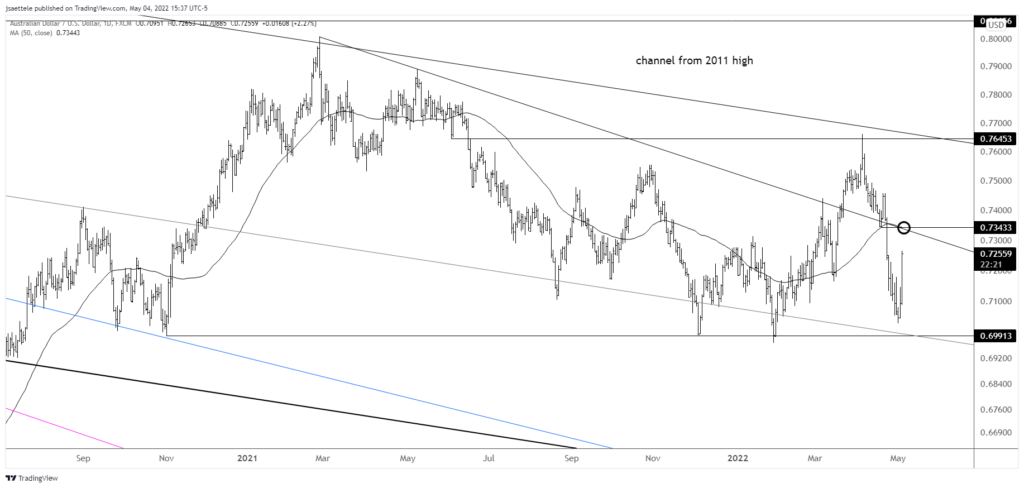 That non-confirmation with NZDUSD is looking more interesting now! Be aware of .7340 for resistance now. I can envision AUDUSD completing 5 waves higher into that level before pulling back. Former highs at .7180/90 is now support.
5/3 – AUDUSD has yet to take out the Jan low but NZDUSD has taken out its Jan low.  So, there is a non-confirmation in place.  It's not worth acting on until we get signs of a reversal.  Until/if that happens, be aware of the parallel within the long term channel (close up view below) for support near .6990.
NZDUSD 4 HOUR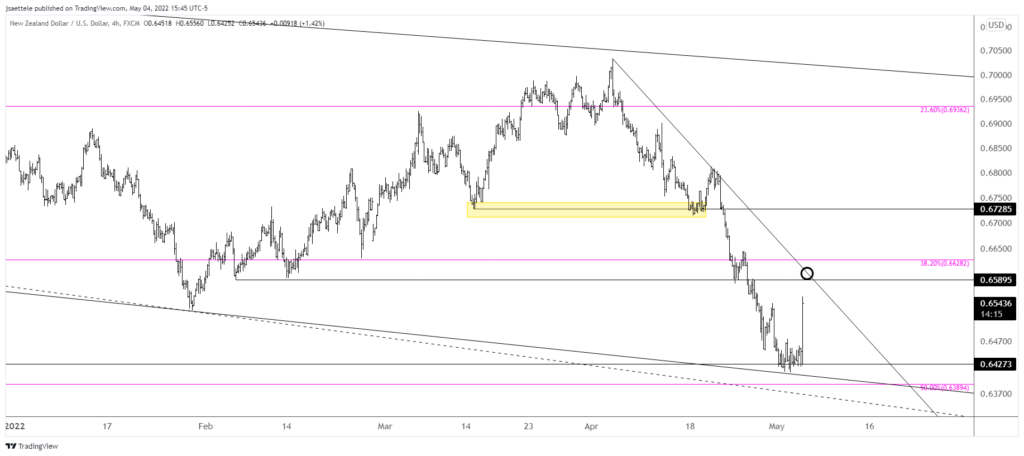 The test for this NZDUSD rally is .6590. This is former support and the line off of April highs. If price breaks above then the top side of the line is support for a long position with .6730 of interest.
5/3 – NZDUSD has traded into a well-defined zone from a long term horiztonal level at .6430 and the line that crosses big lows in 2021 and 2022.  The 50% retrace of the rally from the 2020 low is just below at .6389.  Keep that level in mind for a spike and reversal on FOMC.
NZDUSD DAILY