BTCUSD HOURLY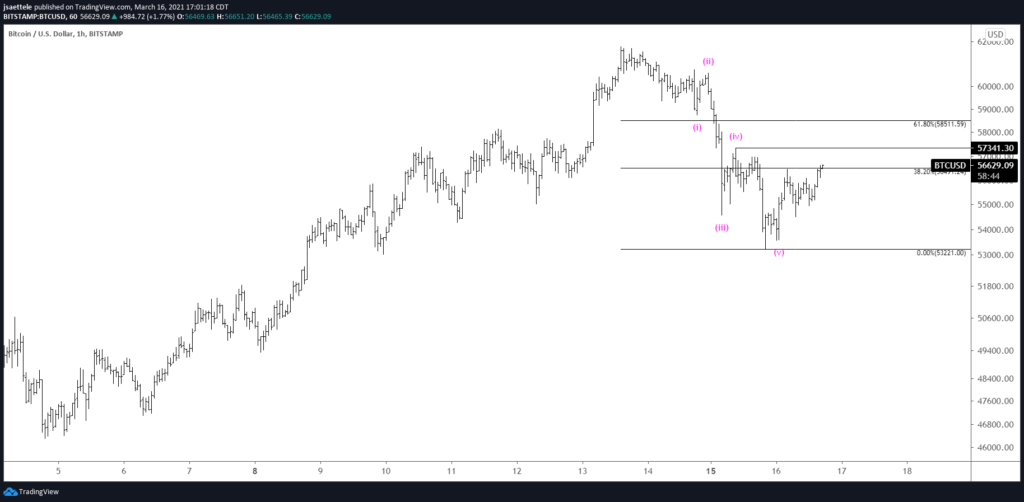 BTCUSD has dropped in 5 waves from the high made over the weekend. The implication is that this rally ends with a lower high before at least one more leg lower. The 2 levels to keep in mind for resistance are the former 4th wave high at 57,341 and the 61.8% retrace at 58,511.
EURUSD HOURLY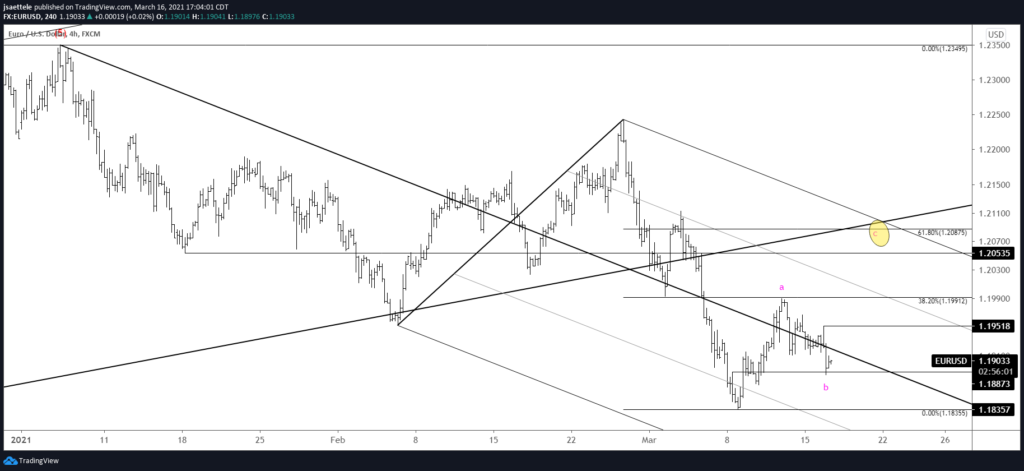 EURUSD has dropped into proposed B wave support. FX has been quiet to start the week as participants wait for central bank meetings. FOMC is first on the list tomorrow. Above 1.1950 would suggest that the interpretation shown on the chart is correct. Until then, there is nothing do but hurry and wait.
3/15 – EURUSD may be working on a 3 wave rally from the 3/9 low. Proposed support for wave B is just under 1.1900…1.1887/99 is daily reversal support, the 61.8% retrace of the rally from the low, and 2 equal legs down from the 3/11 high. If this interpretation is correct, then price will rally into 1.2050/90 (month open is 1.2070 as well).
USDCHF 4 HOUR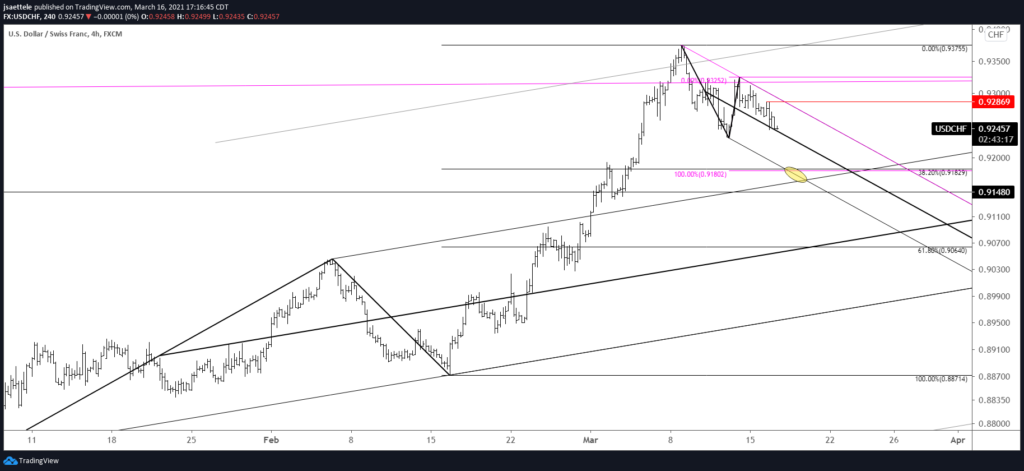 USDCHF remains under pressure and the near term bearish objective has been altered slightly to .9185. The 38.2% retrace of the rally from the February low is .9183 and 2 equal legs down from the high is .9180. This level intersects the lower parallel from the short term channel during the U.S. session tomorrow. Maybe we get a USD dump on FOMC and reversal towards USD strength after the event? .9280s is proposed resistance now.
3/9 – USDCHF reversed sharply lower today. The full extension of the channel from the low was resistance along with the underside of the line off of lows in 2015 and 2018 (that longer term chart is republished below). .9319 (last week's high and today's U.S. session high) is now proposed resistance. Downside focus is the top of the former upper parallel near .9150.
GBPUSD HOURLY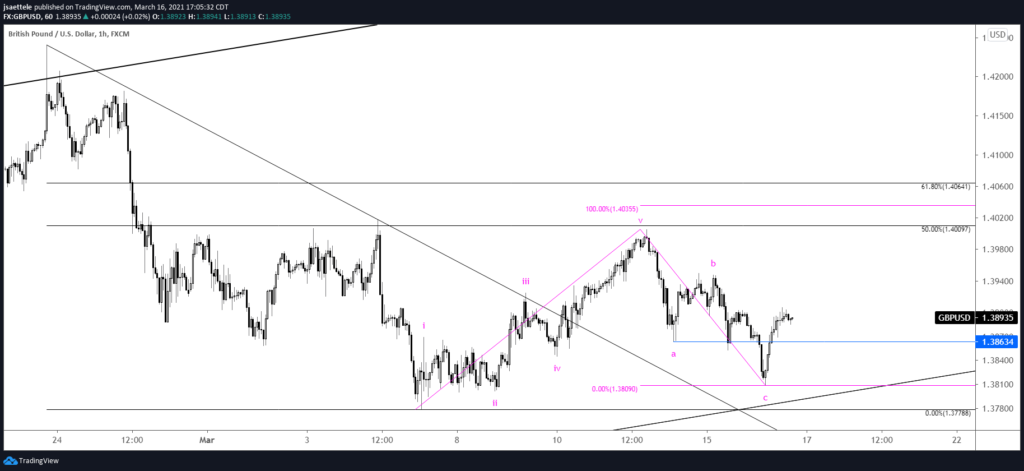 Cable overshot proposed support and reversed weakness by the end of the day. Low today was just above the 50 day average and don't forget that price continues to hold above 2021 VWAP. As such, I maintain a constructive stance on GBPUSD. Proposed support for long entry is 1.3846/63, which is the 61.8% retrace and the high volume level from Monday. If today's low holds, then the upside objective is 1.4036 ( 2 equal legs up) at minimum.
3/15 – GBPUSD may have completed a 3 wave drop today. The hour of the low was on high volume, which indicates possible capitulation. I'm looking higher into 1.4064/80 (61.8% retrace and 2 equal legs up).