SPOT SILVER 4 HOUR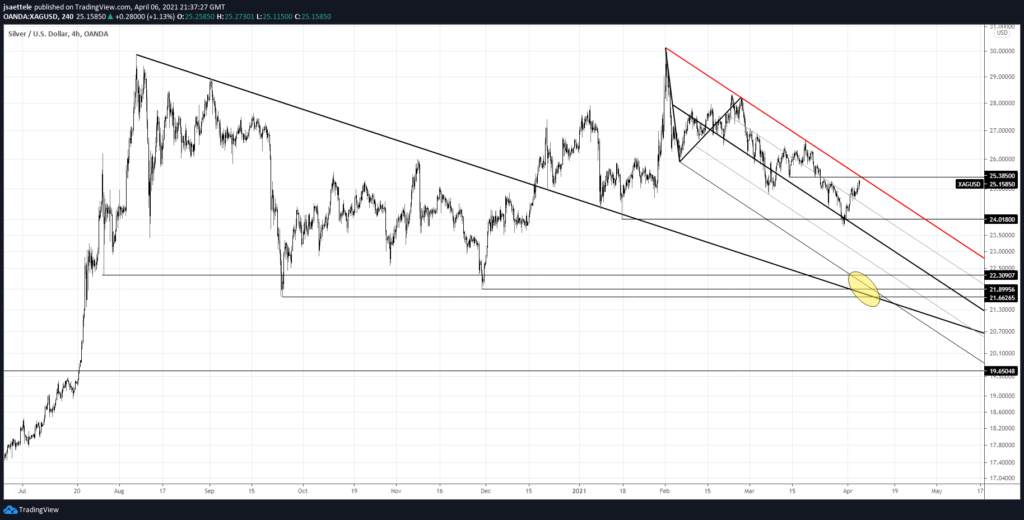 It's taken a few weeks but silver is nearing channel resistance near 25.39. This is a key level because a break above would indicate a behavior change and suggest that silver is headed higher. As always, 'resistance is resistance until broken' so focus remains on the short side.
3/25 – Silver is at the 200 day average for the first time since last May. This is also the center line from the channel off of the February high. A bounce here 'makes sense' with resistance near 26.
GBPUSD 4 HOUR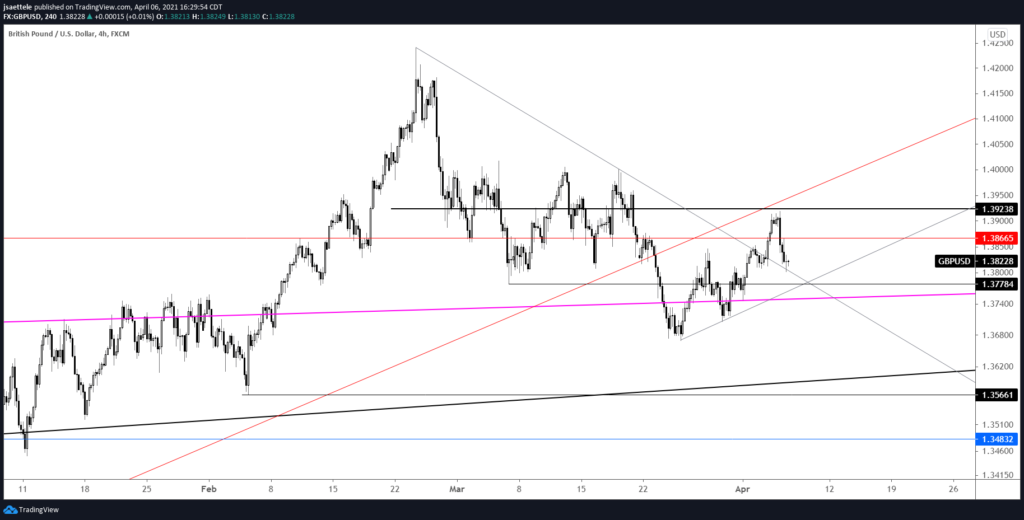 GBPUSD topped at 1.3919 on Tuesday and tanked. I favor the short side as long as price is under Tuesday's low with resistance at 1.3865. The month open at 1.3784 remains a possible bounce level. Another reason to favor the short side is that VWAP from the February high was resistance again on Tuesday (see futures chart below).
4/5 – GBPUSD is closing in the well-defined 1.3920s for resistance. This is the underside of the line from the March low and weekly reversal resistance. Weekly reversal resistance is the close of the high week for the move, which in this instance is the close of the week that ended 2/26. I'm looking to short 1.3920s. Downside is unclear but be aware of the month open at 1.3784 for support now that seasonal tendencies are positive.
BRITISH POUND FUTURES HOURLY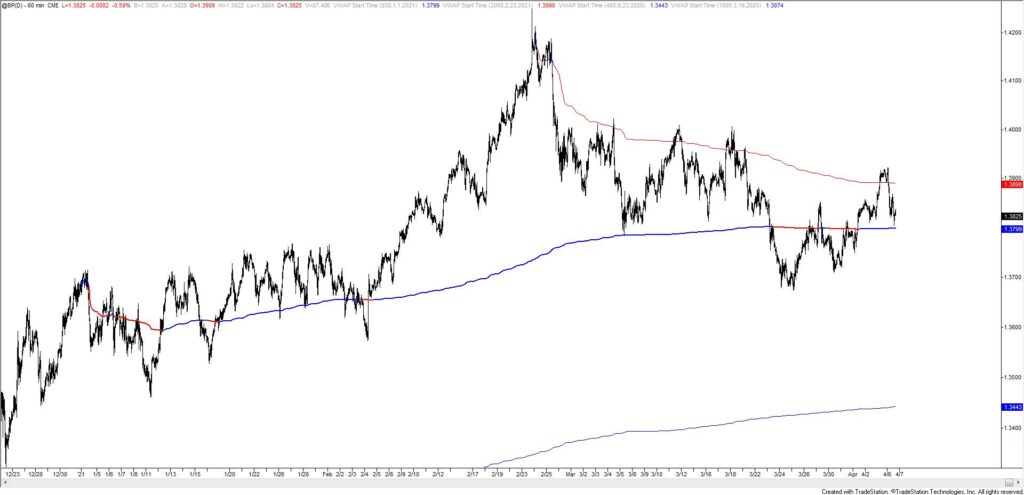 USDCAD HOURLY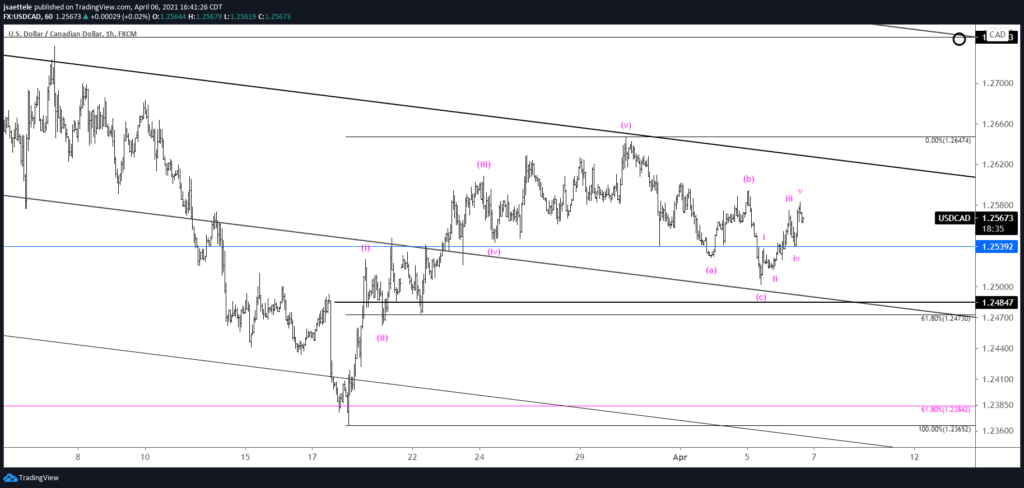 My working assumption is that USDCAD bottomed today because the rally from today's low is in 5 waves. Proposed support is 1.2539. Upside focus is resistance from February at 1.2746.
4/5 – USDCAD is closing in on the noted 1.2473/93 zone for support. Bottom line, a hold here would warrant a long position.
GBPJPY DAILY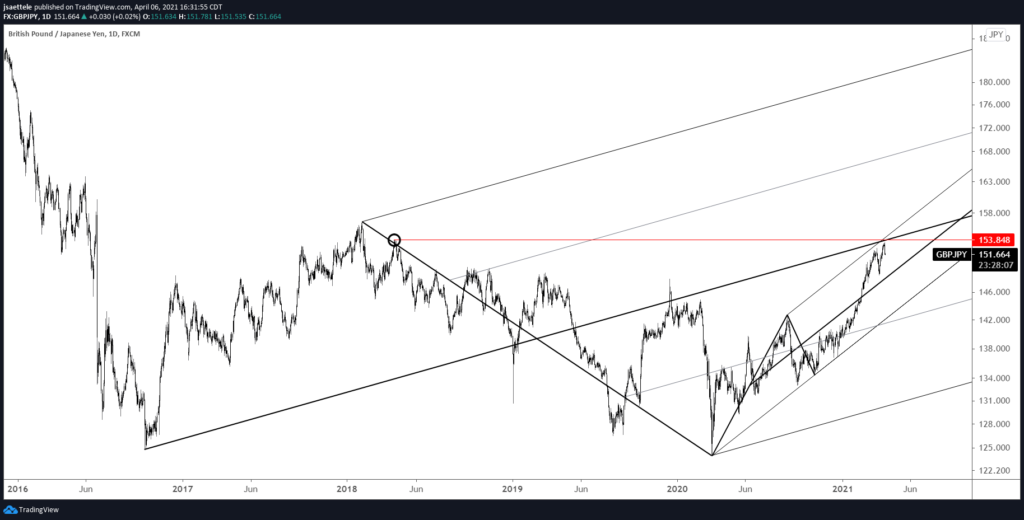 GBPJPY topped just before 153.85 (high was 153.41). The cross made a J-Spike in the process. The drop is impulsive in nature and the proposed resistance zone is 152.30/70 (see 10 minute chart below). The downside level of interest is the 3/24 low at 148.53.
4/1 – Keep an eye on GBPJPY as it nears the April 2018 high of 153.85. This level is also the median line of the fork from the 2016 low and upper parallel of the channel from the March 2020 low. I'm on reversal alert at this level.
GBPJPY 10 MINUTE