EURUSD 4 HOUR
It's a quiet start to the week with most macro markets closed but the USD bounce has led to major USD pairs approaching support. For EURUSD, the ideal level for the next low is 1.1380s.
1/12 – EURUSD has resolved the tight December / early 2022 range to the upside.  Price is knocking on the trendline from May and a break above would open up a run to 1.1660-1.1700 or so.  If price pulls back now, then proposed support is 1.1380s.
GBPUSD HOURLY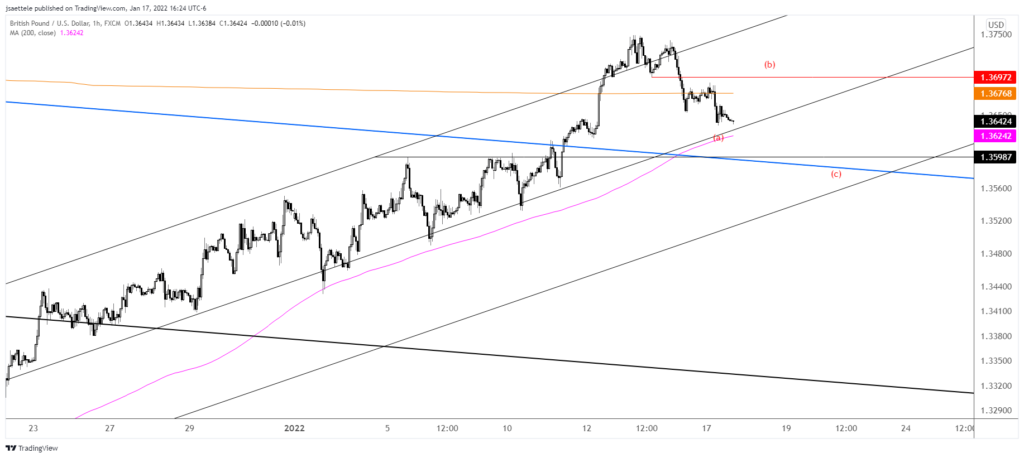 GBPUSD sports 5 waves down from the high in what is probably wave a of a small 3 wave correction. As such, expectations are for a small bounce in wave b. Proposed resistance is 1.3690s. Eventually, the top side of former channel resistance is proposed support near 1.3600.
1/12 – Cable broke the channel that originates from the 2021 high but price has reached VWAP from the 2021 high and the 200 day average is just above (1.3730s…see below).  Price is also pressing against the parallel from the short term bullish fork.  My 'gut' feel is that price pulls back from up here and that 1.3600 provides support for additional upside.  The channel extension and swing objective from the channel break is near 1.4000.
AUDUSD 4 HOUR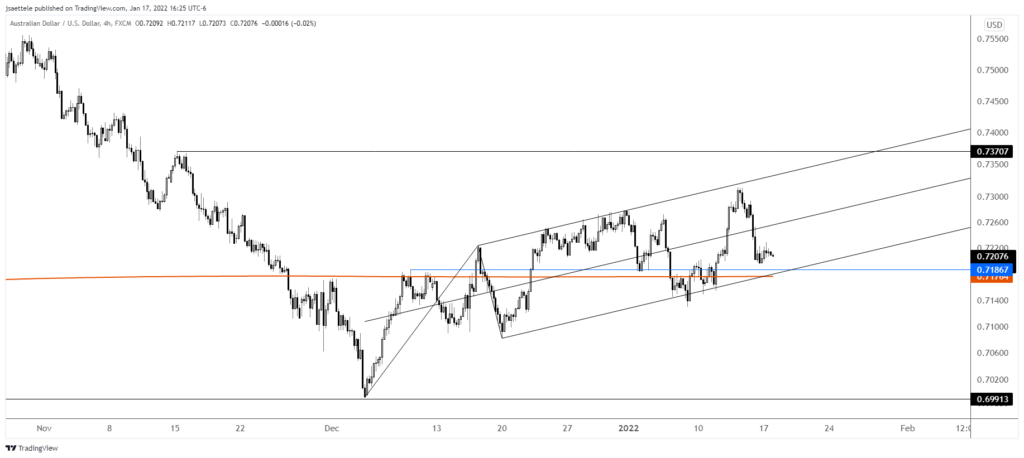 Aussie is quickly nearing .7180s, which is support from the lower parallel of the Schiff fork and VWAP from the March 2020 low (thick orange line). I'm on alert for a reversal near the noted level although .7260 is now proposed resistance.
1/11 – AUDUSD is respecting a Schiff fork defined by pivots since the December low.  This presents a bullish opportunity with tight risk.  .7187 should provide support now (the week open is .7176 as well).  The upper parallel from the Schiff fork is a loose short term objective near .7320 but the upside potential is significant following the hold at the November 2020 low and failed break below VWAP from the March 2020 low (see below).