DXY 4 HOUR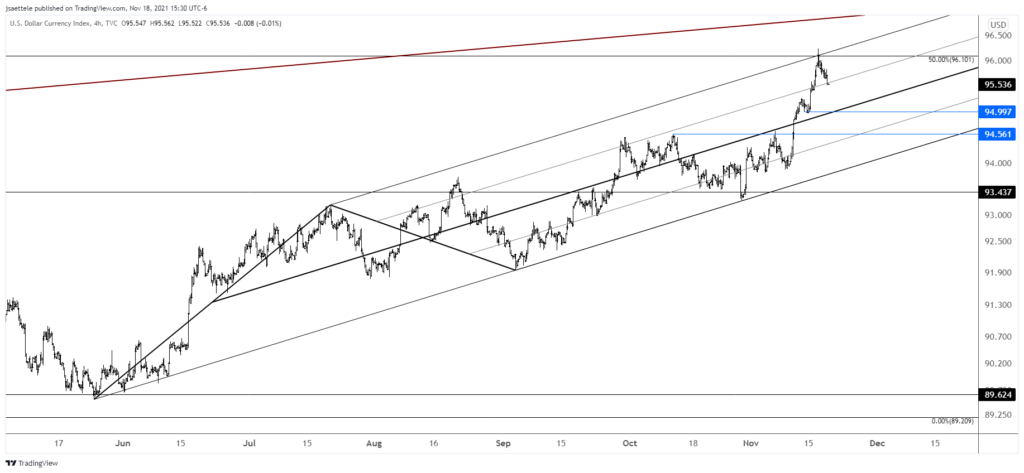 Wednesday's DXY reversal occurred at 6 month channel resistance.  The level is also defined by the 50% retrace of the decline from March 2020.  The weekly chart below highlights the 200 week midpoint, which was support in 2019 and 2020.  Good spot for a top in my opinion.  I'm flummoxed however by the structure of the rally from the 10/28 low.  When viewed through and Elliott prism, this drop 'looks' like a 4th wave.  If price resumes lower immediately then watch for a bounce near 95.  That bounce (if this plays out) would be the one to short in my opinion.  For EURUSD, the equivalent level for a pullback is 1.1450/60
DXY WEEKLY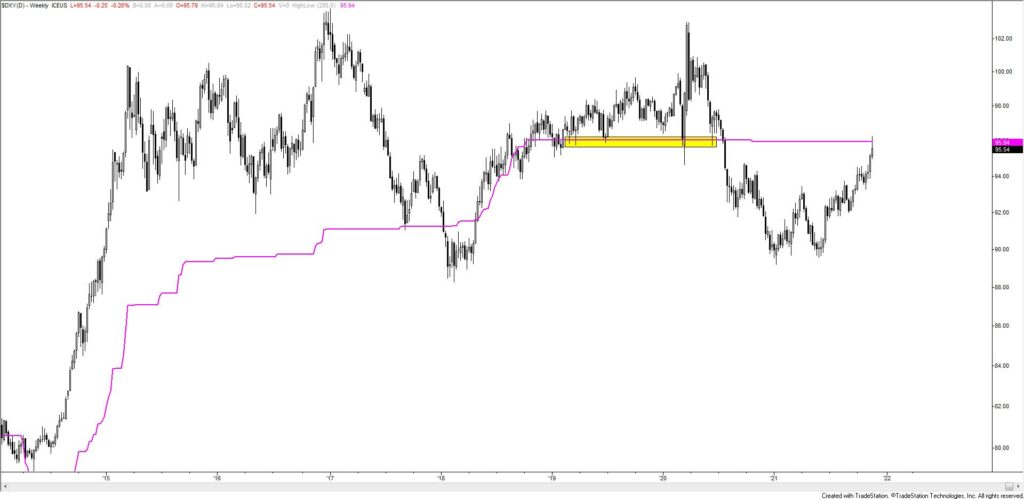 GBPUSD 4 HOUR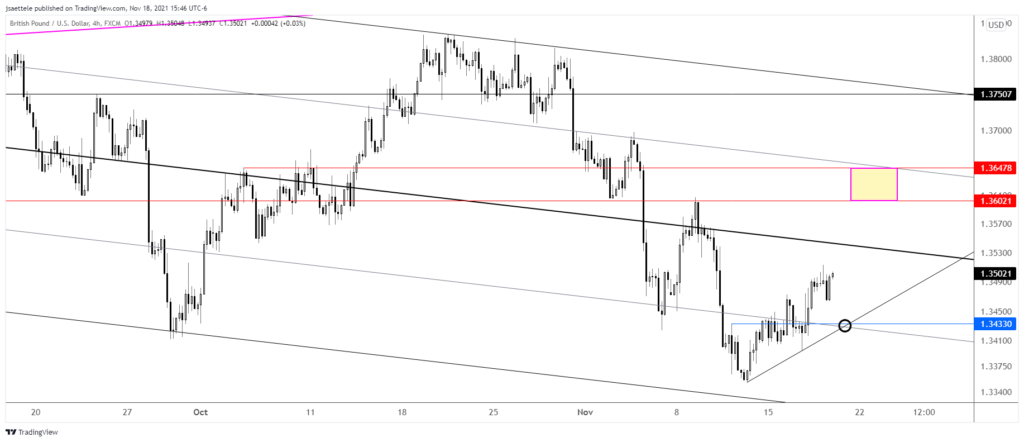 I still like the long side in Cable but will refine support to 1.3433. This is a slope confluence and former resistance. General near term upside focus is 1.3600/50.
11/17 – GBPUSD has followed through on its bullish reversal from the noted VWAP level.  I don't have a handle on the pattern (maybe an ending diagonal from the August high?) but near term trading levels are clear.  1.3420s should be support and 1.3600 is proposed resistance.
AUDUSD HOURLY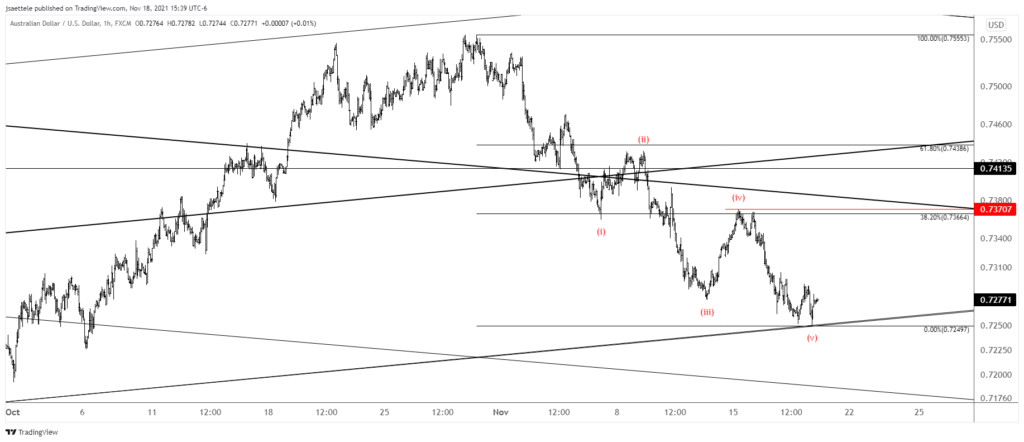 AUDUSD put in a .7250 low today…right at channel support. A bounce here 'makes sense' from an Elliott standpoint too. That is, there are 5 waves down from the October high albeit with an extended 1st wave. I'm looking towards .7370-.7440…then reassess.
11/10 – I was looking for a bounce into .7480 before additional AUDUSD weakness.  Instead, we got AUDUSD weakness without a bounce.  From here, I suggest paying attention to .7400/20 for resistance and .7240 for possible support (bottom of channel).
USDCAD DAILY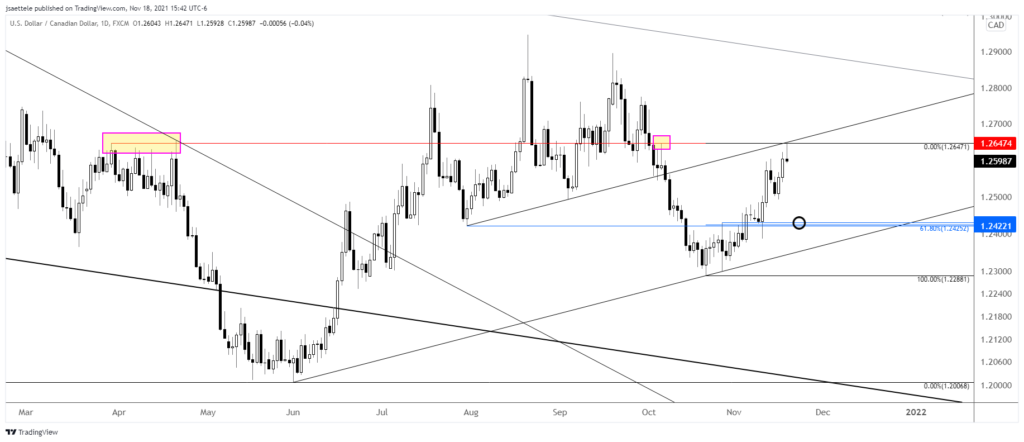 USDCAD nailed the noted level for resistance today. I am thinking pullback from the current level towards 1.2420s. Again, this is the 10/27 high (BoC day) and the 61.8% retrace of the rally from 10/21. If a top is in, then 1.2620s should provide resistance.
11/17 – Heads up on 1.2650 for USDCAD.  If a pullback is going to materialize then that's the spot for resistance.  The 10/27 high (BoC day) will be in line for support at 1.2432 if price does indeed pull back.
USDTRY DAILY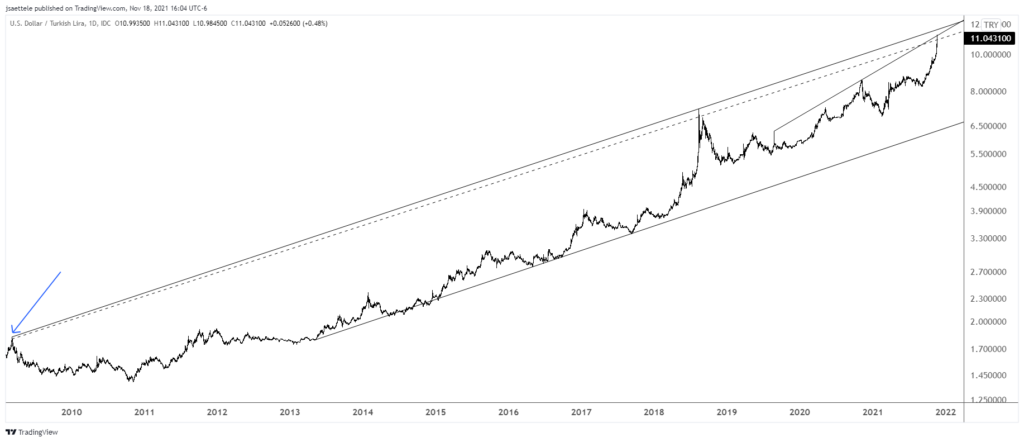 The TRY crisis has led to USDTRY near (or at…I'll explain) the top of a decade + channel.  The channel top when using intraday highs/lows is about 11.61.  When using daily closing prices, USDTRY is at the line now.  An interesting juncture and one that wouldn't be surprising as resistance.  That's as bold as I'll get regarding USDTRY comments right now.