SPOT GOLD DAILY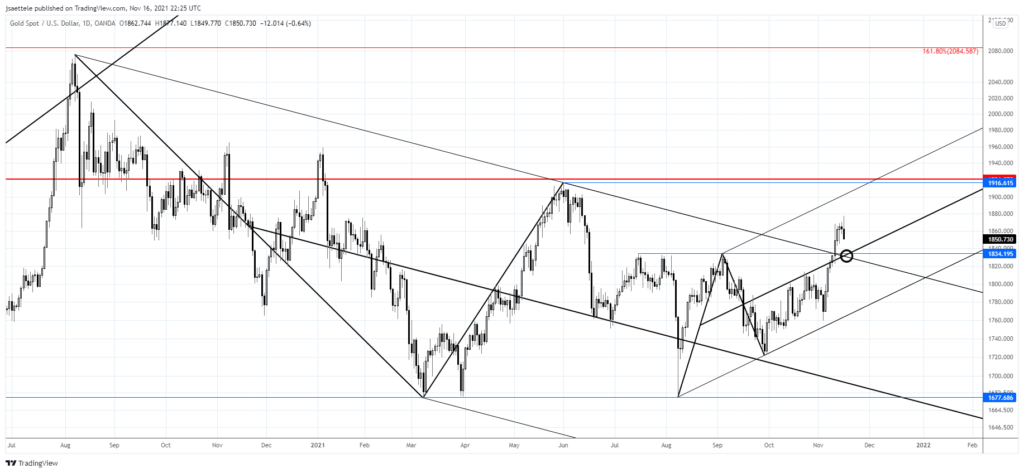 Gold reversed lower today but I maintain a constructive bias with focus for support on 1834. I favor longs into that level with a 1916 upside objective.
11/11 – The cleanest setup from my vantage point at the moment is in gold.  Price has broken out (remember 1834 was possible resistance…it didn't do anything so it's support) and 1834 is proposed support.  Former resistance is reinforced by the top side of the line off of the 2020 and May highs along with the center line of the short term bullish channel (which was formerly resistance).  Upside focus is the May high at 1916.
BTCUSD DAILY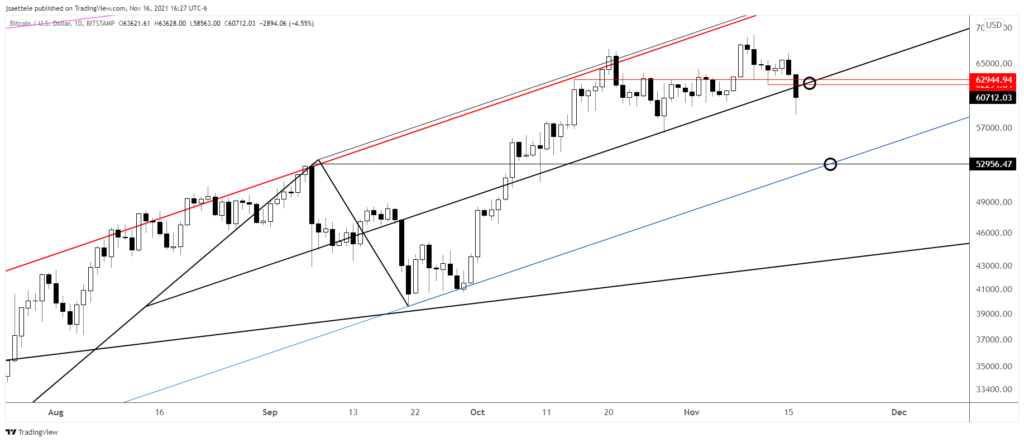 BTCUSD has followed through on its 11/10 reversal. I love this setup. Price has broken the median line, which is now proposed resistance along with the 11/12 low at 62295. Initial downside focus is channel support (blue line) in the 52000s. A longer term view is below.
11/10 – BTCUSD reversed lower today.  Is it a short?  Maybe but for me to want to do so I need either a test of the underside of the line from the March 2020 low (red trendline) or a drop under the short term center line (bold black line).  I like to think of trading as a series of 'if-then' statements and this is a good example of that thinking.  A zoomed in version is below.
Do you make a profit trading USD/JPY?
If you're a consistently profitable trader, consider joining our funded trader program and earn more with Scandinavian Capital Markets.
BTCUSD DAILY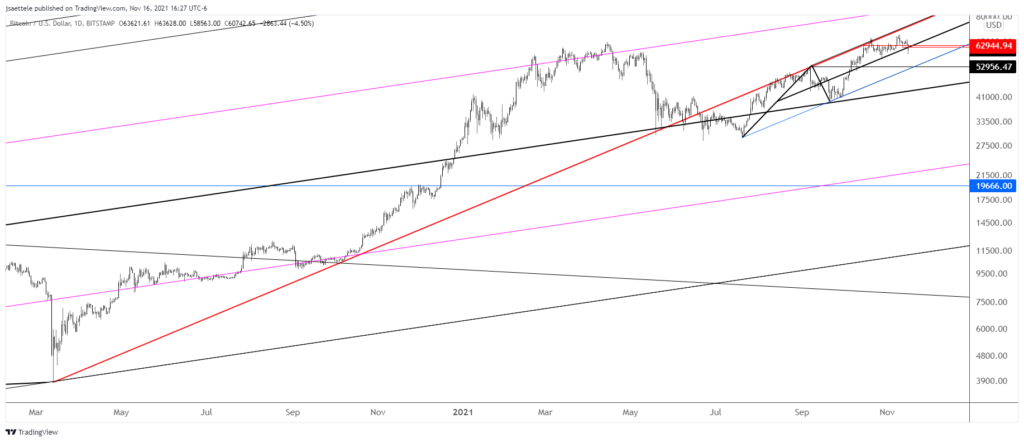 ETHUSD DAILY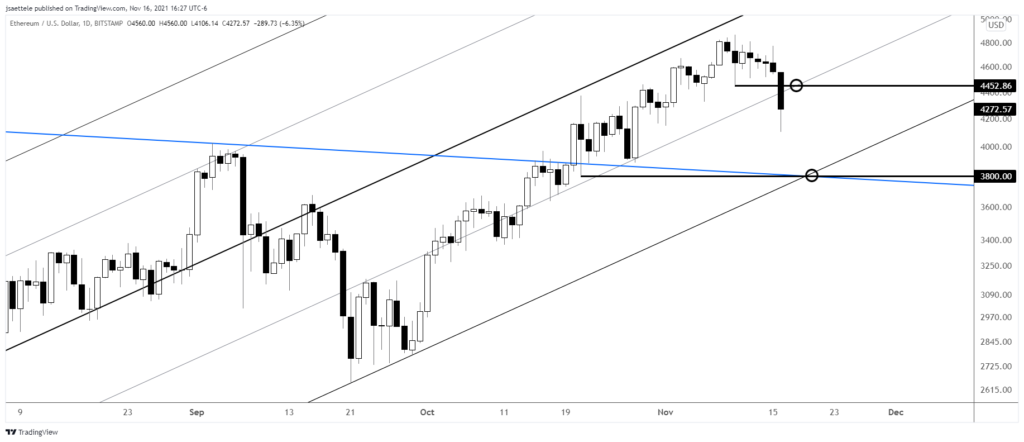 The ETHUSD setup is similar to the BTCUSD setup.  Here too, price has followed through on its 11/10 downside reversal.  In other words, the reversal has been confirmed.  A parallel that was previously support is now proposed resistance near 4453.  The MASSIVE test on the downside is 3800, which is the confluence of trendline support and the line off of the May and September highs (a neckline of sorts).  If that gives way, then expect all hell to break loose on the downside.  A longer term view is below.
ETHUSD DAILY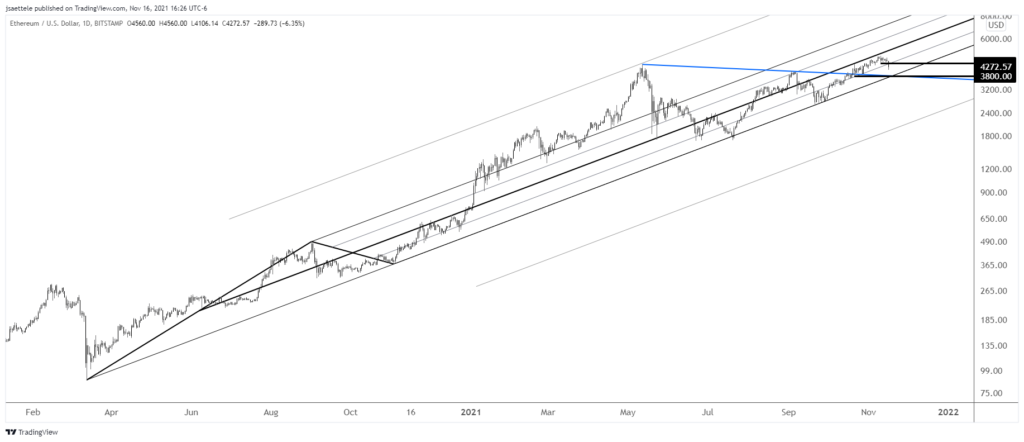 EURUSD DAILY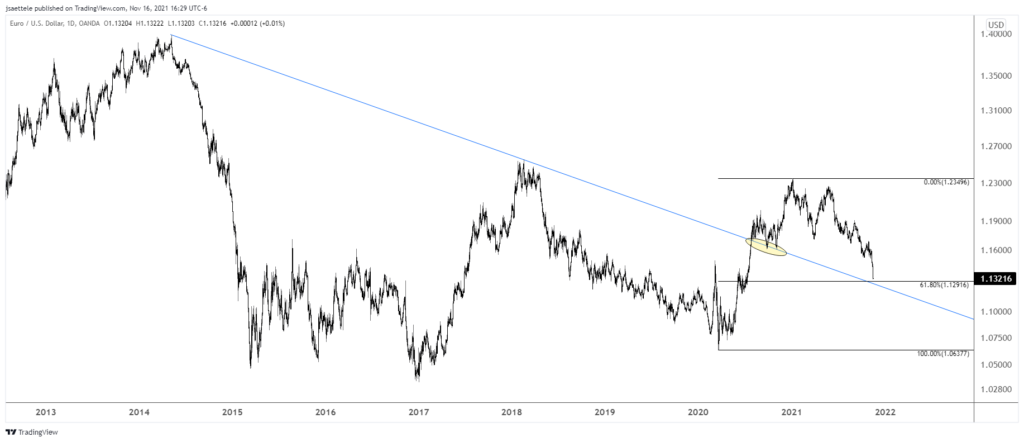 Pay attention to the 61.8% retrace of the rally from March 2020 at 1.1291. Also, the top side of the 2009-2018 line (blue line) is about 1.1265. This line was support in September and November 2020 (election day 2020 support). Bottom line, 1.1265/91 is key.
11/11 – EURUSD could bounce near 1.1423.  This is the June 2020 high and line that extends off of lows since June 2021.  I look at this as nothing more than a possible bounce level.  The next big level isn't until the 61.8% retrace of the rally from March 2020 at 1.1291.
USDSEK DAILY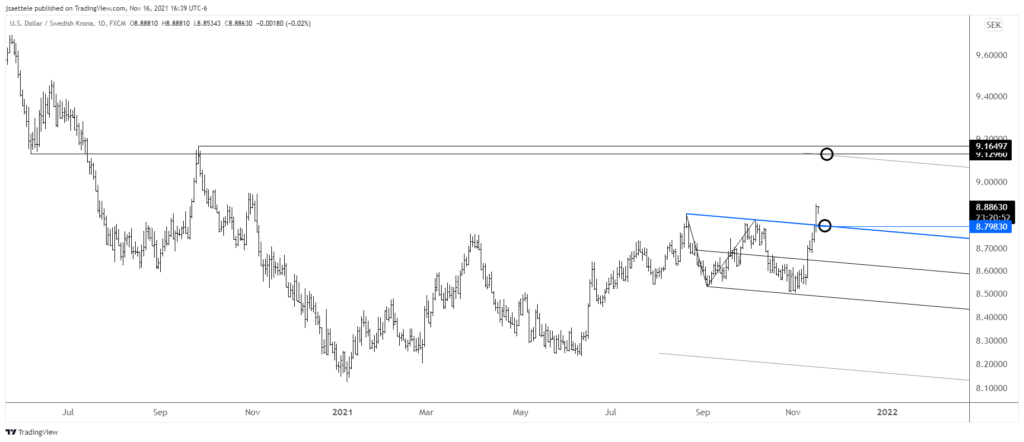 USDSEK has broken out. The top side of the breakout line is now proposed support near 8.8050. Upside focus is the September 2020 high at 9.1650.
11/11 – Less traded pairs such as USDCHF and USDSEK have been 'the tell' insofar as USD strength is concerned.  We looked at USDCHF yesterday.  For USDSEK, pay attention to 8.6450 for support now.  The big breakout test is about 8.80.
CADJPY 4 HOUR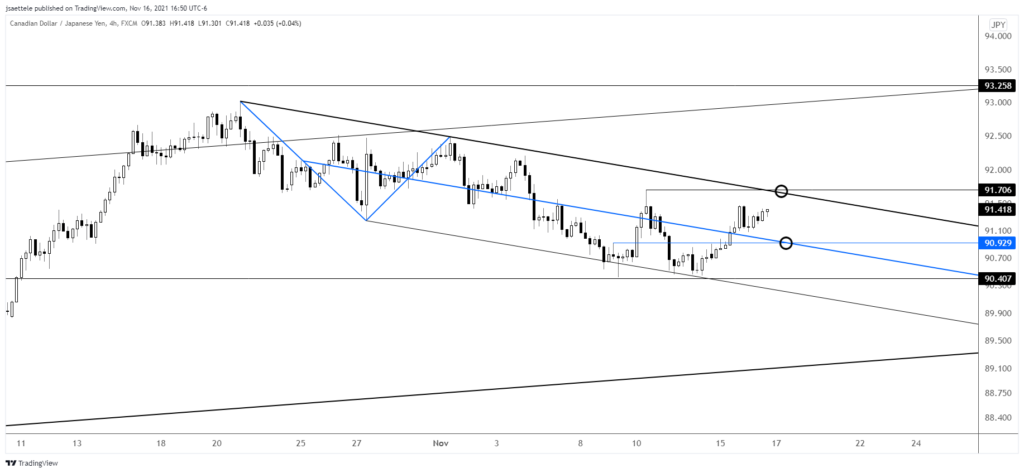 CADJPY is trading in a well-defined channel from the October high.  The top of the channel is possible resistance near 91.70.  The top side of the center line is about 90.90.  I favor either buying into that center line (blue line) or chasing a breakout higher.  After all, this could be a massive breakout (see below).
CADJPY DAILY