QQQ DAILY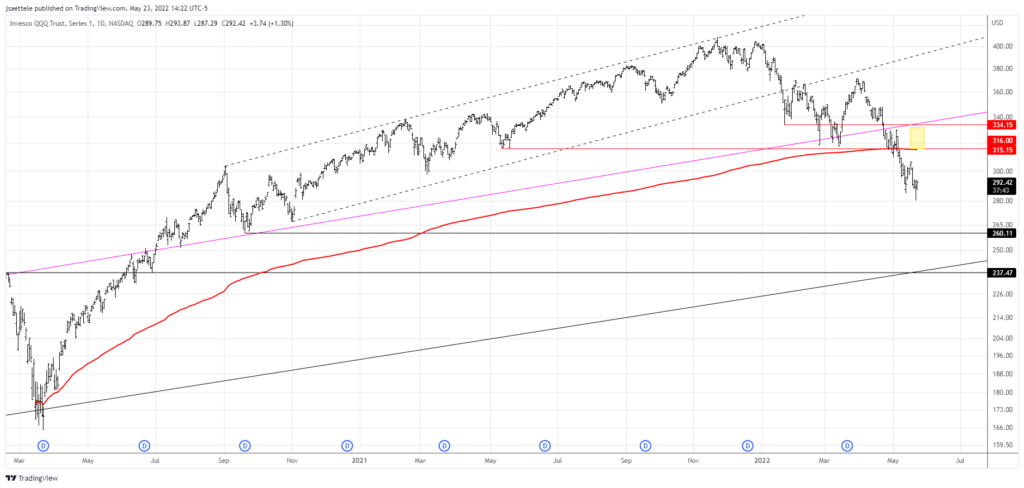 Indices reversed higher on Friday and for the first time since mid-March it appears that decent lows are in place. The strongest evidence for a low is in the S&P but indices move in tandem so that's likely the case for QQQ as well. The major upside level to focus on for QQQ is 315-318, which is VWAP from the 2020 low and former support.
5/17 – NQ (Nasdaq futures) had 2 closes under 12207 before turning up.  I'm sharing QQQ today because levels above are clear.  315.40-334.15 is 'the zone' for resistance.  The bottom of the zone is VWAP from the 2020 low, which should elicit an initial reaction lower.  295.75 is support now and I favor range trading between there and the proposed resistance zone.
SPX DAILY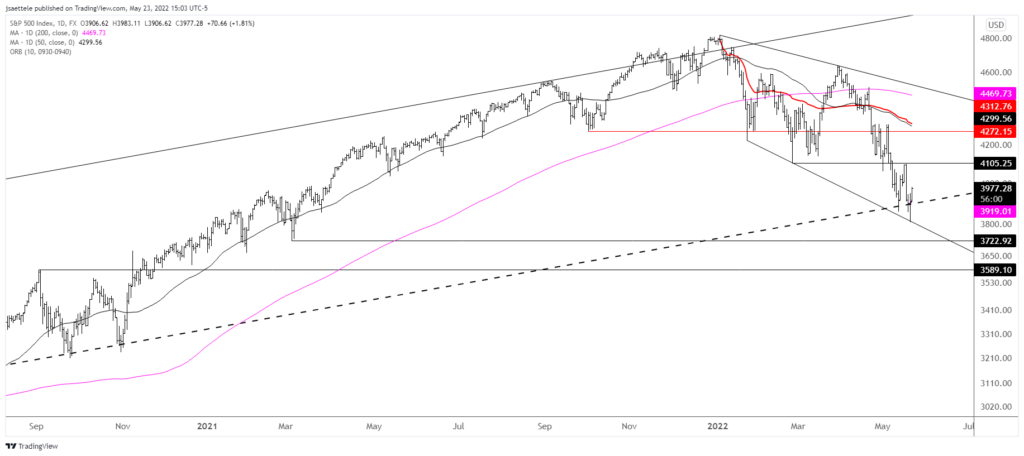 As noted, evidence for a low in the S&P is strong.  Friday's low is at the line that crosses the January and February lows and the LONG TERM parallel (see below chart).  Also, VWAP from the 2020 low in SPY held last week (see 2 charts down).  4105 is the initial level to pay attention to but 4270s in the index and 426.00s in SPY line up more significant levels…eventually.
SPX WEEKLY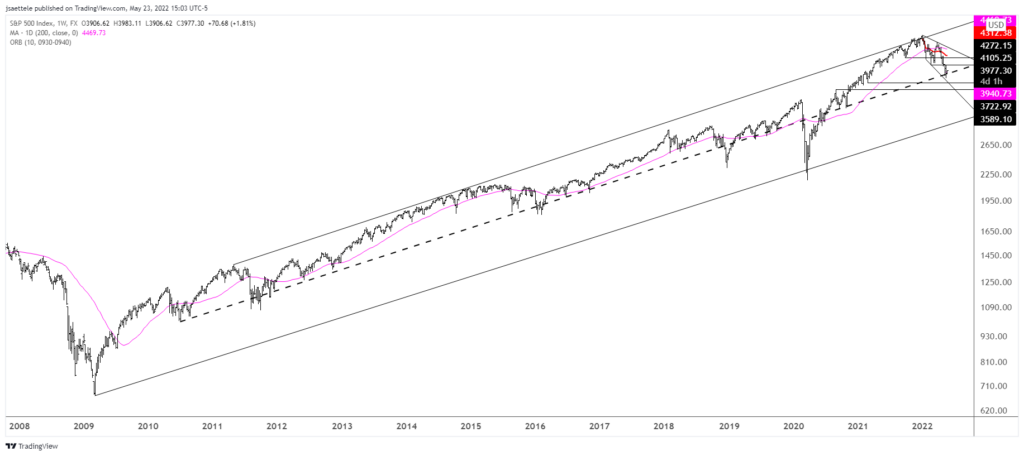 SPY DAILY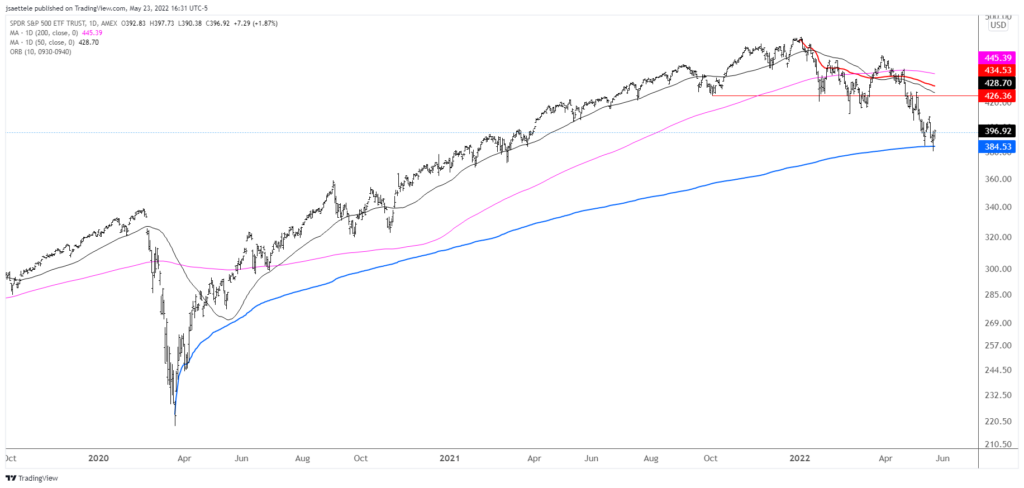 SPOT GOLD 4 HOUR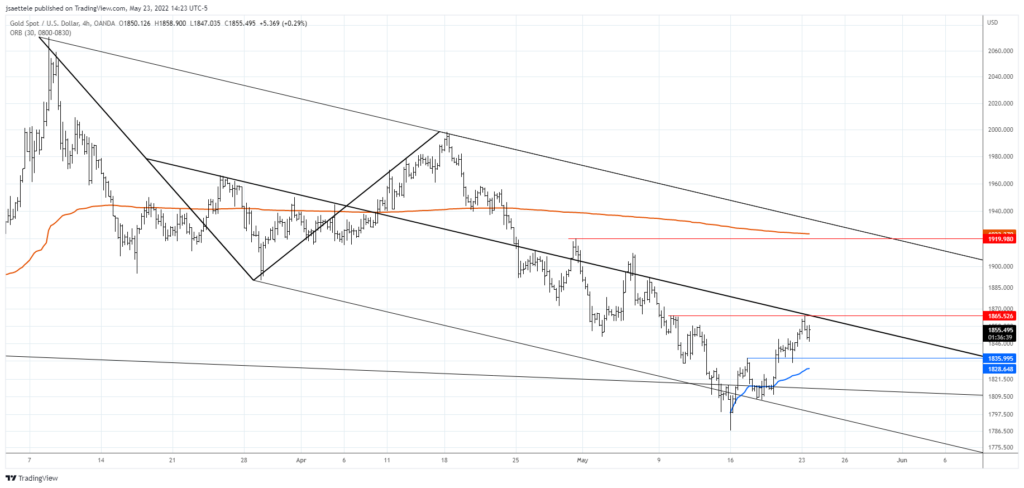 Gold tagged the noted 1865. Given this overhang, respect potential for additional pullback into 1836 before upside resumes. That said, broad focus is higher in gold. A break above the center line (basically 1865) would likely lead to accelerated strength into 1920.
5/19 – Gold has followed through on Monday's reversal and is nearing the first possible stopping point at 1865.  Support should be 1827/29 now.
UUP WEEKLY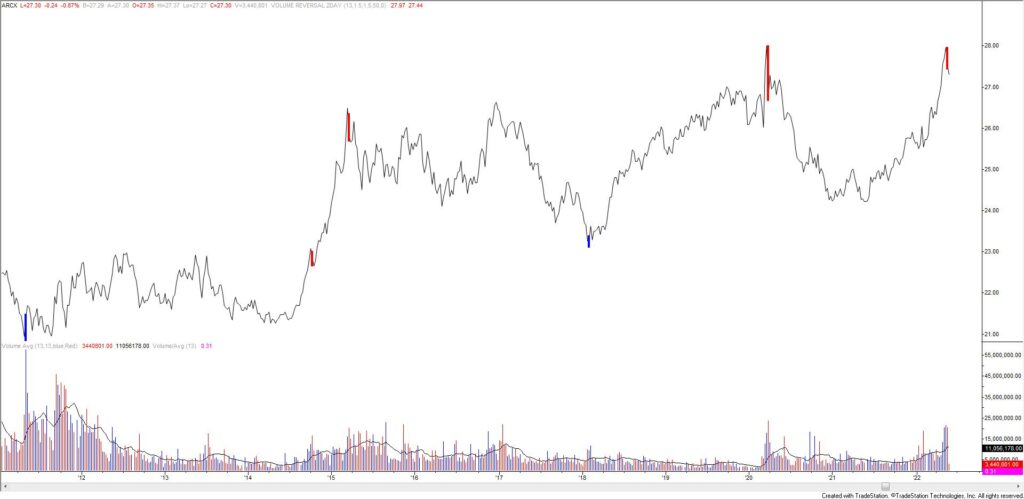 UUP (USD ETF) completed a rare 2 week volume reversal last week. These signals have been amazing (except for 2014) for over a decade! Near term focus for DXY is the noted 101.20/30 (see below). I'm thinking that price bounces from that level. We'll take stock of that bounce and attempt to identify a lower high at a later date.
5/17 – DXY topped RIGHT at the parallel that has been highlighted for weeks.  Also, the full extension of the channel from the May 2021 low is on the high.  The upper parallel (magenta line) from that channel is now proposed support near 101.20/30 over the next week.  103.90-104.20 is proposed support.
DXY DAILY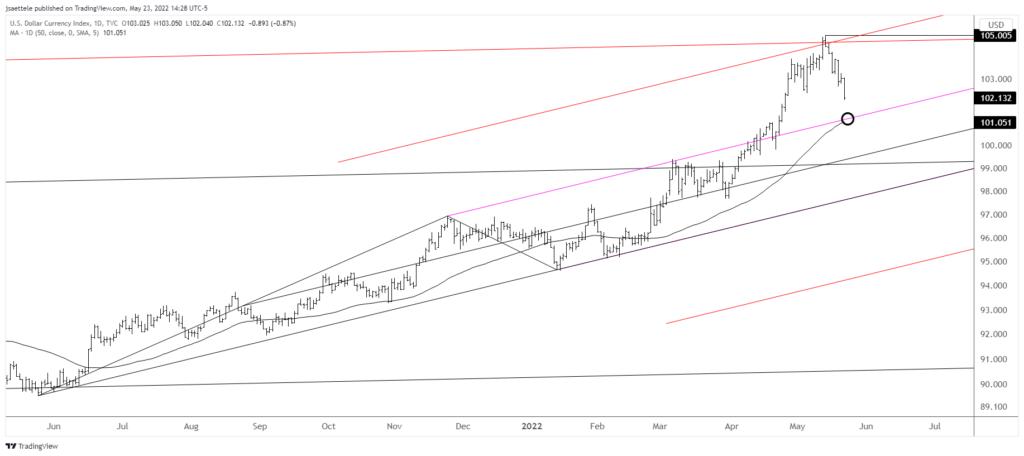 EURUSD 4 HOUR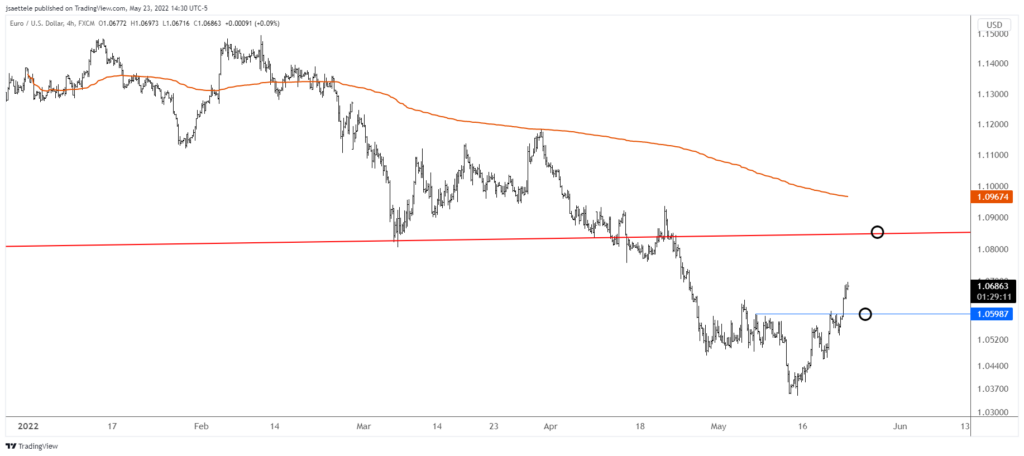 Just like that EURUSD is at its best level since 4/26.  Reversal from extreme sentiment are usually sharp.  The big level to pay attention to on the upside is the line off of the 2017 and 2020 lows near 1.0850.  Former resistance near 1.0600 should provide support now.
EURUSD WEEKLY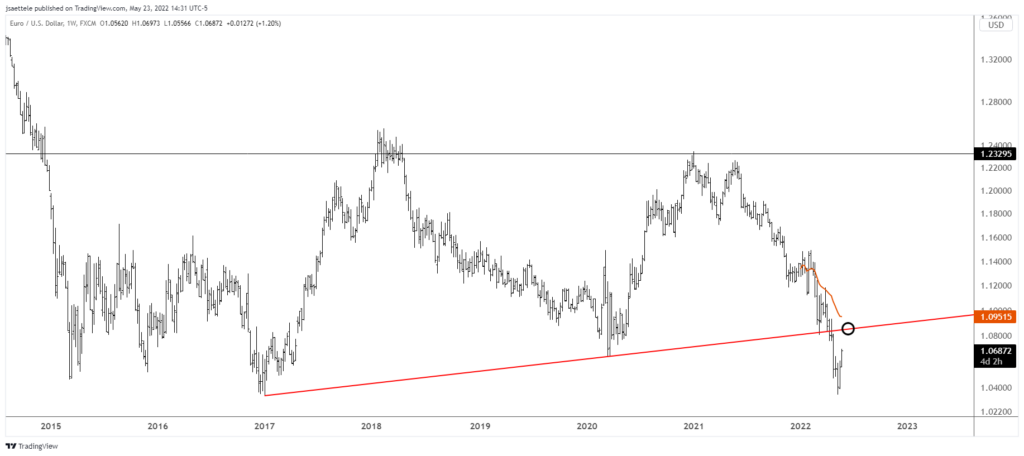 GBPUSD 4 HOUR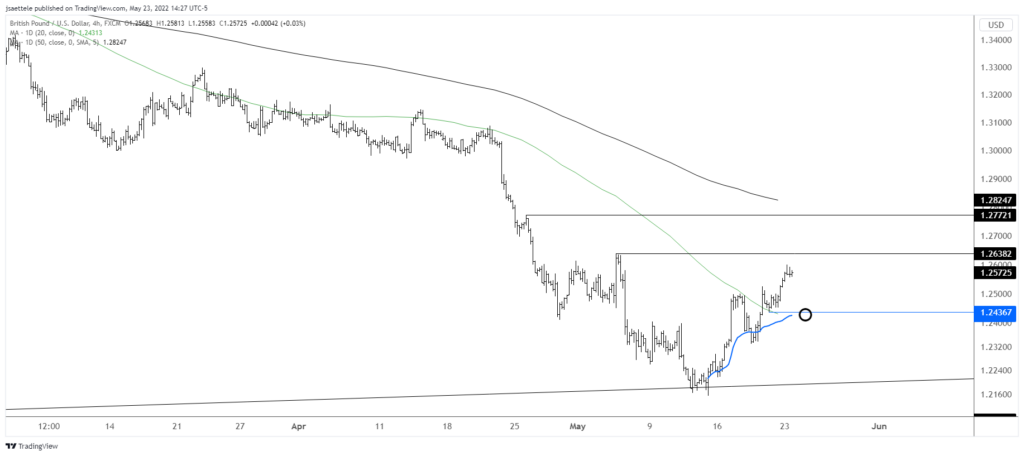 GBPUSD has followed through on the reversal from long term support (recall the lower parallel from the long term pitchfork). 1.2638 is a possible hiccup level but a more important level to focus on is probably 1.2770 or so (4/26 high and currently just under the 50 day average). 1.2430s is ideal support from VWAP off of the low, the 20 day average, and the 5/20 low.
5/16 – Cable dipped below 1.2258 on Friday before reversing higher and following through on that reversal today.  Price is also supported by the lower parallel from a long term pitchfork.  1.2411 looms as possible short term resistance with the 5/4 high at 1.2638 as much more important.  1.2260 is proposed support now.
AUDUSD 4 HOUR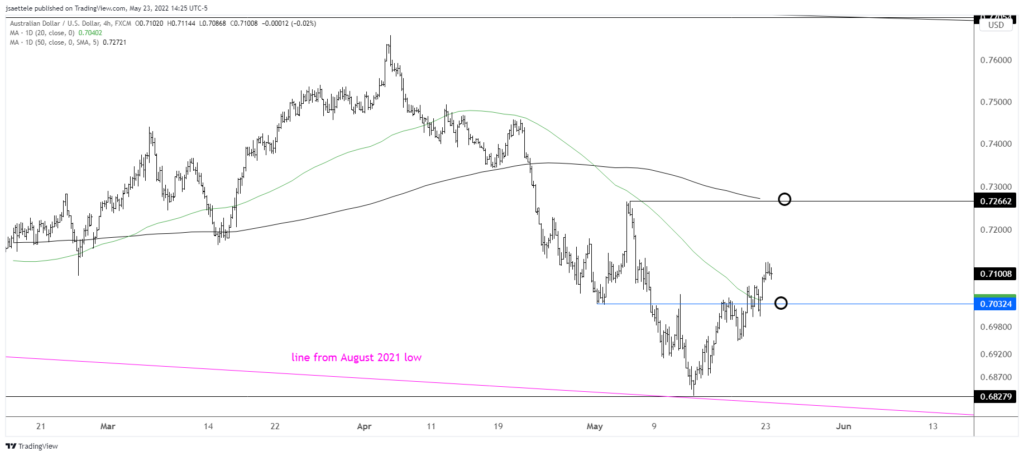 Near term upside focus is squarely on the 50 day average and May high at .7266. Support should be .7030s, which is the 20 day average and a clear pivot (both support and resistance) throughout the month. The chart below shows Australian Dollar futures, which completed a 2 week volume reversal last week. Similar to UUP, this signal has identified a number of major turns for years.
5/19 – AUDUSD has turned up sharply from the line that crosses lows since August 2021.  Also, .6828 is the January 2019 low (flash crash low).  Price has reached the 20 day average and the line off of the April highs is just above the market.  The rally appears in 5 waves too which raises risk of a pullback.  Proposed support is the former 4th wave of one less degree at .6950.
AUSTRALIAN DOLLAR FUTURES WEEKLY