NASDAQ FUTURES (NQ) DAILY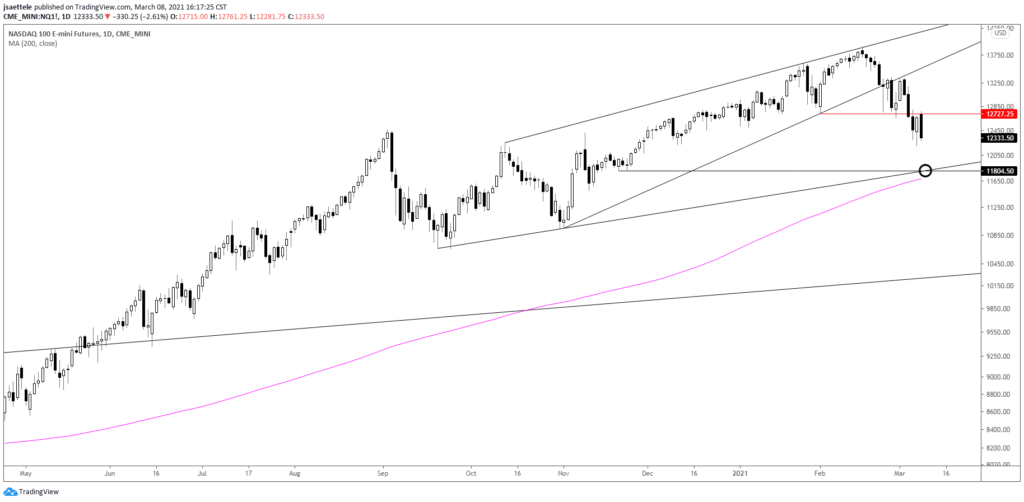 12727 held as resistance and immediate focus is on the noted 11805, which is now just above the 200 day average. That is a huge spot and the biggest test since the drop started in mid-February.
3/4 – NQ tested the underside of the wedge line early this week and has dumped. Textbook. Some back and fill here is a possibility given the presence of former resistance from the August high but general focus remains lower until 11805. 12727 is now proposed resistance.
COPPER FUTURES 4 HOUR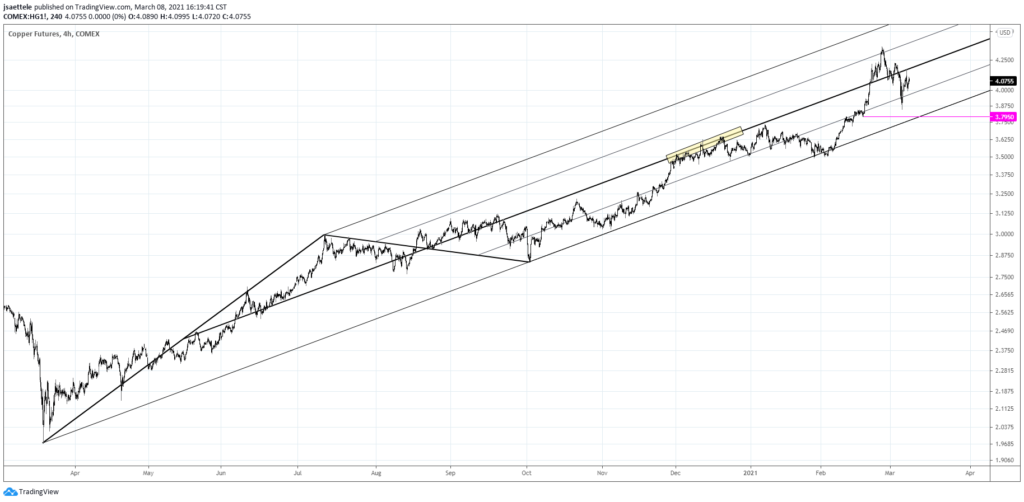 The big downside to pay attention to in copper now is about 3.79. If that breaks, then look out below. Action today offers a clue on direction though. Notice how the median line, which was formerly support, provided resistance today. That behavior is bearish. Risk for bears is today's high.
3/4 – Pay attention to 3.7300s in copper. A drop below would break the uptrend from the March 2020 low, which would obviously indicate a significant behavior change and new environment for this extremely important market.
EURUSD DAILY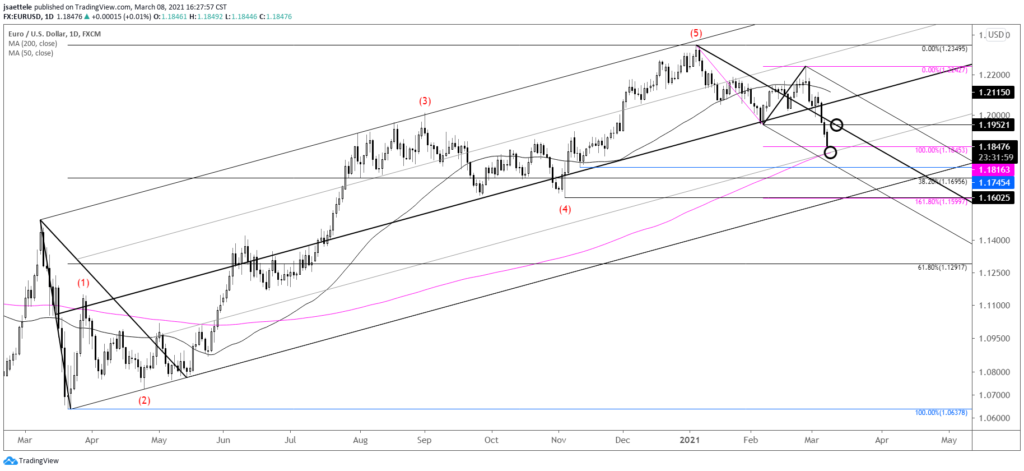 EURUSD has reached 1.1845 (2 legs down). The 200 day average is about 1.1815. A bounce from either one of these levels wouldn't be a surprise so watch for resistance now near 1.1950 (median line of short term bearish fork and February low). Another downside level to be aware of is VWAP from the March 2020 low at 1.1742. This is in line with the 11/11 low and lower parallel of the bearish fork. Bottom line, 1.1740s is the next most important downside level and 1.1950 is proposed resistance.
3/4 – EURUSD broke below the center line of the channel from the March 2020 low and that center line is now proposed resistance if reached along with former support in the 1.2020/60 zone. The next 2 downside levels of interest are 1.1845 and 1.1600. The first level is 2 equal legs down from the high. The lower level is the 1.618 extension and the former 4th wave low (November low).
EURO FUTURES DAILY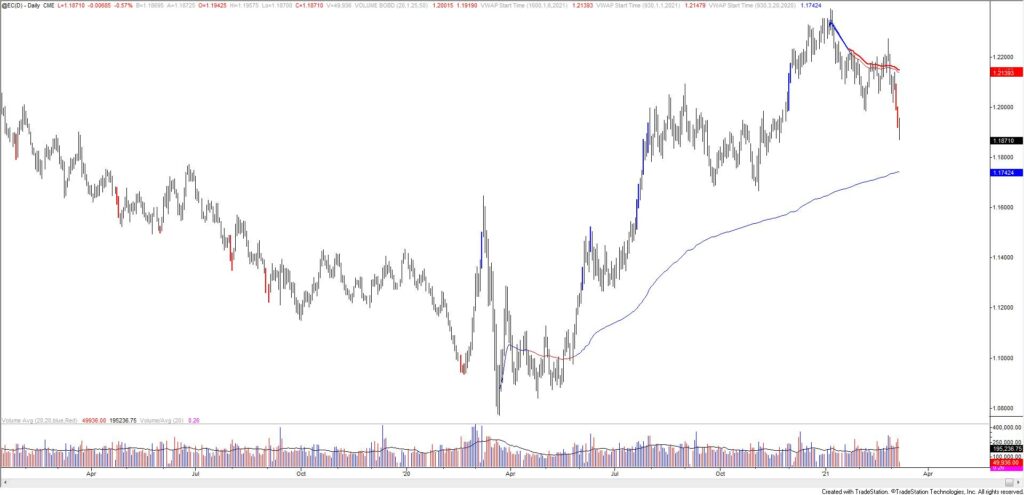 GBPUSD HOURLY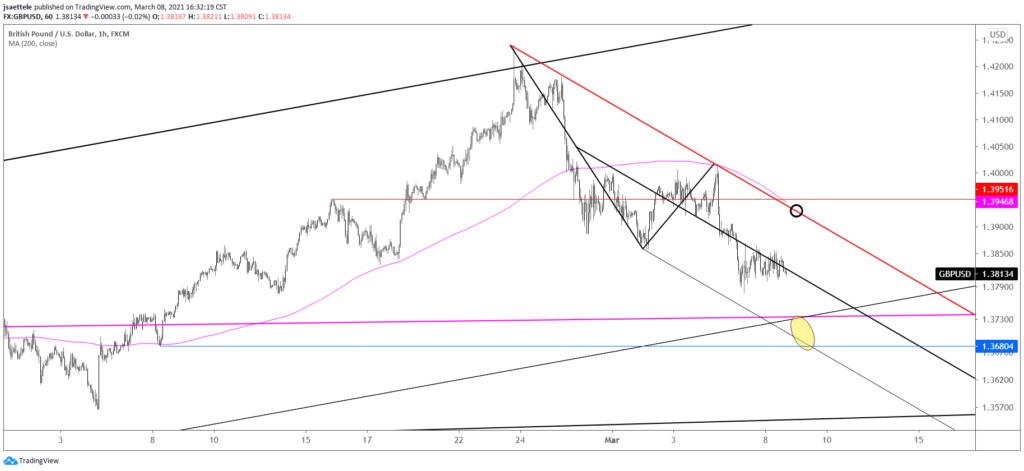 Not much to add for GBPUSD. I'm looking for a short into short term channel resistance, which is 1.3910/40 on Tuesday. 1.3680-1.3730 is a proposed support zone for the broader uptrend.
3/7 – I'm still looking for 1.3730 or so in GBPUSD before considering upside but price could bounce back into 1.3950 or so before going for the noted 1.3730. 1.3950 is near term trendline resistance. One reason to suspect a decent bounce from Friday's low is that 2021 VWAP held as support (see future chart below).
AUDUSD 4 HOUR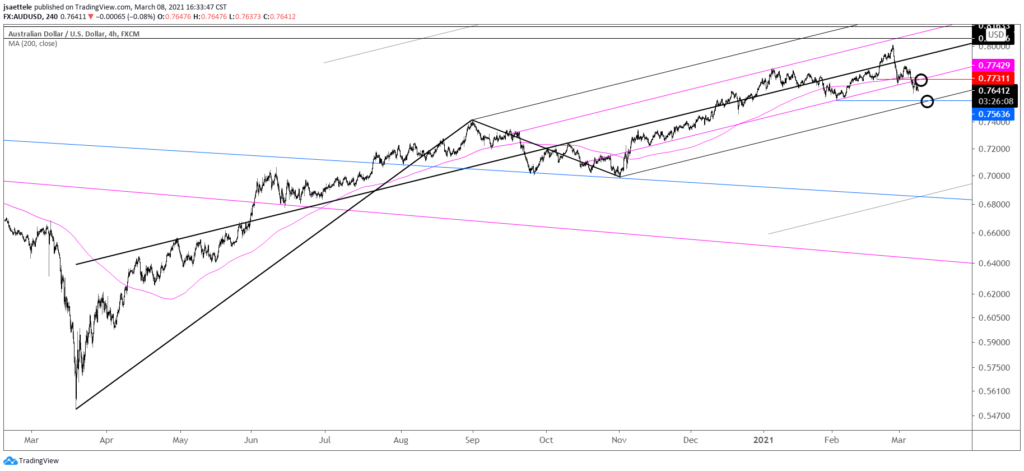 The 25 line of the Schiff fork from the March 2020 low in AUDUSD is now proposed resistance (formerly support) along with the former support at .7730. The lower parallel of the fork and February low at .7564 is possible support.
3/4 – AUDUSD has turned down from well-defined long term resistance (remember the weekly volume reversal last week!). Initial downside focus is the September high at .7414, which is also the 23.6% retrace of the rally from the March 2020 low. Proposed resistance is former support at .7735.