TLT DAILY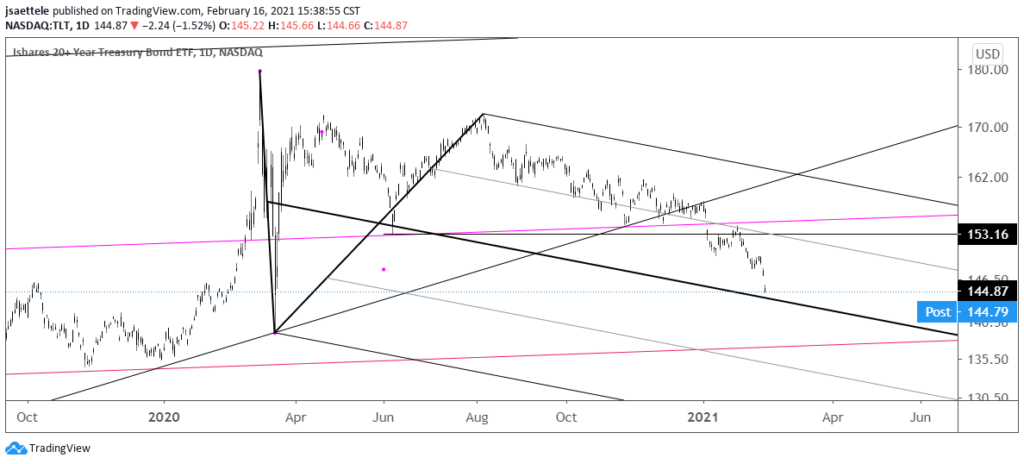 TLT has been tanking but is nearing a possible pivot from the center line of the channel from the March high. Daily RSI is 25.5. Magenta dots on the chart below show when RSI has been 25.5 or lower. Also, the 2016 is 143.36. This is an extremely important chart given the 'inflation trade' narrative. A bounce in TLT would indicate a pause/pullback in the in the nearly year long 'inflation trade'.
TLT DAILY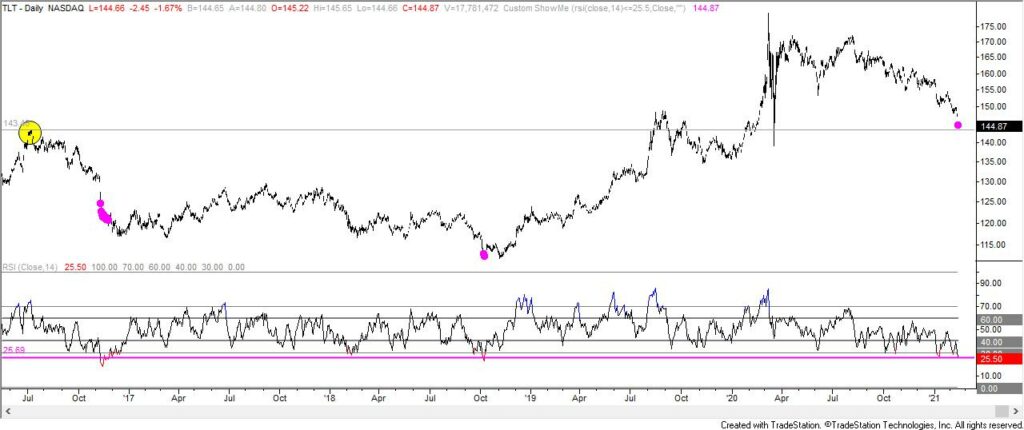 USDJPY 4 HOUR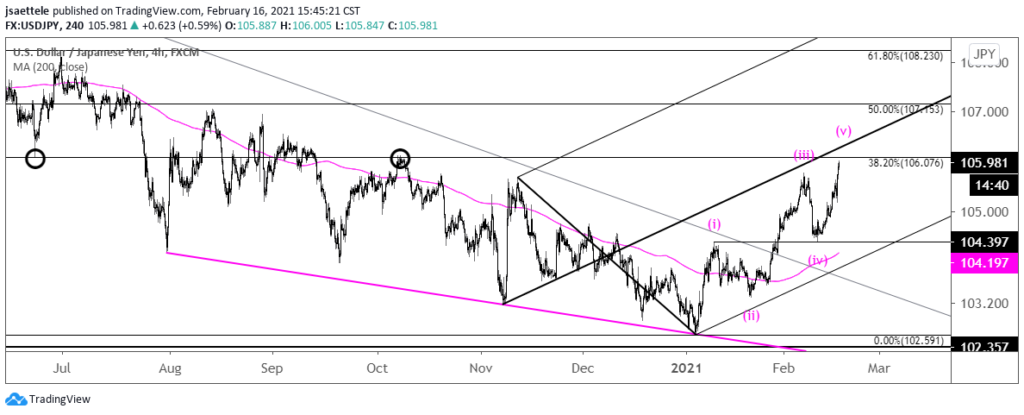 The USDJPY rally is in 5 waves and price is nearing a potential resistance from the 38.2% retrace of the decline from March and the median line of the bullish fork (about 106.20) from the November low. The May low, June low, and October high are 106.00/10 as well. It's not a coincidence that TLT and USDJPY are nearing possible pivots simultaneously.
EURUSD 4 HOUR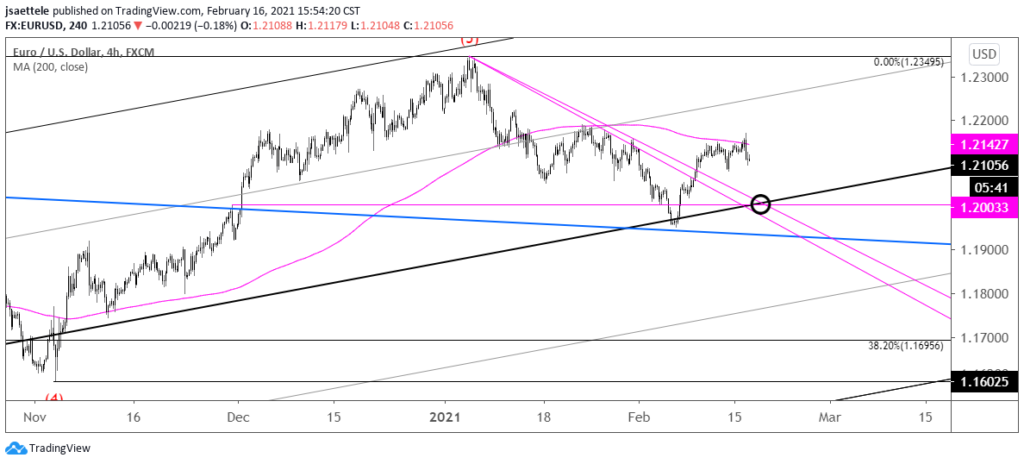 Today's EURUSD spike and reversal puts the finishing touches on what I think is a small B wave. Near term focus is 1.2000. It's not out of the question that this high is more important though. The reversal occurred at 2021 VWAP and the 50 day average (see futures chart below) and don't forget that USD seasonality is strong for the next 5 weeks (noted in yesterday's post).
2/15 – A flat may be unfolding in EURUSD from the 2/11 high. The implication is that price turns down now or after a spike through 1.2149 and then drops under 1.2082 (end of wave A) in order to complete the 3 wave correction.
EURO FUTURES DAILY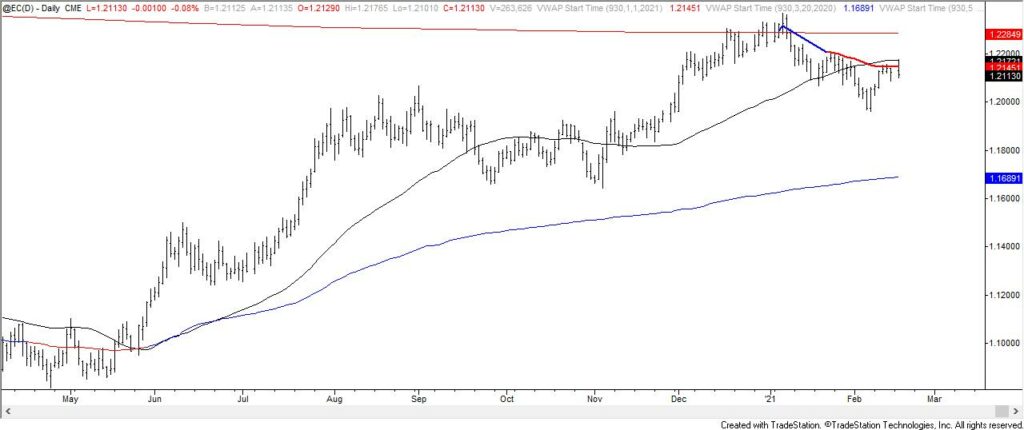 USDCAD 4 HOUR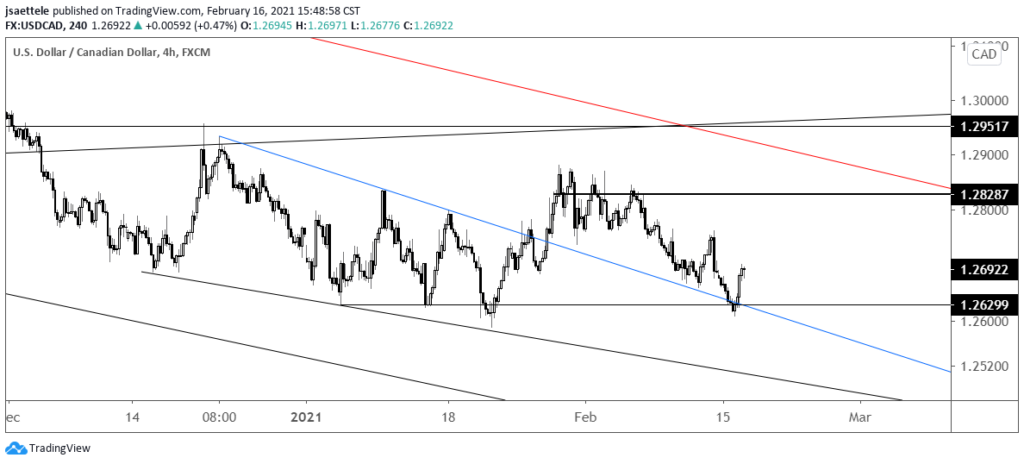 USDCAD reversed today from the top side of former trendline resistance. Very short term, the rally from today's low is unfolding in an impulsive manner and a small pullback could materialize from near 1.2620. Proposed support against today's low is 1.2650/60.
2/11 – USDCAD carved a key reversal/doji today after cutting through the lower parallel of the bullish fork from the December low. Recall that the median line was precise resistance so expectations are that the lower parallel provides support. So far, so good. Near term upside levels of interest are the month open at 1.2789 and daily reversal resistance (1/28 close) at 1.2829 but upside potential is significant as per the bullish fork.