EURUSD 4 HOUR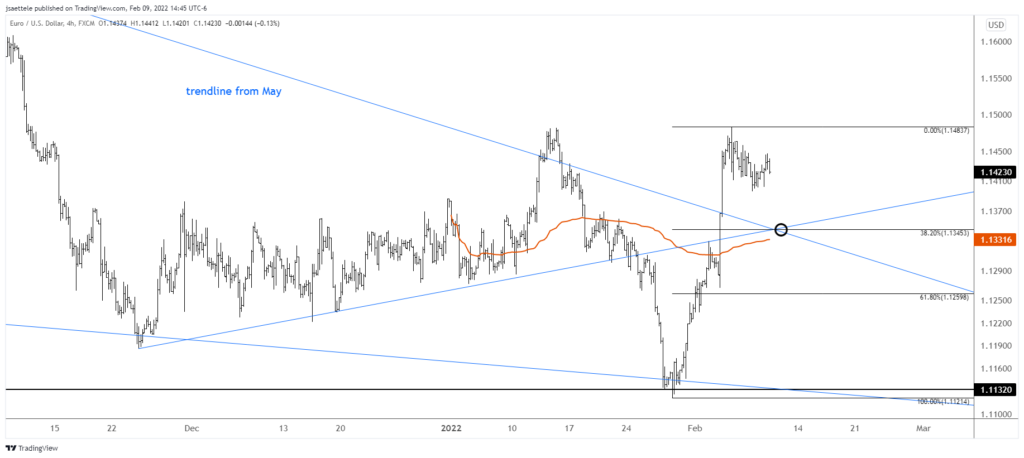 EURUSD continues to meander sideways following last week's rip but that should change with U.S. inflation data tomorrow. I'm wondering if the 'ideal' support is 1.1345. This is the top side of the trendline from May and trendline from the May low. It's also the 38.2% retrace of the rally. A drop to there could complete 3 waves down from last week's high.
2/7 – EURUSD took a breather today following last week's surge. Again, former resistance at 1.1380s is ideal support now. The year open reinforces the level as support at 1.1373. I'm looking for this level to hold as support and for price to resume higher towards 1.1660s.
GBPUSD HOURLY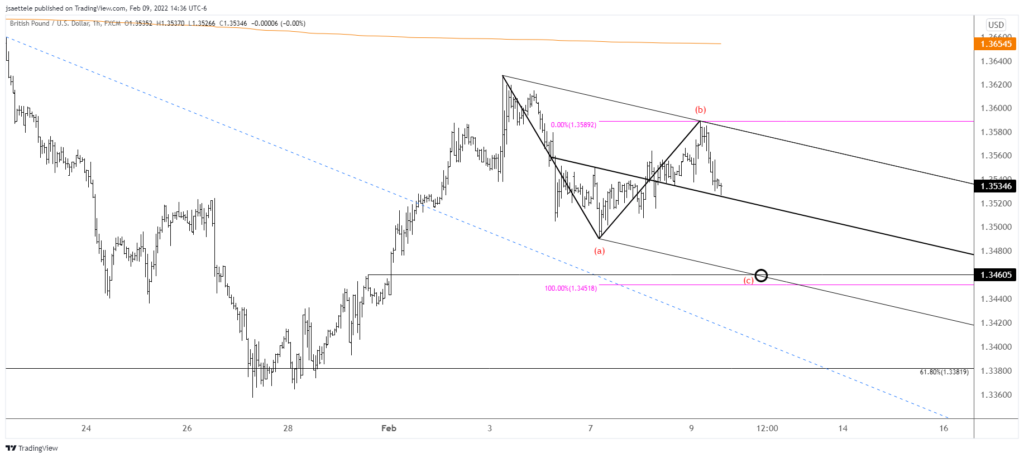 GBPUSD is following the near term script laid out yesterday. Today's high is probably wave b within the 3 wave corrective drop from last week's high. Therefore, wave c is underway towards 1.3450/60 (2 equal legs down, month open, and 61.8% retrace). That's the zone for the next low.
2/8 – Cable sports 5 waves down from last week's high. As such, I'm treating the recovery as corrective (b wave). Watch for resistance near 1.3575. 1.3436/60 is proposed support.
AUDUSD 4 HOUR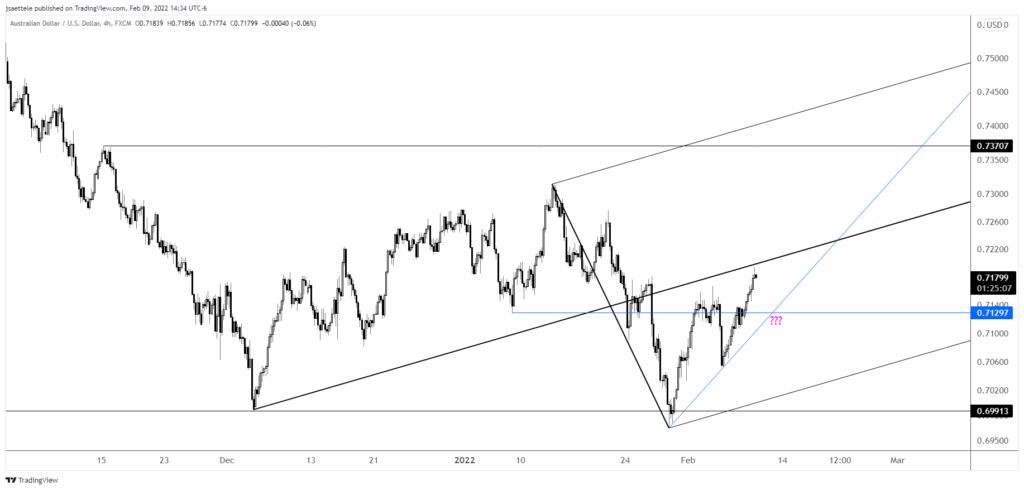 Given longer term reversal evidence at well-defined levels, my working assumption is that AUDUSD has put in a major low. The goal then is to identify a low risk long entry. .7130 might be that level. This is simply the intersection of the line off of recent lows and 1/7 low. This is very close to the high volume level from 1/26 at .7124. If Aussie doesn't pull back and instead breaks above the median line (tagged today), then the top side of that median line becomes proposed support.
2/7 – The AUDUSD rally from the January low is in 5 waves and price pulled back in 3 waves last week (extended c wave). As such, my working assumption is that a 3rd or C wave within a bullish cycle from the January low is underway. Minimum upside focus is where the rally from the January low would consist of 2 equal waves at .7252 but potential is far greater given the longer term reversal evidence (explained in 1/31 text). Watch for support near .7090.
NZDUSD 4 HOUR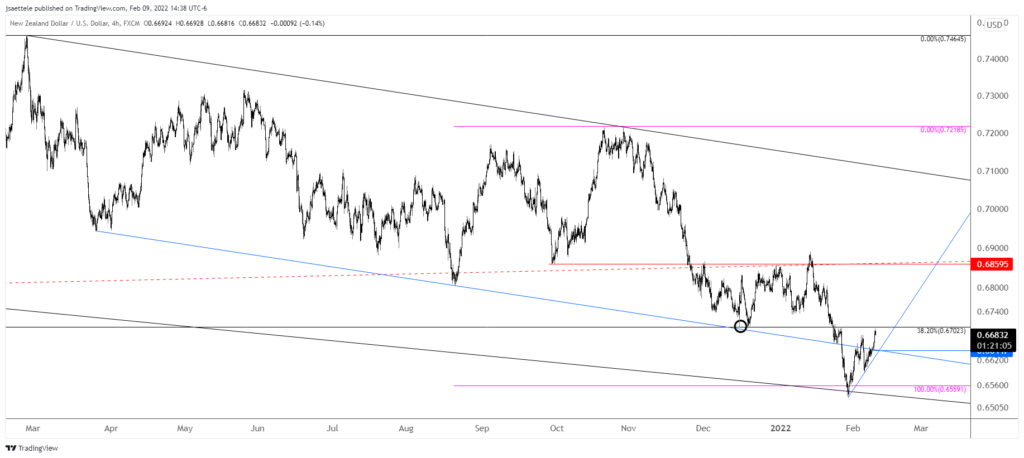 Kiwi did pull back and found support at .6590. Now, a series of higher lows and highs is in place off of a major level. That's a great way to start a larger uptrend! The downward sloping line that originates at the March 2021 low (blue line) intersects with the line off of recent lows at .6645. Watch that for support.
2/2 – NZDUSD has traded into the underside of former channel support. Like the other USD crosses, a pullback here makes sense. That said, the rally is a clear impulse (see below) so focus is on identifying a higher low. Proposed support is .6580/90.