XLK DAILY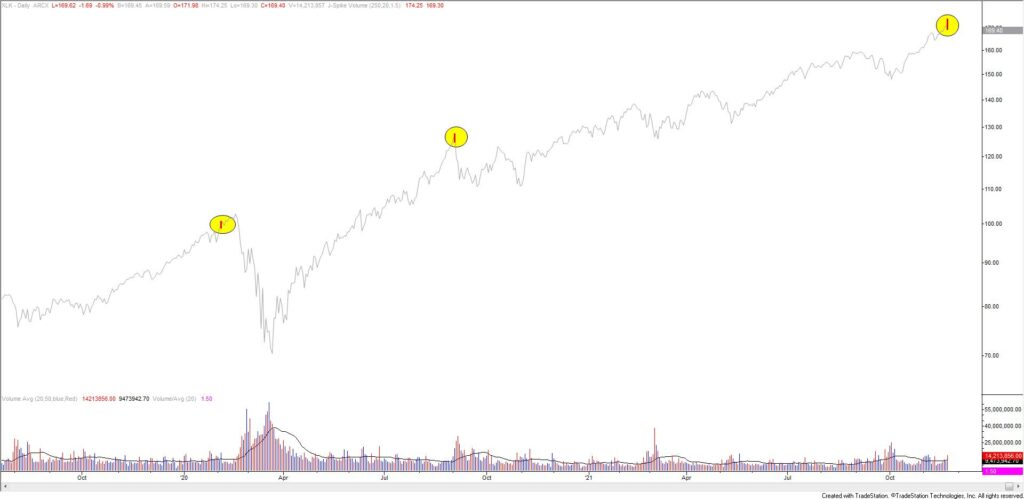 Is this the 'Powell top'?  XLK (tech ETF) made a daily volume reversal today and Nasdaq futures (see below) topped a few ticks under channel resistance.  This channel was resistance for the September top.  From a very big picture perspective, I'll note that the market cap of the 5 largest companies as a percentage of the S&P 500 is extreme (see 2 charts down).  The 5 largest companies are all tech companies by the way.  In other words, it's a highly concentrated market.  Historically, this is unsustainable.
NASDAQ FUTURES (NQ) DAILY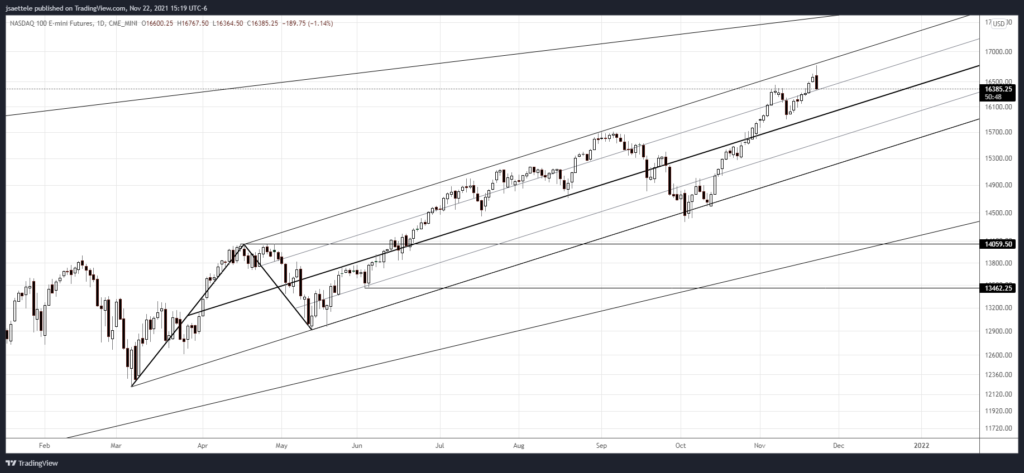 MARKET CAP OF 5 LARGEST COMPANIES AS % OF S&P 500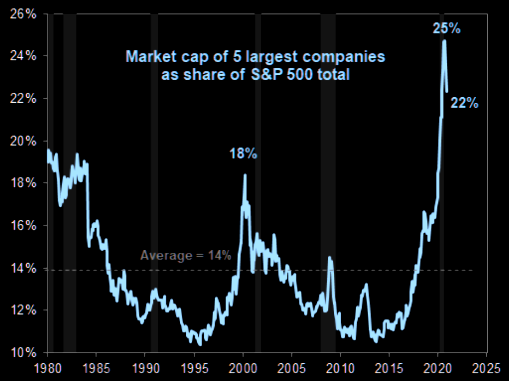 DXY WEEKLY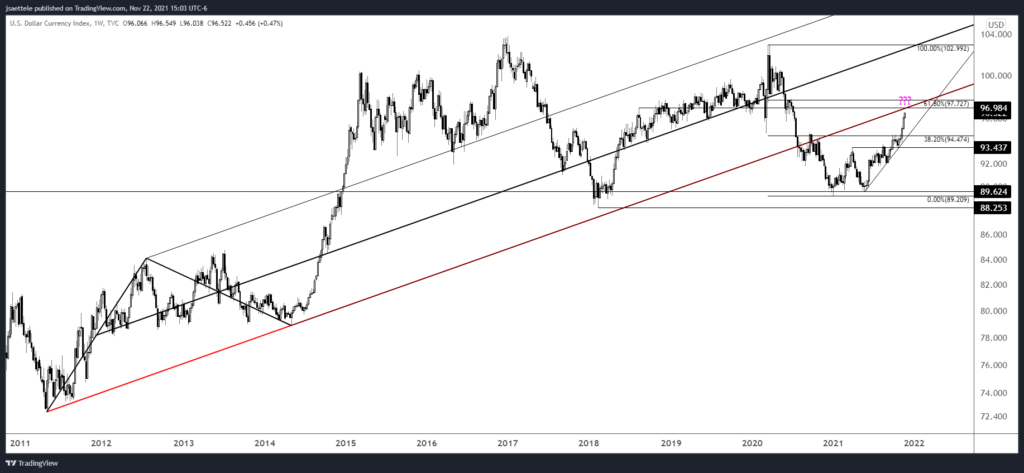 The DXY rally is relentless but pay attention to 97 or so.  This is the underside of the former support line that originates at the 2011 low.  This line was resistance in 2020 so watch for resistance at the line again.  Sentiment is getting interesting too.  A google search for 'US Dollar' reveals stronger, active language (see below).  If we extend a bit higher, then we may start getting predictions within headlines which would be a stronger indication of extreme sentiment and therefore increased risk of a price top.  Finally, DXY tends to top out this week from a seasonal perspective (see 2 charts down).  Bottom line, there are signs of extreme sentiment and 97 is a big level.
TOP USD HEADLINES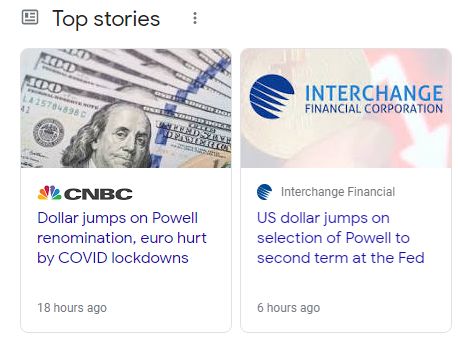 DXY WEEKLY SEASONALITY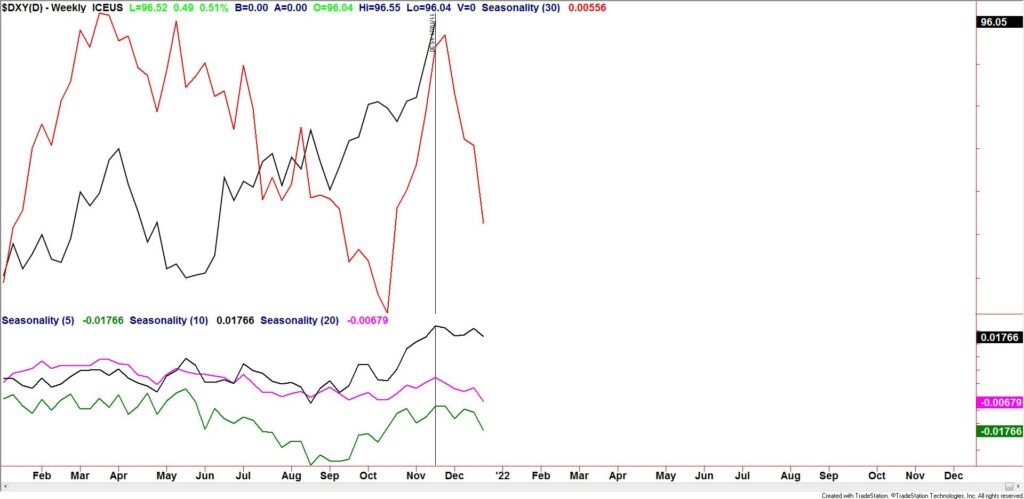 USDCHF DAILY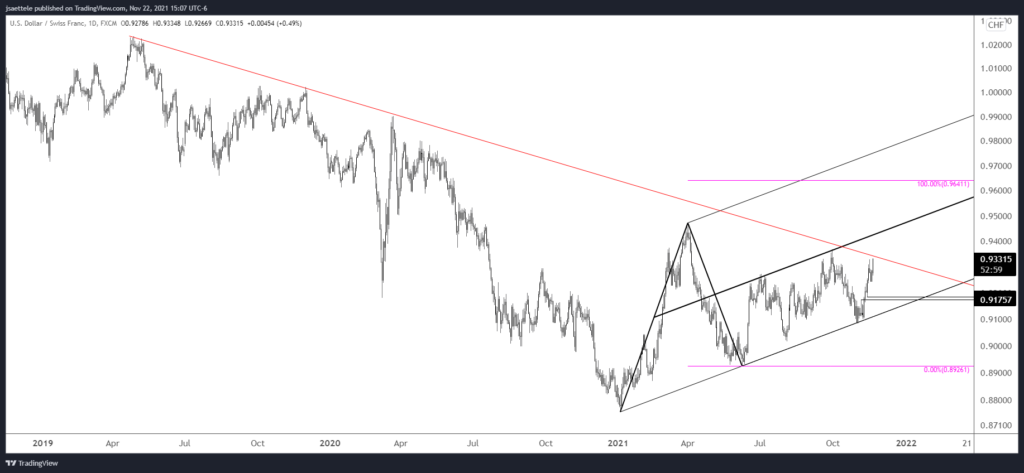 USDCHF is pips away from the trendline that originates at the 2019 high. Resistance is resistance until broken, so reversal evidence near the current level would warrant a short position. Of course, a break above would indicate an important behavior change and suggest a much larger advance is underway. Stay tuned.
11/14 – USDCHF took out .9220s on Friday and pulled back.  As such, .9150 is in line for support and a long entry.  The big upside level of interest (eventually) is the trendline from the 2019 high (red line) near .9340.
NZDUSD DAILY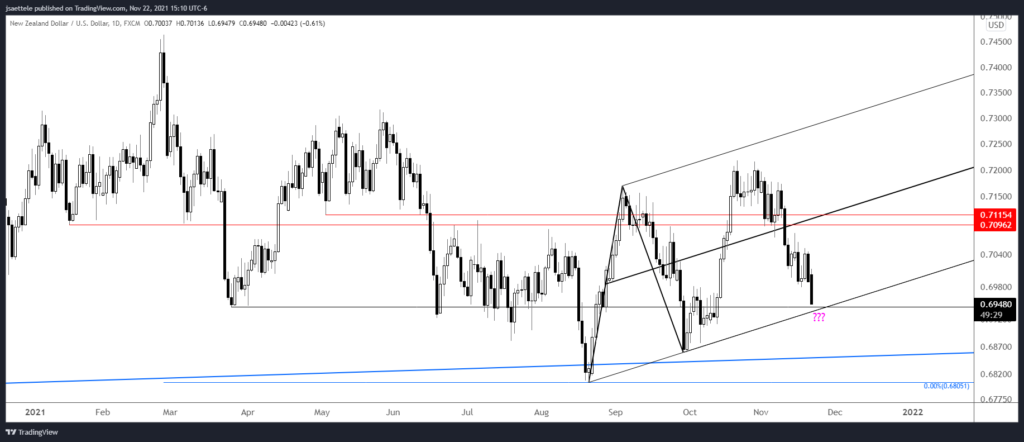 Heads up…NZDUSD is fast approaching possible support from the channel and March low. The channel is about .6935. As is always the case, evidence of a reversal is required before plotting a long entry.
11/17 – Kiwi continues to slide so focus is squarely on the lower parallel near the March low of .6943. Given the broader USD reversal 'look', I'll be interested in the long side of price reacts near that level. The .7100 figure looms as an important test on the upside.