SPOT SILVER DAILY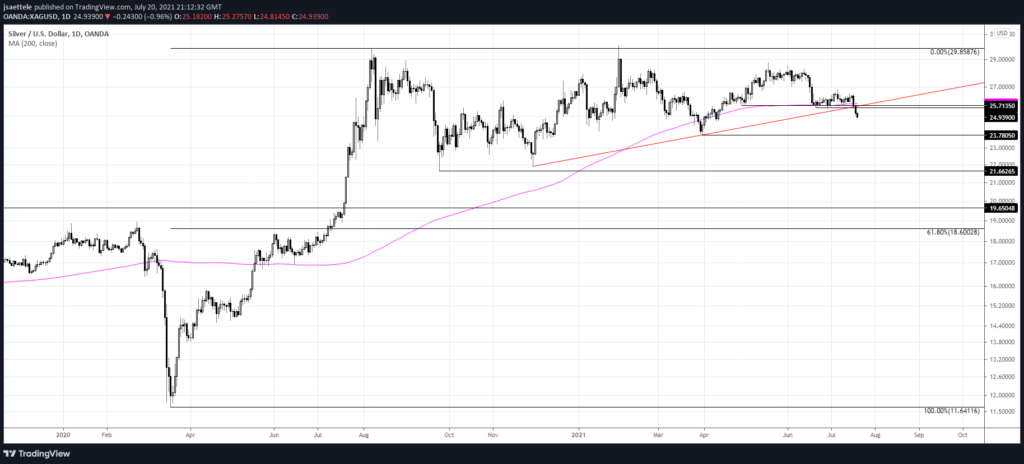 Silver has broken the line off of the November and March lows as well as the 200 day average. The underside of the line and former lows are proposed resistance at 25.55/71. A bounce into there would present a bearish opportunity. Downside focus would be near range lows from September and November just under 22.
NIKKEI 225 DAILY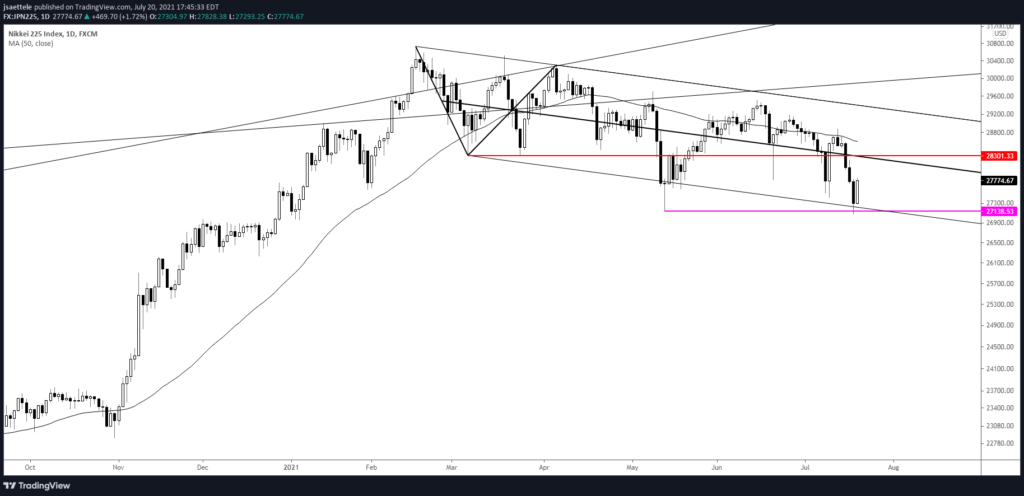 The Nikkei traded to its lowest level since early January on Monday before erasing Monday's decline today. The action suggests a 'bear trap', at least in the near term. 28300 is well defined for resistance. The FX implications are bullish Yen crosses (see below chart). NZDJPY is of particular interest (more on this at the end of today's post).
NIKKEI 225 (RED) AND USDJPY (BLACK) DAILY CLOSES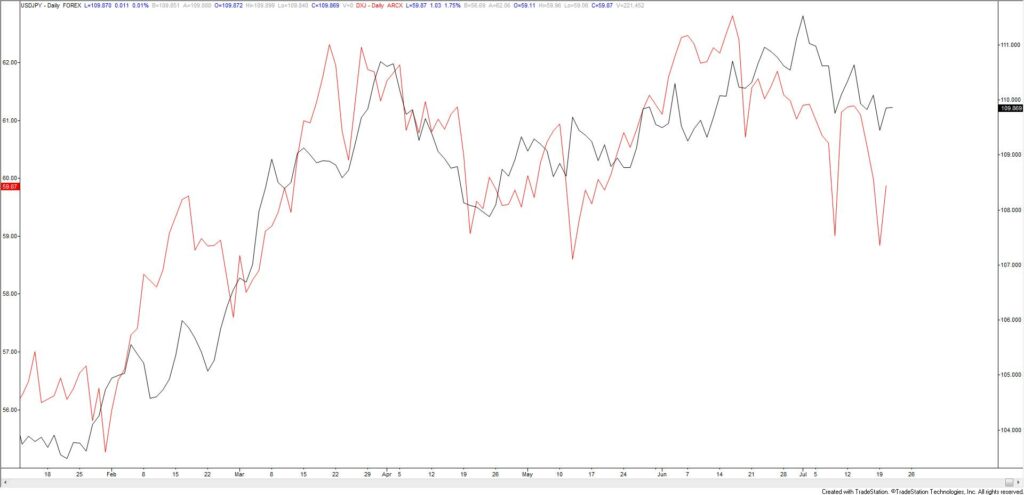 USDCAD 4 HOUR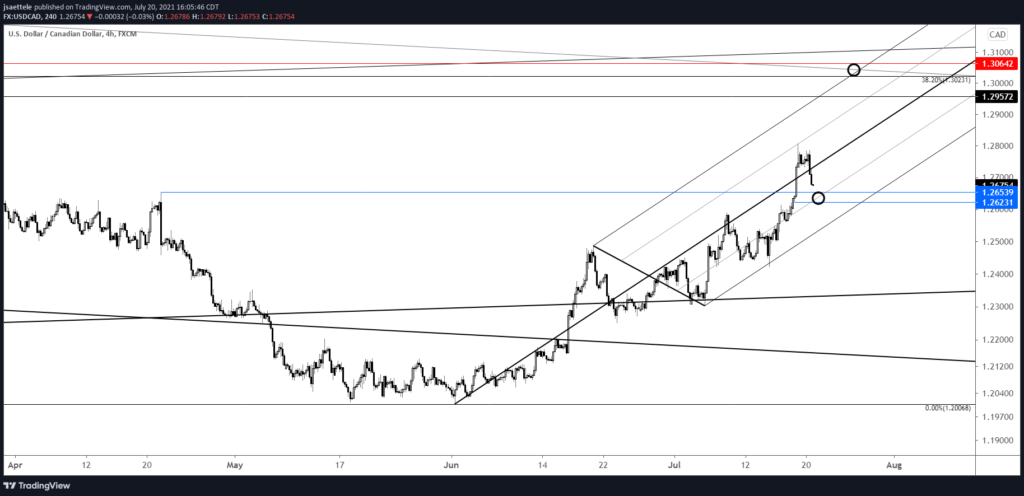 USDCAD is pulling back so beware of the 25 line for support. The line is 1.2620 on Wednesday and 1.2650 (which is also the April high) on Thursday. Bottom line, 1.2620/50 should be watched for support. I also want to remind that the CAD ETF made a volume reversal in June. Monthly volume reversals are rare (see below chart).
7/19 – USDCAD has eyes for a 1.30 handle. The April high at 1.2654 is proposed support now. Notice how the 25 line from the bullish fork intersects this level over the next few days. Support at that level would 'make sense' given that price turned down from the 75 line today (see 4 hour chart below).
FXC (CANADIAN DOLLAR ETF) AND USDCAD MONTHLY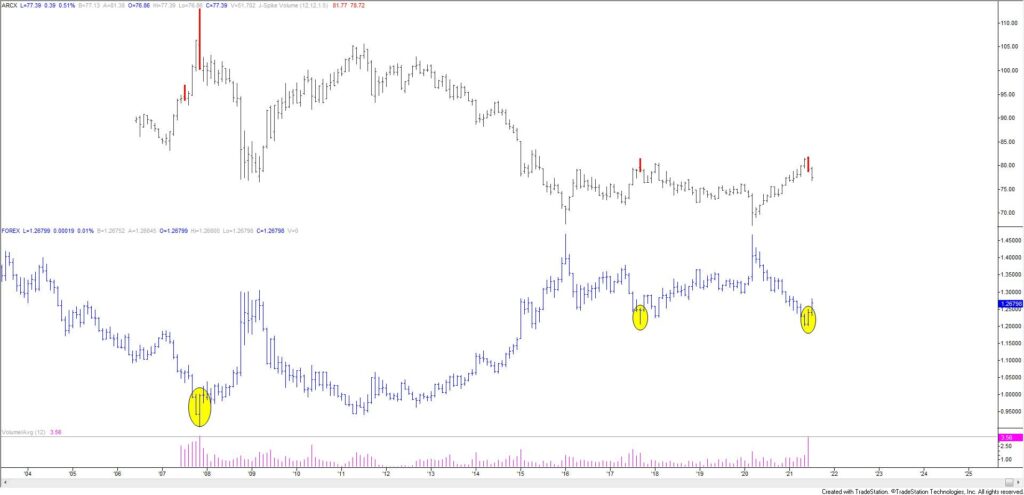 AUSTRALIAN DOLLAR FUTURES DAILY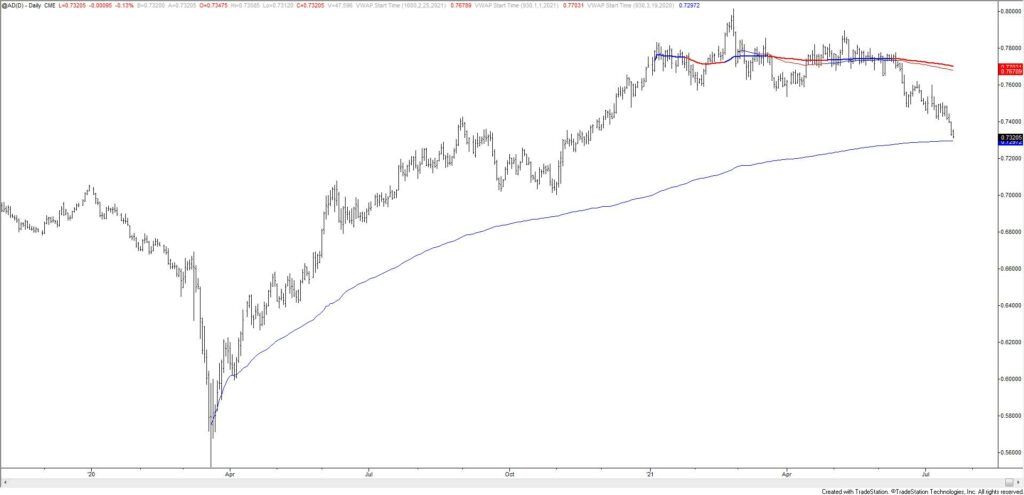 I continue to like AUDUSD downside in a broad sense but note that VWAP from the March 2020 low is .7297 (as of today's close) and today's low was .7301 (futures prices…only a few ticks difference between futures and spot right now). In other words, Aussie has reached a critical level…so pay attention! .7400 remains initial resistance but if reason arises to adopt a more constructive outlook, then I'll do so.
7/19 – AUDUSD has broken the critical .7415 level (September high, 23.6% retrace from March 2020, and 2 legs down from the high). This level is now proposed resistance. Barring a 'bear trap', downside potential is significant. Specifically, there is a slope confluence near .6800.
GBPJPY DAILY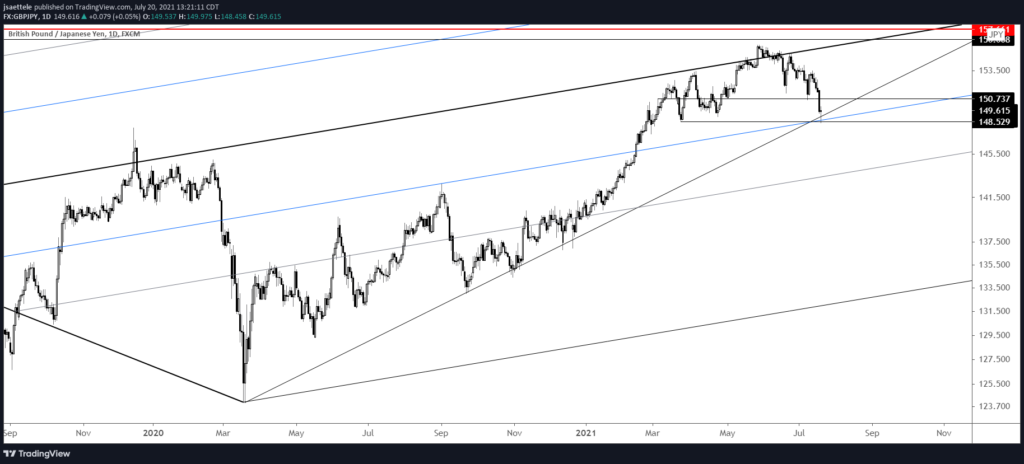 Yen crosses reversed higher today. Expanding on the implications from the Nikkei bear trap, GBPJPY tagged the 3/24 low today before reversing higher. Price also held trendline support. I'm constructive towards 150.74-151.31 (former lows).
NZDJPY DAILY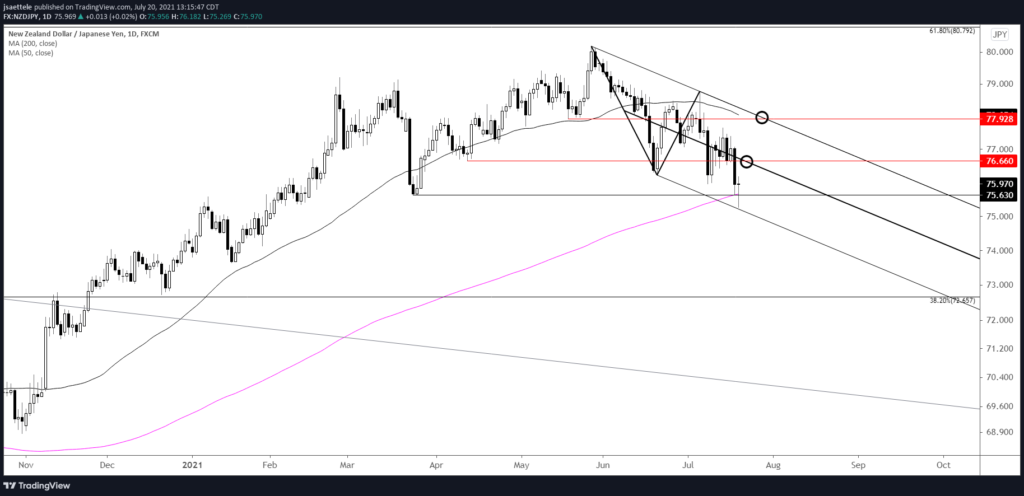 NZDJPY also took the 3/24 low before reversing.  I like NZDJPY better than GBPJPY though due to the 200 day average hold.  Price also held a short term channel.  I'm willing to play a bounce towards 76.60s initially and then reassess.