SPY MONTHLY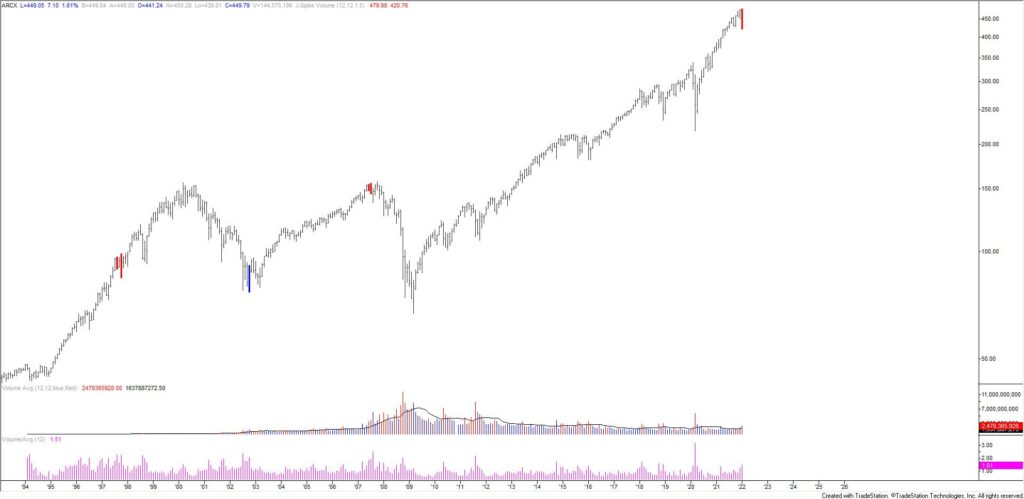 January produced some monthly reversals of note. SPY made a 1 bar monthly volume reversal. Notice that reversals also occurred in June/July 2007 (high) and October 2002 (low). There were failed signals however in 1997. Obviously, monthly signals may not be all that timely. These are 'big picture' observations. It's important to understand in light of weekly bullish reversals in indices last week! These charts are shown below the monthly charts in this post.
QQQ MONTHLY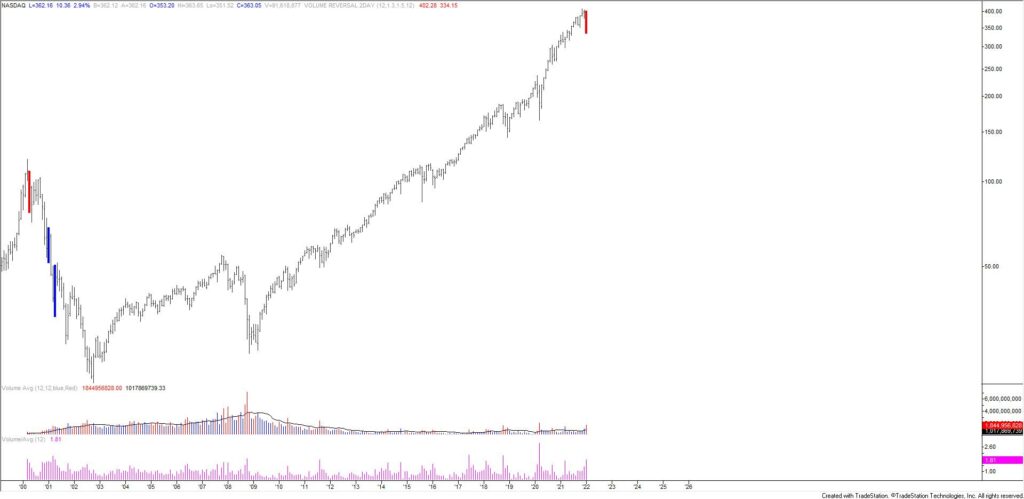 QQQ didn't make a 1 bar monthly reversal because QQQ actually didn't make a new high last month. There was however a 2 bar monthly reversal (based on closing data). The only other such signal for QQQ occurred April 2000. This highlights the importance of big picture vs. near term trading. While the April 2000 signal did mark a major change in behavior, QQQ drifted higher until September 2000 before resuming lower.
DIA MONTHLY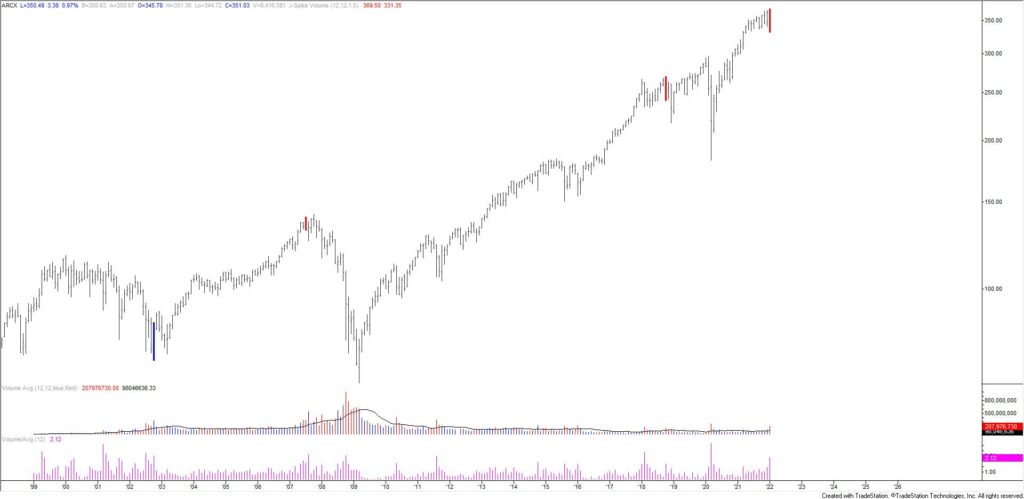 DIA made a 1 bar monthly reversal in January. Signals also occurred in October 2018 (high), July 2007 (high), and October 2002 (low). While all of these eventually 'worked', they didn't work immediately. Near term, pay attention to 35500 for resistance. This 2 legs up from the low and the 61.8% retrace of the decline.
DJI HOURLY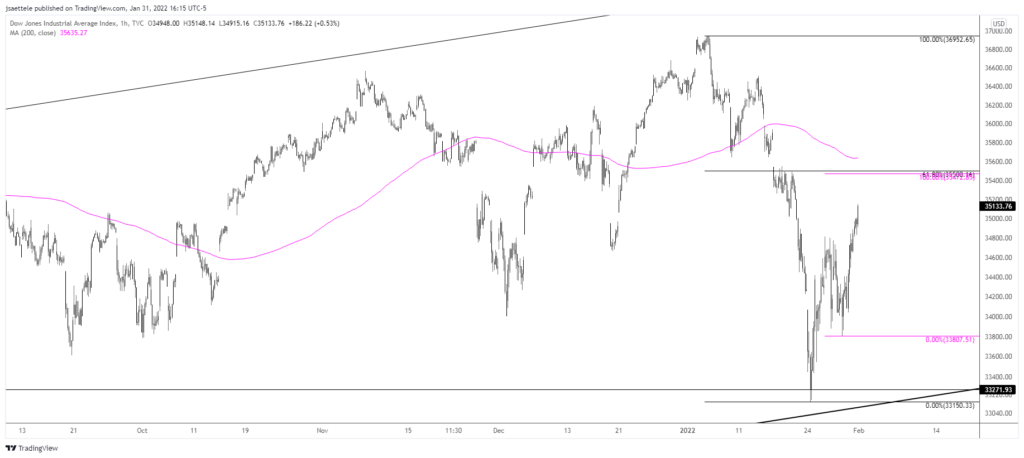 SPY WEEKLY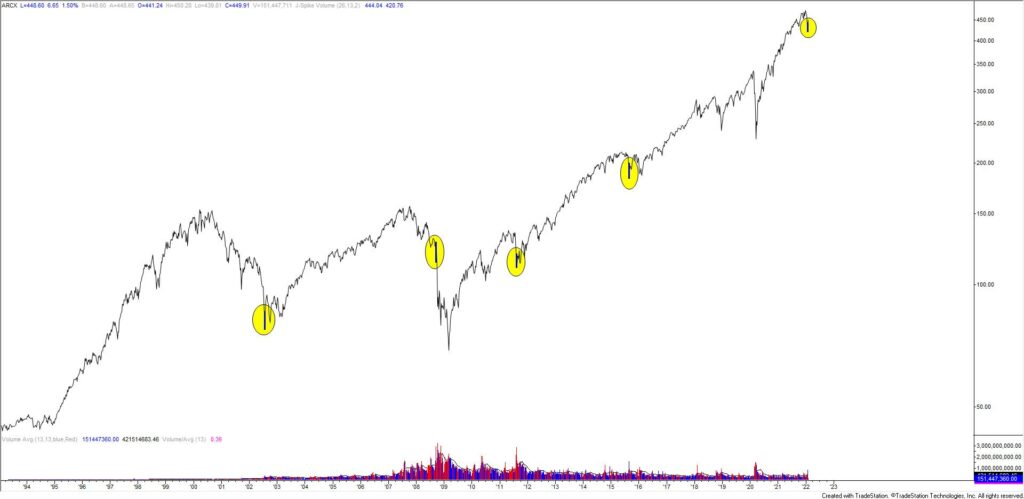 QQQ WEEKLY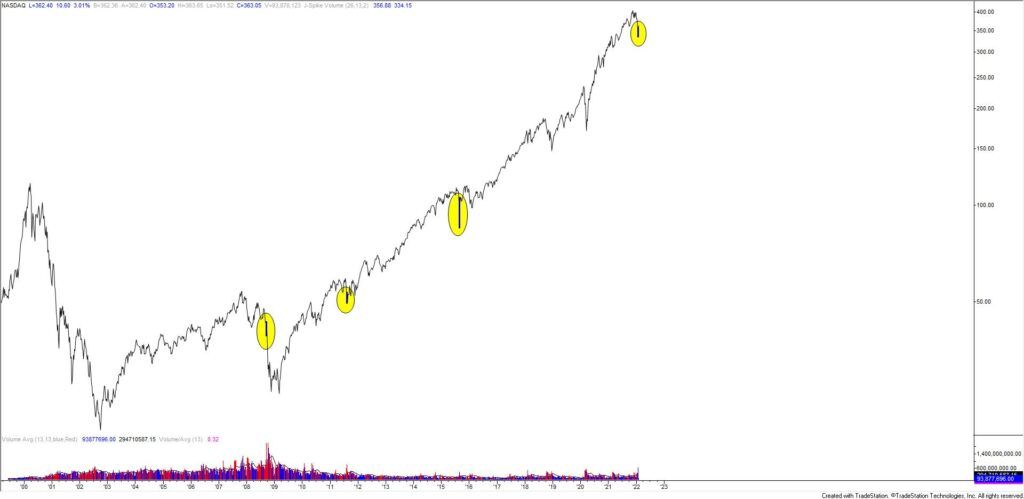 DIA WEEKLY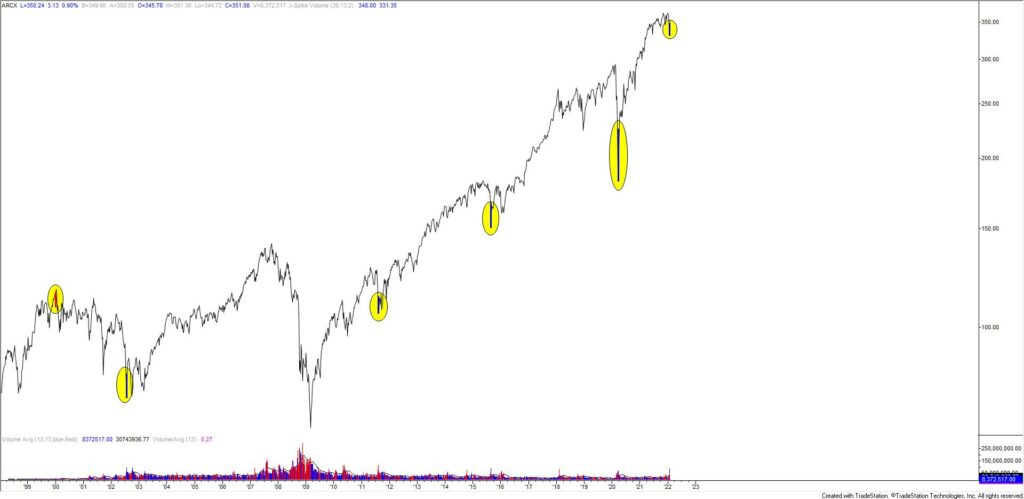 EURUSD DAILY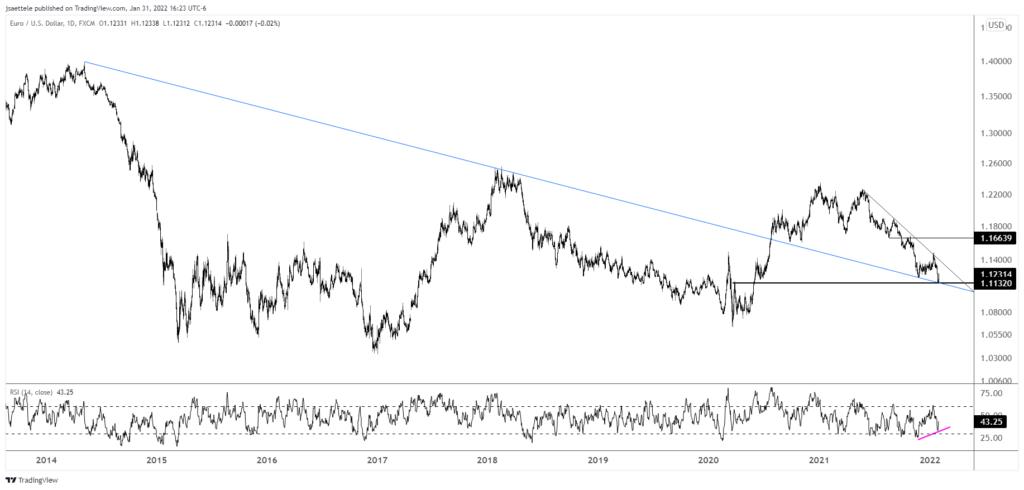 EURUSD rebounded from the noted weekly reversal support level. My gut is that a low is in place but I'd like to see the current rally stretch into an impulse before I plot an entry. I'll update the short term picture as price action dictates. 1.1180 is possible short term support.
1/27 – EURUSD has reached weekly reversal support. For those unfamiliar with this term, it's the close of the low week of the prior trend. In this case, that is the March 2020 low week close at 1.1132. Obviously, there is no evidence of a reversal at this point. Until there is, wait in the weeds like a lion stalking prey.
USDSEK DAILY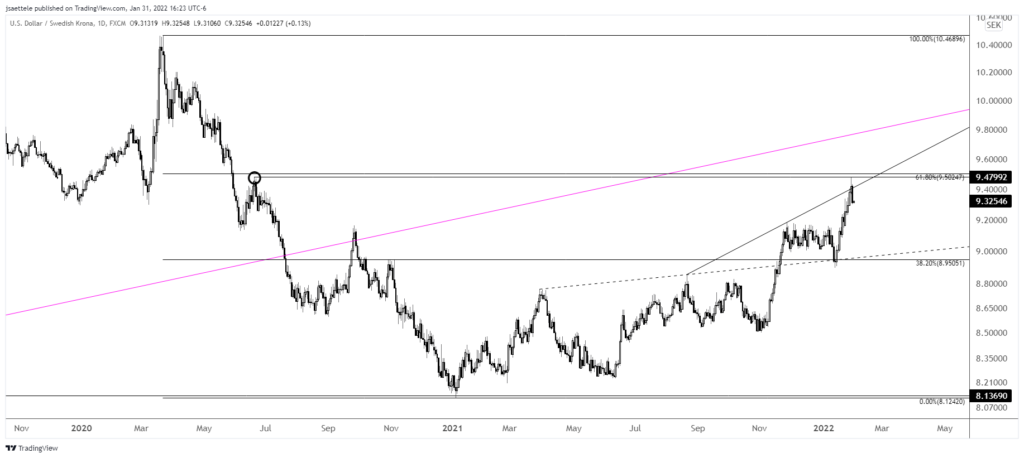 USDSEK reversed lower after tagging the June 2020 high. The 61.8% retrace of the decline from March 2020 wasn't quite reached (based on log scale). With today's drop, price broke a very short term trendline. Watch for resistance from the underside of that line near 9.41 (see below).
USDSEK HOURLY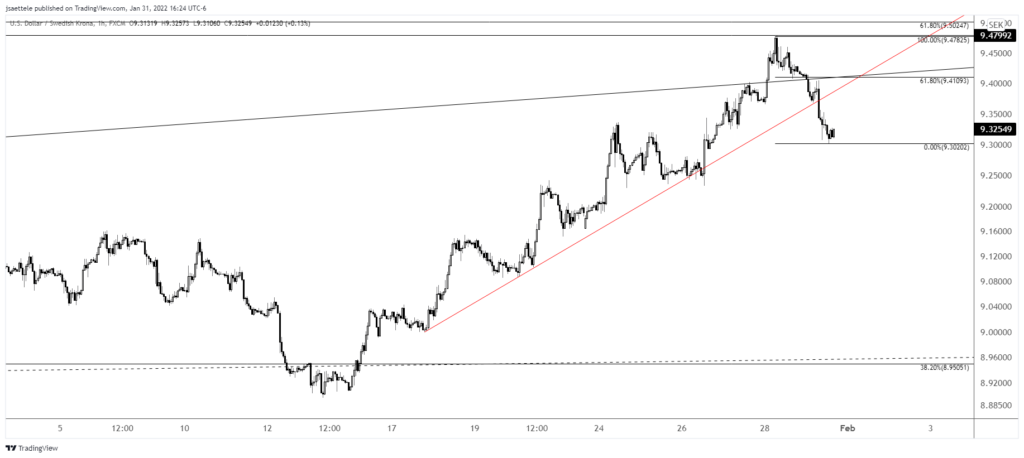 AUSTRALIAN DOLLAR (AD) FUTURES DAILY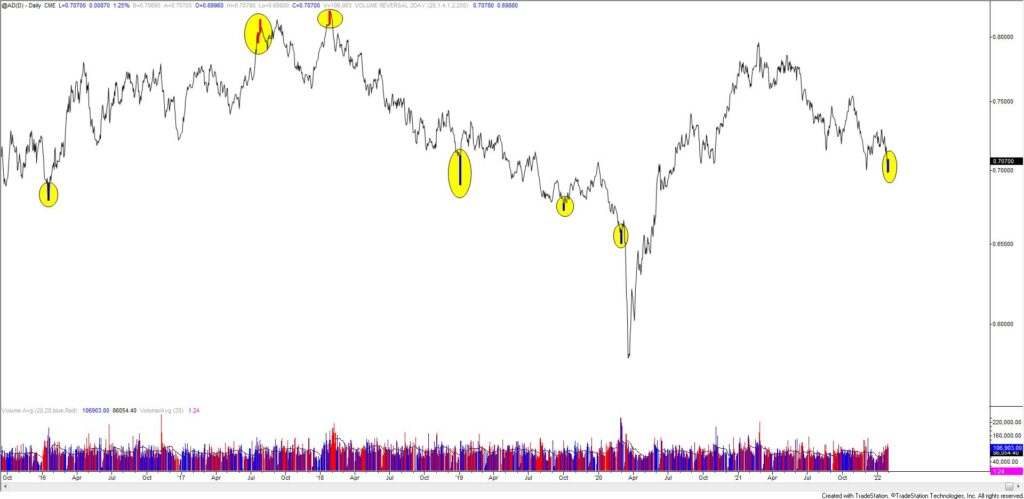 Aussie futures made a daily volume reversal today (2 bar reversal). The chart speaks for itself…most signals have worked out well and some have worked out incredibly well. Given the massive level that AUDUSD is trading on (November 2020 low and December low), I'm inclined to 'believe' this reversal. The rally is unfolding in an impulsive manner so focus is on buying a small pullback…probably at .7010/20 (see below).
AUDUSD HOURLY