CFD trading has become a popular way to trade cryptocurrencies with leverage, including Dogecoin. Trading DOG/USD with a forex broker like Scandinavian Capital Markets opens the door to a regulated environment for speculating on cryptocurrencies and trading Dogecoin with leverage.
While the millions of active forex and CFD traders were already well aware of the possibility of trading cryptocurrency CFDs as they became available in their trading platforms, many crypto traders got their first experience of the financial markets by trading on cryptocurrency exchanges like Coinbase, Binance and Kraken. Cryptocurrency exchanges are not the only way to speculate on the crypto market.
A CFD, which stands for contract for difference, is a derivative for speculating on financial markets. CFDs can be used to trade essentially any financial product, including forex and cryptocurrencies. You can trade DOG/USD with Scandinavian Capital Markets among the wide range of cryptocurrency and forex pairs listed in the cTrader platform.
What is Dogecoin?
Dogecoin is a cryptocurrency popularised online and even widely discussed in mainstream news and endorsed by celebrities. One of the main reasons it caught the attention of so many traders is that Dogecoin rose in price dramatically in 2021.
Dogecoin opened the year, trading at around 0.5¢ (half a cent) and peaked at $0.74 in May 2021, more than a 16,000% gain. Dogecoin has become a very popular cryptocurrency over the past year. It's currently the 12th most traded cryptocurrency and makes 1% of the total crypto market cap.
Ironically, Dogecoin was originally created as a satirical joke, making fun of the wild speculative nature of the crypto trading market and has become a very popular asset to trade despite the creators' intention to mock such wild speculation. The digital coin's name and brand were derived from the viral Doge meme from 2013, which featured a Shiba Inu dog.

Dogecoin summary
Dogecoin is not pronounced DOGGY-coin as you might think. According to Wikipedia, it's pronounced DOHJ-koyn or DOHZH-koyn.
Dogecoin was launched in 2013 as a satirical cryptocurrency; it was created by two software engineers, Billy Markus (IBM software engineer) and Jackson Palmer (Adobe software engineer).
Dogecoin price rallies are driven by market sentiment and fundamentals, such as new high profile uses, large purchases and public statements from influential figures.
DOG/USD reached an all-time high of $0.7364 on the 8th of May 2021 and held a market cap of more than $95 billion.
Dogecoin was created with 100 billion Dogecoins in circulation. At the time of writing, over 132 billion Dogecoins are circulating.
Dogecoin is currently ranked 12th highest market cap. 
Dogecoin is a fork of Litecoin and uses the same sCrypt algorithm, which is far more efficient than Bitcoin.
Unlike other popular cryptocurrencies, there isn't a hard cap on how much Dogecoin will be issued. Miners are rewarded with 10,000 Dogecoins per block.
Dogecoin blocks are processed in one-minute intervals. 
You can trade DOG/USD with leverage using online forex brokers such as Scandinavian Capital Markets.
How to predict the price of Dogecoin
Dogecoin price predictions are hard to make. Understanding the reasons behind the price movements of Dogecoin is an important factor in making profits and controlling risks. Predicting Dogecoin price movements and trends is tricky because the coin has minimal relevant market data to apply effective technical analysis techniques. Until the start of 2021, DOG/USD had very little volume, and the price didn't break one cent until January 2021, making long term technical analysis difficult.
Dogecoin price movements are heavily driven by market sentiment. It's common for Dogecoin traders to discuss their analysis and outlook on social media platforms like Twitter and online communities like Reddit. However, the primary driver of the Dogecoin price is the attention from celebrities like Elon Musk and Mark Cuban.
Fundamentals also drive the DOG/USD price. Particularly news stories related to adoptions, such as Tesla accepting Dogecoin as payment for merchandise and AMC Theaters accepting Dogecoin for digital gift cards via BitPay Wallet.
Just because fundamentals and market sentiment spur Dogecoin price rallies doesn't mean technical analysis doesn't come into play. Our resident chief technical analyst Jamie Saettele has prepared his DOG/USD daily analysis for December 2021.
DOG/USD is testing the lower boundary of a 7-month descending triangle. The descending nature of the triangle suggests that the price will ultimately resolve to the downside. Still, respect bounce potential as long as support holds. In the event of a rally, the 50 / 200-day average confluence is proposed resistance near 253500.  A measured objective on a downside break is about 64600. This level is 2 legs down from the May high (log scale…the initial decline was 80%…an 80% decline from the lower high in October would be about 64600).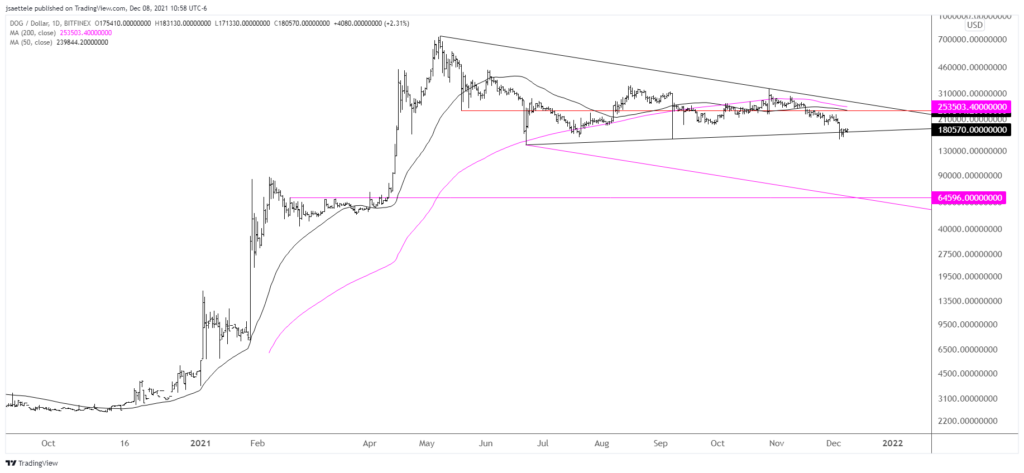 Who should trade Dogecoin?
Many people choose to trade Dogecoin and are primarily drawn to the aggressive price rallies and volatile movements. However, being a successful trader requires a lot of research, a good understanding of the market, and precise risk management techniques to manage volatile swings.
While the massive thousands of per cent volatility Dogecoin experienced looks very compelling, it's easy to forget that volatility can go in either direction. After reaching an all-time high of $0.74 on the 8th of May 2021, DOG/USD fell by almost three quarters in just two weeks.
Dogecoin is not necessarily a suitable trading instrument for everyone. Trading DOG/USD, especially with leverage, comes with numerous risks and should only be traded if you can follow a robust risk-management strategy.
However, while higher volatility can cause increased risks when trading, it can also create new trading opportunities for others. Many traders enjoy trading in volatile markets, and if you are one of them, Dogecoin can be a great option, as it comes with numerous opportunities for making profits.
The digital currency has recorded numerous swings, both up and down. Earlier in 2021, the price of digital currency skyrocketed but quickly dropped after, creating numerous opportunities for traders to profit from the pullback using short positions.
Buying Dogecoin vs trading Dogecoin CFDs with leverage
There are several methods for trading Dogecoin, two of the most popular being buying Dogecoin through crypto exchanges and holding the coins in your wallet or trading it using CFDs.
Buying and holding Dogecoin
The first option is very straightforward. You just buy the asset when the price is low, hold the coins on your exchange account or an external wallet, wait for the price to increase, and sell at a higher price to make profits. Unfortunately, buying Dogecoin on exchanges has two disadvantages; you can't open short positions, nor can you apply leverage.
Trading Dogecoin with leverage
The second option is more complex but lets you trade Dogecoin with leverage. If you want to increase your exposure using leverage, one of the favoured options would be using CFDs. CFDs don't just let you increase your exposure using leverage; they also present some other unique features which are only available when trading cryptocurrency CFDs with a regulated broker.
Trading Dogecoin using CFDs allows traders to go long and short and potentially profit from the uptrends and downtrends in the market. Additionally, you can use DOG/USD short positions to hedge your Dogecoin holdings against potential bearish movements.
CFD trading offers you the opportunity to speculate on Dogecoin against the US dollar without dealing with the underlying asset. Therefore, you don't need to hold the cryptocurrency on an exchange, at risk of being hacked, or set up your own cryptocurrency wallet, which comes with additional responsibility.
Although trading with leverage presents new opportunities for traders to profit by trading Dogecoin CFDs, you should also remember that leverage is associated with higher risks. Margin trading, in general, can be quite dangerous for all traders, not just beginners, as it can lead to increased losses. Using leverage in volatile markets such as crypto trading further increases the hazards of trading.
Conclusion: how to trade Dogecoin with leverage
Many forex and CFD brokers began offering the leading cryptocurrencies, such as Bitcoin and Ethereum, but few brokers adopted altcoins like Dogecoin to their product offering. Scandinavian Capital Markets provides more than fifty cryptocurrency CFD instruments, including DOG/USD.
Open a demo trading account with Scandinavian Capital Markets and start practising trading cryptocurrencies today.