CFD trading is a popular way to trade Polkadot with leverage. Unfortunately, few forex brokers offer DOT/USD on their trading platforms. Scandinavian Capital Markets has more than fifty cryptocurrency trading pairs listed in the cTrader platform, allowing you to trade DOT with 1:5 leverage.
Polkadot is a popular project in the blockchain community that aims to enable interoperability between different blockchains. DOT is the native cryptocurrency used to operate the Polkadot platform.
DOT has recently become a popular asset for crypto traders. One of the simplest ways to trade DOT is to buy the asset on one of the many crypto exchanges, hold them, wait for the price to rise, and then sell and wait for the price to fall before buying more. Trading DOT using this strategy is time-consuming.
There are several other ways to trade Polkadot, such as margin trading on an exchange,  trading futures, options and other derivatives, such as contracts for difference; we've prepared this guide to describe the possibility of trading DOT/USD using contracts for difference.
What is Polkadot?
Polkadot is one of the leading projects in the blockchain industry. The Polkadot initiative is driven by the Web3 Foundation, working towards a concept called Web 3.0, which envisions a world wide web that embraces decentralisation and privacy. In contrast, Web 2.0 is controlled by a small group of major corporations, such as Microsoft, Apple, Meta (Facebook), Alphabet (Google) and a handful of others.
Polkadot is known as a multichain or the blockchain of blockchains. There are dozens of independent and decentralised blockchain networks operating today, such as Bitcoin, Ethereum, Stellar, EOS and many others. However, despite all of these blockchains being public, they do not interoperate. Polkadot is a protocol created to enable interoperability between various blockchains by bridging them together. Essentially, Polkadot lets developers combine the best features of multiple blockchains via a single platform.
Let's consider that you want to buy an NFT, which is an Ethereum smart contract, but you want to pay using Dogecoin. In that case, Polkadot could be used to merge a transaction confirmation from the Dogecoin blockchain to the Ethereum smart contract representing ownership of your NFT. In this case, the NFT smart contract would refer to the Dogecoin ledger to link your purchase transaction with the NFT.
What is DOT?
Polkadot and DOT are two different concepts, so it's easier to understand by decoupling these entities. While Polkadot is the platform, DOT is the native token used to operate the platform for staking, bonding, and governance.
Polkadot is one of the best-funded blockchain projects in history, having raised almost $250 million from two private and two public Initial Coin Offerings. Since the first ICO, the value of DOT has increased more than 100 times.
One fundamental characteristic about the Polkadot platform driving demand for the DOT token is the way transactions are processed. DOT transactions are processed using a proof of stake consensus algorithm.
The theory behind a proof-of-stake (POS) consensus is that transaction validators have a financial incentive for the network to operate with integrity. Validators with the highest amount of tokens are considered the most trustworthy because they have the most to lose.
Polkadot uses a slight variation of the classic proof-of-stake concept as it operates a nominated proof of stake (NPoS) consensus algorithm, where stakeholders nominate their DOT tokens to validators. The validators are responsible for managing the technical infrastructure, whereas nominators are responsible for providing the capital.
The PoW system is very different to Bitcoin and Ethereum networks, where miners engage in a proof-of-work (PoW) system, requiring them to complete arbitrary puzzles to prove they tried very hard to process the transaction.
The DOT token also gives holders the right to vote on decisions related to the governance of the Polkadot platform. 
Polkadot and DOT summary
Gavin Wood, one of the founders of Polkadot, co-founded and was the chief technology officer of Ethereum.
The Polkadot network can process more than 1,000 transactions per second. In contrast, Bitcoin and Ethereum can only process about 7 and 30 transactions per second, respectively.
In October 2017, Polkadot raised $145 million, selling 50% of the DOT token supply. Another round of fundraising took place in 2020, raising the total to $248 million.
On the 21st of August 2021, there was a redenomination of the DOT token, which is essentially like a stock split. DOT was redenominated at a rate of 1-for-100.
Polkadot uses a proof-of-work consensus algorithm, which drives demand for DOT.
Introduction to trading DOT CFDs
Contracts for difference, also known as CFDs, are a popular trading instrument among retail traders. CFDs are derivatives that let traders speculate on many different asset classes without owning the underlying asset. CFD trading and leverage go hand-in-hand, thus trading DOT with leverage.
When trading CFDs, one is simply speculating on the possible price fluctuations in the market. This allows you to open both long and short positions, making it possible to profit from bearish and bullish market trends or hedge your cryptocurrency portfolio.
Therefore, CFDs are incredibly useful for speculating on the cryptocurrency markets because you can trade different coins and tokens without the hassle of buying them from an exchange, which may have slow, expensive or inconvenient fiat payment methods.
Being able to fund your trading account quickly can be essential in time-sensitive situations, for example, when a major trend is breaking out and you want to seize a trading opportunity.
Unlike futures traded crypto exchanges, CFDs are highly regulated financial contracts between a broker and a trader. You can trade DOT/USD among many crypto CFDs, following the DOT price movements against the US dollar.
How to predict the price of DOT
Like any other cryptocurrency, it's hard to predict the price of DOT. Since DOT began trading on exchanges in August 2020, the price rose almost 1,200%, reaching an all-time high of $55.134 on the 4th of November 2021. By the first of January 2022, the price had dropped more than 50% to $26.67.
Anyone who bought DOT during the 2017 ICO would have paid $0.29 per token. Considering the current DOT/USD price is $29.70, that's more than 100x profit.
DOT technical analysis
The historical volatility for December 2021 was 112. For comparison, during the same period, the historical volatility for Bitcoin was 62, and for the NASDAQ, it was just 28.
While some view volatility as a risky condition for investing, it can provide traders with numerous opportunities for making profits. This includes opportunities for both short-term and long-term positions. However, trading volatile assets requires robust risk management capabilities and is not suitable for beginners.
Most cryptocurrencies have strong correlations with Bitcoin. During the final week of December 2021, the correlation coefficient between DOT and BTC was 0.93.
Our resident chief technical analyst Jamie Saettele has prepared his DOT/USD daily analysis for December 2021.
DOTUSD has responded to the well-defined 26.50 level; as long as this holds, respect rally potential back to 38-39. Since DOT began trading, the 50-day average has served as an extremely useful trend filter and is currently just above that level. The next downside level of interest is the life of asset trendline near 19. If that breaks, then simply consider DOT/USD broken.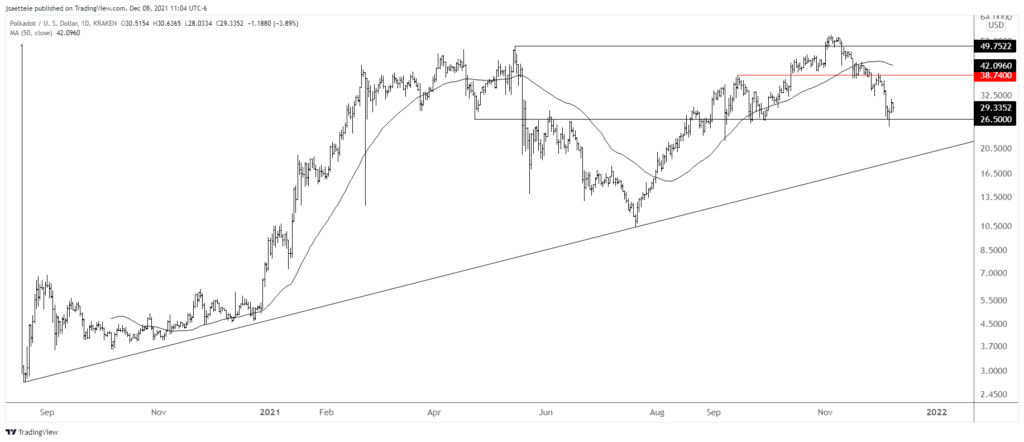 DOT fundamental analysis
Because of the proof-of-stake consensus model used by Polkadot, demand is driven by usage, meaning fundamental analysis drives the price of DOT/USD. As the Polkadot ecosystem evolves, demand for DOT will grow. Announcements concerning integrations with new blockchains and new features that would increase platform users.
Conclusion: how to trade Polkadot with leverage
Trading DOT/USD with Scandinavian Capital Markets offers traders the opportunity to use leverage. However, traders should note that leverage is known as a double-edged sword. While it can increase the profits you make, it can also increase your losses. If you're planning to trade Polkadot with leverage, proceed with caution.
Cryptocurrency hedging with CFDs is a useful technique to stabilise your crypto portfolio from frequent price volatility. Opening a trading account with Scandinavian Capital Markets gives you access to dozens of crypto CFD trading instruments, ideal for hedging Bitcoin, Ethereum and many other popular cryptocurrencies.