Besides MetaTrader 4, Myfxbook is probably the most popular tool used by forex traders, and besides the MQL5 community, Myfxbook is likely the biggest online trading community. Myfxbook has carved out an impressive spot in the forex community as a platform for traders to publish their trading activity on an independent and credible platform. Although it has other uses, the Myfxbook application is primarily used by traders to analyse trading performance in various ways, and share results that others can trust are real and genuine. It's a free to use service that has hundreds of thousands of users.
Traders can connect their trading accounts via a platform such as MetaTrader 4, cTrader or others to Myfxbook by following only a few simple steps, which will be covered in this guide. When traders sign up, they can create either a public or private profile to review their trading strategy statistics. The service automatically consumes information about new orders and deals every few minutes to maintain an accurate profile of traders' strategies. 
Besides being a trading strategy analysis tool, Myfxbook also offers a popular auto-trading functionality. The traders who connect their accounts can become strategy providers and sell their signals to other traders in the community. Conversely, traders looking for more passive opportunities in the forex market can copy many of the available strategies.
The analytics on Myfxbook allows traders to review their performance for self-improvement or promote their successful strategy to potential investors who may also use the public profile to determine the suitability of a system they're considering to copy.
At Scandinavian Capital Markets, we support and recommend Myfxbook because of it's well-designed and seamless trade replication.
Who uses Myfxbook
Myfxbook has been applied to several everyday use cases by forex traders.
Analyse trading performance
When a trader connects their account to Myfxbook, all of their previous deals are uploaded, and all future trades will be synchronised to generate a helpful dashboard which can show far more information than can be found in MT4. The profile shows various key performance indicators, graphs and interesting details to help traders understand and optimise how they trade.
Share trading performance
Myfxbook is a nifty tool for money managers and signal providers or developers of trading systems and expert advisors. Myfxbook is a highly trusted source of truth amongst forex traders. Traders looking to promote their performance can easily do so by sharing the link to their profile on Myfxbook. Because the profile is automatically updated every few minutes, all parties can rest assured the most current data is published.
Connect with others
Besides all the unique tools and features, Myfxbook is first and foremost an online community for connecting forex traders. The website catalogues all of the strategy providers who want to be discoverable and allows traders looking for strategies to copy to browse what's on offer. When a trader finds a strategy that appeals to them, they can connect and start copying trades in their own account.
How to connect a trading account with Myfxbook
If you have either a MetaTrader 4 or cTrader account with Scandinavian Capital Markets, you can connect them to Myfxbook and begin using the service in any way you wish. Both platforms seamlessly connect to Myfxbook but require different steps to be taken.
In any case, the first step is to create an account with Myfxbook using your email address and verify the email address you gave by clicking a link inside a confirmation email which you'll receive shortly after signing up.
How to connect MetaTrader 4 to Myfxbook
You can connect your MT4 account to Myfxbook in just a few simple steps.
When you are logged into your Myfxbook account, hover the mouse over the item "Portfolio" and click "Add Account".
On the new page, select the option "MetaTrader 4 (Auto Update)".
Now you should enter your account information, which includes;

Account Name: a custom name you would like to assign the account, i.e. an alias.
Broker: Scandinavian Capital Markets
Server: depending on whether you're connecting a live or demo account, you will choose either "ScandinavianMarkes-Live" or "ScandinavianMarkes-Demo".
Account Number: the account number of your trading account
Investor Password: this is not the primary password for your MT4 account which you use to sign in; instead, it is a special read-only password.

Once you've added all the necessary information, just click "Create Account".
How to connect cTrader to Myfxbook
You can connect your cTrader account to Myfxbook in just a few simple steps.
When you are logged into your Myfxbook account, hover the mouse over the item "Portfolio" and click "Add Account". 
On the new page, select the option "cTrader".
Now, you will be redirected to the Spotware Connect site. You need to sign in to your cTrader ID. When you have signed in, you'll automatically be redirected to the next step.
Next, you will need to select the permissions you want to grant Myfxbook and for which of your cTrader accounts you wish to connect, providing you have more than one. 
You will be redirected back to the Myfxbook site where you need to enter an "Account Name", an alias for you and those you share with, to identify your trading account. 
Finally, click "Add". 
It will take a few moments for your trading account history to be uploaded and processed by Myfxbook, especially if there are years of active trading and thousands of transactions that need to be computed.
If at any point you get stuck using Myfxbook in any way, there is a comprehensive user guide that covers many different issues and common obstacles.
Overview of Myfxbook strategy profile
Once your trading account has been connected with Myfxbook, you can manage your profile's privacy setting; then you'll be able to share the profile just by copying and pasting a public or private link. Moreover, you can create widgets to embed on your website or add to your signature in various forums for other traders to see.
Your strategy profile crunches lots of numbers and generates some truly remarkable charts to help you and others understand your trading strategy's behaviour and performance.
The best way to observe the scope of data presented by a Myfxbook profile is to explore one. Here is a link to view one of the highest-ranked strategies, so you can click around and see the various details displayed when you mouse over some elements and open different tabs.
Although different traders see each feature's value differently, here's a quick walkthrough of a Myfxbook profile's various components.
Info section
The info section serves as a quick overview of the trading strategy and offers some important information. You can see the following details;
Gain, which is the time-weighted return, which is used to show the performance of each dollar invested in the strategy,
Absolute gain, which is the all-time return on investment,
Daily and monthly gains,
Current account balance, equity, deposits, and withdrawals,
Total profit, maximum equity and interest,
When the strategy began, was added to Myfxbook and was last updated,
A description of the strategy, if one is provided,
The broker used to execute the trades, how much leverage is being used and if the account is using a trading robot or not.
Chart section
Simple charts present sophisticated information from various viewpoints help you instantly understand data and evaluate trading performance. The primary chart shows the growth, balance, profit, and drawdown of an account. Plotted on the chart are up to two lines and a histogram. Depending on the selected chart, you may see details such as balance, equity, growth, profit, and the number of Pips gained or lots traded. Thankfully, all of these details are configurable, allowing you to focus on the information essential to you.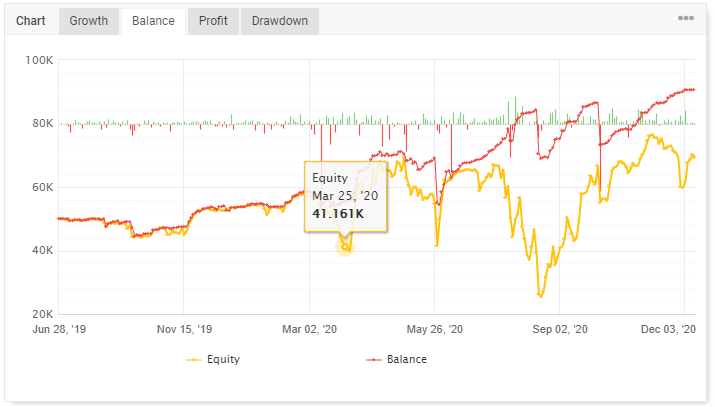 Advanced statistics
Besides detailed charts, you can find many tables digesting far more data than just profit and loss. In the advanced statistics section, you can find a breakdown of hourly and daily performance to understand if the strategy performs better at different times of the day or week.
A duration tab shows the average holding time of positions. You can see how long you are holding profitable and unprofitable positions. A summary tab shows the performance when trading different currency pairs, in different directions, showing which currencies have been traded the most and which the less.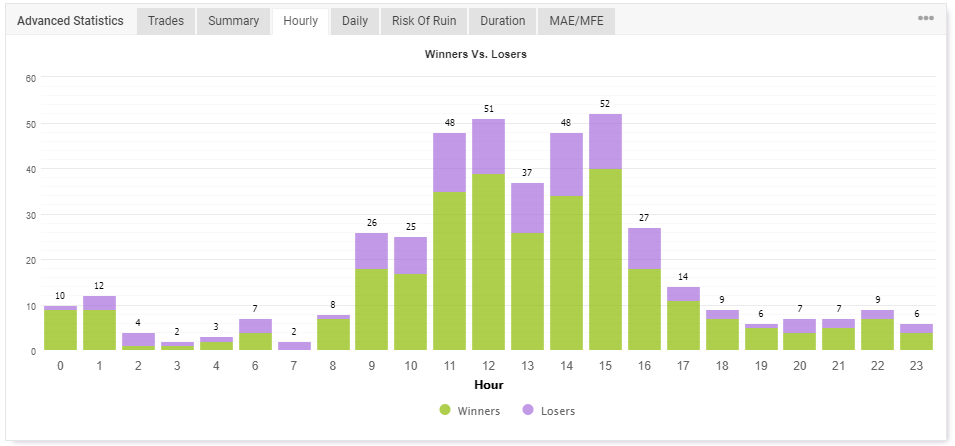 Monthly Analytics
View the performance of a trading strategy over a given month and get an overview of how each month compares to others and which symbols have been traded.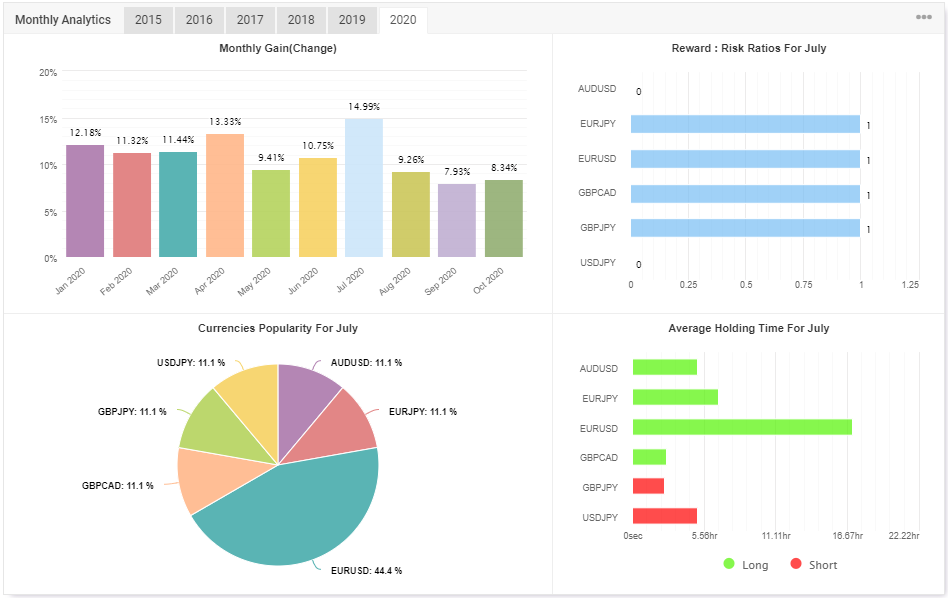 How to start trading with Myfxbook
This guide which we prepared should be enough to get you started with Myfxbook. However, one thing you absolutely need is a trading account. The best people to help you out with that is one of our expert relationship managers, who can guide you on choosing a forex trading platform and introducing you to how we can build the best forex liquidity feeds.